ANTICIPATION
June 1, 2022 | Author Friend Promo, Cooking, Uncategorized
from Helen Carpenter
Anticipation. That's the title of a great song, the jingle for an ancient advertisement, and a marketing tool for authors. Oh, and anticipation makes good food better too. What more could you ask of a word?
You already know the classic song (thanks, Carly Simon!), and if you're of a…ummm…certain age, you probably remember the ketchup commercial too. (Sorry if the jingle is now an earwig! Confess—you're humming, aren't you?)
As far as making good food better—our barbecue pulled pork recipe is DEFINITELY worth waiting for! Put all the ingredients together, then grab a good book to read while you're anticipating the meal to come.
PULLED PORK
½ cup ketchup
1 ½ cups barbecue sauce, divided
1 cup water
1 onion, chopped (or a similar amount of frozen chopped onions)
1 tsp. garlic, chopped
3 ½ pound pork roast (a shoulder cut works well)
Hamburger buns
Mix ketchup, ½ cup barbecue sauce, and water in a small bowl. Stir in the onions and garlic.
Set pork roast in the crock pot and pour sauce mixture over it, coating the meat well. The liquid should almost cover the meat. Add more if necessary. Cook on low for 10-12 hours.
Remove the pork roast from the crock-pot, let cool, and shred with a fork. Set aside.
Empty the liquid from the crock-pot. Put the pulled pork back into the crock-pot, add the remaining barbecue sauce, and mix well.
Cook on low for two more hours; then reduce setting to warm until ready to serve.
Serve on buns.
Tips and Tricks
Crock pots are ideal for tenderizing less expensive cuts of meat. The longer the cooking time, the more tender the meat becomes.
Feel free to add more sauce to the first cooking; meat cooked in liquid is moister.
For an added crunch, serve chips of your choice as a side dish.
If you want to serve the pulled pork for lunch, set up the crock pot to cook overnight.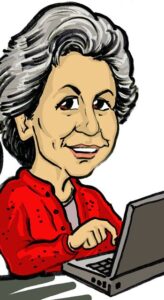 Once upon a time there was a mother/daughter author duo named Helen and Lorri, who wrote as HL Carpenter. The Carpenters worked from their studios in Carpenter Country, a magical place that, like their stories, was unreal but not untrue. Then one day Lorri left her studio to explore the land of What-if, and like others who have lost a loved one the magical place lost much of its magic. But thanks to family, plus an amazing group of wordsmiths named Authors Moving Forward (AMF), the magic is slowly returning.
Helen Carpenter loves liking and sharing blog posts from other authors. She lives in Florida with her husband of many years and appreciates everyday, especially those without hurricanes.
Stay connected on her blog and  Facebook .
Leave a Reply