What's Cooking
March's Choice

St. Patrick's Day is a fun holiday meant for family and friends and celebrating because everyone is Irish on that day. Grab your partner and plan a party that uses this recipe from the hot couples' cookbook Recipes to Create Holidays Extraordinaire.
This traditional St. Patrick's Day meal is what most North Americans will enjoy with a cold Harp, Guinness, Killian's, or Smithwicks. But here's a newsflash, Boyo, except for the beers mentioned you'll never find corned beef served anywhere on the Old Sod. That's right. Our Irish brethren look at us in amazement, but that's never stopped us Yanks from creating traditions. So, pour another wee dram and let's get cooking.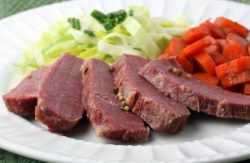 Corned Beef
5 lb. corned beef brisket*
2 med. onions, peeled and quartered
4 peppercorns
1 bay leaf
4 sprigs fresh rosemary or ½ tsp. dried
4 sprigs fresh thyme or ½ tsp. dried
8 sprigs fresh parsley or 2 tsp. dried
3 bottles of beer, any brand works
water to cover
Preheat oven to 300 F°.
Place meat in a Dutch oven. Add remaining ingredients, including spice packet that comes with the beef if there is one.
Bring to a boil on the stovetop. Place in oven and roast for 3 hours or until meat is fork-tender.
Don't stint on the amount of beef. It cooks down to approximately half the original size. I learned that lesson the hard way.
*Here's a tip from my butcher Raoul; Always buy corned beef flat cut. It has less fat than the point. Therefore, you get more meat for your money.
Vegetables
6 med. red potatoes, unpeeled and quartered
6 carrots, scraped and cut into 2 in. pieces
1 celery stalk, cut into 2 in. pieces
1 med. green cabbage, cut into 8 wedges
1 cup corned beef cooking liquid
water
You can prep all the veggies and store in a large container covered by cold water until you're ready to cook them. Refrigerate so vegetables remain crisp.
Place veggies in a large pot. Stir in corned beef cooking liquid. Add water to cover vegetables by 2 inches (5cm). Cover pot. Set cooking temp at medium. Bring to a boil. Reduce heat and adjust lid so the pot doesn't boil over but maintains a soft boil. Cook about 30 minutes or until veggies are fork-tender.
Horseradish Sauce
1 cup sour cream
2 tbsp. prepared horseradish
1 tsp. fresh chives, snipped short
Combine all ingredients in a medium bowl. Stir well.
Transfer to a serving dish, cover, and refrigerate until ready to serve.
Learn more about Recipes to Create Holidays Extraordinaire on Amazon.
May you enjoy all the days of your life filled with laughter and seated around a well-laden table!
Sloane