What's Cooking
December's Choice

The internet is flooded with recipes for spinach dip with each one claiming to be the best. I've tried many and found them all to be about the same which was just okay at best. That was until our niece Lauren came for dinner with her handsome hubby Jim and delightful mother-in-law Edlyn. Lauren brought her version of spinach dip for our appetizer. It was delicious! Studs and I both give Lauren's recipe 5 spoons, our highest rating for recipes. I'm confident you'll love it too.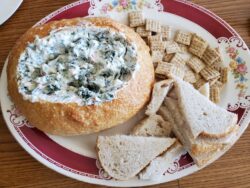 Lauren's Spinach Dip
1 cup mayonnaise, no imitations
16 oz. sour cream
1 – 1.8 oz. pkg. dry vegetable soup mix
4 oz. can water chestnuts, drained and chopped
5 oz. chopped frozen spinach, thawed and drained
1 round loaf sourdough bread
Gently combine all ingredients, except bread, together in a glass or ceramic bowl. Cover with plastic wrap. Set in fridge anywhere from 5 hours to overnight.
When you are ready to serve, slice the top off the bread and pull out a fair amount of the interior dough. Tear those pieces into chunks for dipping into the mayo mix.
This dip is also terrific spread on crackers, celery sticks, and other crunchy veggies.
May you enjoy all the days of your life filled with good friends, laughter, and seated around a well-laden table!
Sloane