TIZ THE SEASON
December 22, 2008 | Cooking, Holidays
Hi All,
First, I'd like to thank Sloane for having me as her guest. We've had a heck of a time getting together for me to blog on her site. My computer crashed on our previous dates, but she has been kind enough to give me another chance…
I'm Tabitha Shay, author of the Winslow Witches of Salem series, paranormal romances. Book three was recently released, Witch's Moon with book four, Witch's Magic, scheduled for release in 2009.
I'm also the author of the Montana Men series, contemporary western romances under the pen name of Jaydyn Chelcee.
I hope you'll scope out my website for the book covers, reviews and the beautiful artwork and Bios of some of my witchy characters.
Now to some holiday traditions…
When I was a kid growing up, Christmas at our house was always a rowdy time of year. Our tradition, no matter the weather, was to go hunt for a live tree every year. We all traipsed through the woods, forcing our way past knee deep snow in search of the perfect tree. Then we strung popcorn, acorns, berries, and crepe paper chains and decorated the tree. It was the best times of our lives.
I was the eldest of nine kids and though we were poor as church mice, I can never remember going without or not getting what I asked for from Santa. I think Mama and Daddy had their own tradition of making certain we kids got exactly what we wanted during the holidays. I remember one Christmas in particular…I had hit my teenage years and Daddy asked me what I wanted for Christmas. Being a teenager, I wanted a phonograph and .45 records. Daddy hedged asking, "Wouldn't you rather have a new bike?"
Now of course, I had no idea my parents had already done their shopping and they'd bought each of us kids a new bike, and I'm sure it took every last dime they had to do that. I wanted a record player and I stuck to my guns…On Christmas morning, to my surprise, I had both a new bike and a record player. It was the best Christmas I ever had and I can tell you, I wore out both items…lol.
Another tradition we had was that as soon as the first big snow fell, we made Snow Ice Cream. If there was snow, it was a given that we would have snow cream…
I'd give most anything if I could turn back the pages to these days of lighthearted fun and laughter. Yes, times were hard, but enjoyed each other. With a family our size, it was either have fun together or an all out war…lol…anyway, I thought I'd share our family recipe for Snow Ice Cream:
SNOW ICE CREAM
A dishpan filled with sparkling clean snow
Add a half gallon of milk
A can of cream
2 eggs
A teaspoon of vanilla
Add sugar and sweeten to taste
Add more snow if it needs to be thicker
Sprinkle cinnamon on top of each bowl or add choclate syrup or any flavored syrups.
Now for the blurb and an excerpt from my latest release:
NO HOLDS BARRED
Book Two in Montana Men series.
Eternal Press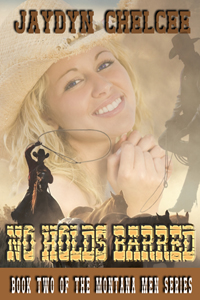 BLURB:
Rimrock—Home of the Montana men and the women who tame them.
Professional horse trainer Kaycee Spencer decides to relocate when she becomes the target of an insane stalker. She chooses remote Rimrock, Montana where no one can find her.
Jace Remington, co-owner of the Dancing Star Ranch, refuses to allow women around his thoroughbreds—females are nothing but trouble with a capital 'T'—that is, until he meets Kaycee Spencer, a woman who crashes into his peaceful life with trouble close on her heels.
Set against the backdrop of the rugged mountains of Montana, Kaycee and Jace discover that if they are going to survive the vicious serial killer stalking Kaycee, they will have to learn to trust each other.
No Holds Barred, a roller-coaster ride of murder, romance, and the discovery love might conquer all.
EXCERPT:
She stole another quick glance of the cowboy and felt warmth creep into her cheeks. Ohmigod! Kaycee stared at the bill he'd just slipped under her glass. Shit! He thought she was a hooker! The dress! The freakin' dress! She snatched up the bill and dropped it in his beer mug. "You're wasting your time, Mister."
He eyed her as if he thought she'd lost her mind.
"How much?" he asked quietly.
"Nothing! I don't charge!"
He lifted a brow as if to say, Oh, you're giving 'it' away?
"I—I mean—I'm not a—a—"
"My apologies, I misunderstood." He fished the money out of his beer, shook off the excess liquid and shoved it in his shirt pocket.
Yeah, the dress, it was definitely too provocative.
Desperate to control the nervous flutter in her stomach, she downed the liquor in the tumbler in one hasty gulp—and swallowed liquid fire. The rich, amber liquid seared the back of her throat, blazed a path to her stomach, and lit a torch to her blood.
Ohmigod!
Her eyes watered. Her breath escaped her lungs in several fierce wheezes, joined by the most peculiar suction noises she'd ever heard, then her throat abruptly closed. No wheezes. No suctions. No air. Nothing but dead air space remained between her ears and her lungs.
"Uuuuh. Uuuuh." She tried sucking in a lungful of air. No go. Oh God, she was going to explode or implode, she wasn't sure which, but the ploy to remain unruffled was lost along with her ability to breathe. She gasped, coughed and thought she just might flop over onto the floor and have a seizure.
"Are you all right?"
His voice, laced with a rich drawl steeped with the flavor of the Old West—and spoken far too close to her ear, sounded like heaven's idea of black velvet seduction. He leaned closer. His movement brought him so near, the rim of his Stetson brushed her hair. It shrouded them in a shadow of false intimacy.
She tilted back her head, startled to find herself looking directly into his onyx gaze. It was something of a shock to feel his warm hand glide across the bare skin on her back. More shocking to realize he was gently stroking her spine. Oh, shit!
A jolt of physical awareness shot through her. The caress was oddly soothing, as though he was gentling her to his touch. Breaking her in like a mare he planned to ride hard, she thought cynically.
Kaycee jerked away as if a bolt of lightning had struck her.
"Easy, honey," he whispered soothingly. He carefully tucked a stray curl behind her ear, then grinned. Deep dimples appeared in his right cheek. "I never harm kids, dogs, horses, or beautiful ladies."
Well, guess that's it for me…Again, Thank You, Sloane for being so patient…I'll place each person's name who leaves a comment today into a hat and hold a drawing tonight at 6pm, CST…that lucky person gets their choice of one of my books, so be sure and scope out my website at http://www.tabithashay.com
Happy Holidaze,
Tabitha Shay
www.tabithashay.com
13 Responses to "TIZ THE SEASON"