Tuesday Teaser
April 21, 2009 | Excerpts
The Naughty Ladies of Nice
Book Five
FRENCH TICKLER
Eternal Press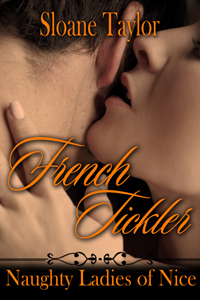 Blurb:
Lingerie designer Samantha Bradley is on the brink of major success. While having the time of her life in Nice she meets sexy Cisco Bernier, a man who turns her heart inside out and makes her body sizzle.
Despite being France's key criminal prosecutor, Cisco's success in relationships has been less than zero. When he meets Sam, his staid world goes up in flames.
Their happiness is short lived as their pasts collide. His underhanded mother and her mob-connected father resurface to threaten their future.
Excerpt:
"Do you not think her nipples are larger?" Cisco pointed to the charcoal nude on the young woman's sketch pad. He looked across the coastline toward the subject in question as the middle-aged woman stooped and spread a towel across the pebbles.
"Perhaps, but it's really hard to tell at this angle." The artist swiped a thumb along a black line, softening the bold stroke, and laughed. "Besides, she won't sit still long enough to get it right."
She tossed her long black hair across her bare shoulders, and a light scent of honey drifted up to him, clouding his mind.
Cisco yanked his tie from around his neck, grateful for the light breeze off the Mediterranean that cooled his hot skin.
"Maybe if you…" He slipped the thin stick from her long fingers, then squiggled a larger, more intricate circle on the wheat colored paper. "Something like that."
"Are you an artist?" She glanced up. Her large green eyes reminded him of polished emerald, sharp and clear, and just as exciting. At that moment he would be anything the beautiful American wanted him to be.
4 1/2 HEARTS from The Romance Studio.
Reviewer: Brenda Talley
Posted March 9, 2009
Ms. Sloane Taylor used her fabulous way with words to explain these two alpha characters. Sam was from the US; Cisco was from Nice. The unknown factors in each live could have gotten them killed. The happily every after was a long way from easy to obtain.
The two main characters were so focused on each other they failed to notice the problems which arose in the other's life. This story had all the important elements even though it was a fast-paced novella. The sensuality was sizzling! The suspense was intense. The outcome was surprising. This book had drama and was hard to put down. I was glued to the pages because I wanted to know the outcome. It was definitely not an obvious storyline.
I recommend this book to anyone who likes their sex scorching and their conflict resolved. This was a great book to read when the time is short but you need a quick romance fix.
You can read the entire review HERE
Sloane Taylor
Sweet as Honey…Hotter than Hell