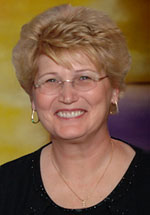 Photo by
Nightingale Digital
Imaging
Hi! Thanks for dropping by. We're very informal here. Pajamas, or whatever else makes you comfortable, are the dress of the day. Grab your favorite beverage, kick back, and have a browse.
If travel to exotic locations is your thing, along with heroes who rock your world and heroines who keep them in line, then you've landed on the right site. My stories are set in Europe where the men are all male and the women are both feminine and strong. There's always a twist, but as a true romantic, the women I write will bring more than just lust to their men's lives.
Feel free to visit my blog and let me know what you think.
Now Available
Photo Op!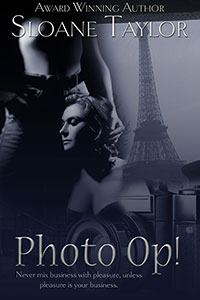 Never mix business with pleasure, unless pleasure is your business.
Photojournalist Emily Peters treats herself to the perfect birthday gift – a weekend in Paris. Her excitement builds when she hits the scene of the exclusive S&G Club. Exposing the truth behind their private pleasure chambers and the elite who frequent them will be the diamond in her career crown. At least Em thinks so until she's tied up in knots by the Devil himself.
British restaurateur Nicholas Caine visits Paris to check on his S&G Club investment and to sample its many benefits. Nick's not on the hunt until he encounters a tiger that pretends to be a kitten. There's no doubt she'll satisfactorily flex her claws given the right incentive.
What starts as a prime photo opportunity evolves into a weekend of erotic fantasies as Nick awakens Emily's dark passions.
Buy Now:
Amazon | Barnes and Noble | Kobo | All Romance | Smashwords
French Tickler
Naughty Ladies of Nice, Book 5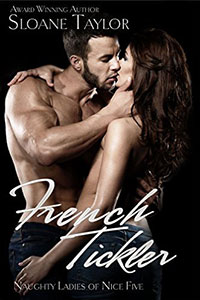 Lace and handcuffs…tools of the trade.
New Yorker Samantha Bradley has a fun, sexy career designing ladies lingerie. Now that her business is on the rise, she treats herself to a well deserved break on the French Riviera where the women are glamorous and the men are gorgeous. After a few days Sam is eager to sample more than just the local cuisine.
Cisco Bernier is France's key criminal prosecutor, but his courtroom charm falls flat outside the hallowed halls of justice. From family relationships to romantic trysts, his success rate is abysmal until a chance encounter with a sensuous American businesswoman spins his staid world out of control.
Sam and Cisco sizzle together, but any future is threatened when their pasts collide. Her mob-connected father and his deceitful mother resurface and drag them into a corrupt world of lies and danger.
Buy Now:
Amazon | Barnes and Noble | Kobo | All Romance | Smashwords
French Kiss
Naughty Ladies of Nice, Book 4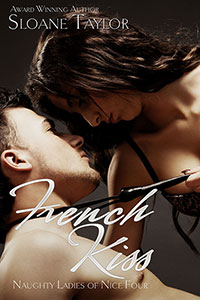 Who needs safe and boring when you can play with a pirate on the French Riviera?
Burned-out author Rachel Conklin sparks her creativity on the French Riviera as a fishing boat cook. Things are smooth sailing until she's thrown overboard into a storm-tossed sea. Rachel awakens to find herself staring into the eyes of a sexy pirate-looking hunk who changes the course of her life forever.
Dr. Henri Bernier is an analytical man with a quiet life and a job he loves. The last thing he expects to find when he anchors his treasured fishing boat in the sheltered harbor of a small island is an accidental mermaid washed ashore. He soon learns his perfect life leaves much to be desired.
Will desire save them or drown them in a perfect storm from their pasts?
Buy Now:
Amazon | Barnes and Noble | Kobo | All Romance | Smashwords
French Twist
Naughty Ladies of Nice, Book 3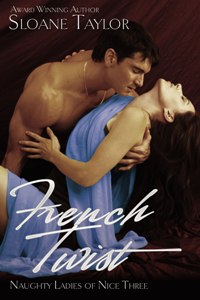 Spies and lies bring a deadly twist to the City of Lights.
Interpol agent Claudette D'Laquois is trapped in the hellhole of life and unable to trust anyone. Desperate to regain control, she flees to the safety of her uncle's rundown chateau on the French Riviera. But Claudette soon learns the countryside has its own dangers when she finds herself alone with a sexy foreigner.
Uptight accountant Donald Hobbs ditches numbers for dirt to oversee his friend's orchard for three weeks. His well deserved vacation is perfect until a seductive mademoiselle drags him into a dangerous world of intrigue and erotic fantasy.
Illegal drugs and Russian mobsters take a back seat to a lethal night of sinful pleasure.
Buy Now:
Amazon | Barnes and Noble | Kobo | All Romance | Smashwords
French Delight
Naughty Ladies of Nice, Book 2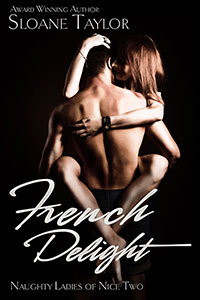 Fantasy blooms alongside the flora in a garden of wicked delight.
Science is Paul's life. Close to a major breakthrough, all he wants is to be left alone with his trees and not be forced to entertain a corporate suit. That is until the suit arrives in a sexy sundress. Now all Paul can think about is experimenting on her.
Lisette is less than thrilled to spend a month at a moldering chateau on the French Riviera with only some dried up old scientist for company. However the hot man in dirty jeans tending his scraggly trees proves more of a garden fantasy than the nerd in a lab coat.
Sex and science create a volatile formula resulting in total delight.
Buy Now:
Amazon | Barnes and Noble | Kobo | All Romance | Smashwords
French Tart
Naughty Ladies of Nice, Book 1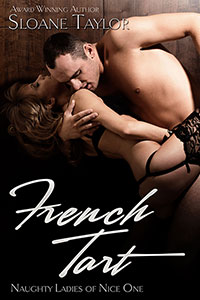 Bon Appétit…Satisfy all your cravings at cooking school.
Determined to prove herself and shed her party girl image, Donatienne Dubois pins her hope on the exclusive cooking school in Nice, France. One by one her expectations are shattered by a foul-mouthed parrot, a bogus Michelin chef, and a headmistress with a heart of tungsten steel. Donni's lifesaver is a bad boy too hot not to handle.
Mark Anderson is incognito and hating every moment. To pose as a student while keeping tabs on a rich wild child is his version of hell, until he partners with the dish of Crème Brulée good enough to eat.
Class takes on a whole new meaning as Doni and Mark heat up the kitchen when they discover honey has better uses than sweetening tea.
Buy Now:
Amazon | Barnes and Noble | Kobo | All Romance | Smashwords