Excerpts
From Naughty Ladies of Nice Box Set
FRENCH Tart Book 1
Bon Appétit…
Satisfy all your cravings at cooking school.
Determined to prove herself and shed her party girl image, Donatienne Dubois pins her hopes on the exclusive cooking school in Nice, France. One by one her expectations are shattered by a foul-mouthed parrot, a bogus Michelin chef, and a headmistress with a heart of tungsten steel. Doni's lifesaver is a bad boy hunk too hot not to handle.
Mark Anderson is incognito and hating every minute. To pose as a student while keeping tabs on a rich wild child is his version of hell, until he partners with the dish of Crème Brule good enough to eat.
Class takes on a whole new meaning as Doni and Mark heat up the kitchen when they discover honey has better uses than sweetening tea.
FRENCH Delight Book 2
Fantasy blooms in a garden of wicked delight.
Science is Paul's life. Close to a major breakthrough, all he wants is to be left alone with his trees and not be forced to entertain a corporate suit. That is until the suit arrives in a sexy sundress. Now all Paul can think about is experimenting on her, not his orchard.
Lisette is less than thrilled about spending a month at a moldering chateau on the French Riviera with only some dried up old scientist for company. However the hot man in dirty jeans tending his scraggly trees proves more of a garden fantasy than the nerd in a lab coat.
Sex and science create a volatile formula resulting in total delight.
FRENCH Twist Book 3
Spies and lies bring a deadly twist to the City of Lights.
Interpol agent Claudette D'Laquois is trapped in the hellhole of life and unable to trust anyone. Desperate to regain control, she flees to the safety of her uncle's rundown chateau on the French Riviera. But Claudette soon learns the countryside has its own dangers when she finds herself alone with a sexy foreigner.
Uptight accountant Donald Hobbs ditches numbers for dirt to oversee his friend's orchard for three weeks. His well deserved vacation is perfect until a seductive mademoiselle drags him into a dangerous world of intrigue and erotic fantasy.
Illegal drugs and Russian mobsters take a back seat to a lethal night of sinful pleasure for Claudette and Don.
FRENCH Kiss Book 4
Who needs safe and boring when you can play with a pirate on the French Riviera?
Burned-out author Rachel Conklin sparks her creativity on the French Riviera as a fishing boat cook. Things are smooth sailing until she's thrown overboard into a storm-tossed sea. Rachel awakens to find herself staring into the eyes of a sexy pirate-looking hunk who changes the course of her life forever.
Dr. Henri Bernier is an analytical man with a quiet life and a job he loves. The last thing he expects to find when he anchors his treasured fishing boat in the sheltered harbor of a small island is an accidental mermaid washed ashore. He soon learns his perfect life leaves much to be desired.
Will desire save them or drown them in a perfect storm from their pasts?
FRENCH Tickler Book 5
Lace and handcuffs…tools of the trade.
New Yorker Samantha Bradley has a fun, sexy career designing ladies lingerie. Now that her business is on the rise, she treats herself to a well deserved break on the French Riviera where the women are glamorous and the men are gorgeous. After a few days Sam is eager to sample more than just the local cuisine.
Cisco Bernier is France's key criminal prosecutor, but his courtroom charm falls flat outside the hallowed halls of justice. From family relationships to romantic trysts, his success rate is abysmal until a chance encounter with a sensuous American businesswoman spins his staid world out of control.
Sam and Cisco sizzle together, but any future is threatened when their pasts collide. Her mob-connected father and his deceitful mother resurface and drag them into a corrupt world of lies and danger.
Buy Now:
Amazon
From Photo Op!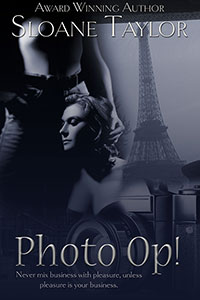 "These are the voyeur rooms."
Emily jumped at the deep voice in the quiet hallway.
Dammit. She'd been caught snooping and had no plausible excuse to save her nosey ass.
Her hunky dessert server nodded to the long line of wooden doors on either side of the deep red plush carpet. "Perhaps you would like a glimpse inside one?"
Offense is the best defense.
Sexy as he was, a girl still had to be careful. She drew herself up to her full five-feet-eight-inches. "Is the waitstaff allowed up on the second floor?"
"Only by special request of a member." His lips twitched at the corners. "Do you have any specialties you would like to request, Emily?"
"No. And if I did, what business is it of yours?" The broad corridor shrunk to a tunnel as the temperature soared.
"Perhaps a cool beverage would soothe your flushed face." He reached for her elbow, his fingers warm and strong. She surprised herself by not backing away. "Shall we?"
"Since we're going to become new best friends, what's your name?" She squeaked out the words.
"Nicholas Caine." He trailed his gaze slowly down her body, then back up. "And I hope we will be more than friends."
Her panties filled with moisture. She needed to create a diversion and calm her senses.
"You're British, aren't you?"
"Spot on, but I suspect after twenty years of photographing the world you have learned to place many accents." His full lips curved into a smile.
And her nipples tingled.
"To answer your other question, yes I am allowed up here. I happen to be one of the owners."
He twisted the brass handle, opened the carved door, and motioned for her to enter. She stepped across the threshold into another era, something right out of a Louis XVI antechamber.
Soft lighting from a table lamp lent a warm glow to the wine-colored leather wingback chair and matching footstool. An antique table held a delicately painted plate laden with foie gras and a crystal bowl piled high with black caviar nestled on a bed of ice. To the other side of the chair a magnum of Moet & Chandon Champagne and two glasses were chilling in a large silver bucket.
"Everything close at hand for your friendly voyeur." Just her misfortune she wasn't alone. Taking a photograph with him in the room was too damned risky.
"We like our members to be happy, contented." He took a step closer as the door shut with a soft snick.
And her heart banged against her rib cage…
Buy Now:
Amazon | Barnes and Noble | Kobo | Smashwords
From French Tart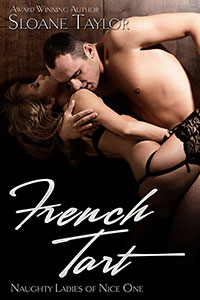 Donatienne Dubois looks like a woman who can suck a basketball through a garden hose.
Mark held his breath as her dark brown eyes widened. He knew all about her and her clashes with common sense. The wild child from Montreal would be a handful. An appealing thought if it meant her large breasts, instead of her often-publicized escapades.
Damn his father and the embassy good ol' boys club. Duty was the only reason he had agreed to suffer through this humiliating experience, when he should have been in Monte Carlo, working on the casino robbery case. Henry would just have to handle it. Christ, he hoped his business partner wouldn't fuck it up like he had when he created that fiasco in Madrid.
A smile tweaked his lips as he glanced down, enjoying their height difference and the view of her milky cleavage. An image of them in bed, naked, flooded his mind.
He threw his leg over her waist and mounted her, shifting higher up along her ribcage. With both hands he cupped her milk-white breasts, pressing them closer, encasing his hard cock. The musky scent of her sex and the ecstasy etched on her face made his balls tighten as he slid between her firm tits. His cock stiffened more each time she raised her head and glided her moist tongue across his purple head. On the downward strokes, she clutched his ass cheeks, ground her pussy against him, and moaned. He rolled her rosy nipples between his thumbs and index fingers, mesmerized as the taut points reddened. Her moans pushed him to the edge. He rode her harder.
Faster.
Dragging his stiff balls across her flat stomach.
Tit-fucking her until she screamed his name.
He slowed the pace, easing back and forth.
She laid her hands on the sides of her firm breasts, pushing them closer together to hold his cock in place. A coy smile tipped the corners of her full mouth. She swiped her tongue across her full lips, then thumbed her hard nipples.
The visual gripped him like a vise.
A shudder skittered the length of her flushed body, urging him to do all the things he wanted. He reached back, slid his palm along her flat abdomen, and massaged with the right amount of pressure until her muscles clenched and her eyelids fluttered shut. He trailed a finger over her mons, down through her damp pubic hair, and found her clit. Hot and ready. She spread her legs wider, inviting him to do more. He slipped a finger into her juicy pussy and kneaded deep into her hot core until she rode against him, her tits juddering…
Buy Now:
Amazon
From French Delight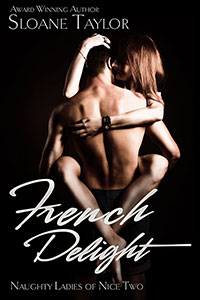 Paul looked at her. A deep, solemn stare. Time froze and all oxygen zapped from her brain.
It took all her energy to compel her brain back into business mode.
"Now let me get those papers for you." She reluctantly moved away from him to search for her briefcase.
He caught her up in his arms, studying her. Was he searching for permission? She looped an arm around his neck while her other hand rode down his narrow hip, and lower to his firm butt.
He massaged her spine and electric charges shot to the tips of her puckered nipples. The combined aromas of sweet honey and tart wine mingled between them when he opened his mouth and licked his lips.
She closed her eyes and stretched up to taste him.
His lips barely touched hers. The light, tender kiss set her on fire. Not enough. Not near enough. She stepped closer, needing to feel all of him against her. His body heat radiated through his clothes, warming her sensitive places, and a shiver skittered through her. His hard cock pushed against her mons and she inched closer on trembling legs.
He glided his fingertips down her cheek, tracing along her jawbone, before continuing his seductive exploration to her throat. He spread his long fingers and circled her hot skin while his thumb caressed the long column. Dieu, how she loved to have her throat stroked while making love. She tipped her head back, allowing him full access. He lowered his head, his late-night beard scraping against her hot skin, electrifying her. Murmured words blended with equally soft moans as he nipped down to the pulsating hollow at the base of her throat.
A burning trail singed her flesh, following the path of his hand to her décolleté. His gentle touch triggered a whirlwind of sensations that rocked her body. She had never been so alive, so in need of a man.
Her nipples ached to be suckled. Moisture gathered in her throbbing vagina and pooled in her thong. The need to feel him stroke inside her, to ease the incredible pressure between her thighs, forced her to rock against his swollen dick.
She licked his lips before deepening their kiss. He glided her robe down one shoulder. She lowered her arm and the satiny fabric slid off her wrist.
He kissed the corner of her mouth, his hand continuing down her body until he cupped her breast. He gently squeezed her nipple between his thumb and index finger. With each pinch, she bucked against him. The sweet pressure carried her to a new plateau. Her moans filled the room as he rubbed the aching peak against the soft material of his shirt.
Sheer. Delicious. Torture.
She dropped her other arm and the robe parted, allowing the thin cloth to puddle onto the floor.
He slid his finger between her butt cheeks, gliding beneath the silk band of her thong until he reached her asshole. With slow circling motions, he drew her into another realm of intense desire.
Her legs gave out.
He caught her in his arms and lifted her charged body as if she were a feather. After a languid kiss, he set her onto the kitchen table. She lay back, grateful for the support while he raised her legs, then anchored her bare feet against the tabletop…
Buy Now:
Amazon | Barnes and Noble | Kobo | Smashwords
From French Twist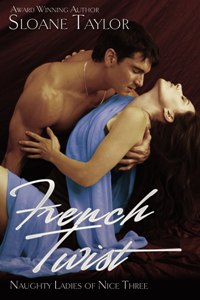 Nothing like an afternoon of hot sex to keep this guy happy.
Don followed Claudette down the hallway. He scanned her shoulders and down to her narrow waist and clenched his fists until the knuckles almost popped. His gaze dropped to her shapely hips that flared over her long legs. Legs that went on forever. He worked his way back up to her firm ass, mesmerized by the little swing it did as she nonchalantly strolled ahead of him. The rose dangled over her shoulder, luring him like a horse to the carrot, and he was eager to chase after it.
Walking right then wasn't the easiest thing, but he managed. Her tapered legs in sexy heels strapped around her slender ankles were the added bonus to keep him moving.
She stopped at her open bedroom door and glanced over her shoulder. Her long auburn hair shimmered with the movement.
Jesus, she was beautiful.
"Mon cher, do not be shy." Her voice dropped a couple of octaves. "I am not."
Obviously, and he loved it.
He followed her to the bed while fumbling with the buttons on his shirt. She bent and laid the rose on the nightstand, exposing her wet pussy. His cock jackknifed. He swallowed hard and prayed he didn't come before he finally got to touch her.
"You look as if you need help." Her soft voice came out low, like a woman who'd been making love for hours.
She turned and reached for his belt. Her large breasts jiggled with the movement and erased his control.
He stretched out a hand for her, but she eluded him and dropped to her knees before he could touch her rosy nipples. An herbal aroma drifted up to him as her hair flowed across her breasts. He scooped it out of the way. The need to watch her every movement overwhelmed him.
His zipper rasped opened. Don forced himself to breathe. His swollen cock leapt out of his shorts, grazing her moist mouth.
"I like a man who is eager."
Her warm breath tingled against his swollen head.
She swiped her pink tongue across her lips, moistening their soft surface. His body tensed. A soft puff of air caressed his crown, then she bathed the length of his cock from root to tip. She nibbled at the sensitive underside of the cap long enough to buckle his knees.
He wove his fingers through her silky hair and gritted his teeth as she clamped one hand onto his ass and gently dragged the fingernails of her other against his tight balls. The sweet pleasure was almost unbearable.
Jesus, he needed to regain some form of control over his body before he embarrassed himself. He counted twelve breaths, held them, then started again. When that failed, he mentally recited accounting tables. Christ, he'd do anything to save face and not come.
She swirled her tongue across the tip of his dick, her lips nipping at the engorged ridge. It was too much for any man to tolerate. The first rush of heat charged up his cock. He cried out, pumping into her hot wet mouth…
Buy Now:
Amazon | Barnes and Noble | Kobo | Smashwords
From French Kiss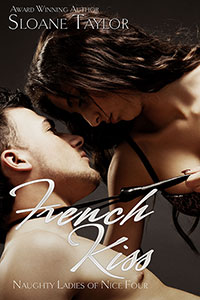 His mystery woman wiped mist from the cheval mirror. In the cleared glass, Henri caught her image. He stood in the bathroom doorway, frozen, staring at her through their shared reflection. And he could not tear himself away from her exquisite femininity. She smiled at his shocked expression.
The bath towel dropped from her fingers, exposing her firm breasts. Her large dark nipples drew him like a siren to the sea and his dick sprang to life. The desires to lave and suck her flooded through him while his stiff cock demanded he bend her over and fuck her until she came again and again.
Droplets glistened on the ringlets of her long hair, reflected by the late afternoon sun. Several beads gathered and made a slow descent down her spine. He stood mesmerized by the rivulet, staring as it glided to the sleek curve of her hip, following lower until the bead disappeared between her firm cheeks.
She pulled thick strands of wet hair off her back and draped them over her right shoulder, exposing her delicate neck. Their eyes locked and she bent over at the waist, offering him a seductive view of her pink labia. In slow motion, she drew a pair of red panties up her toned legs, then did a little hip wiggle and tugged them into place.
The shiny panties caressed her midway on her derrière, accenting the creamy bare skin and framing her ass cheeks. His hands itched to cup her and squeeze the firm muscles. But his arms were frozen at his sides.
The kissable white flesh rounded above legs that went on forever down to trim ankles and slender feet. He imagined those long limbs circling his waist, better yet, wrapped around his neck as his cock slid in and out of her.
"Magnifique." The word slipped out hoarse as he struggled for oxygen.
He walked closer, his movements dreamlike. The honey shampoo aroma filled his lungs when he finally reached her.
"You are beautiful."
"Merci, Henri." A smile twitched her lips.
"Your wrist should be in the sling." He held up a black cloth with his left hand.
"I agree, but there's time for that later."
She leaned into him and reached back for his free hand that hung limp at his side and laid it across her bare ribcage. Her smooth skin was warm against his damp palm.
"I intended to hang it on the handle, but the door popped—"
"Henri, isn't there something else you'd rather do right now than talk?"
His sex-engrossed brain finally registered her words. "Mais oui."
He laid a soft kiss on her shoulder and nipped his way along the side of her neck until he reached the tender area behind her ear lobe. Her nipples pebbled with his gentle touch, encouraging him to explore more of her.
His fingers played across her abdomen and sent prickles of anticipation up his arm as they climbed higher. He cupped her breast, massaging the firm mound until soft moans slipped past her parted lips. The entire time he watched her reflection in the mirror while his thumb made slow teasing circles around her areola.
She wrapped her warm fingers over his other hand and guided it across her body. The combination of soft skin and firm muscle was the most erotic sensation of his life.
Dieu, how he wanted to dip into her hot pussy. His cock, with drops of pre-come seeping through the slit, demanded relief.
She guided his hand lower until she stopped at the elastic band on her panties. He grazed the fabric across her mound and stopped, then moved to her thigh and edged toward her nub. She wrapped her fingers around his forearm, encouraging him to travel beneath the thin cloth. He glided his fingers under the damp fabric and into her wet hairs…
Buy Now:
Amazon | Barnes and Noble | Kobo | Smashwords
From French Tickler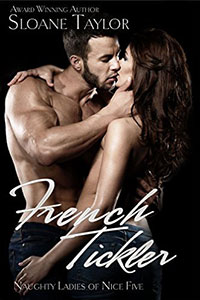 Cisco fought to hold back and not spill his seed all over Samantha and the duvet. Her heat radiated to him, making it impossible not to rip off her silky thong and devour her. More than anything he wanted to taste her sweet honey, to lap her until she came.
He peeled the thong down her long legs, then hooked them over his shoulders, all the while he watched her flushed face.
With shaky hands, he coiled his fingers through her damp, dark hair. "Have you ever thought to…" The words trailed off as her scent drifted up to greet him.
"A Brazilian?" Crystal laughter filled the room. "Not really, but would you like that?"
All he could do was nod as the memory of his fantasy filtered through his mind.
"Would you like to shave me?"
He glanced up. Her eyes sparkled in the golden light. She would allow him to perform the most intimate sexual pleasures with her, to both their benefit.
"Tomorrow night, after I bathe you."
Her breath caught in her throat. A smile tipped his lips. This woman touched deep to his core, like none ever had. He glanced up. Her eyes sparkled in the golden light. She
His cock throbbed, aching for release, but he refused to come until he had satisfied his mouth on her.
He leaned down, drawing his index finger along her slick folds, separating them. Her soft whimper reached into his soul and curled around his heart stronger than a fist.
A light nip on her swollen flesh, then he flicked his tongue against her wet creases and explored until he found her tender pearl. Lapping and sucking, he burrowed closer while inhaling deep and savoring her salty taste.
He stroked his index finger along her perineum, then dipped into her channel and paused. She writhed against him as if encouraging his hand to make love to her. His middle finger slipped in and massaged deep within while he continued tonguing her clit.
Much too soon her body tensed, her muscles clamping onto his fingers. Shudders ran through her as she cried out. A volley of shivers followed as he gathered her in his arms and kissed her damp body up to her throat, then finally her mouth.
She wrapped her arms tighter around his neck and nestled against his shoulder.
"I need to move you a bit, Samantha." He adjusted his legs straight out on the mattress and lifted her to his lap. "Swing your leg over my head to the other side."
He ducked to make the movement easier for her, then, with a hand under her compact ass, he scooted her closer to his chest.
"What about satisfying you?" She smiled and combed his hair from his damp forehead.
"You will." He wrapped her hand around his hungry cock and…
Buy Now:
Amazon | Barnes and Noble | Kobo | Smashwords