Coming Soon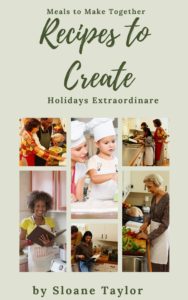 Recipes to Create Holidays Extraordinaire
Make every day a culinary holiday.
Liven up your year with Recipes to Create Holidays Extraordinaire. The 113 taste-tempting recipes come together to celebrate 35 traditional, and far from typical but fun, holidays with meals perfect for two or twenty. These full menus are guaranteed to excite your taste buds and satisfy your most discriminating diner. Holidays are meant for fun. Invite your partner to join you in the kitchen and start a new tradition.
Entertain like royalty year-round on a working woman's budget. No exotic or expensive products to buy. These delicious recipes use ingredients already on your kitchen shelves.
Recipes to Create Holidays Extraordinaire, Book 3 in Sloane Taylor's Meals to Make Together series, is an ideal gift for holidays, hostesses, bridal showers, or the couple who wants to enjoy quality time together.