Book Reviews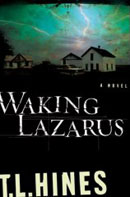 Waking Lazarus
By T.L. Hines
Bethany House 7/06
ISBN 0-7642-0204-9
Jude Allman has been pronounced dead three times throughout his life, making him a media hit. He resurrects himself as Ron Gress whose paranoia will not allow him to talk to people, never be touched, and extended to hanging drywall over all the windows in his house to keep "them" away.
One night he allows a stranger, Kristina, into his house in the belief she is about to die and needs reassurance of the afterlife. After her visit his life begins to change. It is now important Ron develop a relationship with the one person left in the world he loves, his six year old son. Nathan.
Life becomes stranger for Ron when Kristina repeats her visits and fragments of the past resurface to haunt him. Trying to come to terms with the changes is frightening but not as scary as when a serial killer steals Nathan from in front of the boy's home. The police believe Ron is the killer and his life becomes hell.
T.L. Hines brings a fresh voice and a compelling style to the literary world with his powerful debut novel. It's one you will never forget.. ST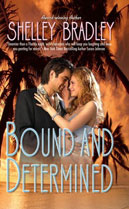 Bound and Determined
By Shelley Bradley
Berkley Sensation
Contemporary
Tender-hearted Kerry Sullivan is desperate to save her older brother, Mark, from a life in Prison after he is arrested for embezzlement. Since the public defender is overworked and the FBI are positive it's an open and shut case, Kerry devises a plan. She will kidnap Rafael Dawson, an electronic security expert, and hold him hostage until he agrees to prove Mark's innocence.
Rafe is intrigued and turned on by the blonde escort sent to greet him on his arrival at the Tampa airport. He's been hired by a local bank to beef up their security after they'd experienced a major loss of funds. A little hot sex with the kitten holding the welcome sign sure would help pass the time.
The next thing he knows, Rafe wakes up shackled to a bed as Kerry explains her problem. He doesn't have time for this. He needs to do his bank job to prove something to his father. But Kerry is too much to resist, and he decides that maybe he can have both. He turns the tables on Kerry with his own proposition; he'll check it out if he agrees to 48 hours of sex, whenever and however he chooses.
Virginal Kerry is unnerved, torn between wanting to clear Mark and Rafe's outrageous proposal. In the end, she has no other option. Rafe grows a conscience and calls off their deal but Kerry's not letting him go that easy.
I loved this sexy powerhouse novel filled with suspense and murder. It was impossible to put down, especially when they were in the shower. Talk about needing one after I read that scene. The perfect Valentine's Day gift for your friends.
Hot Summer
By Judy Powell
Lyons Publishing 10/05
Contemporary
Summer Jones is a spitfire who takes her goals seriously and has no time for a personal life, especially if includes a man. She's working hard to
complete her master's degree and tend to her critically ill mother while she suffers through an exhausting waitress job. When she loses her apartment and discovers mom needs immediate surgery, Summer is at her wit's and funds' end.
Luck turns her way when a guest at the restaurant offers her the perfect job. Lance Munroe, the strong-willed owner of a music production company, wants feisty Summer to be the public relations director for his newest singers. But Lance never planned to want Summer in his life forever. She's all about doing her best on the job. Not only is she dedicated but also innovative and proves it when the five artists, with unsavory reputations, become stars. The only thing Summer can't control is her desire to be in Lance's life and bed.
Powell is a new and upcoming author to keep your eye on. She's off to a fast start with a ltry novel that is packed with sensuality and romance..
Three Wishes
By Amelia Elias
Aphrodite Unlaced
Contemporary
Lucas Drake is one of four men who inveted their life savings into a magic lamp complete with genie, unfortunately not the Barbara Eden kind. Gene is a flamboyant showman who takes his work seriously. So much that the wish better be worded exactly or all hell with break loose. All Luc want from his third wish is a woman to love, be everything he dreamed of, be a perfect partner. What he got was sexy Allyson Vaughn, the best business partner a guy could want, who has no interest in him as a man. Allyson is leaving town to open a new branch before Luc so much as touches her hand. What's a guy to do? Make the most of his last oppurtunity and Luc sure as hell does.
Ally wants Luc and has from the first day they met. So when he seduces her from the boardroom to the bedroom, she's not about to say no. The Luc does a guy thing. Ally is so angry that she confronts him and then hops on a jet to work her heart out in a new city. Luc is not about to let the best thing in his life disappear. He shows up at her door, explains the mess he's made of things, and discovers, without Gene's help, she loves him too.
This is a delightful novella that is tender, passionate and has damn good sex. Luc and Ally are believable characters, strong in business but unsure of themselves in love. How human is that! Their unique circumstances intrigued me to read more. I rooted for Luc not to blow his big chance and like the perfect man, he came though with the sensitivity seldom found in heroes. Ally let go of the female fatale that lurked beneath her business suit and wowed me with her true nature. Buy it, Three Wishes is well worth the investment.
Harlequin Temptation
It's In His Kiss
By Julie Kistler
Temptation #985 08/04
The Spirits Are Willing
ISBN 0373691858
One hundred and nine years ago a house of ill repute had burned to the ground. Now the very posh inn at Maiden Falls stands on that very spot where rumor has it the inn is inhabited by the naughty ladies of the evening. Where there's smoke there's fire and our dead darlings are making it their goal to hook uo couples so they can make their way to the "great picnic" for all eternity. Rose Tate, asort of untried whore, has been assigned to help Ned Mulgrew and his fiancée find sexual wedded bliss. But one look at Ned and Rose is a goner. All she wants is Ned for her ownself and the hell with any "picnic." Breaking all the rules, Rose throws up one speed bump after another which includes the forbidden appearing to a human. She just can't leave well enough alone and has to seduce Ned just one time. Ned can't figure out what's going on. Any man in his right mid doesn't believe in ghosts, let alone fall in love with one. Hot damn, Ms. Kistler has a unique talent for delivering humor and passion with the stroke of a pen.
Sweet Talkin' Guy
By Colleen Collins
Temptation #977 06/04
The Spirits Are Willing – Book 1
ISBN 0373691777
Daphne Remington has one desire and that's to be a perfect socialite. She's almost achieved that fate until Daphne decides just a little fun i sin order before she starts pushing the pram through the park. Once last fling is on her agenda until the only room at the inn has to be shared with hot reported Andy Branigan. But what's a girl to do when nature seems to shove all common sense right out of her brain? You guessed it, enjoy the good life and a few stolen moments of happiness. You'll love this hot, sexy, well writen novel.
Hot Prospect
By Julie Kistler
Temptation #957 01/04
True Blue Calhouns
ISBN 0373691472
Jake Calhoun is an honorable Chicago cop who firmly believes in the truth and takes his job very seriously. Jake is set for a well deserved vacation with his brothers when his dad calls on him for a special favor. Jake can never say no to the man who is his idol and sets out to correct the problem. However, the dilemma introduces Jake to a real quandry by the name of Zoe Kidd. Flaky as the come but with a heart of gold. Zoe is determined to help Jake no matter how screwed up it gets. How hard can it be to pose as newlyweds? Easy until you want the real thing. Love it, love it, love it! Spicy, quicky and damn good fun.
Silhouette Desire
Business or Pleasure?
By Julie Hogan
Desire #1614 10/04
ISBN 0373766149
Daisy Kincaid has had enough! For as long as she can remember she has tried to get her boss Alec Mackenzie to notice her as more than his assistant. her only option is to quit the job she loves and move on. Alec isn't happy about Daisy's decision because he needs her help with a business deal that meant everything to him. At least he thought so until Dasiy screws up her courage and makes the first move. It's a good thing this book came out in the fall because it's hot enough to tkae the chill out of the air.
Historical
The Barbarian
By Judith E. French
Leisure Historical Romance 08/04
ISBN 0843953799
What's a girl to do when she wakes up in strange surroundings and hasn't got a clue as to how she got there or where she's been? It was the handsome, virile King of Eqypt, Pteolemy, who told her the story of her past, dead husband and child, that brought her back from the emptiness that plagued her days and night. But he would not let her be with another human other than slaves who served her in the magnificent palace that soon became a prison. Then one day a man with hair dark as night came to her to free her from the silken bonds and return her memory. Price Kayan of Bactria and Sogdiana, a true barbarian, had loved the Crown Princess Roxanne from her childhood. Even when she married Alexander the Great and left him, Kayan swore to return her to her home and make her his own. Through dust storms raging battles, and horrendous moments of guilt, Kayan searched the world until her found Roxanne and convinced her to resume her warrior's life, Ms. French writes a superior novel with action so real you feel the agony of battle along with the heat of passion.
Into His Arms
By Paula Reed
Zebra Historical 06/04
Faith Cooper is a Massachusetts Puritan who has lived her life piously by keeping her eyes averted to hide the feistiness that can't help but erupt at some of life's unfair situations. She has always obeyed her parents no matter what they requested. But now the new minister, a wretched mean man, has demanded she marry him so he may keep her on the path of righteousness. Fear prompts Faith to follow her gut instinct and stow away on a ship bound for Jamaica. What this lovely innocent never considered was an unruly male crew and powerful Captain Geoffrey Hampton. Geoff vowed to keep his hands off the pretty little Puritan maid but the lack of space and moonlight night are more than he can bear. Hot damn! Faith might start out a puritan but this sassy minx soon becomes a woman worth her salt.
The Bride Wore Plaid
By Karen Hawkins
Avon Historical 5/04
Talisman Ring
ISBN 0060514086
Devon St. John discovers the cursed family ring hidden in his carriage robes. The story goes whoever has possession of the ring will wed soon. As a confirmed bachelor, Devon is bound for Scotland and an old friend's castle to ward off any chance of falling under the spell. Surely in the bogs of Scotland there won't be a woman of consequence who could incite him to marriage. Kat MacDonald is the half sister who brooks no nonsense from the like of an arrogant Englishman even though he does have an arse that would make angels swoon. And if Devon wants her, it will be on Kat's terms, or not at all. Alive and stimulating. A novel well worth reading.
Contemporary
Perfect Switch
By Lisa Plumely
Zebra Contemporary 06/04
ISBN 0821773429
Meredith Madison has lived in her own twins sitster's shadow all her life. She only wants a little attention Marley's stardom has brought her. When Meredith comes across an invitation to attend an acting fantasy camp, she jumps at the change to get a taste of then glamour Marley lives with daily. Tony Valentine has had to live down his family's famous Hollywood history. But when they're about to lose everything, Tony, whose expertise is business, returns from New York to save the studio with the innovative idea of bringing tourists onto the lots for a week and providing a true fantasy world. What neither of these tough young people expected to deal with was the irresistible urge to dive into their private fantasies together. Perfect Switch is perfectly delightful. Ms. Plumley has given us another excellent upbeat novel.
Unforgettable Lady
By Jessica Bird
Ivy Books Contemporary 03/04
ISBN 0345458958
Personal Security Specialist John Smith isn't the love 'em and leave 'em type, he just leaves 'em. It's the only way iceman Smith can do his job and not expose his past. When Grace Hall, the Countess von Sharone becomes part of a hit list, John knows this job could be his undoing and fights her sincerity and unpretentious ways with everything he learned from his Army Special Services career. The brutal murders along with trying to maintain a stronghold in her deceased father's company is wearing on Grace. The only strength she can find is from the man whose eyes say one thing while his brisk manner says another. Being together 24/7 creates a tension that is bound to explode in their faces, and John decides he can't do his job if he stays in her life. Tense and complex mystery with a brilliant love story.
Remind Me Again Why I Married You
By Rita Ciresi
Delta Contemporary 01/04
ISBN 0385335857
Lisa and Eben Strauss have the perfect marriage, that is, unless you consider their son's adenoids which makes him sound like fog horn while sleeping, Ebb's chronic and often complained about constipation, and Lisa's unrelenting desire to be an author. Married life was supposed to be cool and often it is but there are times that Lisa's fantasies make her want to scream and bust loose. Lisa and Ebb both have sexual desiers they live out in their dreams with other partners while maintaining a banter with each other that makes the reader laugh out loud. Your going to love this hits-home romance with guts and pizzazz.
Mystery
Speak Now
By Margaret Dumas
Poisoned Pen Press 10/04
ISBN 1590581210
Wealthy Charley Van Leeuwen shopping, champagne, her friends and the repertory theater she solely sponsors. This is a woman who will do anything to avoid commitment–that is until Jack Fairfax sweeps her off her feet in London. Her friends are shocked and skeptical when the newlyweds who only knew each other for 6 weeks, arrive back in San Francisco. Their arrival at the plush hotel is puctuated by the dead body in their bathtub and the police inspector who is too interested in Jack's past. This is closely followed by a summons from her overbearing beach bum uncle who investigates everyone who comes into Charley's life. Next her cousin is kidnapped and Charley just can't let the situation alone. She too ends up bound and held until Jack rescues them. But her string of luck doesn't end there, she discovers that her loathsome exboyfriend is now a big supporter her theater, she is to direct the new play, and her husband has assigned her a body guard. A creative woman with a brain is a daunting rival when she begins her own investigation into this mess she calls life. Brillant and sassy. Ms. Dumas writes with a sense of humor that will have you laughing out loud. Her novel is a must for your library.
Crazy Eights
By Elizabeth Gunn
Forge Mystery 03/05
A Jake Hines Mystery
ISBN 076530806I
Rutherford is a small town in Minnesota that's growing rapidly, which is proven by the increase in drug busts and murders that are leading Captain of Detectives lake Hines down some interesting paths But the worst comes when lake's suspect for a cruel murder is found not guilty by the jury and later turns up dead. With witnesses recanting their stories, DNA confusing the jury, and dead bodies piling up, it's hard for lake to have time for his lady-love Trudy, a forensic scientist, and the dilapidated farm they share. But Jake and Trudy share a rare love with each more concerned for the other than their selves. As is this case with the mammoth vegetable garden Trudy produces to barter with the local repair men. Ms Gunn has written a wonderful series that's got humor, depth, and the ability to make you turn the page. I highly recommend her novel.
The Second Chair
By John Lescroart
Dutton Hardcover Mystery 01/04
ISBN 0525947752
Up and coming Amy Wu became the queen of one nightstands while grieving the loss of her father. She also had a murder case dumped in her lap and through her alcohol haze decided the seventeen-year old boy was guilty. Jason Brandt, the prosecuting attorney who becomes entangled with Amy against all the rules of the court, is torn between love and the law. Eventually Amy pulls herself together with the help of her boss and suffers a load of guilt when she begins to believe her teenage client. A great mix of characters who step off the pages and invite you into this marvelous web of mystery.