Cindy Spencer Pape
June 18, 2007
Cindy Spencer Pape Tells All
ST: Hi, Cindy Spencer Pape, welcome and thank you for visiting with us this week.
CSP: Glad to be here! (looking around) At least I think I'm here. I could be somewhere else entirely.
ST: Tell us a about yourself.
CSP: Hmmm. Not nearly as interesting as the books.
OK—according to the IRS, I'm an unemployed zoologist. Hopefully next year that will change to well-paid author. There's always hope. I live in Michigan, about an hour out of Detroit with my husband of 20 plus years, two teenage sons, a neurotic dog (or small horse, depending on your definition) and a stray iguana who followed me home. And some goldfish. I think. Haven't checked the tank yet today.
ST: You had an exciting new release in May, CRAZY FOR THE COWBOY.
And in June, DRAGON IN THE SYSTEM, hits the market.

Please tell us about them.
GSP: Actually CRAZY FOR THE COWBOY came out as an e-book in March and in print on May 11. It's Book #2 in the Love at the Crazy H series, which is a Yellow Rose contemporary western romance from The Wild Rose Press. It's the story of the second Hall brother, Sheriff Fitz Hall, and Rhiannon Jakobowski, a new-age vegetarian from Detroit who inherits the bookstore under Fitz's apartment. She arrives while Fitz is spending a couple of days on the family ranch, and assumes all the stuff in the apartment belongs to her dead great-uncle. So she boxes it up, gives some away, pitches some in the dumpster, and collapses into an exhausted heap. Fitz stumbles into the apartment after a late night car accident call, tired and sick, and doesn't even notice there's already somebody in his bed. The fun continues from there.

Dragon in the System is a paranormal romance from Cerridwen Press. I call this one my geek-fest book. Eric is a computer science professor. When he's assigned to unmask a hacker who is embezzling from campus accounts, he winds up searching in the steam tunnels below campus. He's not sure if he's going crazy when he thinks he sees a giant lizard tail, so he enlists the support of herpetology professor Lori Tremain, who turns out to be both a big help and a major distraction. Given the title and that the story is a paranormal, wanna guess what they find in the steam tunnels?
ST: You also have THE COWBOY'S CHRISTMAS BRIDE available. Tell us a little about it.
CSP: The title is pretty self-explanatory, isn't it? Just kidding. Allison finds out the day of her wedding that her fiancé is gay, so she takes off, and winds up driving through a freak Wyoming snowstorm. She takes shelter at the Crazy H ranch, and offers to help take care of the rancher's baby nephew in exchange for her keep till the storm ends. CJ Hall is fascinated by his unexpected guest, but he has secrets of his own that keep him from making a serious move. And then his whole big crazy family shows up for Christmas, and decides that Allie would be the perfect match for the youngest brother, Trip. There also may or may not be family ghosts mixing things up. It's a fun story, or at least that's what the reviewers said!
ST: What is the heat level of each book?
GSP: Pretty tame by e-book standards, but spicy enough to horrify my dad's 80-year old cousin. The cowboy books are about the level of a Silhouette Desire or a Harlequin Temptation. DRAGON is a bit hotter. My October Quickie from Ellora's Cave is—well—scorching!
ST: How did you come up with all the story lines?
CSP: I'm pretty sure that answering that question would take several years and the services of qualified professionals. In all honesty, I have no idea. They just sort of evolve and grow in my brain like parasites. I started the cowboy series because my mother liked cowboys and didn't care for all my paranormal stuff. The fictional Wyoming town of Shirley is named after her.
ST: And where and can we buy CRAZY FOR THE COWBOY, DRAGON IN THE SYSTEM, and THE COWBOY'S CHRISTMAS BRIDE?
CSP: You can check them all out at my website
The Cowboy books are available in print at Amazon, and electronically at Wild Rose Press. And on June 21, DRAGON IN THE SYSTEM will be at Cerridwen Press.
ST: Thanks for all your time today. Are you available tomorrow for more questions?
CSP: I think I can pencil it in. In all honesty, I'd love to stop by again!
June 19, 2007
The Write Side of Life
ST: Good morning and welcome back. Several people emailed requesting to see the DRAGON IN THE SYSTEM book cover. So here it is: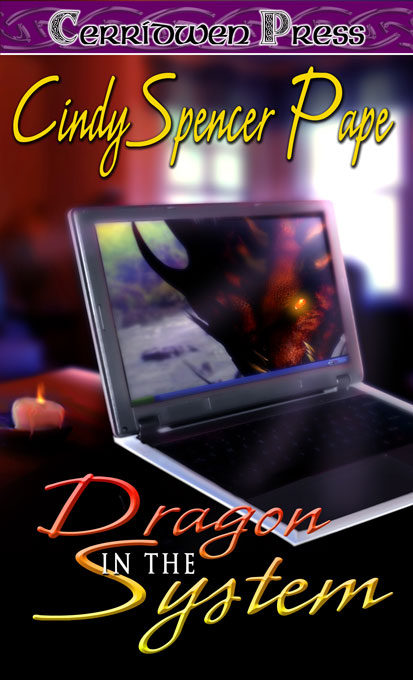 ST: Cindy, what made you decide to be a writer?
CSP: I don't know that it WAS a conscious decision. Like so many other aspects of life it just sort of evolved. Mostly so the voices in my head would have someplace else to talk.
ST: How long have you been writing?
CSP: Seriously, about 7 years. Full-time, since I mucked up my knee last fall, and couldn't work at the nature center anymore.
ST: Do you find writing to be fulfilling? And in what way?
CSP: If I didn't I think I'd be in the wwwrrrrrooongggg business! It's nice to have a creative outlet, to help people find happiness even if they are imaginary.
ST: What's a normal day like for you?
CSP: Define normal. It's not a word I'm familiar with. An optimal day is when I throw the menfolk out the door to school and work, crawl back into bed and get another hour's worth of sleep. Then I get up and write. Somewhere in there I usually shower and eat lunch, then write till the monsters come home. Feed, them, send them off to the teen center, if I'm lucky, and write for another 2 hours till the horde returns. And if you don't believe three is a horde, you've never been around teenage boys! Notice I said this was optimal. In real life pesky things like errands, exercise classes, and housework keep getting in the way of my perfect plan.
ST: With your busy life how do you find time to write?
CSP: By learning to live with a messy house and learning to write on whatever flat surface I can find. I carry a notebook anywhere, and type while I'm watching TV some nights.
ST: Thank you again for your time. See you in the morning?
CSP: Without a doubt. Thanks to everyone who's posted. I appreciate your comments and questions.
June 20, 2007
Author, Author, Tell Us More
ST: Good morning! Cindy, let's show everyong your great cover for BELTAINE BARGAIN from Wild Rose Press.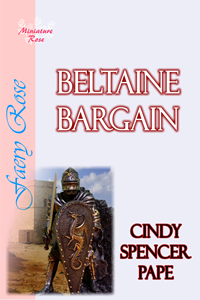 ST: Are there any quirks you have or do before or while you're writing?
CSP: Not really. Caffeine is good, music is good, (the louder and faster the better.) But I really can write anywhere, as long as I'm not too stressed out. That's the only thing that makes it hard.
ST: Who or what encouraged you to write and especially erotica?
CSP: Ummm-I I'm just getting started with the erotica. My editor from Ellora's cave/Cerridwen Press has been a big booster in that area. And my husband really wants me to focus in that area. He regularly offers to help with the research. LOL Seriously, he's been great at giving me the pushes I need to get going. And my father and in-laws are also fantastic.
ST: Where do you get the ideas for your novels?
CSP: There's no real answer to that one. Life, movies, dreams, whatever. They just sort of ooze together somehow.
ST: How do you research your books?
CSP: However I need to. Internet is great, you don't even have to leave your chair. And I have no problem asking fellow authors if I know they're experts in a certain field. Failing that, I have a well-worn library card.
ST: Who is your support group?
CSP: Husband, Kids, Father, In-laws. After that, I have a wonderful local RWA chapter, and I honestly wouldn't be here without them. Now that I'm published, I've developed a vast network of on-line friends from each of my publishers, and that is probably the coolest thing yet, other than getting to hold a book with my name on it.
ST: Thank you again, Cindy, for chatting today.
CSP: I enjoy it. See you in the morning!
June 21, 2007
The Soft Side of Cindy Spencer Pape
ST: We're back with another set of questions for Cindy.
CSP: Good morning, everyone!
ST: Please describe your writing space.
CSP: At the moment it's my dining room table. Sometimes the couch. Sometimes I sit on my bed with my laptop. On really nice days, I have a sunny back deck. There is NO room in my house for an office, so all I have is my laptop, and it goes where I go. My little desk by the phone is officially my workspace, but is usually too piled up with bills, junk mail, and everything else to actually have room for the computer!
ST: What's your favorite part of writing?
CSP: Seeing stories come to life. Going back and reading something I've written and feeling like I've turned the characters into people!
ST: What do you absolutely hate about being an author?
CSP: The whole no-paycheck thing. Though hopefully that will soon change. I do have trouble sometimes not having co-workers around. It can be very lonely, though the loops help with that a lot. I call the author's social loops my office water-cooler. And I have very few excuses to buy nice clothes.
ST: Your website suits you and your novels. I recommend everyone cruise over to Cindy's site and check it out. How did you decide on the content and design?
CSP: It does? Thanks. The design is courtesy of the free software provided by my webhost, so I just picked the one I liked best. As for content, well, that continues to evolve, but I basically checked out a bunch of other author sites and figured out what I like best.
ST: I know you're busy today and have to boogie. Will you please come back tomorrow?
CSP: Most definitely!
June 22, 2007
Gazing into the Crystal Ball
ST: Today we're showing all of Cindy's covers between our chat. All set for our last day, Cindy?
CSP: Ready to go. What do you want to know?
ST: What does the future hold for you?
CSP: If I knew that, I'd buy a lotto ticket! LOL More writing, I hope! Maybe even someday for one of the big-name houses.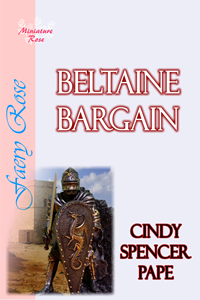 ST: If you had one wish that would be granted, what would it be?
CSP: For my family and I to live long, healthy lives together. Sounds hokey, but really, isn't that what we all want?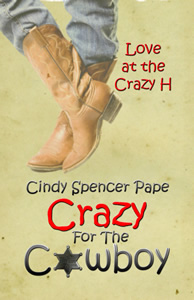 ST: How did you and your publishers come together?
CSP: I found one on-line and the other in a bookstore. I subbed like crazy until somebody took the bait.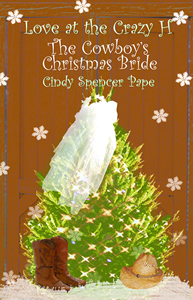 ST: What's in the works for the future?
CSP: I've just finished a sequel to DRAGON IN THE SYSTEM for Cerridwen/Ellora's Cave and I'm getting started on the third cowboy book for Wild Rose Press. I also have a short story coming hopefully in July from Wild Rose Press, called BELTAINE BARGAIN. It's a historical paranormal, so a bit of a change of pace, but fun, and an erotic Quickie from Ellora's Cave called (go ahead and laugh, I did) BETWEEN A ROCK AND A HARD-ON in October.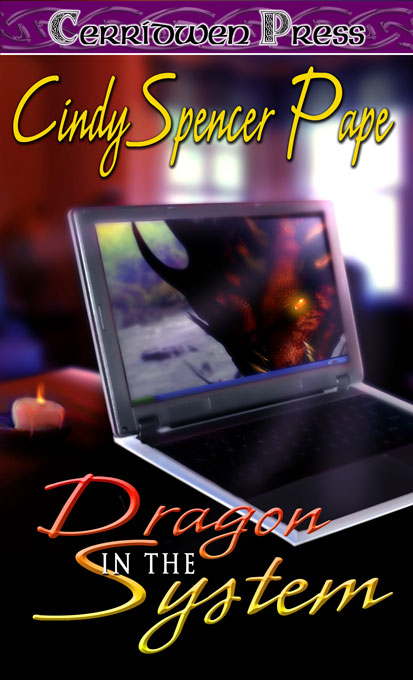 ST: Thanks, Cindy, for spending so much time with us. It's been a great week and I've enjoyed learning more about you. The very best to you in the future and keep us posted on your future releases.
CSP: Thanks for the invitation. It's been fun talking to you, and if any of the readers have any further questions, I'd be happy to answer them. There's a contact me page on my website, or they can catch me on one of the loops!