Lizzie T. Leaf
Out and About with Lizzie T. Leaf
ST: Welcome, Lizzie, and thank you for visiting with us this week. Congratulations on Struck by Lightning being a 2007 Award of Excellence Finalist. You must be very proud.
LTL: Heck yeah, I'm proud of it…my first at making the top grouping in a contest…LOL.
ST: Let's show everyone your beautiful cover.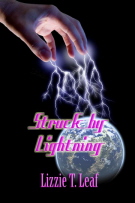 ST: Lizzie, tell us about yourself.
LTL: I live in the Denver area with my husband of three years. I've been seriously writing for the last four years and very seriously, after we were married and my new spouse told me I needed to focus on my writing. The children are adults with families of their own. Ask me if I spoil my granddarlings??? Dang right, I do. Every chance I get.
ST: How many books have you written to date?
LTL: Nine published books in varying lengths. Currently, working on 3 that will be finished between the first and end of February.
ST: Which is your favorite and why?
LTL: Wow, tough question. The one I'm working on at the moment is usually the way it works with me. I love the Again and Again series, as I can bring my fascination with history into the stories. The Sexy Ladies series is also fun!
ST: Do you also have books in print?
LTL: Yes, Struck by Lightning which is in the Triskelion series, The Still Sexy Ladies Guide Dating Immortals. I've done a lot of book signings at Borders and it's available at Amazon.com. I'm currently working on another contribution to the series.
ST: What is your latest release in print and e-published?
LTL: In bookstore print, Struck by Lightning and e-book at Triskelion. In POD and e-book, I have a short in the Jaded Beasts VI with Midnight Showcase and at Lulu.com for the print. In e-book only, my latest is a "hot" little short with Aspen Mountain Press' called Night Nurse, in their Brown Paper Wrapper releases. All of my AMP books are also at Fictionwise.
ST: Where can we buy your books?
LTL: Stuck by Lightning, Call Me, Boy Toy and Forget the Mistletoe are all available in e-book at Triskelion Publishing. If you can't find Struck by Lightning at your local bookstore, then try Amazon.com.

Among the Stones, The Nutcracker Returns and Night Nurse are at Aspen Mountain Press and Fictionwise in e-book only.

The Jaded Beasts VI anthology is at Midnight Showcase. I just received an e-mail from someone commenting on Enchanting, which is my contribution. She said she almost wet her pants she laughed so hard while reading my book. Now, that is a compliment! Studly Service is at Erotique/Echelon Press and available at Fictionwise.
ST: You write for at least five publishers. How do you manage that kind of work load?
LTL: The requests were spaced out over time, so it really wasn't an issue.
ST: Thanks, Lizzie, for all the time you've given us today. I'm looking forward to tomorrow.
LTL: I'll be here bright and early.
April 17, 2007
The Write Side of Lizzie T. Leaf
ST: Good morning, everyone. I thought you might like to see Lizzie's cover for NIGHT NURSE from Aspen Press. Looks good.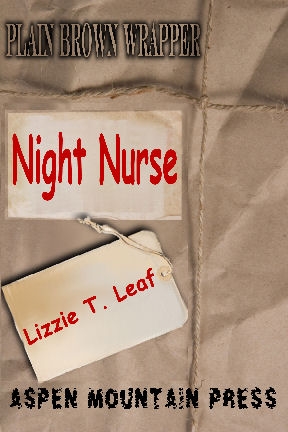 ST: Before we begin, Lizzie, let's tell everyone where they can find out more about your books and ordering them. Just click on to Lizzie's website for all the info.
ST: Lizzie, what made you decide to be a writer?
LTL: Writing is a dream I've carried in my heart and head since I discovered I could put stories on paper.
ST: How long have you been writing?
LTL: In my head, most of life. At various times, I've worked on short stories or started books that never saw the light of day. Seriously, about four years ago I became part of a critique group and with their encouragement and my husbands, things began to happen for me.
ST: Do you find writing to be fulfilling?
LTL: Yes, most days.
ST: And in what way?
LTL: It keeps me semi-sane. I love getting the constant barrage of ideas out in the open and get very excited when I hear from someone who has read on of my books and liked it.
ST: What's your favorite part of writing?
LTL: Creating the characters and their lives. Developing the worlds that I can escape into.
ST: What do you absolutely hate about being an author?
LTL: The fact that I now have commitments, instead of just writing for my own pleasure. There are times I'd rather be reading someone else or napping.
ST: Where do you get the story lines for your novels?
LTL: Everywhere. Sometimes it has been from snatches of overheard conversation when I'm out and about. Watching television, stories someone tells me, or memories from my past.
ST: Our time is up. Thanks again, Lizzie and we'll see you in the morning.
LTL: My pleasure!
April 18, 2007
Author, Author, Tell Us More
ST: Good morning, everyone! Here is another of Lizzie's fantastic covers to perk you up on this fine spring morning. Enjoy.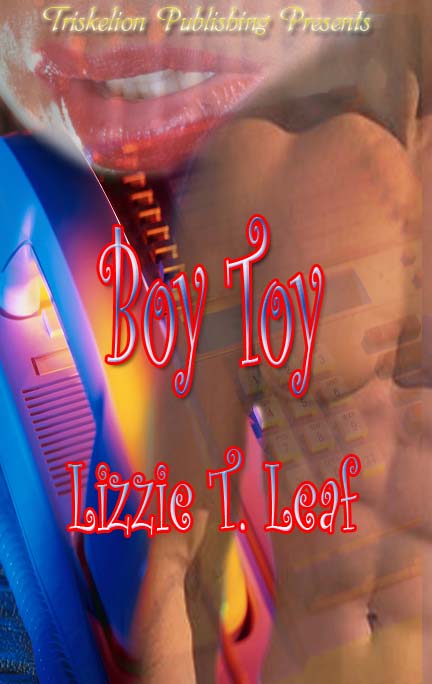 You can click onto Triskelion Publishing to pick up your very own copy of Boy Toy!
ST: All set to get started, Lizzie?
LTL: Fire away.
ST: You write erotica. Who or what encouraged you to write that specific genre?
LTL: My critique partners, Lena Austin and Lucynda Storey, challenged me with a 'bet you can't', which of course I couldn't pass up.
ST: How hot are your books?
LTL: The heat level varies. Among the Stones is more sensual than hot and doesn't have humor. Pretty hard to be funny about someone getting sacrificed. lol. Call Me is pretty hot with all the phone sex and the heroine's real life connection in the shower and received a 5 star rating from JERR. Night Nurse is pretty much a setup and sex, so it's hot. Other than Stone, my books also have a lot of humor…I hope.
ST: What's a normal day like for you?
LTL: Lately, I've been a little distracted. A good day for me, is getting a few chores out of the way around the house, answering e-mail and then writing until noon (during the week I get up at 4:45 am). Some days I have to run errands and I'm trying to get back into a workout routine.
ST: With your busy life how do you find time to write?
LTL: I try to treat it like a job. Sometimes, to accomplish this, I have to leave the house and go to a coffee shop or something and pretend it's my office.
ST: Please describe your writing space.
LTL: I share the workspace with my husband. He's into genealogy and has crap everywhere. Of course, he promises to file it, but I'm still waiting. Probably one of the reasons I work more and more on my laptop, as I find the clutter distracting a lot of times.
ST: Are there any quirks you have or do before or while you're writing?
LTL: Music. I have music on and try to gear it around what I'm writing. For emotional scenes I like the sad, heart break songs.
ST: Rats! Our time is up for today. Are you ready to join us tomorrow for the Soft Side of Lizzie T. Leaf?
LTL: I'll be here!
ST: Just a reminder to everyone, check out Lizzie's website to find out more about here well written and exciting books.
April 19, 2007
The Soft Side of Lizzie T.
ST: Good morning! Below is Lizzie's gorgeous cover for AMONG THE STONES, a book you'll definitely want to read.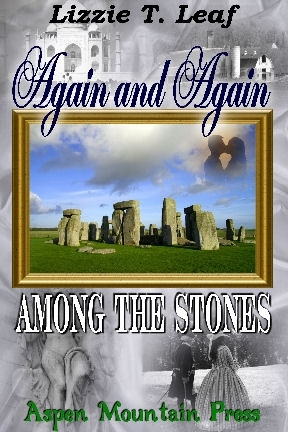 ST: Welcome back, Lizzie. Tell us how you research your books?
LTL: Books on the subject, googling around on the internet, and sometimes I need to visit an area or talk to people in a profession. For Struck by Lightning, I spent several hours with the weather gurus at local television stations.
ST: Who is your support group?
LTL: My critique group and my family.
ST: And how do they help you?
LTL: My critique partners have no problem in telling me when I get off on the wrong direction. My family, well the kids encourage me and in addition to the encouragement from my husband, he now also does the last read through after edits before it's returned to the editor. He's very good at catching things missed by all of us. The more eyes, the better.
ST: In your opinion, what's the most important thing for a new writer to learn?
LTL: Discipline (which I continue to work on daily) and believe in yourself, even if you're not getting the support from your family. I let this sideline me earlier and if I had hung in there and continued to learn and grow my abilities, my career would be further along.
ST: How do you handle promotion?
LTL: I'm sure if you ask my editors, they'd say "not very well" since I'm not on the loops a great deal…LOL. I have a monthly chat the 2nd Monday of each month at Realms of Love ; I have a yahoo group, Lizzie's Tea Room and have group days there from time to time. I also have a MySpace home page, and of course there is my website , which has covers and links for my books, in addition to reviews and a bio on me.
ST: Your website is gorgeous. I recommend everyone cruise over to Lizzie's site and check it out. How did you decide on the content and design?
LTL: My husband did it all. He thought we should keep it simple and easy for visitors to get around in.
ST: You're also involved with other sites. Please tell us about them.
LTL: I'm one of the authors at Realms of Love and a moderator at Romance Excerpts Only.
ST: Lizzie, I see it's time for you to go but I hope you'll join us again tomorrow.
LTL: Happy to be here, Sloane.
April 20, 2007
Gazing into the Crystal Ball
ST: Good morning! We're back for our last day with Lizzie T. Leaf, an author you will all want to check out. So Lizzie, tell us what you want to happen in your future?
LTL: Strive to improve the quality of my work and of course, get that six or seven figure contract that all authors dream about…LOL
ST: I certainly hope you achieve that coveted contract and the New York Times Best Sellers List. But if you had one wish that would be granted, no matter what it was, what would you desire?
LTL: World peace? Seriously, this world is in a real mess and if the people spent the energy put into wars, on helping each other during hard times, we'd all be a lot better off. There would be fewer children (and adults) homeless and dying of hunger or disease.
ST: You're very right. At some time in the near future we'll all have to do more then contribute to the local soup kitchens.
LTL: I agree.
ST: Lizzie, what's in the works for us readers?
LTL: I have a contract with Aspen Mountain Press to complete four more books for the Again and Again series. Also, have a contract for a novella with Triskelion for a Halloween anthology coming out this year and I'm working on another Sexy Ladies. Had to set it aside to complete some of the contracted obligations, but it's back on the work board to be done around the end of Feb.

From there, I have a couple of ideas that fall outside the erotic genre that I want to work on…one being, my heart book.
ST: If you were busy before, you're going to be swamped now!
LTL: Yes, but I love what I do and want to keep at it for many years to come.
ST: Thank you, Lizzie, for being so open and honest. I appreciate it. And a huge thanks for spending so much time with us. It's been a great week and I've enjoyed learning more about you. The very best to you in the future and keep us posted on your future releases.
LTL: I will and thanks so much for having me.
ST: Don't forget to check out Lizzie's website. Have a wonderful weekend and see you all next week.