What's Cooking - 2020

The internet is flooded with recipes for spinach dip with each one claiming to be the best. I've tried many and found them all to be about the same which was just okay at best. That was until our niece Lauren came for dinner with her handsome hubby Jim and delightful mother-in-law Edlyn. Lauren brought her version of spinach dip for our appetizer. It was delicious! Studs and I both give Lauren's recipe 5 spoons, our highest rating for recipes. I'm confident you'll love it too.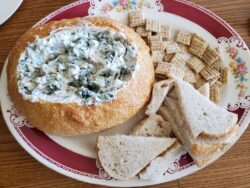 Lauren's Spinach Dip
1 cup mayonnaise, no imitations
16 oz. sour cream
1 – 1.8 oz. pkg. dry vegetable soup mix
4 oz. can water chestnuts, drained and chopped
5 oz. chopped frozen spinach, thawed and drained
1 round loaf sourdough bread
Gently combine all ingredients, except bread, together in a glass or ceramic bowl. Cover with plastic wrap. Set in fridge anywhere from 5 hours to overnight.
When you are ready to serve, slice the top off the bread and pull out a fair amount of the interior dough. Tear those pieces into chunks for dipping into the mayo mix.
This dip is also terrific spread on crackers, celery sticks, and other crunchy veggies.
May you enjoy all the days of your life filled with good friends, laughter, and seated around a well-laden table!
Sloane

Thanksgiving is one of our favorite holidays. Every year Mike and I had at least twenty people for a sit-down dinner. We cooked the meal and the guests supply the appetizers, deserts, and wine. It was a wonderful time to reminisce, over-indulge, and have fun. There comes a time when life must change. Two years ago I passed the turkey baster on to my daughter Dru. She's a wonderful cook and it's great fun to be her guest.
MENU
Roasted Turkey
Stuffing
Mashed Potatoes
Candied Sweet Potatoes
Broccoli
Stir-fry
Canned Corn
Cranberry Sauce
Gravy
White wine – Chardonnay
Roasted Turkey
Turkey
8 tbsp. (114g) butter
2 leeks including some green, chopped
2 large onion, chopped
15 baby carrots, chopped
4 tomatoes, chopped
1 tbsp. (15ml) dried thyme
1 tbsp. (15ml) dried marjoram
1 large bay leaf
Bacon strips to cover breast
Chicken stock
Disposable pan
Cooking rack
Cookie sheet – for stability
Place unopened turkey on a cloth lined cookie sheet and thaw in refrigerator 7 hours per pound or one day for every four pounds of frozen turkey. So, if you have a 20 pound (9K) turkey it will take 140 hours or a least 5 days to thaw in the fridge.
Thanksgiving Morning
If the turkey isn't completely thawed, set in a large pot of cold water to complete. Dispose of packet inserted in the cavity. Rinse well, then pat dry with paper towels.
Preheat oven to 325°F (160°C).
Cooking Times
10 – 18 lbs. (4.5 – 8kg) 2 – 2½ hrs.
18 – 22 lbs. (8 – 10kg ) 2½ – 3 hrs.
22 – 24 lbs. (10 – 11kg) 3 – 3½ hrs.
Melt butter in a large frying pan. When the foam subsides, lay turkey, breast down, and brown first one side then the other until skin is golden. Be careful moving the turkey around, it's heavy and awkward.
Set disposable pan on cookie sheet. Scatter chopped vegetables onto pan bottom. Insert cooking rack. Place turkey on rack breast up. Lay bacon slices over breast to cover well. Pour in enough chicken broth to cover the pan bottom by 1 inch (2.54cm). Cover turkey and pan edges with aluminum foil, crimping sides well.
Remove from oven at the predetermined time. To test if the bird is done, use a paper towel or pot holder and shake hands with its leg. The leg should move freely. Tent with foil and allow to rest 30 – 45 minutes before carving.
Remember – turkey, like all other meat, continues to cook long after it is removed from the oven.
Stuffing
Stuffing is a winter food for us. I make a huge batch and freeze the unbaked extra in serving-size containers. Throughout the winter I'll serve it with pork or chicken.
1 package bread stuffing cubes, plain or seasoned
½ lb. (250g) breakfast sausage in a tube or bulk
8 tbsp. (1 stick) (114g) butter, melted
1 rib celery, chopped
½ medium onion, chopped
1 egg, lightly beaten
1½ tsp. (7.5ml) dried sage
1½ tsp. (7.5ml) dried thyme
2 cups (450ml) chicken stock, maybe a little more
Empty bread cubes into a large bowl.
Fry sausage in a medium-sized skillet, breaking meat into small chunks, until no longer pink. Add sausage and its juice to bread cubes.
Melt butter in same skillet. Add celery and onion when the foam subsides. Sauté 3 – 4 minutes until translucent, be careful not to let it brown. Add vegetables with all their juices to bread cubes. Mix well. Pour egg onto stuffing. Sprinkle sage and thyme across the top. Mix well.
Stir in chicken stock until mixture is very moist, but not soupy.
To Bake as a Side Dish
Spoon mixture into an ungreased baking dish. Do not pack it in. Cover tightly with foil. Refrigerate stuffing until you are ready to bake it, but no longer than two days.
To Freeze
Spoon mixture into freezer bags, label, and pop in freezer no longer than 3 months. I use several small bags that serve 2 at a single setting. No matter which route you take, remove stuffing from the refrigerator/freezer early in the day to allow it to come to room temperature.
Preheat oven to 350° F (180°C). Bake for 30 minutes. Remove foil and continue to bake until the top is brown.
Mashed Potatoes
1 small russet potato per person
Chicken stock
Butter
Sour cream
Milk
Pepper
The Day Before
Pour 1-inch (2.54cm) chicken stock into saucepan. Peel and quarter the potatoes, then place in saucepan. Add tap water to cover by 1-inch (2.54cm). Put a lid on pan and bring to a boil over medium heat, then lower temperature to a strong simmer. Cook approximately 25 minutes. Test for doneness by poking a fork into a potato. It should insert easily.
Drain potatoes. Mash well without adding other ingredients. Cool completely in a glass or ceramic bowl. Cover and refrigerate.
Thanksgiving Day
Remove potatoes from the refrigerator early in the day to allow them to come to room temperature. When you are ready to serve, microwave potatoes until hot. Stir in butter, sour cream, milk, and pepper to the consistency you prefer.
Candied Sweet Potatoes
32 oz. (1kg) can of sweet potatoes
½ cup (50g) brown sugar firmly packed
8 tbsp. (114g) butter
2 handfuls mini marshmallows
Preheat oven to 375° F (190°C).
Drain potatoes in a colander. Cut large pieces in half. Lay potatoes into a 13 x 9-inch (33 x 22cm) glass baking dish.
Sprinkle brown sugar across the top, then dot with butter.
Bake 20 minutes.
Scatter marshmallows over the yams and bake for 15 minutes or until marshmallows are brown.
Broccoli Stir-fry
4 mini carrots sliced on an angle
½ cup (50g) olive oil – possibly more
½ medium onion, sliced
1 in. (2.54) piece gingerroot peeled and cut into strips
1 head broccoli trimmed and cut into florets
½ small sweet red pepper cored, seeded and cut into strips
½ small yellow pepper cored, seeded and cut into strips
2 large garlic cloves pressed
½ tsp. (2.5ml) red pepper flakes
2 green onions sliced on an angle, include green
5 mini Bello mushrooms, cleaned and sliced into thirds
1 tbsp. (15ml) lime or lemon juice
Have all ingredients prepped and, on the counter, before you begin cooking.
In a medium skillet, heat oil over medium high heat until it begins to shimmer. Add onion, carrot and gingerroot. Sauté until carrot is almost soft. Test by inserting a toothpick into the carrot. Remove as many gingerroot pieces as you can find. Don't worry if some are left in the pan.
Add broccoli, red and yellow peppers, and garlic. Sprinkle on red pepper flakes. Stir constantly to ensure broccoli is well coated with oil. Add more oil if necessary. Squeeze on lime or lemon juice. Sauté 2 – 4 minutes, but be sure broccoli and peppers still have crunch to them.
Blend in green onions and mushrooms. Sauté until mushrooms are heated through. Serve quickly.
Serves 4 – 6 so adjust accordingly.
From the corn through the gravy you'll see just how lazy I was on holidays. And I'm not ashamed.
Canned Corn
1 can of corn per 4 people
butter
Drain corn, then pour into micro wave safe bowl. Lay 2 or 3 pats of butter across the top. Micro wave for 3 minutes, stir and serve.
Cranberry Sauce
1 can of sauce per 6 people
Lay sauce into a serving bowl, cover with plastic wrap and refrigerator until ready to serve.
Gravy
1 jar of gravy for 4 people
Juices from the turkey pan
Pour the gravy into a saucepan. Stir in ¼ – ½ cup (58 – 57g) of juice from the roasted turkey pan. Go easy so you don't thin the gravy too much. Heat through and serve.
Have a happy and safe holiday!
Sloane
The incredible edible egg makes a perfect salad to spread across your favorite bread for a delicious sandwich served with sliced avocado, chips, dill pickles, and your favorite soft drink. Now if you want to fancy things up for a summer lunch or dinner, egg salad works great for Stuffed Tomatoes. Serve with croissants, seedless green grapes, a small wedge of sharp cheddar cheese, and crisp white wine.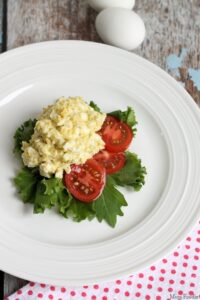 Egg Salad with Tomatoes
4 large eggs
2 ripe tomatoes
Mayonnaise to taste
¼ tsp. thyme
¼ tsp. marjoram
Lettuce leaves
Set eggs on the counter at least two hours before cooking. They are more tender when cooked if they are close to room temperature.
Lay eggs in a small saucepan, cover with water, add a lid. Bring to a full boil over medium heat. Turn off heat, leave covered, and set a timer for 8 minutes. This method also keeps the eggs tender.
In the meantime, cut off a little more than the stem section of the tomatoes. Slice a very thin piece from the bottom so the tomato sits upright after it is stuffed. Scoop out the seeds and some of the pulp. Turn upside down on a paper towel to drain excess water.
Empty the hot water from the saucepan when eggs are done cooking. Add cold water and immediately peel the eggs. The simplest way is to crack both ends on your sink edge. Roll the egg along a hard surface while you apply pressure, but not hard enough to split the cooked egg, you only want to loosen the membrane from the white. The shell should come off easily. This procedure takes a little practice but it's worth it.
Be sure to rinse the peeled egg to eliminate any bits of shell that may adhere. Lay egg on a paper towel to air dry.
When the eggs are cool, chop them into a small bowl. Don't make the chop fine. You want to see chunks of white in your salad. Stir in just enough mayonnaise to moisten the eggs to the consistency you like. Go easy so as not to overdo. The eggs should be coated but not swamped.
Stir in thyme and marjoram. Cover with cling wrap and then store in the refrigerator until ready to serve.
When the time comes, fill tomatoes with egg salad, mound a little, and then set them aside. Place a lettuce leaf on each plate to hold the filled tomato in place. Arrange the other foods on the plate, serve, and enjoy!
This recipe serves two.
May you spend all the days of your life filled with friends, laughter, and seated around a well-laden table!
Sloane

Spice Up Autumn
from Janis Lane aka Emma Lane
This recipe is easily adapted to personal preferences. More beef? More cheese? More onion? More sauce? Dollop of sour cream? Scoop chips? Choose your own alterations.
Makes an easy party set up which allows guests to assemble their own plates. Serve with guacamole dip and more corn ships.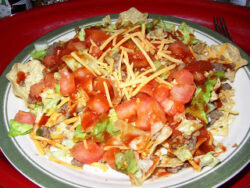 Taco Salad
½ – l lb. ground beef, preferably chuck for flavor
1 med. onion, diced
8 oz. sharp cheddar cheese, grated
¼ – ½ head lettuce, chopped to bitesize
1 8-10 oz. can diced tomato
⅔ bag corn chips, slightly crushed
Ortega Taco Sauce to taste (or your favorite brand)
Sauté beef and onion together until done (no pink left). Use fork to break lumps into small pieces. Cover pan and then set aside.
Prepare individual plates covering the bottom with corn chips. Add warm beef mixture.
Quickly scatter cheese to take advantage of the warmth.
Layer with lettuce, and then tomatoes. Drizzle with taco sauce to taste. Sprinkle a bit more cheese for garnish or substitute a piece or two of parsley.
Serves 4
Gaucamole Dip
2 ripe avocados, halved with pits removed but saved
1 tbsp. lime juice, lemon works too
¼ cup onion, chopped fine
½ cup tomato, diced
¼ tsp. salt
½ jalapeno pepper, seeded and minced
2 tbsp. cilantro leaves, chopped fine – optional
1 tbsp. mayo
Corn chips
Chunk avocados into a glass or ceramic bowl. Sprinkle with lime juice.
Gently stir in remaining ingredients except for chips. Tuck pit deep into the dip. This stops the avocado from turning dark.
Drop spoonfuls onto taco salad or use chips to dip.
Enjoy!
Here's a little more from my cozy mystery. I hope you enjoy it.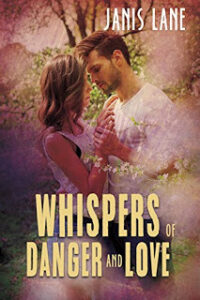 When Cheryl realizes her new next-door neighbor is someone she loved as a young girl, she immediately puts the brakes on her emotions. Never again would she allow the gorgeous hunk of a man to break her heart.
Ruggedly handsome Detective David Larkin isn't used to pretty ladies giving him a firm no. He persists, even as Cheryl fights her own temptations. The two struggle to appreciate each other as adults, even as they admit to deep feelings from their childhood.
Read more of the cozy mysteries by Janis Lane on Amazon.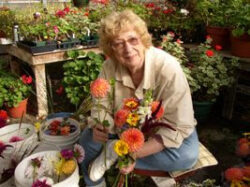 Janis Lane is the pen-name for gifted author Emma Lane who writes cozy mysteries as Janis, Regency as Emma, and spice as Sunny Lane.
She lives in Western New York where winter is snowy, spring arrives with rave reviews, summer days are long and velvet, and fall leaves are riotous in color. At long last she enjoys the perfect bow window for her desk where she is treated to a year-round panoramic view of nature. Her computer opens up a fourth fascinating window to the world. Her patient husband is always available to help with a plot twist and encourage Emma to never quit. Her day job is working with flowers at Herbtique and Plant Nursery, the nursery she and her son own.
Look for information about writing and plants on Emma's website. Leave a comment or a gardening question and put a smile on Emma's face.
Stay connected to Emma on Facebook and Twitter. Be sure to check out the other things that make Emma smile on Pinterest.

My sister-in-law Carol is a warmhearted woman who is happy to help out and ready to contribute her delicious recipes to parties. She is the appetizer queen in my book. This is a hearty treat that leaves you wanting these delicious ham and Swiss cheese sliders at every gathering. And for lunch, too. 😊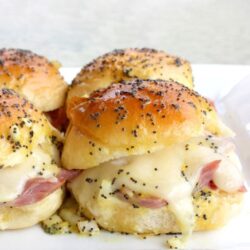 Auntie Carol's Special Sliders
¾ cup butter, melted
1 tbsp. Dijon mustard
1 tsp. Worcestershire sauce
1 tbsp. brown sugar
2 tsp. dried minced onion
1 tbsp. poppy seeds, optional
1 lb. ham, sliced thin
1 lb. Swiss cheese, sliced thin
24 mini Hawaiian rolls
Preheat oven to 350° F.
Mix butter, mustard, Worcestershire, sugar, onion, and poppy seeds together in a small bowl. Set aside.
Lay a sheet of parchment paper on a cookie sheet. This helps the roll bottoms not to burn. You can also use cooking spray on aluminum foil for baking the sliders. Line up bottom half of rolls on paper/foil.
Spread half the ham evenly amongst the rolls. Cover with Swiss cheese slices. Top off with the rest of the ham. Place roll tops onto each sandwich.
Stir mustard mixture well and then evenly pour or spoon the dressing over the rolls.
Bake until rolls are lightly browned and cheese is melted, about 20 minutes. Watch carefully as they can burn quickly.
May you enjoy all the days of your life filled with laughter and seated around a well-laden table!
Sloane
When the days are muggy and hot, cool down with this light and refreshing meal. Add a loaf of crusty fresh bread and a bottle of chilled, crisp white wine to make dinner complete.
GAZPACHO
Cold Fresh Vegetable Soup
1 large cucumber, peeled and chopped
5 medium Roma/plum tomatoes, peeled and chopped
1 large onion, chopped
1 medium green pepper, seeded and chopped
1 tbsp. garlic, chopped fine or pressed
4 cups French or Italian bread chunks, crust removed
4 cups cold water
¼ cup red wine vinegar
2 tsps. salt
4 tbsps. olive oil
2 tbsp. tomato paste
Combine cucumber, tomatoes, onion, green pepper, garlic, and bread in a large bowl. Stir in water, vinegar, and salt. Ladle mixture into a blender or food processor. Be careful not to overload either appliance. Set on high speed until you have a smooth puree. Pour the blend into a clean large bowl and whisk in olive oil and tomato paste.
Cover the bowl and refrigerate for 2 hours minimum. Just before serving stir well to recombine ingredients. Ladle into a chilled tureen or large soup bowls.
May you enjoy all the days of your life filled with good friends, laughter, and seated around a well-laden table!
Sloane

Summertime and the Baking is Easy
from Chris Pavesic
Fresh peaches are always delicious. Bake them in a pie or bread and your home is filled with a beautiful aroma. Try my easy Peach Bread recipe for an anytime treat that goes great with coffee and tea, hot or iced.
Peach Bread
¾ cup brown sugar
2 tbsp. milk
1 tbsp. vegetable oil
6 oz. blueberry (peach) yogurt
1 large egg
1 tsp. vanilla extract
2 cup all-purpose flour
2 tsp. baking powder
1 tsp. cinnamon
½ tsp. ground ginger
1 cup peaches, chopped
1 tbsp. all-purpose flour
¼ cup raw sugar
Preheat oven to 350ᵒ F.
In a medium bowl, stir together sugar, milk, oil, yogurt, egg, and extract. In a separate bowl, combine flour with baking powder and spices. Add the dry ingredients to the wet ingredients and stir until combined.
In a small bowl, toss peaches with 1 tablespoon. flour.
Fold floured fruit gently into batter.
Pour batter into a greased 9 x 5-inch loaf pan. Sprinkle with raw sugar.
Bake for 50 to 55 minutes or until a toothpick inserted into the center of the loaf comes out clean. Allow bread to cool for 10 minutes before turning onto a rack to cool completely.
Slice off a piece of warm Peach Bread, pour your favorite beverage and indulge yourself with a good book. May I suggest one of the books from my LitRPG series The Revelation Chronicles?
In Starter Zone Cami kept herself and her younger sister Alby alive in a post-apocalyptic world, facing starvation, violence, and death on a daily basis. Caught by the military and forcefully inscribed, Cami manages to scam the system and they enter the Realms, a Virtual Reality world, as privileged Players rather than slaves. They experience a world of safety, plenty, and magical adventure.
In Traveler's Zone magic, combat, gear scores, quests, and dungeons are all puzzles to be solved as Cami continues her epic quest to navigate the Realms and build a better life for her family. But an intrusion from her old life threatens everything she has gained and imperils the entire virtual world.
Time to play the game.
Blurb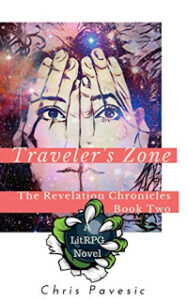 Above the tree line floats an airship close to three hundred feet long with a slightly rounded wooden hull. Ropes attach the lower portion of the ship to an inflated balloon-like aspect, bright white in color with an identification symbol, a red bird with white-tipped feathers extended in flight, inside a round yellow circle in the center of the canvas. The deck is manned with archers and swordsmen. There are two sets of fore and aft catapults.
What I don't see are cannons or any other type of a gun large enough to account for the sound of the explosion.
The ship pivots in the air, coming around to point directly at what looks like an oncoming flock of five large birds. Or creatures. They are too big and too strange looking to be birds. They drift closer, flapping their wings.
A moment passes before I realize that they are not creatures either. They are some sort of gliders. A person hangs below each set of the feathered wings, which flap and move with mechanical precision in a sky washed out by the morning sun.
The archers nock their arrows and aim at the flock.
The gliders draw in their wings and dive toward the deck, covering the distance in a few heartbeats. Most of the arrows fly uselessly past the attack force and fall like black rain from the sky. The archers aimed and released the volley too late.
The forward catapult releases a torrent of small rocks at the lead glider. It is a scatter-shot approach that proves effective. There are so many missiles that it is impossible to dodge them all.
But at the moment the stones strike, the other four let loose with fireballs. Spheres of crackling flame spring from their hands, glowing faintly at first and then with increasing brightness. The balls of fire shoot from their hands like bullets from a gun and fly toward the ship, exploding. Pieces bounce off the hull and fall to the ground, throwing hissing, burning globs of magic-fueled fire in all directions, setting everything they touch aflame.
Buy Now
Amazon | Smashwords
Want to learn more about The Revelation Chronicles? Click here for updates on this and the other series by Chris. Watch the video on YouTube.
Chris Pavesic is a fantasy author who lives in the Midwestern United States and loves Kona coffee, steampunk, fairy tales, and all types of speculative fiction. Between writing projects, Chris can most often be found reading, gaming, gardening, working on an endless list of DIY household projects, or hanging out with friends.
Learn more about Chris on her website and blog.
Stay connected on Facebook, Twitter, and her Amazon Author Page.
May you enjoy all the days of your life filled with laughter and seated around a well-laden table!
Sloane

Easy and Delicious – the Perfect Dessert! Our friend Dorothy Rea is a marvelous cook and baker. She graciously agreed to share her recipe, one of my favorites, for her lemon bars. So easy to make and delightful to eat.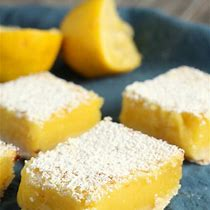 Dorothy's Luscious Lemon Bars
Crust
2 cups flour, not sifted
½ cup confectioner's sugar
1 cup butter or margarine, not softened
Preheat oven to 350° F.
Combine all ingredients in a large bowl. Cut with a pastry cutter until mixture is pliable enough you can press it into a 9 x 13-inch metal pan.
Add dough to pan and press as evenly as possible all across the bottom and halfway up the sides.
Bake 25 minutes. Leave oven on to complete the recipe.
Filling
4 large eggs, slightly beaten
2 cups sugar
6 tbsp. lemon juice, use fresh if possible
4 tbsp. flour
½ tsp. baking powder
Confectioner's sugar, for dusting
Mix eggs, sugar, and lemon together in a medium-size bowl. Gently fold in flour and baking powder.
Pour over baked crust evenly. Set in hot oven and bake 25 minutes.
Cool completely in pan then cut into serving squares. Dust with confectioner's sugar and enjoy!
May you enjoy all the days of your life filled with laughter and seated around a well-laden table!
Sloane

A Self-Regulating Dessert
from Vonnie Hughes
This quick and easy treat is a huge success with my family and I'm confident it will be with yours, too.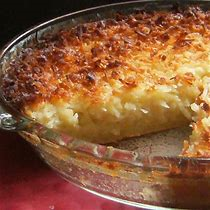 Impossible Pie
4 eggs
½ cup butter
2 cups milk
½ cup plain flour
1 cup sugar
1 cup coconut
2 tsp. vanilla essence (extract)
Preheat oven to 350° F.
Blend all ingredients together in a food mixer.
Pour the mixture into a 10″ (or similar) greased pie dish. Bake for one hour or until the centre is firm.
The flour forms the crust; the coconut forms the topping and the center is egg custard, creating a delicious dessert!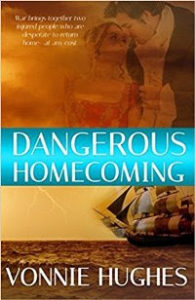 Sit back with a slice of your tasty pie and take a peek at my latest Regency Romance.
Both of them are scarred by war; she because of the shattered men she nurses; he because of the loss of friends and the horrors he must endure daily.
Colwyn Hetherington has a chance to put it all behind him and return to England. Juliana Colebrook desperately wants to go to England to seek out her relatives. They take an almighty chance and travel together, setting in train a series of events that neither could have anticipated.
With only their love to sustain them, they clash head-on with the reality of England, 1813.
Blurb
She clasped her penknife tightly in her free hand and hid it beneath her skirts. The dead eyes swivelled from Kit's hemp binding, now lying on the floor, to Juliana's face where she hovered protectively in front of Kit.
'What a clever young lady,' the revolting animal purred. At the menace in his voice, Juliana felt as though a snake had slithered up her spine. She stood up and held out her ungloved left hand to show him how she had untied the ropes. Dead-Eyes was too wary to come any closer, and she knew he couldn't see in the dimness that the knots had been sliced through.
The pale eyebrows rose. 'Perhaps those dexterous fingers can be put to better use. Come here.' He crooked a long, thin forefinger and the muscles at the bottom of Juliana's stomach jolted.
Hold yourself together, Juliana. Your plan relies on your being as close to him as possible.
Slowly she sidled towards the creature and for the first time she saw signs of life in the cold eyes.
'I always interview our new young ladies before they are thrust on our clients,' he purred thickly. 'I like to … warm them up, so to speak.'
Bile rose in her throat. She had never seen an iceberg but she had heard about them, and she had the distinct impression that a huge chunk of iceberg had just washed into the room. 'Warm them up?' She didn't think so. Please, please, please God, don't let him have touched Tilly.
Clutching the penknife in the palm of her right hand, she shuffled closer to him, measuring the distance carefully and also his height. Yes, he was tall. So was she. Flexing her body, she moved closer, as if in a trance. His arm shot out and grabbed her.
'No!' Kit yelled behind her.
'Stay back, Kit,' she warned.
'That's right, my dear. You understand. You want to be tutored by Benny Ames, don't you?' He tugged her flush against his body. Struggling not to recoil, she saw he was sweating. His tongue slid
greedily over his yellowed teeth and he clasped her left hand like a lover. She kept her right hand hidden in her skirts. Ames's breathing deepened as he tried to rub her left hand over his erection. Even as she struck, he was so lost in a haze of sexual pleasure he had no idea what had happened.
'Hurry, Kit. Run!' she yelled
This time she was prepared for the blood. It spurted out of his throat in a great arc, dousing the holland covers beside them. Juliana ducked backwards holding the slippery knife handle. The knife blade was buried in Ames's neck. He clutched his throat, his eyes wide with stupefaction.
Juliana's stomach lurched and she dropped the handle. As Ames made the most fearsome gurgling sounds, she edged around his flailing body and raced to the door. She hurtled down the stairs and cannoned into Kit. 'Hurry, Kit. Hurry. Get out of here.' She shoved the front door open and pushed him outside.
Kit slanted a glance back over his shoulder as his little legs sped along. 'Where are we going?'
'To the Rosemary Lane Inn. Hurry!'
'But I don't know where it is!' He kept on running all the same, tugging Juliana along by the hand.
Juliana cast a quick glance behind them. The blue door with number 32 painted on it still stood innocently ajar and she could hear no sounds of pursuit.
'Run towards the traffic noise,' she gasped.
A few people glanced at them as they rushed by, but nobody seemed interested in a scruffy boy and a bloodstained, disheveled young woman running helter skelter up the alleyways. No doubt it was a common sight in these parts.
As they stumbled from the dank alleyway into a wider street she saw a sign stuck on a building façade that said 'Chamber Street'. The steady throbbing of her sore, bruised feet echoed the drumming in her head. Swaying, she knew she was nearly done for.
Kit glanced back and tugged her hand. 'Come on, miss,' he encouraged her, then he raised their clasped hands and stared at the red stains on Juliana's fingers. 'Thank you,' was all he said.
Breathless, she gulped and said nothing, fighting her queasy stomach. Soon it would happen – the reaction. Last time she had shaken as if with the ague for several hours. And when she had finally found herself safe, she had huddled into a ball and cried and cried and cried. She had cried for her mother and for herself, and for all the other women who had been held in the power of men who did not deserve them.
But now was not the time for self-indulgence. She must protect Kit. She lifted her chin and plodded on.
Footsteps pounded behind them. Twisting around, she shoved Kit out of the way…
Buy Now
Amazon | Smashwords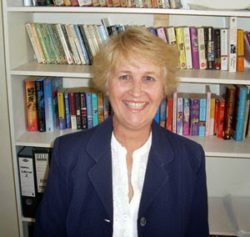 Vonnie Hughes is a multi-published author in both Regency books and contemporary suspense. She loves the intricacies of the social rules of the Regency period and the far-ranging consequences of the Napoleonic Code. And with suspense, she has free rein to explore forensic matters and the strong convolutions of the human mind. Like many writers, some days she hates the whole process, but somehow, she just cannot let it go.
Vonnie was born in New Zealand, but she and her husband now live happily in Australia. If you visit Hamilton Gardens in New Zealand be sure to stroll through the Japanese Garden. There is a bronze plaque engraved with a haiku describing the peacefulness of that environment. The poem was written by Vonnie.
All of Vonnie's books are available at The Wild Rose Press and Amazon
Learn more about Vonnie Hughes on her website and blog. Stay connected on Facebook and Goodreads.
May you enjoy all the days of your life filled with laughter and seated around a well-laden table!
Sloane

St. Patrick's Day is a fun holiday meant for family and friends and celebrating because everyone is Irish on that day. Grab your partner and plan a party that uses this recipe from the hot couples' cookbook Recipes to Create Holidays Extraordinaire.
This traditional St. Patrick's Day meal is what most North Americans will enjoy with a cold Harp, Guinness, Killian's, or Smithwicks. But here's a newsflash, Boyo, except for the beers mentioned you'll never find corned beef served anywhere on the Old Sod. That's right. Our Irish brethren look at us in amazement, but that's never stopped us Yanks from creating traditions. So, pour another wee dram and let's get cooking.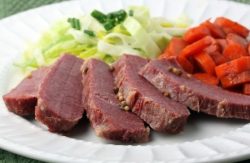 Corned Beef
5 lb. corned beef brisket*
2 med. onions, peeled and quartered
4 peppercorns
1 bay leaf
4 sprigs fresh rosemary or ½ tsp. dried
4 sprigs fresh thyme or ½ tsp. dried
8 sprigs fresh parsley or 2 tsp. dried
3 bottles of beer, any brand works
water to cover
Preheat oven to 300 F°.
Place meat in a Dutch oven. Add remaining ingredients, including spice packet that comes with the beef if there is one.
Bring to a boil on the stovetop. Place in oven and roast for 3 hours or until meat is fork-tender.
Don't stint on the amount of beef. It cooks down to approximately half the original size. I learned that lesson the hard way.
*Here's a tip from my butcher Raoul; Always buy corned beef flat cut. It has less fat than the point. Therefore, you get more meat for your money.
Vegetables
6 med. red potatoes, unpeeled and quartered
6 carrots, scraped and cut into 2 in. pieces
1 celery stalk, cut into 2 in. pieces
1 med. green cabbage, cut into 8 wedges
1 cup corned beef cooking liquid
water
You can prep all the veggies and store in a large container covered by cold water until you're ready to cook them. Refrigerate so vegetables remain crisp.
Place veggies in a large pot. Stir in corned beef cooking liquid. Add water to cover vegetables by 2 inches (5cm). Cover pot. Set cooking temp at medium. Bring to a boil. Reduce heat and adjust lid so the pot doesn't boil over but maintains a soft boil. Cook about 30 minutes or until veggies are fork-tender.
Horseradish Sauce
1 cup sour cream
2 tbsp. prepared horseradish
1 tsp. fresh chives, snipped short
Combine all ingredients in a medium bowl. Stir well.
Transfer to a serving dish, cover, and refrigerate until ready to serve.
Learn more about Recipes to Create Holidays Extraordinaire on Amazon.
May you enjoy all the days of your life filled with laughter and seated around a well-laden table!
Sloane