What's Cooking - 2013
Studs is my partner for life and his favorite food is pork chops. Unfortunately for him that is not a meat I cook well. In fact, most of the time you could chew your shoe sole and have a more tender dinner. I'm constantly on the quest to cook the perfect pork chop because after all these years that cut of meat has become my nemesis. Under the guidance of my awesome butcher Raoul, from Walt's Food Centers, I have finally achieved a recipe that has worked consistently for moist and tender chops. I even dared to serve this dish to guests and they loved it. I hope you do, too.
November's Choice
Grilled Bone-in Thick Pork Chops
2 – 1¼ to 1½" pork chops
1 cup olive oil maybe a little more
¼ cup white wine
4 sage leaves or 1 tbsp. dried sage
6 thyme sprigs or ½ tbsp. dried thyme
2 gloves garlic pressed or chopped fine
Freshly ground pepper to taste
Combine all ingredients in a glass or ceramic bowl. Set in the refrigerator for 2 -3 hours.
Remove chops from the refrigerator 1 hour before grilling.
Grease grill grates with olive oil. Preheat grill to medium-high.
Grill chops 7 minutes per side.
Tent with aluminum foil. Let rest 5 – 7 minutes, then serve.
Skirt steak is not the tenderest cut of meat, but it certainly is tasty when prepared the right way. There are two cuts, inside skirt and outside skirt. The inside is the better of the two therefore a little more expensive. Be careful not to confuse skirt steak with flank steak. They are distinctly different cuts of meat from different areas of the cow. Skirt comes from the plate while flank is cut nearer the animal's rear quarter.
August's Choice
Marinated Skirt Steak
1 – 1½ lb skirt steak
½ cup olive oil maybe a little more
1 lime or ½ lemon squeezed
2 gloves garlic pressed or chopped fine
1 shallot chopped
Freshly ground pepper to taste
Combine all ingredients in a plastic bag. Set the bag in the refrigerator for 1 -3 hours.
Heat a grill pan to medium-high on your stovetop. You'll know the temperature is right when water droplets sprinkled across the pan sizzle and evaporate instantly.*
Remove steak from the marinade and set on hot pan. Discard marinade. Grill meat 3 minutes per side. Longer cooking will create tough and chewy meat.
Transfer meat to a cutting board and drape with aluminum foil. Let rest for 5 minutes.
To serve, either slice meat thin on the gross-grain or in larger portions but still cut on the cross-grain.
*This recipe may also be cooked on an outdoor grill preheated to medium-high. Follow the cooking directions as listed above.
July's Choice
• Sautéed Pork Tenderloin
• Sautéed Broccoli
• Baked Potatoes
• White Wine – Riesling
Sautéed Pork Tenderloin
1 pork tenderloin for every two people*
Olive oil to cover
¼ cup dry white wine
2 tsp. garlic powder
6 sprigs fresh parsley or 1 tsp. dried
8 sprigs fresh thyme or 1 tsp. dried
Carefully cut away the silver streaks and connective tissue from the tenderloin.
Combine all ingredients in a glass bowl or plastic bag. Marinade in the refrigerator for 2 – 6 hours.
Preheat oven to 450°F.
Discard marinade. Lay meat on a foil lined cookie sheet. Roast 20-20 minutes.
Let meat rest 5-10 minutes under a foil tent. This allows the juices to remain in the meat when sliced.
Carve into ½ inch thick slices and serve.
*Pork tenderloin packages usually contain 2 pieces of meat. If you only use one, the other freezes well for use at a future date.
Baked Potatoes
1 russet potato per person
Olive oil
Aluminum foil
Butter
Sour cream
Chives
Black pepper
Preheat oven to 400°F.
Wash potatoes under cool water. Pat dry. Poke several sets of holes in each potato with a fork. This stops the potato from bursting as it bakes.
Rub potatoes with a small amount of olive oil to keep the skin soft.
Wrap each potato in a section of foil, then lay on a cookie sheet. Bake for 50 minutes or until a toothpick inserted in the potato shows no resistance.
Serve with butter, sour cream, chives, and pepper.
Set the foiled potatoes on top of the stove while the tenderloin is roasting. They will remain toasty hot.
Sautéed Broccoli
1 head broccoli
3 tbsp. olive oil
1 tbsp. butter
¼ cup Gorgonzola crumbles or amount to taste
Trim off the broccoli stalk. Cut the flowerets into serving pieces.
Pour olive oil in a medium-size frying pan. Heat on medium high. Stir in the broccoli and butter when the oil shimmers. Stir to coat the broccoli well. Sauté until crisp tender.
Sprinkle Gorgonzola crumbles over the broccoli and serve.
Vonnie Hughes is an author friend born and bred in New Zealand who now lives in Australia.
We were talking about holidays in our respective countries and Vonnie shared info about Anzac Day. This is a national day of remembrance in both her countries originally commemorated on 25 April every year to honor the members of the Australian and New Zealand Army Corps (ANZAC) who fought at Gallipoli in the Ottoman Empire during WWI. It now more broadly commemorates all those who served and died in military operations for their countries.
Vonnie told me about the Anzac Biscuit and that it has been claimed the biscuits were sent by wives to soldiers abroad because the ingredients do not spoil easily and the biscuits kept well during naval transportation. She also supplied the recipe which is terrific!
April's Choice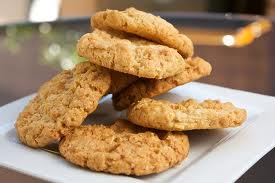 Anzac Biscuits (Cookies)
1 cup plain flour not self-raising
1 cup rolled oats
¾ cup sugar
½ cup dessicated (shredded) coconut
2 tbsp. golden syrup (light molasses, looks like maple syrup)
1 tsp. bicarbonate of soda (raising agent)
125 grams of butter (4.4 ozs)
½ teaspoon salt
2 tablespoons of boiling water
Preheat oven to 160C or 325°F (140C or 285°F for a fan-forced oven).
Line two baking trays with non-stick baking paper.
Sift flour into a large bowl. Stir in the oats, coconut, sugar and salt.
Combine butter and golden syrup and stir over medium heat until melted.
Stir the bicarbonate of soda in 2 tbsp. of boiling water and add to the mixture. It will bubble.
Quickly pour the liquid over the flour mixture and combine.
Roll heaped tablespoons of the mixture into small balls and place at 5cm (about 2 inches) intervals on the baking trays. Press the balls down with a fork to flatten.
Bake for about 18-20 minutes until golden brown.
Note that these are not puffed up cookies but more a flat biscuit type of cookie.
Vonnie Hughes is a New Zealander living in Australia. She loves animals and jogging. Vonnie writes Regencies and romantic suspense novels along with short stories. She is presently working on a romantic suspense, working title: Innocent Hostage and a Regency novella, working title: A Tale of Two Sisters.

Her earlier book Coming Home is about a soldier and a nurse, thrown together during the Napoleonic wars, who find more danger on their return to England than they ever did on the Iberian Peninsula.

The Second Son is actually a prequel to Coming Home. A second son, filled with angst, stands to inherit a title and property through the death of a brother he has always loathed and mistrusted. A young disabled woman teaches him how to find his self-respect and how to love.

Another Regency Historical, Mr. Monfort's Marriage, has businessman Matthew Monfort inveigled into marrying an earl's daughter. With good reason he loathes the ton, so his new wife needn't think she's going to win him over, even though she's quite delightful…and intelligent…and sweet…However Verity shows him that not all members of the ton are idle layabouts and that he can do much good with his largesse and with–shock, horror–the unexpected and embarrassing title conferred on him by Prinny.

All of Vonnie's books are available on Amazon and Musa Publishing.

Learn more about Vonnie Hughes on her website and blog.
If you remember, I have a rough time cooking pork chops that aren't tougher than the soles of my shoes. Marinated pork chops braised in white wine was my first successful attempt. Since pork chops are a favorite of Studs, the New Year seemed like a good time to devise a second recipe that was easy and tasty. Give it a try and please let me know what you think.
January's Choice
• Pork Chops & Apples
• Rice
• Fresh Green Beans
• White Wine – Riesling
Pork Chops & Apples
4 pork loin chops preferably on the bone ½ inch thick
1 tsp. dried sage, crushed
Pam nonstick spray coating
1 small onion sliced and separated into rings
1 apple cored and cut into wedges
1 cup apple juice
2 tsp. brown sugar
1 tbsp. cold water
2 tsp. corn starch
Preheat oven to 225°F.
Trim off the fat from the chops, then rub sage on both dies of the meat.
Spray a cold 12 inch frying pan with Pam. Heat the pan on medium until warm, add the meat and cook for 5 minutes. Turn, add most of the onion, and cook 5 minutes. Remove chops and onion to a plate, tent with foil, and set in oven.
Wipe the pan with a paper towel, then add the remaining onion, apple wedges, juice, and brown sugar. Bring to a boil, reduce heat, and simmer 3 – 5 minutes until apples are crisp-tender.
Combine water and cornstarch, then pour into the skillet. Stir constantly until the mixture thickens and bubbles. Continue cooking for 2 minutes, regulating heat to keep a slow boil.
To serve, arrange chops, rice, and green beans on dinner plates. Lay a few apple slices with sauce over the chops.
Rice
Your favorite brand
Chicken stock
Water
Follow the package direction for the rice, replacing half the water with chicken stock.
Fresh Green Beans
Plan 10 beans per person
Water
Butter
Pepper
Fill a medium-size saucepan with cold water, leaving enough room to add the beans. Cover pot and set on the stove over medium high heat.
Trim the ends off the beans, then rinse in a colander. Add the beans to the pot when the water comes to a hard boil. Cook 5-10 minutes until crisp-tender. Drain and return to the pot.
Add the butter and pepper. Stir well and serve.
If your meal isn't quite ready, cover the pot with a lid and place in the oven to keep warm.