What's Cooking - 2022
BUONGIORNO!
I enjoy experimenting with different food combinations and creating new recipes. This delicious dish is perfect for breakfast or even lunch, but then you may want to add a small salad and a glass of crisp white wine. 😊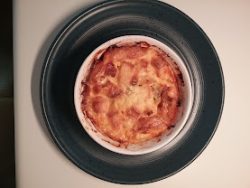 Italian Breakfast Soufflé for 2
½ lb. Italian sausage, bulk or links
2 – 3 tbsp. butter, softened
4 lg. eggs
¾ cup milk
Chopped onion to taste
1 tsp. dried mustard
Freshly ground black pepper to taste
2 slices provolone cheese
½ cup sharp cheddar cheese, shredded
¾ cup mozzarella cheese, shredded
3 – 1-inch slices Vienna or French bread, cubed*
Preheat oven to 350° F.
If you use links then squeeze the meat from the casing before cooking.
Fry sausage in a small pan until no longer pink. Be sure to break up any clumps. Set aside.
Spread butter on the insides and bottoms of two baking dishes approximately 500ml or 17-ounces.
The following ingredients are to be equally divided between the 2 dishes when added. All stirring should be done gently.
Break 2 eggs in each prepared dish. Lightly scramble. Pour in milk. Stir in sausage and onion. Sprinkle on mustard and pepper. Stir.
Tear provolone into pieces then add to mixture along with cheddar and mozzarella. Stir.
Fold in bread.
Bake 45 – 55 minutes or until a knife inserted in the center has no egg clinging to it.
Set the soufflés on dinner plates to serve so as not to scorch your table.
This dish can be assembled a one or two days ahead of time. Cover and refrigerate, but allow the soufflé to sit on your counter 1 hour or so before you bake it.
* I've used day old homemade bread and unseasoned cubes from stuffing mix. They both worked great.
May you enjoy all the days of your life filled with good friends, laughter, and seated around a well-laden table!
Sloane
from Sharon Ledwith
Talk about a dessert that delivers, this divine cheesecake takes…well, takes the cake! Whether you're hosting the party or on board to bring something tasty, this dressed up treat will make heads turn, and mouths water. Perfect for holiday gatherings or celebrations, with a total prep and bake time of 5 hours and 30 minutes (includes refrigeration), this cheesecake easily serves a crowd of sixteen of your closest cohorts.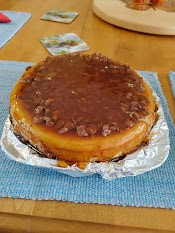 Toblerone Caramel Cheesecake
1¼ cups Oreo Baking Crumbs
¼ cup butter, melted
3 packages (250 g/8.82 ounces each) brick cream cheese, softened
¾ cup packed brown sugar
1 tablespoon vanilla
3 eggs
⅓ cup caramel ice cream topping
1 bar (100 g/3.52 ounces) Toblerone Swiss Milk Chocolate, coarsely chopped
Preheat oven to 350° F.
Mix crumbs and butter in a small bowl. Press mixture onto bottom of 9-inch springform pan.
Beat cream cheese, sugar, and vanilla in large bowl with electric mixer until well blended. Add eggs, 1 at a time, mixing on low speed after each just until blended. Pour over crust.
Bake 40-45 minutes or until center is almost set. Run knife around rim of pan to loosen cake. Cool cake before removing rim. Refrigerate 4 hours.
Spread caramel topping over cheesecake just before serving. Garnish with chopped chocolate.
Enjoy!
While you're waiting for the cheesecake to set in the fridge, take some well-deserved 'me time' along with a peek at my latest time travel release.
True freedom happens only when you choose to be free.
Eleven-year-old Drake Bailey is an analytical thinker and the genius of the Timekeeper crew. However, no logic or mathematical acumen can change the color of his skin, or prepare him for this third Timekeeper mission in antebellum Georgia. To survive, Drake must learn to play the role of a plantation slave and when confronted with the brutality, hatred, and racism of the deep south, he'll have to strategically keep one move ahead of his sadistic captors to ensure his lineage continues.
In a dark world of Voodoo, zombies, and ritualistic sacrifice, the Timekeepers must ensure a royal bloodline survives. Can Drake remove both literal and figurative chains to save both himself and a devout slave girl from a terrible fate? If he can't summon the necessary courage, humanity could stand to lose one of its greatest leaders.
Available at Amazon and all other major vendors.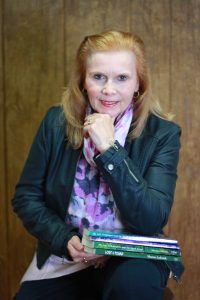 Sharon Ledwith is the author of the middle-grade/YA time travel series, THE LAST TIMEKEEPERS, and the teen psychic mystery series, MYSTERIOUS TALES FROM FAIRY FALLS. When not writing, researching, or revising, she enjoys reading, exercising, anything arcane, and an occasional dram of scotch. Sharon lives a serene, yet busy life in a southern tourist region of Ontario, Canada, with her hubby, one spoiled yellow Labrador and a moody calico cat.
Learn more about Sharon Ledwith on her website and blog. Stay connected on Facebook and Twitter, Goodreads, and Smashwords. Look up her Amazon Author page for a list of current books. Be sure to check out THE LAST TIMEKEEPERS TIME TRAVEL SERIES Facebook page.
May you enjoy all the days of your life filled with laughter and seated around a well laden table!
Sloane
Goodies Fresh from the Oven
from Tina Ruiz
My mom is 82-years old and doesn't cook or bake at all anymore, but she is thrilled that I've kept her recipes and shared them with my children and grandchildren. Here is one of our favorites especially at Halloween.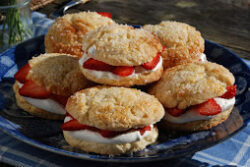 Grama Tina's Sweet Biscuits
4 cups white flour
2 tbsp. baking powder – double acting is better
½ cup white sugar
1 pinch salt
½ tsp. nutmeg and/or cinnamon
1 cup frozen or very cold butter
1½ cups milk at room temperature
1 egg
Flour
½ – ¾ cups of blueberries, raisins, or chopped apples, optional
Preheat oven to 400° F.
Mix first 5 dry ingredients together in a large bowl.
In another bowl, shred butter. Shredding instead of just adding melted butter is better because when the yellow flakes go into the dough, you'll get butter in every single mouthful. *hint* spray PAM on the shredder before using for a quicker clean-up.
Pour milk into a separate bowl. Stir in egg. Now add wet mixture to dry, and knead it until it forms a ball.
Sprinkle flour onto your counter or work area, and spread your dough out how you want it – a flat circle or a square.
Brush the top with butter and then sprinkle with white or brown sugar.
Cut dough into shapes you prefer. Place them on a greased cookie sheet or onto parchment paper.
Bake for 12 – 15 minutes.
Once cooled, slice each biscuit open and place any kind of fruit or jam on the inside. Add whipped cream or ice cream on top, then place the cap on top and serve.
How about sharing one or both of my children's Halloween books with your favorite tricksters while you enjoy dessert?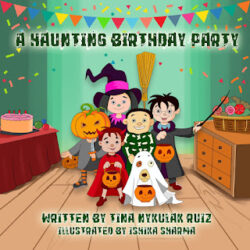 The story is about Peppa Roni and her twin brother, Reece A. Roni, who are having their 9th birthday party in the neighborhood restaurant. What makes this story different from any other children's book, are the names which the author has given to her characters. Example: Tess Ding, Chris P. Bacon, Mr. Noah Lott, Harry Pitts, Miss Turi, Walter Melon, Judge Mental and his wife, Judy, etc…
The storyline is quite charming, and because you will try to figure out the double meaning of the fun names while you read, this is bound to become your child's favorite book.
Buy Now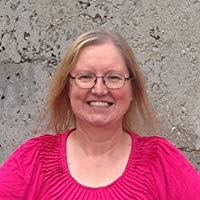 Tina Ruiz was born in Germany, but her family moved to Canada when she was in grammar school. She began writing children's stories when her own were little. Through the years Ruiz has now written wrote thirty books. Most of those stories went into readers for the Canada Board of Education. Two did not. Mayor Shadoe Markley is a story about a ten-year-old girl who becomes Mayor for a Day through a contest at school.
Little did Ruiz know that story would "change the world." The book came out at early January 1988. By the end of that same month, everyone was calling the mayor's office at City Hall, trying to get the forms to fill out so their children could participate in the contest. Thirty years later that same contest is still runs at full speed. And not only in Calgary, but all across Canada. The Mayor's Youth Council is now in charge of the celebrated contest and invites Ruiz to attend and meet the lucky winner. It's usually followed by a hand-written thank you card from the mayor himself. Recently Ruiz was invited to be part of the Grand Opening of Calgary's New Library where the mayor shook her hand and introduced her to the attendees.
Tina has worked in television and radio as well as being a professional clown at the Children's Hospital. She lives in Calgary with her husband who encourages her to write her passion be it high-quality children's books or intriguing romance.
Stay connected with Tina Ruiz on her Facebook group, Tina Speaks Out.
May you enjoy all the days of your life filled with laughter and seated around a well laden table!
Sloane
Time for Tea and Scones
by C.D. Hersh
Sharing our recurring character in our series The Turning Stone Chronicles and his favorite snack.
In our Turning Stone Chronicles paranormal romance series the Keeper of the Stone, an ancient Scotsman man named Eli McCraigen, serves an ever-present cup of tea and scones when serious matters need to be discussed. You'll see him in every book brewing his tea and serving scones or biscuits of some sort.
Our character most likely does this because tea is a breakfast ritual at the C.D. Hersh house. Catherine loves a good cup of Scottish tea and drinks either a robust cup of Scottish or Irish Breakfast tea every morning. Her Scottish and Irish teas of choice are Taylors brand, imported from across the pond. Donald prefers something with a bit more flavoring and brews a cup of Bigelow Carmel Vanilla tea. Most of the time we have high-fiber toast with our morning tea, but today we wanted to share an authentic Scottish recipe–scones (which when pronounced correctly rhymes with gone).
Catherine got the recipe a number of years ago from a lovely Scottish lady named Rhoda, who immigrated to America at the end of WWII after she fell in love with an American G.I. We hope you'll enjoy Rhoda's scones!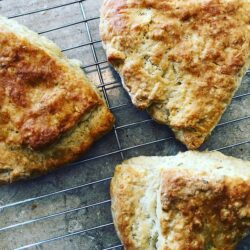 Scottish Scones
2½ cups buttermilk
½ tsp. salt
6 tbsp. shortening
2 tbsp. sugar
3 tsp. baking powder
2 cups flour
Preheat oven to 375° F.
Sift dry ingredients, cut in the shortening until mixture looks crumbled. Add buttermilk, enough to moisten the flour.
Turn mixture onto lightly floured board and pat in to a round 1 inch thick. Cut into 12 triangles. Place on greased cookie sheet. Bake about 20 minutes.
Serves 10-12
If you want to make this more festive, you can add chocolate chips to the mix or finely diced apples and some cinnamon, or other chopped fruits. The scones won't be purely Scottish anymore, but they'll be more dessert worthy, as scones are really just a Scottish version of what we Americans call biscuits.
To go along with your scones here's a scene from The Promised One, that has Eli serving his tea and scones.
Alexi thumbed her cell phone off and shoved it into her pocket. "Rhys should be here in a couple of minutes. Are you sure we need to do this?"
Eli took the screaming teakettle off the stove and poured boiling water into a ceramic teapot. "Aye. We have tae make sure he's included. We need him." He dropped three tea bags into the water and set on the lid. "He may not be a shifter, but he has a gun and, unless I miss my guess, isnae afraid to use it. Besides, going off and doing things on our own, without keeping him informed twill only push him away. Tae get him tae accept who he is we need tae draw him in."
She lined the three mugs on the counter next to the scones Eli had prepared. "I don't know. He's been very resistant."
"So's a salmon in a bear's mouth. All that flopping about after he's been caught is for naught. But if he'd heeded the shadow on the water he might have stayed in the stream."
"So your strategy is to keep Rhys in water?"
"'Tis tae make him see the shadow, lassie. That'll keep him alive and hopefully coming tae our side."
Alive was good. So was on their side. She rubbed the frown creases between her eyes. Worry deepened the two lines more every day.
"Dinna be afeart. I have a plan."
That was good, because she was fresh out of ideas. The doorbell rang. Alexi answered it and ushered Rhys into the kitchen.
Rhys eyed the scones and teapot. "Tea party, for me?" He took a scone and bit into it. "I'm not easily swayed by sweets, old man."
"Yer actions would say different, laddie. But 'tis for me. I'm an auld man, set in his ways, and 'tis tea time in Scotland."
Now if your scones are ready and tea brewed how about checking out our series The Turning Stone Chronicles.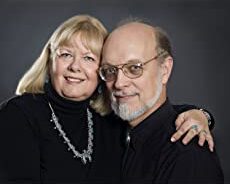 C.D. Hersh–Two hearts creating everlasting love stories.
Putting words and stories on paper is second nature to co-authors C.D. Hersh. They've written separately since they were teenagers and discovered their unique, collaborative abilities in the mid-90s. As high school sweethearts and husband and wife, Catherine and Donald believe in true love and happily ever after. They have a short Christmas story, Kissing Santa, in a Christmas anthology titled Sizzle in the Snow: Soul Mate Christmas Collection.
They are look forward to many years of co-authoring and book sales, and a lifetime of happily-ever-after endings on the page and in real life.
Learn more about C.D. Hersh on their Website and at Soul Mate Publishing Home. Stay connected on Facebook and Twitter.
May you enjoy all the days of your life filled with laughter and seated around a well laden table!
Sloane
from Linda Lee Greene, Author/Artist
Saturdays are universally hectic. Itineraries for this special day of the week are mind-boggling in their Mach-speed, complexity, and crowded activities. But it is also the time before the starting pistol shoots us into a frenzy to steal a few moments to reconnect with our loved-ones, and even with ourselves. Saturday morning renewals in my house back in the days when my kids were still at home, and admittedly when life was slower and simpler, routinely began with all of us gathering together for a sit-down breakfast. Bacon and eggs, toast, juice, and sometimes pancakes were often as not on the menu. It is easy to imagine people of today longing for those laidback weekend mornings, but nowadays convenience is a necessity and usually wins out over nostalgia.
The following low calorie, low carb, and high protein recipe that serves 4 is a good one to include in our whirlwind playbook. To meet that convenience factor, it can be made ahead of time, in 30 minutes of the evening before for instance, refrigerated, and then reheated at the appropriate time in the microwave at 50% power. For breakfast, serve it with fruit and a slice of a Keto-friendly bread or bagel slathered with cream cheese. I prefer Neufchâtel because it is lower in fat and creamier than standard cream cheese.
This tomato and egg recipe is also wonderful for brunch accompanied with cooked or fresh veggies and a chunk of a hearty bread. At times, I heat it up for dinner. Paired with a side of steamed spinach and carrots, a slice of homemade and healthy bean flour bread, a glass of a tasty beverage, I then settle in for the rest of evening with a belly full of satisfaction.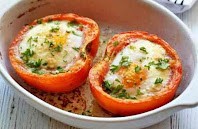 Breakfast Tomatoes
4 lg. firm tomatoes, cut in half, scoop out pulp and seeds
Olive oil spray
1 tsp. salt – preferably kosher or sea salt
1 tsp. black pepper
1 tsp. garlic powder
1 tsp. dried thyme
8 small eggs if available, or 8 large eggs with excess whites
½ cup grated Parmesan cheese
4 tbsp. grated parsley for garnish
Preheat oven to 400° F.
Place the hollowed-out tomatoes in a baking dish, spray them with olive oil, and then sprinkle with salt, pepper, garlic powder, and thyme.
Break one egg into a small bowl or ramekin and then slide it into a tomato half. Continue this process until all 8 tomato halves are filled. Top each half with 1 tablespoon of Parmesan cheese.
Bake until egg whites are set, about 20 minutes. Use a large slotted spoon or spatula to scoop tomatoes onto a serving platter or into an airtight container. Garnish with parsley and serve or refrigerate.
In multi-award-winning author Linda Lee Greene's new release, Garden of the Sprits of the Pots, A Spiritual Odyssey, ex-pat American Nicholas Plato gets lost one fateful Saturday morning in Australia's outback and happens on a pintsized hut on a lonely plot littered with hundreds of clay pots of every size and description.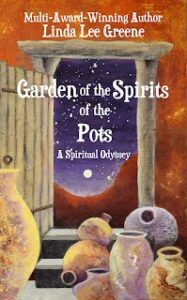 Driven by a deathly thirst, he stops. A strange little brown man materializes out of nowhere and introduces himself merely as 'Potter,' and welcomes Nicholas to his 'Garden of the Spirits of the Pots.' Although Nicholas has never laid eyes on Potter, the man seems to have expected Nicholas at his bizarre habitation and displays knowledge about him that nobody has any right to possess. Just who is this mysterious Aboriginal potter?
Although they are as mismatched as two persons can be, a strangely inevitable friendship takes hold between them. It is a relationship that can only be directed by an unseen hand bent on setting Nicholas on a mystifying voyage of self-discovery and Potter on revelations of universal certainties.
A blend of visionary and inspirational fiction, and a touch of romance, this is a tale of Nicholas' journey into parts unknown, both within his adopted home and himself, a quest that in the end leads him to his true purpose for living.
Garden of the Sprits of the Pots, A Spiritual Odyssey is available in eBook and/or paperback.
Buy Now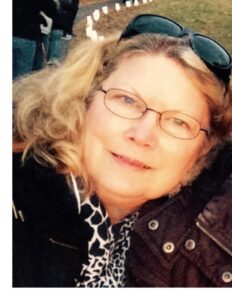 Multi-award-winning author and artist Linda Lee Greene describes her life as a telescope that when trained on her past reveals how each piece of it, whether good or bad or in-between, was necessary in the unfoldment of her fine art and literary paths.
Greene moved from farm-girl to city-girl; dance instructor to wife, mother, and homemaker; divorcee to single-working-mom and adult-college-student; and interior designer to multi-award-winning artist and author, essayist, and blogger. It was decades of challenging life experiences and debilitating, chronic illness that gave birth to her dormant flair for art and writing. Greene was three days shy of her fifty-seventh birthday when her creative spirit took a hold of her.
She found her way to her lonely easel soon thereafter. Since then, Greene has accepted commissions and displayed her artwork in shows and galleries in and around the USA. She is also a member of artist and writer associations.
Visit Linda on her blog and join her on Facebook.
May you enjoy all the days of your life filled with laughter and seated around a well laden table!
Sloane
Get Your Grill On!
Quick and easy and oh so good. This is a delicious meal for two and it's terrific when friends or family come for dinner. Simply increase ingredient amounts proportionally and you're good to go!
Serve with Pear Salad, Sautéed Broccoli, and White Wine – Riesling.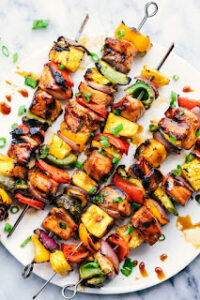 Chicken Kabobs
1 – 1½ lbs. (500 – 750g) chicken breasts, skinless and boneless
1 med. onion, quartered
1 med. red pepper, seeded and ribs removed
1 med. yellow pepper, seeded and ribs removed
3 garlic cloves, pressed or chopped fine
¾ cup (180ml) olive oil
¾ cup (180ml) honey
1 tbsp. (15ml) soy sauce
Freshly ground pepper to taste
1 small can pineapple chunks, drained
10 – 16 baby bella mushrooms, stems removed
Vegetable oil for grill
Cut chicken into 1½ in. (3.8cm) pieces and then place into a plastic bag or bowl. Separate onion sections, add to chicken. Slice peppers into 1 in. (2.54cm) pieces add to chicken. Set aside.
Whisk garlic through pepper together in a small bowl. Add half, maybe a little more, this mixture to chicken. You need to hold back some marinade for basting while you grill. Cover and refrigerate 1 – 2 hours.
Coat grill lightly with olive oil. Set grill to medium-high.
Thread chicken and veggies onto skewers, e.g.: chicken, onion, mushroom, yellow pepper, chicken, pineapple, red pepper, and so on. Make sure all the pieces touch but aren't jammed against one another. Discard remaining marinade.
Grill 12 – 15 minutes. Brush skewers with held back marinade and turn frequently so meat cooks evenly.
No skewers? No problem.
Drain chicken mixture in a colander. Heat a skillet on the grill or stove. Add reserved marinade, chicken and remaining ingredients. Sauté 12 – 15 minutes, stirring and turning frequently.
Chicken Kabobs, Pear Salad, and Sautéed Broccoli are just three of the easy and delicious recipes you will enjoy from one of my latest cookbooks. Here's a little more info for you.
May you enjoy all the days of your life filled with good friends, laughter, and seated around a well-laden table!
Sloane
A Perfect Summer Meal
from Vonnie Hughes
Here's a perfect lunch or dinner that's great for leftover vegetables from Down Under. The extra bonus – it's easy to make. Let your imagination rule on the veggies. Onion, broccoli, mushroom, cauliflower, courgettes (eggplants), capsicums, corn kernels…whatever you have on hand tastes amazing in this recipe. Chopped, cooked bacon or a small can of salmon are welcome additions.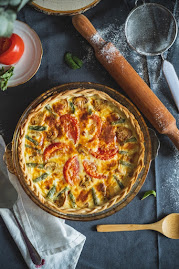 Self-Crusting Quiche
3 tbsp. butter
3 medium eggs
1 cup milk
1 cup flour
1 tsp. baking powder
Pinch of salt
Pepper to taste
2.5 cups mixed vegetables, chopped
1 cup grated cheese with a snappy flavor for oomph
Preheat oven to 350° F (180° C).
Coat an ovenproof dish large enough to hold all ingredients with butter. Set aside.
Mix eggs, milk, flour, baking powder, salt, and pepper together in a bowl.
Stir in vegetables and bacon or salmon if you're using them.
Blend in cheese.
Pour mixture into a greased dish. Bake 40 minutes or until a sharp knife inserted in the middle comes out clean.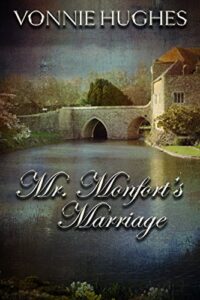 Here's a little from Vonnie's Regency romance to perk your interest.
Matthew Monfort has two excellent reasons for loathing members of the ton, but thanks to his father's machinations, he finds himself inveigled into offering for Lady Verity Tristan. Well, it's time he married and she's…well, she's different; in fact, she's quite delightful…and intelligent…and sweet… but she needn't think she's going to win him over.
Buy Now
Available from Amazon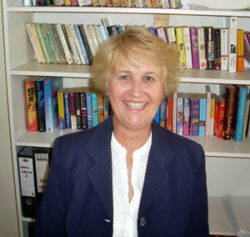 Vonnie Hughes is a multi-published author in both Regency books and contemporary suspense. She loves the intricacies of the social rules of the Regency period and the far-ranging consequences of the Napoleonic Code. And with suspense she has free rein to explore forensic matters and the strong convolutions of the human mind. Like many writers, some days she hates the whole process, but somehow she just cannot let it go.
Vonnie was born in New Zealand, but she and her husband now live happily in Australia. If you visit Hamilton Gardens in New Zealand, be sure to stroll through the Japanese Garden. These is a bronze plaque engraved with a haiku describing the peacefulness of that environment. The poem was written by Vonnie.
All of Vonnie's books are available on The Wild Rose Press and Amazon.
Learn more about Vonnie Hughes on her website and blog. Stay connected on Facebook, Twitter, and Goodreads.
May you enjoy all the days of your life filled with good friends, laughter, and seated around a well-laden table!
Sloane
An Italian Taste Treat
from Catherine Castle
Traditional carbonara sauce has an egg and cheese sauce added to the spaghetti just before serving. I don't care for eggs added to things at the last minute, so I eliminated the eggs and sauce and came up with my own version of carbonara. I hope you'll like it as much as we do.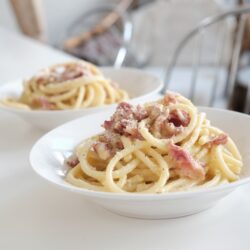 Zucchini Spaghetti Carbonara ala Catherine
6 slices thick bacon
4 oz. whole wheat spaghetti
2.5 oz. can sliced black olives, drained
1 cup diced or chunked ham
1 med. zucchini, cut lengthwise and sliced thin
½ cup grated Parmesan cheese
Divide bacon into 4 and 2 slices. Prepare 4 slices for microwaving by placing between 2 paper towels on a microwave safe plate. Microwave for 3 minutes until crisp. Remove from paper while still warm and crumble.
Dice remaining 2 slices and place in a large skillet, cooking until crisp.
While bacon is cooking, boil water for spaghetti and cook as directed on package until pasta is firm. Drain fully when cooked.
While pasta is cooking, sauté ham and zucchini with diced bacon until zucchini is tender.
Drain any excess liquid from the pan.
Add olives and cooked drained spaghetti to zucchini and bacon, tossing to mix.
Remove from heat and add parmesan cheese, tossing quickly to keep cheese from clumping.
Top with crumbled bacon and serve.
Makes 2 generous main dish servings or 4 side dishes.
Note: additional cheese may be sprinkled on top of pasta after serving, if desired.
This dish makes up quick, so you won't have time to read a book while it's cooking, but after the dishes are done, check out Catherine's sweet romantic comedy with a touch of drama.
Here's a peek to further induce you.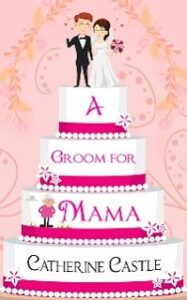 One date for every medical test—that's the deal. Allison, however, gets more than she bargains for. She gets a Groom for Mama.
Beverly Walters is dying, and before she goes she has one wish—to find a groom for her daughter. To get the deed done, Mama enlists the dating service of Jack Somerset, Allison's former boyfriend.
The last thing corporate-climbing Allison wants is a husband. Furious with Mama's meddling, and a bit more interested in Jack than she wants to admit, Allison agrees to the scheme as long as Mama promises to search for a cure for her terminal illness.
A cross-country trip from Nevada to Ohio ensues, with a string of disastrous dates along the way, as the trio hunts for treatment and A Groom For Mama.
Buy Now
Available from Amazon and Barnes and Noble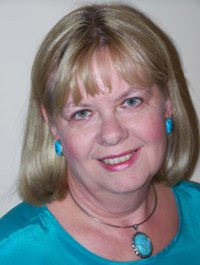 Multi-award-winning author Catherine Castle has been writing all her life. A former freelance writer, she has over 600 articles and photographs to her credit (under her real name) in the Christian and secular market. Now she writes sweet and inspirational romance. Her debut inspirational romantic suspense, The Nun and the Narc, from Soul Mate Publishing, has garnered multiple contests finals and wins.
Catherine loves writing, reading, traveling, singing, watching movies, and the theatre. In the winter she loves to quilt and has a lot of UFOs (unfinished objects) in her sewing case. In the summer her favorite place to be is in her garden. She's passionate about gardening and even won a "Best Hillside Garden" award from the local gardening club.
Learn more about Catherine Castle on her website and blog. Stay connected on Facebook and Twitter. Be sure to check out Catherine's Amazon author page and her Goodreads page. You can also find Catherine on Stitches Thru Time and the SMP authors blog site.
May you enjoy all the days of your life filled with good friends, laughter, and seated around a well-laden table!
Sloane
A Deep South Specialty
from Leigh Goff
Here is a dessert I confiscated and made my own. This New Orleans treat is perfect on a special night for two as well as holiday gatherings and everything in between.
Here are a few tips to make preparing this dessert easier:
Soak the raisins in bourbon before you start this recipe. You can even soak them a day or two ahead.
The bread you use should be a little dry. If the bread you are using is fresh, after you cube it, spread it out on a sheet pan and put it in a 200° F oven for 10 minutes.
Go easy on the bourbon sauce. It is strong! But so delicious.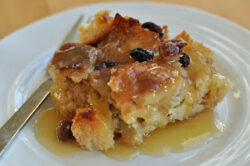 Bread Pudding
1 cup raisins
¼ cup bourbon whiskey
1 loaf French bread, at least a day old, cut into 1-inch cubes
1 qt. milk
3 large eggs
2 cups sugar
2 tbsp. vanilla extract
¼ tsp. allspice
¼ – ½ tsp. cinnamon
3 tbsp. butter, melted
Combine raisins and bourbon in a small bowl. Cover and soak for 1 to 2 hours or until the raisins have absorbed most of the bourbon.
Preheat oven to 350° F.
Pour milk into a large bowl. Add bread and press into milk with your hands or a large spoon until all the milk is absorbed.
In a separate bowl, whisk eggs until frothy. Whisk in sugar, vanilla, allspice, and cinnamon. Pour over bread mixture. Add bourbon-soaked raisins, with or without the remaining soaking liquid. Stir gently to combine.
Pour melted butter onto bottom of a 9 x 13-inch baking pan. Coat the bottom and the sides of the pan well with the butter. Pour in bread mixture then egg mixture.
Bake 35 – 45 minutes, until liquid has set. The pudding is done when the edges are just brown and pulling away from the pan edge.
Bourbon Sauce
½ cup (1 stick) butter, melted
1 cup sugar
1 large egg
½ cup Kentucky bourbon whiskey, amount according to taste
Make the bourbon sauce while the bread pudding is cooking.
Melt butter in a saucepan on low heat. Whisk in sugar and egg. Cook over low heat, stirring constantly until the mixture thickens enough to coat the back of a spoon. Remove pan from heat.
Do not allow mixture to simmer! Or the sauce will curdle. By the way, if your sauce curdles, just take it off the heat and blend it smooth in a blender.
Whisk in bourbon. Whisk again before serving. The sauce should be soft, creamy, and smooth.
Serve with whiskey sauce on the side. This dessert is best eaten the day it is made.
Please allow me to share a peek at my Southern Gothic book while you enjoy your pudding.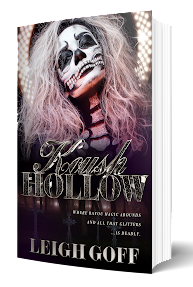 Koush Hollow:
Where bayou magic abounds and all that glitters…is deadly.
After her father's untimely death, Jenna Ashby moves to Koush Hollow, a bayou town outside of New Orleans, dreading life with her wealthy mother.
As the sixteen-year-old eco-warrior is introduced to the Diamonds & Pearls, her mother's exclusive social club, she comes to the troubling realization that secrets are a way of life in Koush Hollow.
How do the Diamonds & Pearls look so young, where does their money come from, and why is life along the bayou disappearing?
As Jenna is drawn into their seductive world, her curiosity and concerns beg her to uncover the truth. However, in this town where mysticism abounds and secrets are deadly, the truth is not what Jenna could have ever imagined.
Available at Amazon in three formats:
Kindle | Paperback | Audiobook
Born and raised on the East Coast, she now lives in Maryland where she enjoys the area's great history and culture.
Learn more about Leigh Goff on her website and blog. Stay connected on Facebook, Pinterest, and Goodreads.
May you enjoy all the days of your life filled with good friends, laughter, and seated around a well-laden table!
Sloane
Delicious Lenten Side Dish
from Alicia Joseph
This vegan recipe is also a fave for my meat-eating friends and family. Give it a try and let me know what you think.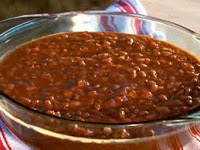 Vegan Baked Beans
1 cup brown lentils
½ cup red lentils
1 carrot, chopped fine
2 stalks celery, chopped fine
½ med. red onion, chopped fine
1 bell pepper, chopped fine, color doesn't matter
3 cups water + 6 tbsp. water
3 tbsp. flaxseed meal (linseed), chia seeds work too
1½ cups oats
1 tbsp. dried chopped onion
½ tbsp. garlic powder
1 cup ketchup
Preheat oven to 350° F.
Mix both lentils, carrot, celery, onion, and pepper together in a saucepan. Stir in 3 cups water and boil until has evaporated. Be sure to stir often.
In a separate dish, mix flaxseed with 6 tablespoons of water. Let it stand to thicken. This is your egg replacement.
When lentils and vegetables are cooked, slowly pour in oats. Break oats up as much as you can. Stir in lentils so it's a nice thick consistency. Next add flax mixture, onion, and garlic. Mix well.
Pour contents evenly into a loaf pan. Bake 15 minutes. Pour ketchup over the top and cook for an additional 5 minutes.
Here is a glimpse into one of my books. I hope you enjoy it.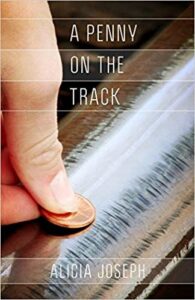 "When a train runs over a penny, the penny changes form, but it can still be a penny if I want it to be. Or, I can make it be something else."
Lyssa and her best friend Abbey discover a hideout near the train tracks and spend the summer before sixth grade hanging out and finding freedom from issues at home. Their childhood innocence shatters when the hideout becomes the scene of a tragic death.
As they're about to graduate from high school, Abbey's family life spirals out of control while Lyssa is feeling guilty for deceiving Abbey about her sexuality.
After another tragic loss, Lyssa finds out that a penny on the track is sometimes a huge price to pay for the truth.
Buy Now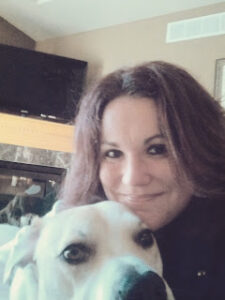 Alicia Joseph grew up in Westchester, Illinois. She has many works-in-progress that she hopes to finish soon. Life permitting.
When she is not writing, Alicia enjoys volunteering with animals, rooting for her favorite sports teams, and playing "awesome aunt" to her nine nieces and nephews.
Learn more about Alicia Joseph on her blog. Stay connected on Facebook and Twitter.
May you enjoy all the days of your life filled with good friends, laughter, and seated around a well-laden table!
Sloane