What's Cooking
July's Choice
Get Your Grill On!
Quick and easy and oh so good. This is a delicious meal for two and it's terrific when friends or family come for dinner. Simply increase ingredient amounts proportionally and you're good to go!
Serve with Pear Salad, Sautéed Broccoli, and White Wine – Riesling.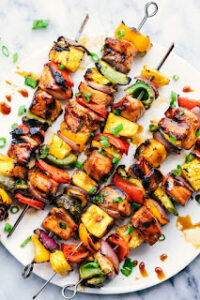 Chicken Kabobs
1 – 1½ lbs. (500 – 750g) chicken breasts, skinless and boneless
1 med. onion, quartered
1 med. red pepper, seeded and ribs removed
1 med. yellow pepper, seeded and ribs removed
3 garlic cloves, pressed or chopped fine
¾ cup (180ml) olive oil
¾ cup (180ml) honey
1 tbsp. (15ml) soy sauce
Freshly ground pepper to taste
1 small can pineapple chunks, drained
10 – 16 baby bella mushrooms, stems removed
Vegetable oil for grill
Cut chicken into 1½ in. (3.8cm) pieces and then place into a plastic bag or bowl. Separate onion sections, add to chicken. Slice peppers into 1 in. (2.54cm) pieces add to chicken. Set aside.
Whisk garlic through pepper together in a small bowl. Add half, maybe a little more, this mixture to chicken. You need to hold back some marinade for basting while you grill. Cover and refrigerate 1 – 2 hours.
Coat grill lightly with olive oil. Set grill to medium-high.
Thread chicken and veggies onto skewers, e.g.: chicken, onion, mushroom, yellow pepper, chicken, pineapple, red pepper, and so on. Make sure all the pieces touch but aren't jammed against one another. Discard remaining marinade.
Grill 12 – 15 minutes. Brush skewers with held back marinade and turn frequently so meat cooks evenly.
No skewers? No problem.
Drain chicken mixture in a colander. Heat a skillet on the grill or stove. Add reserved marinade, chicken and remaining ingredients. Sauté 12 – 15 minutes, stirring and turning frequently.
Chicken Kabobs, Pear Salad, and Sautéed Broccoli are just three of the easy and delicious recipes you will enjoy from one of my latest cookbooks. Here's a little more info for you.
May you enjoy all the days of your life filled with good friends, laughter, and seated around a well-laden table!
Sloane