What's Cooking
October's Choice
Get Your Game On
from Sharon Ledwith
One of the favorite dishes of armchair warriors, chili has so many combinations and gastric consequences, I'm sure it could be deemed as a weapon of mass destruction. Sports fans absolutely love their chili, especially when tailgating with other like-minded souls. We've discovered one recipe that's a sure-fire way to keep you warm inside and out, while waiting for your team to get the game started.
Make ahead the day before and reheat or prepare on the fly, this spicy version takes 30 minutes to prep, cooks for 2 hours, and serves 12 of your closest blood-thirsty family or friends. A warning: have plenty of water or your preferred adult beverage on hand, along with a stack of napkins to not only wipe your mouth, but soak up your tears.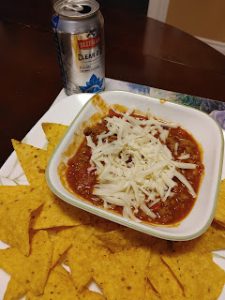 Game-Face Tailgate Chili
2 lbs ground beef chuck
1 lb bulk Italian sausage (use hot Italian if you love it spicy)
3 (15 oz) cans chili beans, drained
1 (15 oz) can chili beans in spicy sauce
2 (28 oz) cans diced tomatoes with juice
1 (6 oz) can tomato paste
1 large yellow onion, chopped
3 stalks celery, chopped
1 green bell pepper, seeded and chopped
1 red bell pepper, seeded and chopped
2 green chili peppers, seeded and chopped
1 tbsp. bacon bits
4 cubes beef bouillon
½ cup beer
¼ cup chili powder
1 tbsp. Worcestershire sauce
1 tbsp. minced garlic
1 tbsp. dried oregano
2 tsp. ground cumin
2 tsp. hot pepper sauce (e.g. Tabasco or Frank's)
1 tsp. dried basil
1 tsp. salt
1 tsp. ground black pepper
1 tsp. cayenne pepper
1 tsp. paprika
1 tsp. white sugar
1 bag of nacho chips
1 (8 oz package) shredded Cheddar cheese
Heat a large stock pot over medium-high heat. Crumble the ground chuck and sausage into the hot pan, and cook until evenly browned. Drain off excess grease.
Pour in the chili beans, spicy chili beans, diced tomatoes and tomato paste. Add the onion, celery, green and red bell peppers, chili peppers, bacon bits, bouillon, and beer. Season with chili powder, Worcestershire sauce, garlic, oregano, cumin, hot pepper sauce, basil, salt, pepper, cayenne, paprika, and sugar. Stir to blend, then cover and simmer over low heat for at least 2 hours, stirring occasionally.
After 2 hours, taste, and adjust salt, pepper, and chili powder if necessary. The longer the chili simmers, the better it will taste. Remove from heat and serve, or refrigerate and serve the next day.
Ladle into bowls and top with shredded Cheddar cheese. Serve with nacho chips for dipping.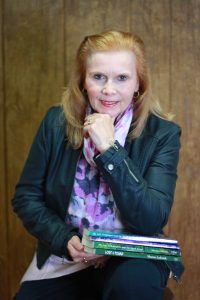 After the game or while you're waiting on the chili to simmer, take a timeout for yourself, and crack open one of my books. May I suggest a visit to Fairy Falls, or if you're feeling really adventurous, a trip back in time with The Last Timekeepers? Whichever you choose, I assure you that either series will boost your mood, and take you away from the game of life.
Learn more about Sharon Ledwith on her website and blog. Stay connected on Facebook and Twitter, Goodreads, and Smashwords. Look up her Amazon Author page for a list of current books. Be sure to check out THE LAST TIMEKEEPERS TIME TRAVEL SERIES Facebook page.
May you enjoy all the days of your life filled with laughter and seated around a well laden table!
Sloane