What's Cooking
March's Recipe
from Catherine Castle
The other day I made chicken breasts in the crockpot in anticipation of making a batch of chicken pot pies. I threw in a couple extra boneless breasts, and hubby and I went out to run some errands. When we got back later that afternoon, we were hungry and the scent of chicken filled the house.
"What's for dinner?" hubby asked.
I decided to use some of the crockpot chicken breasts and throw together a quick chicken chili with what I had in the pantry. I didn't have enough cannellini beans so I substituted and came up with a pretty good chili, if I do say so myself. I hope you'll think so, too.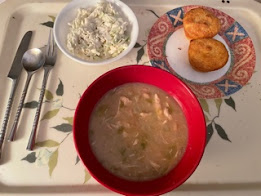 Quick White Chicken Chili
1 15-ounce can of cannellini beans (also called white kidney beans), drained
1 green pepper, diced
2 boneless chicken breasts, boiled and shredded
1 4-ounce can green chilies, chopped
2 cups chicken broth, divided
Salt and pepper to taste
1 15-ounce can of butter beans
Cumin to taste if you like a spicier chili
Combine cannellini beans, green pepper, breasts, green chilies, and 1 cup chicken broth into a pot.
Pour butter beans into a food processor and pulse until beans are mashed. Add to ingredients in pot and stir well.
If chili is too thick add more chicken broth until it reaches the consistency you prefer.
Heat and serve with homemade cornbread and coleslaw.
Makes 4 1-cup servings
While you're waiting for the chili to heat check out Catherine's Award-winning Inspirational Romantic Suspense The Nun and the Narc.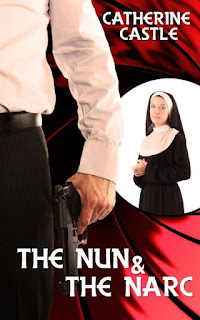 Where novice Sister Margaret Mary goes, trouble follows. When she barges into a drug deal the local Mexican drug lord captures her. To escape she must depend on undercover DEA agent Jed Bond. Jed's attitude toward her is exasperating, but when she finds herself inexplicably attracted to him, he becomes more dangerous than the men who have captured them by making her doubt her decision to take her final vows. Escape back to the nunnery is imperative, but life at the convent, if she can still take her final vows, will never be the same.
Nuns shouldn't look, talk, act, or kiss like Sister Margaret Mary O'Connor—at least that's what Jed Bond thinks. She hampers his escape plans with her compulsiveness and compassion, and in the process makes Jed question his own beliefs. After years of walling up his emotions in an attempt to become the best agent possible, Sister Margaret is crumbling Jed's defenses and opening his heart. To lure her away from the church would be unforgivable—to lose her unbearable.
Buy Now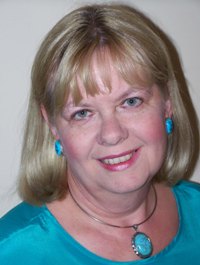 Multi-award-winning author Catherine Castle has been writing all her life. A former freelance writer, she has over 600 articles and photographs to her credit (under her real name) in the Christian and secular market. Now she writes sweet and inspirational romance. Her debut inspirational romantic suspense, The Nun and the Narc, from Soul Mate Publishing, has garnered multiple contests finals and wins.
Catherine loves writing, reading, traveling, singing, watching movies, and the theatre. In the winter she loves to quilt and has a lot of UFOs (unfinished objects) in her sewing case. In the summer her favorite place to be is in her garden. She's passionate about gardening and even won a "Best Hillside Garden" award from the local gardening club.
Learn more about Catherine Castle on her website and blog. Stay connected on Facebook and Twitter. Be sure to check out Catherine's Amazon author page and her Goodreads page. You can also find Catherine on Stitches Thru Time and the SMP authors blog site.
May you enjoy all the days of your life filled with good friends, laughter, and seated around a well-laden table!
Sloane