What's Cooking
October's Choice
Goodies Fresh from the Oven
from Tina Ruiz
My mom is 82-years old and doesn't cook or bake at all anymore, but she is thrilled that I've kept her recipes and shared them with my children and grandchildren. Here is one of our favorites especially at Halloween.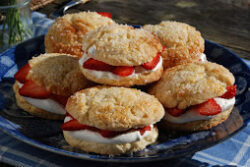 Grama Tina's Sweet Biscuits
4 cups white flour
2 tbsp. baking powder – double acting is better
½ cup white sugar
1 pinch salt
½ tsp. nutmeg and/or cinnamon
1 cup frozen or very cold butter
1½ cups milk at room temperature
1 egg
Flour
½ – ¾ cups of blueberries, raisins, or chopped apples, optional
Preheat oven to 400° F.
Mix first 5 dry ingredients together in a large bowl.
In another bowl, shred butter. Shredding instead of just adding melted butter is better because when the yellow flakes go into the dough, you'll get butter in every single mouthful. *hint* spray PAM on the shredder before using for a quicker clean-up.
Pour milk into a separate bowl. Stir in egg. Now add wet mixture to dry, and knead it until it forms a ball.
Sprinkle flour onto your counter or work area, and spread your dough out how you want it – a flat circle or a square.
Brush the top with butter and then sprinkle with white or brown sugar.
Cut dough into shapes you prefer. Place them on a greased cookie sheet or onto parchment paper.
Bake for 12 – 15 minutes.
Once cooled, slice each biscuit open and place any kind of fruit or jam on the inside. Add whipped cream or ice cream on top, then place the cap on top and serve.
How about sharing one or both of my children's Halloween books with your favorite tricksters while you enjoy dessert?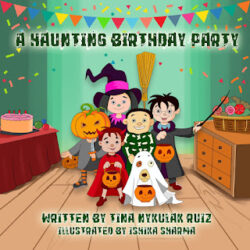 The story is about Peppa Roni and her twin brother, Reece A. Roni, who are having their 9th birthday party in the neighborhood restaurant. What makes this story different from any other children's book, are the names which the author has given to her characters. Example: Tess Ding, Chris P. Bacon, Mr. Noah Lott, Harry Pitts, Miss Turi, Walter Melon, Judge Mental and his wife, Judy, etc…
The storyline is quite charming, and because you will try to figure out the double meaning of the fun names while you read, this is bound to become your child's favorite book.
Buy Now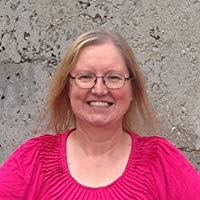 Tina Ruiz was born in Germany, but her family moved to Canada when she was in grammar school. She began writing children's stories when her own were little. Through the years Ruiz has now written wrote thirty books. Most of those stories went into readers for the Canada Board of Education. Two did not. Mayor Shadoe Markley is a story about a ten-year-old girl who becomes Mayor for a Day through a contest at school.
Little did Ruiz know that story would "change the world." The book came out at early January 1988. By the end of that same month, everyone was calling the mayor's office at City Hall, trying to get the forms to fill out so their children could participate in the contest. Thirty years later that same contest is still runs at full speed. And not only in Calgary, but all across Canada. The Mayor's Youth Council is now in charge of the celebrated contest and invites Ruiz to attend and meet the lucky winner. It's usually followed by a hand-written thank you card from the mayor himself. Recently Ruiz was invited to be part of the Grand Opening of Calgary's New Library where the mayor shook her hand and introduced her to the attendees.
Tina has worked in television and radio as well as being a professional clown at the Children's Hospital. She lives in Calgary with her husband who encourages her to write her passion be it high-quality children's books or intriguing romance.
Stay connected with Tina Ruiz on her Facebook group, Tina Speaks Out.
May you enjoy all the days of your life filled with laughter and seated around a well laden table!
Sloane