What's Cooking
January's Choice
Comfort Food – Italian Style
from Sharon Ledwith
Picture this – savory, sautéed chicken cooked in a cheesy, creamy sauce with Roma tomatoes, served atop a bed of fettuccini pasta. Is your mouth watering yet? Mine is. One of my go-to meals I order at a restaurant includes this classic pasta dish. So, I thought I'd bring this Italian favorite from the restaurant into your kitchen to enjoy with 8 of your family or friends wherever and whenever you choose to get-together.
With a prep time of 30 minutes, and a cook time of 30 minutes, you can divvy up the duties and make it a culinary collaboration. Wine, of course, is optional, but encouraged.
Classic Chicken Fettuccini Alfredo
6 skinless, boneless chicken breasts halves, cut into cubes
6 tbsp. butter, divided
4 cloves garlic, minced, divided
1 tbsp. Italian seasoning
1 lb. (454 g) fettuccini pasta
1 onion, diced
1 – 8 oz. (227 g) package sliced mushrooms
⅓ cup all-purpose flour
1 tbsp. salt
¾ tsp. ground white pepper
3 cups milk
1 cup half-and-half
¾ cup grated Parmesan cheese
8 ozs. (227 g) shredded Colby-Monterey Jack cheese
3 Roma (plum) tomatoes, diced
½ cup sour cream
In a large skillet set over medium heat combine chicken, 2 tablespoons butter, 2 cloves garlic, and Italian seasoning. Cook until chicken is no longer pink inside. Remove from skillet and set aside.
Bring a large pot of lightly salted water to a boil. Add pasta and cook for 8 to 10 minutes or until al dente; drain.
Meanwhile, melt the remaining butter in the skillet. Sauté onion, remaining garlic, and mushrooms until onions are transparent. Stir in flour, salt, and pepper; cook for 2 minutes. Slowly add milk and half-and-half, stirring until smooth and creamy. Blend in Parmesan and Colby-Monterey Jack cheeses. Continue to stir until cheese is melted. Stir in chicken mixture, tomatoes, and sour cream. Serve over cooked fettuccini.
IF by any chance you have leftovers, the Alfredo mixture freezes well.
Here's a glimpse into my latest time travel novel. I hope you enjoy it.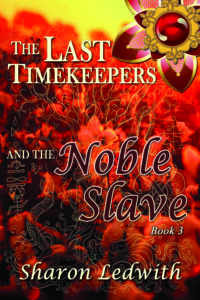 True freedom happens only when you choose to be free.
Eleven-year-old Drake Bailey is an analytical thinker and the genius of the Timekeeper crew. However, no logic or mathematical acumen can change the color of his skin, or prepare him for this third Timekeeper mission in antebellum Georgia. To survive, Drake must learn to play the role of a plantation slave and when confronted with the brutality, hatred, and racism of the deep south, he'll have to strategically keep one move ahead of his sadistic captors to ensure his lineage continues.
In a dark world of Voodoo, zombies, and ritualistic sacrifice, the Timekeepers must ensure a royal bloodline survives. Can Drake remove both literal and figurative chains to save both himself and a devout slave girl from a terrible fate? If he can't summon the necessary courage, humanity could stand to lose one of its greatest leaders.
Buy Now
Available at Amazon and all other major vendors.
Sharon Ledwith is the author of the middle-grade/YA time travel series, THE LAST TIMEKEEPERS, and the teen psychic mystery series, MYSTERIOUS TALES FROM FAIRY FALLS. When not writing, researching, or revising, she enjoys reading, exercising, anything arcane, and an occasional dram of scotch. Sharon lives a serene, yet busy life in a southern tourist region of Ontario, Canada, with her hubby, one spoiled yellow Labrador and a moody calico cat.
Learn more about Sharon Ledwith on her website and blog. Stay connected on Facebook and Twitter, Goodreads, and Smashwords. Look up her Amazon Author page for a list of current books. Be sure to check out THE LAST TIMEKEEPERS TIME TRAVEL SERIES Facebook page.
May you enjoy all the days of your life filled with laughter and seated around a well-laden table!
Sloane