What's Cooking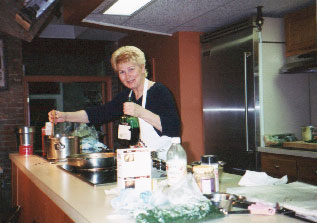 One thing I do and do well is cook. Check out Studly's waistline if you don't believe me. Yet it has always frustrated me to read a delicious-sounding recipe and then have to figure out what to serve with it. Beans or peas? Fried or boiled potatoes? To salad or not. You get the idea. We're not talking rocket science, but a clue or two from those big-buck chefs, whose books I constantly buy, would sure help.
So today don your aprons and grab those skillets because we're taking a giant step to ease the burden of the overworked woman.
Every month a new menu will be posted. Please feel free to email me your thoughts, suggestions, or your favorite recipes. We're all in this cooking thing together and might as well help out each other.
A Sweetheart of a Treat
From time travel romance author Stella May
This recipe for a classic meringue dessert is easy to prepare and wonderful to eat. My family loves these cookies as a sweet after a good dinner. If you choose to use vanilla extract, you'll have a classic méringue dessert called La Bise (kiss in French). Bon appetite!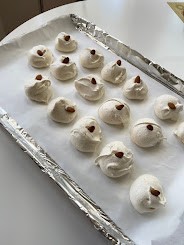 Almond Meringue Cookies
4 egg whites, cold eggs right from the fridge
Pinch of salt
¾ or 1 cup of white sugar (I use organic raw cane sugar)
1 tbsp. almond or vanilla extract
12 whole almonds
Preheat oven to 200° F.
You need a hand or standing mixer. Mix egg whites and salt on high-speed to the consistency of dense foam.
Add sugar by small portions, mixing well. Try not to stop your mixer while adding sugar. Add almond extract.
Cover cookie sheet with parchment. Spoon mixture into 12 cookies. You can use an ice-cream scoop. Place one whole almond on top of each cookie.
Bake for 1 hour. Lightly touch the cookie. It will have a firm crust and a soft center. That's ideal. Turn off the oven and leave the cookies inside the oven for 1 hour.
Remove from the oven to cool completely. Enjoy!
Here's a little to intrigue you from one of Stella May's time travel romance novels.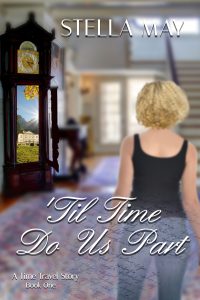 After months of working like a woman possessed, Nika Morris kept her promise. Coleman House is finished. It's gorgeous. Spectacular. Brilliant.
It's breaking her heart.
Because once the new owners move in, she'll be cut off from the time portal to 1909, where she met and fell in love with Eli Coleman. Now stranded in her own time, she's waited months for the key to reappear in its hiding place. Only it hasn't. Which means Eli must have believed the terrible things she was accused of.
Back in 1909, Eli is stunned at his best friend's deathbed confession of a shocking betrayal. Nika—his Daisy, his time-traveling wonder—was innocent. Once he finds the key, he wastes no time stepping through the portal, determined to make things right.
But the moment Eli stumbles into her shiny, noisy, confusing future, he realizes reconciliation won't be simple. There is more than one emotional bridge to rebuild before he and Nika can return to the time their love was born—and live their destiny out to the fullest.
Buy Now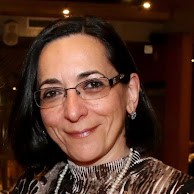 Talented author Stella May is the penname for Marina Sardarova who has a fascinating history you should read on her website.
Stella writes fantasy romance as well as time travel romance. She is the author of 'Till Time Do Us Part, Book 1 in her Upon a Time series, and the stand-alone book Rhapsody in Dreams. Love and family are two cornerstones of her stories and life. Stella's books are available in e-book and paperback through all major vendors.
When not writing, Stella enjoys classical music, reading, and long walks along the ocean. She lives in Jacksonville, Florida with her husband Leo of 35 years and their son George. They are her two best friends and are all partners in their family business.
Follow Stella on her website, STELLA MAY Author and blog, SEEK MAGIC EVERYDAY. Stay connected on Facebook, Twitter, and Pinterest.
May you enjoy all the days of your life filled with good friends, laughter, and seated around a well-laden table!
Sloane
From time travel author Sharon Ledwith
This is a fantastic soup to serve to your crew and freezes well. Salad, hard rolls, and wine (red or white) complete this meal! You can make it 24 hours ahead of time without the noodles and wait to add noodles when you reheat the soup to serve.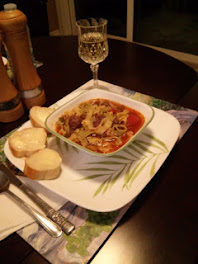 Savory Sausage Soup
1½ pounds sweet Italian sausage*
2 cloves garlic, minced
2 small onions, chopped
2 (16 ounce) cans whole peeled tomatoes
1¼ cup dry red wine
5 cups beef broth
½ tsp. dried basil
½ tsp. dried oregano
2 zucchinis, sliced
1 green bell pepper, chopped
3 tbsp. fresh parsley, chopped
1 (16 ounce) package spinach fettuccine pasta (or plain, whatever your heart desires)
Salt and pepper to taste
In a large pot, cook sausage over medium heat until brown. Remove with a slotted spoon and drain on paper towels. Drain fat from pan, reserving 3 tablespoons. If desired, instead of ground sausage, cut sausages in thin slices.
Sauté garlic and onion in reserved fat for 2 to 3 minutes. Stir in tomatoes, wine, broth, basil, and oregano. Transfer to a slow cooker, and stir in sausage, zucchini, bell pepper, and parsley.
Cover, and cook on low for 4 to 6 hours.
Bring a large pot of lightly salted water to a boil. Break pasta into smaller pieces and drop into boiling water. Cook until al dente, about 7 minutes after the water returns to the boil. Drain water and add pasta to slow cooker. Simmer for a few minutes, and season with salt and pepper before serving.
Serve topped with grated parmesan.
* Use ground sausage or links you've broken into bits or sliced thin.
This recipe can also be made on your stovetop. Follow the directions, but instead of the slow cooker, combine all your ingredients in your original pot. Simmer partially covered for 1 hour.
Give yourself a well-deserved break while your soup simmers. Sit back, prop up your feet, and open a book you've been meaning to read. Why not pick up one of The Last Timekeepers adventures, and peruse the latest mission with Treena and her time traveling cohorts?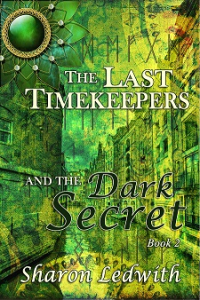 Only a true hero can shine the light in humanity's darkest time.
Fourteen-year-old Jordan Jensen always considered himself a team player on and off the field, until the second Timekeeper mission lands him in Amsterdam during World War Two. Pulled into the world of espionage, torture, and intolerance, Jordan and the rest of the Timekeepers have no choice but to stay one step ahead of the Nazis in order to find and protect a mysterious book.
With the help of the Dutch Resistance, an eccentric baron, Nordic runes, and an ancient volume originating from Atlantis, Jordan must learn that it takes true teamwork, trust, and sacrifice to keep time safe from the evils of fascism. Can Jordan find the hero within to conquer the darkness surrounding the Timekeepers? If he doesn't, then the terrible truth of what the Nazis did will never see the light of day.
Excerpt
"I wonder what else is down here." Drake beamed his cell phone across the basement, hitting jars of jams, pickles, and relishes. His stomach growled.
Jordan pulled the cheese from his pocket and handed it to Drake. "Trade you for your phone."
"Best. Trade. Ever." Drake passed his phone to Jordan.
Jordan walked over and grabbed a jar of pickles off the dusty shelf. At least they wouldn't arrive at the baron's place hungry. He hoped his uncle had managed to stop Amanda's bleeding. His hand tightened over the jar, the ridges of the lid cutting into his palm. A scrape from behind the shelves made Jordan jump.
"Hello?" he asked, pushing jars aside. He flashed the cell phone into the small, dark area.
"Who ya talking to, Jordan?" Drake asked with his mouth full of cheese.
"Shhh, Drake." Jordan listened. Hearing nothing, he shrugged and turned back around.
"I thought I heard—" Jordan stopped and pointed the phone at Ravi. His jaw dropped. "A-Are you serious, Sharma?"
Drake spat out his cheese, snorting with laughter.
"Is there a problem?" Ravi asked, tying the bowtie of his tuxedo.
"You look like a penguin with attitude!" Drake slapped his knee.
"Say what you want, but I'm glad we didn't hit the cleaners on the way to school now," Ravi replied, pulling down his sleeves, "or else I wouldn't have these dry clothes."
Jordan chuckled. Suddenly, he heard a door creak open, followed by heavy footsteps squeaking down the stairs. Panicking, Jordan stuffed Drake's phone in his track suit jacket's pocket and waved Drake over by the shelves. Drake slipped behind Jordan just in time, before the small light bulb above the bottom of the stairs clicked on. Jordan swallowed hard. There, staring directly at Ravi was a portly man in a blood-stained apron. Tufts of blond hair sprouted from the sides of his balding head. His brown trousers were pulled up past his waist, making him resemble an evil garden gnome. In one of his hands, he held a huge butcher knife, its blade flecked with blood.
Wielding the knife, the man pointed at Ravi. "Who are you?"
Ravi licked his thick lips nervously. "The name's Bond. James Bond."
Buy Now
Mirror World Publishing:
Paperback | eBook
Amazon:
Paperback | eBook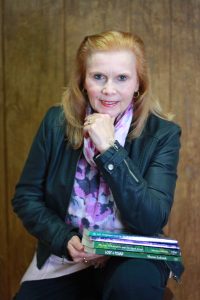 Sharon Ledwith is the author of the middle-grade/YA time travel series, THE LAST TIMEKEEPERS, and the teen psychic mystery series, MYSTERIOUS TALES FROM FAIRY FALLS. When not writing, researching, or revising, she enjoys reading, exercising, anything arcane, and an occasional dram of scotch. Sharon lives a serene, yet busy life in a southern tourist region of Ontario, Canada, with her hubby, one spoiled yellow Labrador and a moody calico cat.
Learn more about Sharon Ledwith on her website and blog. Stay connected on Facebook and Twitter, Goodreads, and Smashwords. Look up her Amazon Author page for a list of current books. Be sure to check out THE LAST TIMEKEEPERS TIME TRAVEL SERIES Facebook page.
May you enjoy all the days of your life filled with laughter and seated around a well laden table!
Sloane