What's Cooking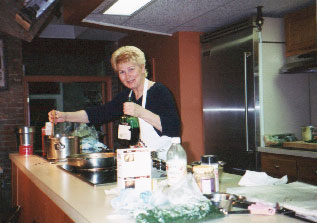 One thing I do, and do well, is cook. Check out Studly's waistline if you don't believe me. Yet it has always frustrated me to read a delicious sounding recipe and then have to figure out what to serve with it. Beans or peas? Fried or boiled potatoes? To salad or not. You get the idea. We're not talking rocket science, but a clue or two from those big-buck chefs, whose books I constantly buy, would sure help.
So today don your aprons and grab those skillets because we're taking a giant step to ease the burden of the overworked woman.
Every month a new menu will be posted. Please feel free to email me your thoughts, suggestions, or your favorite recipes. We're all in this cooking thing together and might as well help out each other.
February's Choice
A meal fit for a king that takes a little time, but is well worth it. Add a chilled bottle of Riesling for a festive evening.
• Stuffed Pork Chops
• Steamed Asparagus
• Homemade Applesauce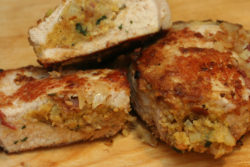 Pork Chops
3 loin chops
Stuffing
1 tbsp. olive oil
½ cup chicken stock, maybe a little more
Preheat oven to 350° F.
Slice a large pocket in each chop. Pack in stuffing. Use toothpicks to hold pocket closed as much as possible.
Heat oil in a medium-sized skillet until it shimmers over medium-high heat. Add chops and brown on each side 2 -3 minutes.
Add a little stock to an ovenproof dish. Lay chops in dish. Cover tightly with aluminum foil. Bake 35 minutes.
Stuffing
This recipe may be prepared a day or two in advance. Stop at the baking point, cover with foil, and refrigerated.
1 package bread stuffing cubes plain or seasoned
½ pound breakfast sausage in a tube or bulk
8 tbsp. butter, melted
1 rib celery, chopped
½ medium onion, chopped
1 egg, lightly beaten
1½ tsp. dried sage
1½ tsp. dried thyme
2 cups chicken stock, maybe a little more
Empty bread cubes into a large bowl.
Fry sausage, breaking into small chunks, until lightly brown.
Melt butter in a medium size skillet. When the foam subsides add the celery and onion. Sauté 3-4 minutes, be careful not to let it brown.
Add sausage and vegetables with all their juices to the bread cubes. Mix well.
Beat egg in a small bowl. Pour onto stuffing. Sprinkle sage and thyme across the top. Mix well.
Stir in chicken stock until mixture is very moist, but not soupy.
The following is your stopping point if you prepare this recipe in advance.
For Stuffed Pork Chops:
Spoon the mixture into a dish, cover and refrigerate no longer than 2 days.
To Bake as a Side Dish with Another Meal:
Spoon the mixture into a baking dish, do not pack in, and cover tightly with foil. Refrigerate the stuffing until you are ready to bake it but no longer than 2 days.
To Freeze:
Spoon the mixture into freezer bags, label, and pop in freeze no longer than 3 months. I use several small bags that will serve 2 at a single setting.
No matter which route you take, remove stuffing from the refrigerator/freezer early in the day to allow it to come to room temperature.
To cook the stuffing as a side dish, preheat the oven to 350°F. Bake for a half hour. Remove foil and continue to bake until the top is brown.
Steamed Asparagus
1 bunch asparagus
½ cup chicken stock
¼ cup dry vermouth or white wine
Water
2 tbsp. butter
Metal vegetable steamer
Add chicken stock and dry vermouth or wine to a medium size saucepan. Insert vegetable steamer, then add water to just below the bottom holes.
Snap off the ends of the asparagus and trim the spears to fit your saucepan. Add spears and cover. Bring to a boil over medium heat, adjusting the heat to a strong simmer. In 4-5 minutes the asparagus should be crisp tender.
Lay asparagus in a serving bowl. Spread the butter over them and serve.
Homemade Applesauce
6 lg apples cored, peeled, and coarsely sliced*
1 cup sugar
4 tbsp. water
2 tbsp. lemon juice
1½ tbsp. soft butter
Combine all ingredients except butter in a saucepan. Bring to a boil over medium heat. Reduce heat, cover pot, and simmer 15 – 20 minutes or until apples mash easily with a fork.
Stir in the butter.
Mash with a potato masher. For a smoother texture pour the sauce into a blender or food processor and puree for a minute or so.
Turn into a serving bowl, cover, and refrigerate until ready to serve. This recipe also freezes well.
*Mix it up with a variety of apples to improve the flavor. Use six different types.
May you enjoy all the days of your life filled with friends, laughter, and seated around a well laden table!
Sloane
January's Choice
January is National Soup month. Far be it from me to let this month fly by and not share one of my favorite recipes with you. So, enjoy a lovely bowl of hot soup with fresh bread and a glass of wine. An ideal start to a good evening.
Cream of Asparagus Soup
2 lbs. fresh asparagus
6 cups chicken stock
7 tbsp. butter
1⁄2 cup flour
1⁄4 cup dry sherry
3 tbsp shallots or scallions, chopped fine
2 egg yolks
3⁄4 cup heavy cream
2 tbsp. butter, softened
White pepper to taste*
Slice off the asparagus tips and set aside. Trim off 1⁄4 inch or so from the bottom ends of the stalks and discard. Chop the rest of the spears into 1⁄2 inch lengths.
Use a medium-sized saucepan to bring the chicken stock to a boil. Drop in the tips and lower temp to medium-low or soft boil. Cook tips until just tender, 5 – 8 minutes. Drain the stock into a bowl and spoon the tips into another one.
Melt 5 tablespoons of butter in a 4 -5 quart saucepan over moderate heat. Stir in the flour. Lower heat and cook, stirring constantly, for 2 minutes. Be careful not to let this roux brown or the soup will be bitter.
Remove pan from heat, let cool 30 seconds or so. Pour in stock. Stir constantly with a whisk to thoroughly blend the stock and roux. Return pan to moderate heat and stir until this soup base comes to a boil, thickens, and is smooth. Lower the temperature and simmer gently.
Melt 2 tablespoons of butter in a large skillet. When the foam subsides, stir in the stalks and shallots. Toss them in the butter over low heat for 4 minutes or so. You only want to soften them so don't allow them to brown. Stir this mixture into the soup base, add sherry, and cook, stirring occasionally, for 15 minutes or until asparagus is tender.
Purée soup in a blender or food processor. Pour into a strainer set over the pot. Stir with a spoon or spatula to extract soup from the pulp. Discard pulp.
Whisk the egg yolks into the cream. Stir in 5 tablespoons of hot soup at a time until you've added about 3⁄4 cup. Reverse the process and slowly whisk the now-warm mixture into the soup. **
Bring soup to a boil over medium-high heat. Boil 30 seconds, stirring constantly. Remove the pan from the heat. Stir in the softened butter 1 tablespoon at a time. Taste and season with pepper if necessary. Add the asparagus tips.
Serve from a tureen or in individual bowls.
This recipe makes 6 bowls.
*No need to buy white pepper if you don't have it. Use black pepper only a little more as it is not as strong as white pepper.
**This may seem like extra work, but if you don't do it the yolks and cream will curdle.
May you enjoy all the days of your life filled with laughter and seated around a well laden table!
Sloane