What's Cooking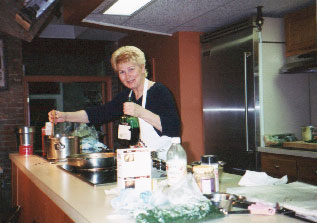 One thing I do, and do well, is cook. Check out Studly's waistline if you don't believe me. Yet it has always frustrated me to read a delicious sounding recipe and then have to figure out what to serve with it. Beans or peas? Fried or boiled potatoes? To salad or not. You get the idea. We're not talking rocket science, but a clue or two from those big-buck chefs, whose books I constantly buy, would sure help.
So today don your aprons and grab those skillets because we're taking a giant step to ease the burden of the overworked woman.
Every month a new menu will be posted. Please feel free to email me your thoughts, suggestions, or your favorite recipes. We're all in this cooking thing together and might as well help out each other.
November's Choice
November can be a killer month with all the upcoming holiday planning, cleaning, and partying. Make your life a little easier with a tasty meal that's quick and virtually effortless. This recipe makes one delicious sandwich that works great for lunch or dinner. Add a bowl of soup or crispy salad and a cold beer for a complete meal.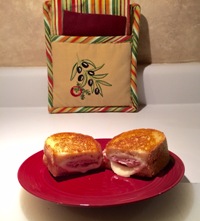 Revved Up Grilled Ham & Cheese Sandwich
2 slices Italian bread
4 slices ham, cut thin
2 slices mozzarella cheese, cut thin
2 slices tomato, cut thin
Garlic powder NOT garlic salt
⅛ tsp. ground thyme
2 tbsp. butter or so
Preheat a heavy 8-10 inch skillet or griddle over medium-high heat.
Spread the butter on the inside of each slice of bread. Sprinkle on a little garlic powder. Grill bread buttered side down until lightly browned. Remove bread to cutting board.
Reduce heat to medium.
Lay one slice of cheese on toasted side of bread, then sprinkle on thyme. Add ham and tomato. Top with another slice of cheese. Cover with the second slice of bread, butter the outside, and sprinkle on a little garlic powder.
Place the buttered side of the sandwich in the pan and fry until the bottom slice is browned to your taste. While that cooks, butter the outside of the top slice and sprinkle on a little garlic powder.
Flip the sandwich and fry until it reaches the shade of brown you prefer. Cover the pan so the cheese melts thoroughly.
May you enjoy all the days of your life filled with laughter and seated around a well laden table!
Sloane
October's Choice
Studs's cousin Judy creates the tastiest recipes. This tempting treat is perfect for your Halloween party. It makes a lot. If your gathering is ten people or less, consider cutting the measurements to one-third, although, leftovers are delicious. Trust me on that.
Pumpkin Dip
1 small container Cool Whip
1 small can pumpkin
3 small pkg. vanilla instant pudding
2 – 3 dashes pumpkin pie spice
1 box Nabisco Nilla Wafers
Combine all ingredients except wafers in a medium-sized bowl. Stir well.
Fold mixture into a serving dish or cleaned out pumpkin. Cover and refrigerate until ready to serve.
Center your serving dish or pumpkin on a large glass plate or tray. Surround with the wafers and serve.
May you enjoy all the days of your life filled with laughter and seated around a well laden table!
Sloane
September's Choice
This fun recipe serves two for a terrific lunch. Add a loaf of crusty bread and a bottle of crisp white wine and let the afternoon take you where it will.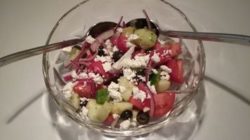 Greek Salad
3 tbsp. olive oil
½ tbsp. lemon juice
1 tbsp. red wine vinegar
1 tsp. oregano
1 tsp. garlic, chopped fine
Freshly ground black pepper to taste
3 Roma tomatoes
½ green pepper, seeded
1 small cucumber, peeled
¼ red onion, sliced thin
1 tbsp. sliced black olives
Feta cheese to taste
Whisk first 6 ingredients together in a small bowl. Set aside. Do not refrigerate.
Chop tomatoes, green pepper, and cucumber into medium-sized chunks. Toss into a large mixing bowl.
Add the black olives. Mix by hand to blend the flavors. At this point you can cover the bowl and set in the refrigerator until ready to serve.
When it's time to serve, add just enough dressing to moisten the salad. Don't drown it. Toss by hand or with two large spoons.
Transfer to a serving bowl or individual plates. Sprinkle feta cheese across the top and enjoy!
This salad also works great when served with dinner and will serve four.
May you enjoy all the days of your life filled with laughter and seated around a well laden table!
Sloane
August's Choice
A quick and tasty meal served over rice is perfect for those super busy days when you don't want to spend a lot of time over the stove. Be sure to cook the rice first and keep warm in a 210° F oven while you make the chicken.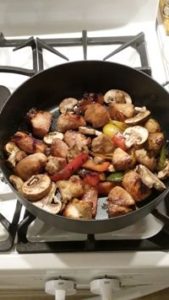 Chicken Stir-Fry
¼ cup olive oil
⅓cup honey
⅓cup soy sauce
¼ tsp. freshly ground black pepper
2 gloves garlic, chopped fine
2 boneless and skinless chicken breasts, cut in large chunks
1 medium onion, quartered
1 red pepper, seeded and chopped
Combine all ingredients in a glass or ceramic bowl. Marinate for 4 to 8 hours in the refrigerator.
Remove from the fridge one hour before cooking to bring mixture to room temperature.
Drain chicken and vegetables in a colander. Do no reserve the marinade.
Heat a large frying pan on medium-high. It's ready to use when a sprinkle of water dances across the surface.
Add the chicken and vegetables to the pan. Sauté for 10 to 13 minutes or until the meat is no longer pink.
This dish can also be prepared as SHISH KABOB.
Follow the recipe up to the cooking steps.
Soak the skewers in a dish of water for at least 30 minutes before threading the raw ingredients. This stops the skewer from catching on fire.
Preheat your gas grill on medium-high.
Thread the meat and vegetables onto wooden skewers chicken, onion, pepper. Repeat until all your ingredients are used. This recipe will make at least 6 skewers.
Grill 12 – 15 minutes. Be sure to turn often so they don't burn.
May you enjoy all the days of your life filled with laughter and seated around a well laden table!
Sloane
July's Choice
This recipe is only a guide to prepare a delicious addition to any breakfast, brunch, or lunch. Use your favorite fruits or the ones in season. I recommend not more than one piece of fruit per two people or you'll have more fruit salad than you want.
Fresh Fruit Salad
1 apple, cored and sliced
1 pear, cored and sliced
1 banana, peeled and sliced
Lemon juice
1 kiwi, peeled and sliced
10 seedless red grapes cut in half
Small handful blueberries
Small handful raspberries
Combine apple, pear, and banana in a glass serving bowl. Sprinkle with lemon juice to prevent the fruit from turning brown. Gently stir. Add in the remaining fruit.
Cover with plastic wrap then set in the refrigerator to chill until time to serve.
May you enjoy all the days of your life filled with laughter and seated around a well laden table!
Sloane
June's Choice
This is an easy recipe that works great with roasted or sautéed chicken. Leftovers make a tasty lunch when reheated in a little butter and served with crusty bread and a cold glass of white wine.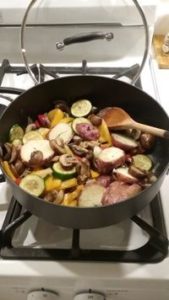 Sloane's Veggie Sauté
2 tbsp. olive oil
1 zucchini, washed and sliced
1 red pepper, cleaned and sliced
1 yellow pepper, cleaned and sliced
1 small onion, sliced
8 oz. baby Bella mushrooms, cleaned and sliced in thirds
½ tsp. garlic powder, not garlic salt
Freshly ground black pepper to taste
Heat oil in a medium-sized frying pan over medium heat. Do not let it smoke.
Add all the vegetables except mushrooms. Turn up heat to medium-high. Sauté about 3 minutes.
Lower temperature to medium. Stir in mushrooms, garlic powder, and black pepper.
Continue to cook 3 minutes or until the peppers are at the crispness you prefer.
May you enjoy all the days of your life filled with laughter and seated around a well laden table!
Sloane
May's Choice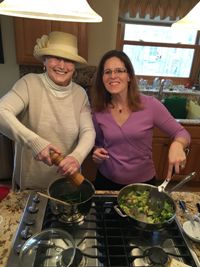 FUN with VEGGIES
My niece, that's the young pretty woman in this picture, has a wonderful kitchen with plenty of light, counter space, and a large island that holds her cook top. It's the perfect location for testing new ideas and fine tuning family favorites.
She decided to create a delicious Brussels sprout dish while I worked magic on a pot of fresh green beans. Give our recipes a try. I think you'll enjoy them both.
Truly Yummy Brussels Sprouts
1 lb. fresh Brussels sprouts
½ lb. bacon, chopped
½ medium onion, diced
1 stick butter or margarine
Freshly ground pepper to taste
Trim the stem off the sprouts and remove any tough outer leaves. Slice them in half lengthwise if the sprouts are large.
Set a large skillet over medium heat. Fry the bacon until lightly browned. Add butter, onions, and sprouts. Cook until veggies are tender. Stir frequently.
Sprinkle with pepper and serve.
Easy Fresh Green Beans
1 lb. fresh green beans trimmed, but left whole
Water
3 tbsp. butter
Freshly ground black pepper to taste
Place the beans in a colander and then rinse them under cold water. Set aside.
Bring a large pot of water to a hard boil on high heat.
Drop the beans in by the handful. Boil 10 to 14 minutes or until the beans are just tender but still crisp.
Drain beans in a colander. Add butter to the hot pot and melt. Return beans to the pot. Toss with butter and coat well. Season with pepper and serve.
May you enjoy all the days of your life filled with laughter and seated around a well laden table!
Sloane
April's Choice
This is a tasty menu that is easy to do, especially on busy days when you don't have time to spend over the stove. The pasta works well as a meal on its own, but it is especially good when combined with sautéed chicken breasts. Be sure to cook the breasts while the pasta is cooking. Keep them warm tented with foil or in a 210F oven until ready to serve.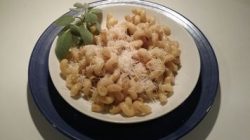 Sage Butter Pasta
8 tbsp. (1 stick) butter, room temperature
6 – 10 sage leaves
2 cups curly pasta
Parmesan cheese, grated
Cook pasta according to package directions. Set aside while you make the sauce.
Melt butter in a 10 inch frying pan over medium heat.
Add sage. Allow butter to brown. Watch carefully and stir often as once this starts to brown it can quickly burn. Cook until the butter reaches a medium caramel color. Remove sage leaves and discard.
Stir in pasta. be sure to coat the noodles well. Heat through and then serve with plenty of Parmesan cheese.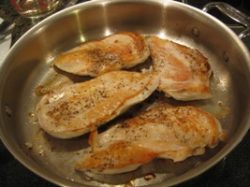 Sautéed Chicken Breasts
2 chicken breasts, boneless, skinless
Milk
2 tbsp. olive oil
1 glove garlic, chopped
½ tsp. thyme
Freshly ground pepper to taste
¼ cup dry white wine
Place the breasts in a glass dish, cover with milk and soak for 3 – 9 hours. If you choose to soak for more than 3 hours be sure to refrigerate the dish. I learned this from a very talented chef in Salzburg, Austria.
Preheat the oven to 210° F.
Heat oil in a 10 inch skillet over medium heat. Add the breasts and garlic. Sprinkle on the thyme and pepper.
Sauté until the juices run clear 15 – 20 minutes. Be careful not to overdo or they breasts will be dry.
Move the chicken to a plate, cover with foil, and set in the oven while you deglaze the pan.
Turn temperature to medium-high. Carefully pour in the wine. Stir in the browned bits that cling to the sides and bottom of the pan. Reduce this sauce by at least one-third.
Drizzle the sauce over the breasts and serve.
May you enjoy all the days of your life filled with laughter and seated around a well laden table!
Sloane
March's Choice
There are days I just want something fast and easy for dinner or a weekend lunch. Homemade fries and fish sandwiches with tartar sauce are the perfect foods. Add a cold beer at dinner. Yep, life is good!
• Homemade Fries
• Fresh Fish Sandwiches
• Tartar Sauce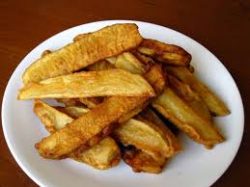 Homemade Fries
1 Idaho potato per person
2-3 cups vegetable oil
½ cup lard, optional
Salt to taste
Wash potatoes under cool water. Peel, but it's not necessary. Cut potatoes in half lengthwise, then lay flat and slice into thirds. Place pieces in a bowl with enough water to cover them. Chill in the refrigerator for at least 2 hours.
Preheat oven to 200°F.
Heat oil and lard in deep saucepan on medium-high. Test temperature by dropping in a piece of bread. When bread should browns in a matter of seconds the oil is ready.
Drain potatoes then pat dry. Carefully add to hot oil. Deep-fry for approximately 4 minutes. They're done when a toothpick inserts easily.
Drain the fries on a plate lined with paper towels, salt, then place in the oven to keep warm while you make the fish.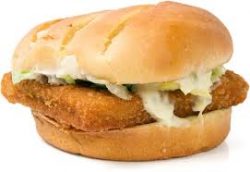 Fresh Fish Sandwiches
2 – basa or swai fillets
2 tsp. olive oil plus more for brushing
1 glove garlic, pressed or chopped fine
4 sage leaves or ½ tsp. dried sage
3 thyme sprigs or ½ tsp. dried thyme
Parsley
Freshly ground pepper to taste
Provolone cheese
2 fresh deli rolls, split
Lettuce and sliced tomato optional
Heat skillet on medium-high. Brush a little olive oil onto insides of the rolls. Test the skillet for heat by sprinkling a few drops of water onto the pan. When the water jumps and quickly evaporates place the rolls oiled side onto cooking surface. Carefully toast until the rolls are a light golden brown. Remove to individual plates and lay a slice of cheese on the roll bottom.
Pour remaining olive oil into the hot skillet. When the oil shimmers add the fish. Sprinkle with herbs. Fry 2-3 minutes per side or until fish flakes easily when tested with a fork.
Remove fish from skillet with a spatula and lay the filets onto the cheese half of the rolls. Add a healthy smear of tartar sauce, the lettuce and tomato, then cap with the other half of the roll.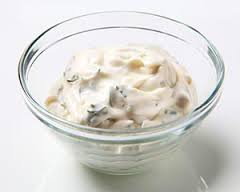 Tartar Sauce
½ cup real mayonnaise
1 small garlic clove, chopped fine
1 tbsp. onion, chopped fine
1tbsp. sweet relish
Mix ingredients together in a small bowl. Taste and adjust to your preference.
May you enjoy all the days of your life filled with laughter and seated around a well laden table!
Sloane
February's Choice
We joined our good friends Jane and Mike for dinner at the Cavalier Inn in North Hammond, Indiana the other night. Best Polish food anywhere! Everything is homemade and handmade. Jane ordered mushroom soup that was superb. Below is my rendition. It's not quite the same, but I'm stubborn and intend to work on this recipe until I get it right.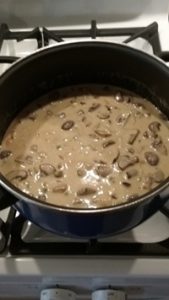 Hearty Cream of Mushroom Soup
1 lb. fresh mushrooms, baby Bella and white
10 tbsp. butter
1 medium onion, finely chopped
1 celery stalk, chopped fine
1 carrot, chopped fine
4 tbsp. flour
1 qt. beef stock
1 cup heavy cream, room temperature
¼ tsp. dried thyme
White pepper*
Clean mushrooms with a damp paper towel. Coarsely chop, but not too small. You want to see the pieces in the soup.
Melt 4 tablespoons of butter in a 12 inch skillet. Add mushrooms. Sauté for 3 minutes, stir often. Pour the mushrooms into a bowl and set aside.
Melt another 2 tablespoons of butter in the same skillet. Add onions, celery, and carrot. Sauté until onion is transparent and carrot is soft. Stir frequently so as not to burn onion. Set aside.
In a heavy 6-quart saucepan, melt the remaining butter over medium heat. Remove pan from the heat and whisk in the flour. Return pan to low heat, cook, whisk constantly for 3 or so minutes. Do NOT let this brown too much or it will be bitter. The roux should be no darker than a caramel/tan.
Remove the pan from the heat. Allow to cool 10-15 seconds, then slowly pour in the stock while whisking constantly. Return the pan to a medium-high heat and stir until the soup base thickens and is smooth, approximately 12-15 minutes.
Stir in the vegetables and thyme. Simmer for 15 minutes, but be sure to stir occasionally.
Whisk 3 tablespoons of hot soup at a time into the cream until you've added approximately ½ cup. Reverse the process and slowly whisk the now-warm mixture into the soup.**
Bring soup to a slow boil over medium-high heat. Reduce heat and boil 30 seconds, stirring constantly. Remove the pan from the heat. Taste and season with pepper.
Serve from a tureen or in individual bowls.
This recipe makes 6 bowls
*In this recipe white pepper is used for its slightly sharper taste. There is no need to make a special trip to buy white pepper. Black pepper will work fine, just use a little more.
**This may seem like extra work, but if you don't do it the cream will curdle.
May you enjoy all the days of your life filled with laughter and seated around a well laden table!
Sloane
January's Choice
January is National Soup Month. No better time to make this fun recipe with someone young. Children love the idea of making soup from a stone. The book STONE SOUP by Ann McGovern, with pictures by Nola Langner, influenced this recipe and created a fun afternoon for my granddaughter and me, not to mention a tasty treat for her parents.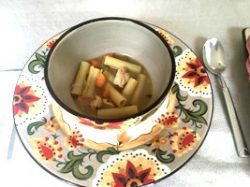 Stone Soup
1 stone large enough that it won't get lost in the soup. Quartz is good as it won't break down in cooking
1tbsp. butter
1 medium onion, chopped
2 celery stalks, chopped fine
2 large carrots, sliced
1 large garlic clove, pressed
6 cups chicken stock
2 boneless, skinless chicken breasts, chopped
1 tsp. dried thyme*
1 tbsp. dried parsley*
2 cups penne pasta
Freshly ground pepper to taste
Freshly grated Parmesan cheese
Scrub the stone with dish soap. Rinse thoroughly.
Melt the butter in a large pot on medium heat. When the foam subsides turn heat to medium-high. Add onion and sauté for 3 – 4 minutes. Stir in celery and carrots. Continue to sauté for 6 – 8 minutes. Lower the heat to medium. Add the garlic and stir for 30 seconds.
Gently lower the stone into the pot. Carefully pour in the stock. Stir in the chicken. Simmer for 15 minutes.
Add the herbs and then stir in the pasta.
Increase heat and bring the soup to a boil. Cook until pasta is al dente. Be sure to stir often.
Remove stone and ladle into individual bowls. Pass the cheese in a separate dish.
Serves 6.
*Fresh herbs are excellent if you have them. If so, use nine springs of each in place of the dried herbs.
May you enjoy all the days of your life filled with laughter and seated around a well laden table!
Sloane