What's Cooking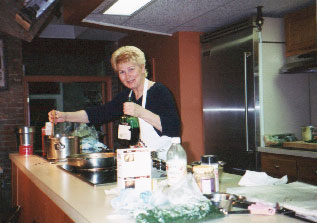 One thing I do and do well is cook. Check out Studly's waistline if you don't believe me. Yet it has always frustrated me to read a delicious-sounding recipe and then have to figure out what to serve with it. Beans or peas? Fried or boiled potatoes? To salad or not. You get the idea. We're not talking rocket science, but a clue or two from those big-buck chefs, whose books I constantly buy, would sure help.
So today don your aprons and grab those skillets because we're taking a giant step to ease the burden of the overworked woman.
Every month a new menu will be posted. Please feel free to email me your thoughts, suggestions, or your favorite recipes. We're all in this cooking thing together and might as well help out each other.
January's Choice
• Braised Pork Chops
• Cheesy Scalloped Potatoes
• Truly Yummy Brussels Sprouts
• Crisp White Wine – Riesling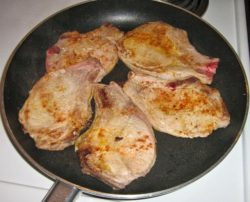 Braised Pork Chops
1 tsp. dried sage or 4 fresh leaves
1 tsp. dried rosemary or 5 fresh sprigs
1 tsp. dried thyme or 5 fresh sprigs
1 tsp. pressed or finely chopped garlic
Freshly ground pepper to taste
Olive oil
4 pork chops with or without bones 1 inch thick
¾ cup dry white wine
2 tbsp. butter
1 tbsp. chopped parsley fresh or dried – optional
Lay herbs into a glass dish large enough to hold the chops in one layer. Sprinkle garlic over herbs. Carefully pour about 1 cup olive oil into dish so as not to disturb the herbs, then add pepper. Lay chops across herb mixture. Add more olive oil until chops are barely covered.
Marinade in the refrigerator for 2-5 hours. Turn chops once during the time you've allowed.
Remove dish from fridge 1 hour or a little less before cooking. Meat cooks better if it's nearer room temperature.
Preheat the oven to 250° F.
Add a little marinade to a medium-sized frying pan and heat on medium high until oil shimmers. Add chops and brown 3 – 4 minutes on each side until golden brown.
Transfer meat to an ovenproof plate. Pour off all but a thin film of oil, add ½ cup of wine and bring to a boil. Return chops to the pan. Cover and reduce heat to simmer. Cook 30 minutes, basting with pan juices occasionally, until they are tender when pierced with the tip of a sharp knife. Return meat to the ovenproof plate, cover, and set in oven while you finish the potatoes and asparagus.
Prepare the sauce just before serving dinner. Skim as much fat as you can from the braising liquid and pour in the remaining ¼ cup wine. Boil over high heat, stirring and scraping in any browned bits that cling to the bottom and sides of the pan, until the liquid has reduced to a syrupy glaze.
Off heat, swirl in butter and parsley, pour over pork chops and serve.
Cheesy Scalloped Potatoes
1 large garlic clove, peeled and bruised with the flat of a knife
1 – 2 tbsp. butter for baking dish
5 red potatoes, peeled and cut into ⅛-inch slices
1½ cups Swiss cheese, grated
6 tbsp. butter, cut into ¼-inch bits
Freshly ground black pepper to taste
1 cup heavy cream
Preheat oven to 450° F.
Rub the bottom and sides of a medium-sized baking dish with garlic. Grease dish lightly with butter.
Dry potato slices between paper towels. Spread half of them on the bottom of the dish. Sprinkle with half the cheese and butter bits. Grind pepper across the top.
Spread remaining potato slices in the dish followed by cheese, butter, and pepper. Pour cream down the side of the dish.
Bake in the upper third of the oven 25 minutes or until the potatoes are almost tender when pierced with a sharp knife. Remove any residual liquid with a bulb baster. Bake another 5 – 10 minutes until potatoes are tender, the cream absorbed, and the top is nicely browned.
Truly Yummy Brussels Sprouts
1 lb. fresh Brussels sprouts
6 strips bacon, chopped
½ medium onion, diced
1 stick butter or margarine
Freshly ground pepper to taste
Trim stems off sprouts and remove any tough outer leaves. Slice sprouts in half lengthwise if they are large.
Set a large skillet over medium heat. Fry bacon until lightly browned. Add butter, onions, and sprouts. Cook until veggies are tender, 5 – 10 minutes. Stir frequently.
Sprinkle with pepper and serve.
May you enjoy all the days of your life filled with laughter and seated around a well-laden table!
Sloane