What's Cooking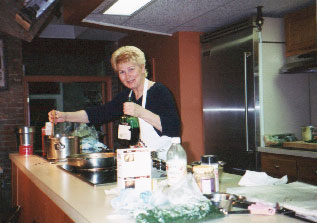 One thing I do and do well is cook. Check out Studly's waistline if you don't believe me. Yet it has always frustrated me to read a delicious-sounding recipe and then have to figure out what to serve with it. Beans or peas? Fried or boiled potatoes? To salad or not. You get the idea. We're not talking rocket science, but a clue or two from those big-buck chefs, whose books I constantly buy, would sure help.
So today don your aprons and grab those skillets because we're taking a giant step to ease the burden of the overworked woman.
Every month a new menu will be posted. Please feel free to email me your thoughts, suggestions, or your favorite recipes. We're all in this cooking thing together and might as well help out each other.
March's Choice
St. Patrick's Day is a fun holiday meant for family and friends and celebrating because everyone is Irish on that day. Grab your partner and plan a party that uses this recipe from the hot couples' cookbook Recipes to Create Holidays Extraordinaire.
This traditional St. Patrick's Day meal is what most North Americans will enjoy with a cold Harp, Guinness, Killian's, or Smithwicks. But here's a newsflash, Boyo, except for the beers mentioned you'll never find corned beef served anywhere on the Old Sod. That's right. Our Irish brethren look at us in amazement, but that's never stopped us Yanks from creating traditions. So, pour another wee dram and let's get cooking.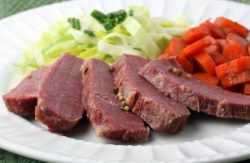 Corned Beef
5 lb. corned beef brisket*
2 med. onions, peeled and quartered
4 peppercorns
1 bay leaf
4 sprigs fresh rosemary or ½ tsp. dried
4 sprigs fresh thyme or ½ tsp. dried
8 sprigs fresh parsley or 2 tsp. dried
3 bottles of beer, any brand works
water to cover
Preheat oven to 300 F°.
Place meat in a Dutch oven. Add remaining ingredients, including spice packet that comes with the beef if there is one.
Bring to a boil on the stovetop. Place in oven and roast for 3 hours or until meat is fork-tender.
Don't stint on the amount of beef. It cooks down to approximately half the original size. I learned that lesson the hard way.
*Here's a tip from my butcher Raoul; Always buy corned beef flat cut. It has less fat than the point. Therefore, you get more meat for your money.
Vegetables
6 med. red potatoes, unpeeled and quartered
6 carrots, scraped and cut into 2 in. pieces
1 celery stalk, cut into 2 in. pieces
1 med. green cabbage, cut into 8 wedges
1 cup corned beef cooking liquid
water
You can prep all the veggies and store in a large container covered by cold water until you're ready to cook them. Refrigerate so vegetables remain crisp.
Place veggies in a large pot. Stir in corned beef cooking liquid. Add water to cover vegetables by 2 inches (5cm). Cover pot. Set cooking temp at medium. Bring to a boil. Reduce heat and adjust lid so the pot doesn't boil over but maintains a soft boil. Cook about 30 minutes or until veggies are fork-tender.
Horseradish Sauce
1 cup sour cream
2 tbsp. prepared horseradish
1 tsp. fresh chives, snipped short
Combine all ingredients in a medium bowl. Stir well.
Transfer to a serving dish, cover, and refrigerate until ready to serve.
Learn more about Recipes to Create Holidays Extraordinaire on Amazon.
May you enjoy all the days of your life filled with laughter and seated around a well-laden table!
Sloane
February's Choice
Sharon Ledwith popped in again with her outstanding recipe for lasagna. This is one delicious dish you have to try.
The one theme I love to weave throughout my two-book series is the importance of family. We hold each other tight when times are tough, and on the flip side we can tear each other apart during times of stress and worry. Food seems to be the source of comfort in all family matters. Meals bring us together to celebrate, cry, or support each other in so many ways.
I recently came across my father's lasagna recipe, and a wave of emotions and memories rushed through me. I loved his meaty take on a popular Italian dish. My dad's been gone for over thirty-five years, and I still miss him deeply, especially when our family gets together over holidays, events, or Sunday dinners. So, I thought I'd share his special family recipe with you with the hope of adding this mouth-watering pasta entree to your menu one day.
Dad's Mouth-Watering, Meaty Lasagna
1 lb. lean ground beef
½ lb. ground pork
1 can (28 oz.) whole tomatoes
1 can (12 oz.) tomato paste
2 tsp. garlic salt or powder
1½ tsp. oregano leaves
1 tsp. basil leaves
2 cups cottage cheese
½ cup grated Parmesan cheese
3 packages (4 ounces each) shredded mozzarella cheese
12 oz. lasagna noodles, cooked and well-drained (we use pre-cooked noodles)
½ cup grated Parmesan cheese
In a Dutch oven or large skillet, cook and stir meats until brown. Drain off fat.
Add tomatoes; break up with a fork. Stir in tomato paste, garlic, oregano, and basil. Heat to boiling, stirring occasionally. Reduce heat, simmer uncovered 20 minutes or until mixture is the consistency of spaghetti sauce.
Preheat oven to 350° F (175° C).
Stir together cottage cheese and Parmesan cheese. Set aside 1 cup meat sauce and ½ the mozzarella.
In an ungreased baking pan, 13 x 9 x 2 inches, alternate layers of ⅓ each; noodles, remaining meat sauce, remaining mozzarella, and cottage cheese mixture.
Spread reserved meat sauce over top. Sprinkle with Parmesan cheese. Scatter reserved mozzarella across lasagna.
Bake uncovered 45 minutes. Let stand 15 minutes before cutting. Cut into 3-inch squares.
Serves 8 of your hungriest family members or friends.
And there you have it! A feast fit for any family who loves getting together to share good food and create happy memories. So, now that you've cooked to your heart's content, and your belly is full, why not escape from the dishes and curl up with one of my books? May I suggest a visit to Fairy Falls or go back in time with The Last Timekeepers? Just remember to pack lightly.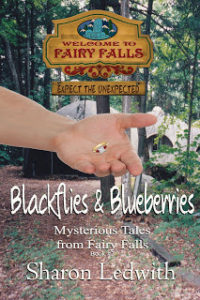 The only witness left to testify against an unsolved crime in Fairy Falls isn't a person…
City born and bred, Hart Stewart possesses the gift of psychometry—the psychic ability to discover facts about an event or person by touching inanimate objects associated with them. Since his mother's death, seventeen-year-old Hart has endured homelessness and has learned ways to keep his illiteracy under wraps. He eventually learns of a great-aunt living in Fairy Falls and decides to leave the only life he's ever known for an uncertain future.
Diana MacGregor lives in Fairy Falls. Her mother was a victim of a senseless murder. Only Diana's unanswered questions and her grief keeps her going until Hart finds her mother's lost ring and becomes a witness to her murder.
Through Hart's psychic power, Diana gains hope for justice. Their investigation leads them into the corrupt world-threatening Fairy Falls. To secure the town's future, Hart and Diana must join forces to uncover the shocking truth, or they risk losing the true essence of Fairy Falls forever.
Buy Now
Amazon | Barnes & Noble | Mirror World Publishing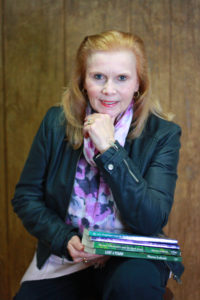 Sharon Ledwith is the author of the middle-grade/YA time travel series, THE LAST TIMEKEEPERS, and the teen psychic mystery series, MYSTERIOUS TALES FROM FAIRY FALLS. When not writing, researching, or revising, she enjoys reading, exercising, anything arcane, and an occasional dram of scotch. Sharon lives a serene, yet busy life in a southern tourist region of Ontario, Canada, with her hubby, one spoiled yellow Labrador, and a moody calico cat.
Find Sharon Ledwith on her website and blog. Stay connected on Facebook and Twitter , Goodreads , and Smashwords. Look up her Amazon Author page for a list of current books. Be sure to check out THE LAST TIMEKEEPERS TIME TRAVEL SERIES Facebook page.
January's Choice
• Braised Pork Chops
• Cheesy Scalloped Potatoes
• Truly Yummy Brussels Sprouts
• Crisp White Wine – Riesling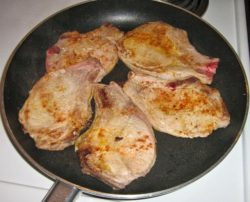 Braised Pork Chops
1 tsp. dried sage or 4 fresh leaves
1 tsp. dried rosemary or 5 fresh sprigs
1 tsp. dried thyme or 5 fresh sprigs
1 tsp. pressed or finely chopped garlic
Freshly ground pepper to taste
Olive oil
4 pork chops with or without bones 1 inch thick
¾ cup dry white wine
2 tbsp. butter
1 tbsp. chopped parsley fresh or dried – optional
Lay herbs into a glass dish large enough to hold the chops in one layer. Sprinkle garlic over herbs. Carefully pour about 1 cup olive oil into dish so as not to disturb the herbs, then add pepper. Lay chops across herb mixture. Add more olive oil until chops are barely covered.
Marinade in the refrigerator for 2-5 hours. Turn chops once during the time you've allowed.
Remove dish from fridge 1 hour or a little less before cooking. Meat cooks better if it's nearer room temperature.
Preheat the oven to 250° F.
Add a little marinade to a medium-sized frying pan and heat on medium high until oil shimmers. Add chops and brown 3 – 4 minutes on each side until golden brown.
Transfer meat to an ovenproof plate. Pour off all but a thin film of oil, add ½ cup of wine and bring to a boil. Return chops to the pan. Cover and reduce heat to simmer. Cook 30 minutes, basting with pan juices occasionally, until they are tender when pierced with the tip of a sharp knife. Return meat to the ovenproof plate, cover, and set in oven while you finish the potatoes and asparagus.
Prepare the sauce just before serving dinner. Skim as much fat as you can from the braising liquid and pour in the remaining ¼ cup wine. Boil over high heat, stirring and scraping in any browned bits that cling to the bottom and sides of the pan, until the liquid has reduced to a syrupy glaze.
Off heat, swirl in butter and parsley, pour over pork chops and serve.
Cheesy Scalloped Potatoes
1 large garlic clove, peeled and bruised with the flat of a knife
1 – 2 tbsp. butter for baking dish
5 red potatoes, peeled and cut into ⅛-inch slices
1½ cups Swiss cheese, grated
6 tbsp. butter, cut into ¼-inch bits
Freshly ground black pepper to taste
1 cup heavy cream
Preheat oven to 450° F.
Rub the bottom and sides of a medium-sized baking dish with garlic. Grease dish lightly with butter.
Dry potato slices between paper towels. Spread half of them on the bottom of the dish. Sprinkle with half the cheese and butter bits. Grind pepper across the top.
Spread remaining potato slices in the dish followed by cheese, butter, and pepper. Pour cream down the side of the dish.
Bake in the upper third of the oven 25 minutes or until the potatoes are almost tender when pierced with a sharp knife. Remove any residual liquid with a bulb baster. Bake another 5 – 10 minutes until potatoes are tender, the cream absorbed, and the top is nicely browned.
Truly Yummy Brussels Sprouts
1 lb. fresh Brussels sprouts
6 strips bacon, chopped
½ medium onion, diced
1 stick butter or margarine
Freshly ground pepper to taste
Trim stems off sprouts and remove any tough outer leaves. Slice sprouts in half lengthwise if they are large.
Set a large skillet over medium heat. Fry bacon until lightly browned. Add butter, onions, and sprouts. Cook until veggies are tender, 5 – 10 minutes. Stir frequently.
Sprinkle with pepper and serve.
May you enjoy all the days of your life filled with laughter and seated around a well-laden table!
Sloane