What's Cooking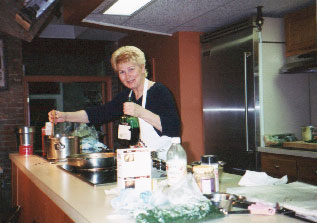 One thing I do, and do well, is cook. Check out Studly's waistline if you don't believe me. Yet it has always frustrated me to read a delicious sounding recipe and then have to figure out what to serve with it. Beans or peas? Fried or boiled potatoes? To salad or not. You get the idea. We're not talking rocket science, but a clue or two from those big-buck chefs, whose books I constantly buy, would sure help.
So today don your aprons and grab those skillets because we're taking a giant step to ease the burden of the overworked woman.
Every month a new menu will be posted. Please feel free to email me your thoughts, suggestions, or your favorite recipes. We're all in this cooking thing together and might as well help out each other.
August's Choice
Omelets are delicious for breakfast with croissants, jam, sausage, and perhaps a mimosa on special occasions. Dress those elegant eggs up with French bread, butter, fruit salad, and iced tea for a refreshing lunch. And nothing is better on a hot summer night than an omelet with sautéed broccoli, sliced tomato, and a cool glass of white wine. Give them a try and then tell me which one is your favorite.
A Perfect Omelet

1½ tbsp. butter
2 tbsp. onion, coarsely chopped
2 large eggs
Freshly ground pepper to taste
Pinch of ground thyme
Small handful extra sharp cheddar cheese, shredded
Small handful aged Swiss cheese, shredded
Chives or parsley, optional
Preheat oven to 220°F.
Use an 8-inch, non-stick skillet, to melt butter over medium heat. Add onion and sauté until translucent. Shuffle the pan often so the onion doesn't burn
Turn the heat to almost medium-high. Whisk together eggs, pepper, and thyme, then pour into the hot pan. Gently swirl the pan to prevent the eggs from sticking. As they set, carefully lift the edges to allow raw egg to flow onto the hot pan.
Sprinkle the cheeses evenly across the eggs. Flip one side of the omelet over the other to make a half-moon. Slide onto a plate and set in the oven while you prepare more omelets.
The finished omelet will be a nice yellow color with the cheese melted. Sometimes they will have browned a bit. Don't worry; this does not affect the delicate taste. Sprinkle with the chives or parsley and serve.
An added treat is a handful of chopped ham strewn across the egg mixture right before you sprinkle on the cheese.
May you enjoy all the days of your life around a well laden table!
Sloane
July's Choice
As a woman of a certain age I've finally come to enjoy fish. This was no easy transition, believe me. We're talking years of cringing or clamping my nose. The years passed and now I find it a wonderful challenge to create easy recipes for the various types of lake and river bounty such as this one. I hope you enjoy this menu.
• Pan-Fried Catfish
• Snazzy Sliced Tomatoes
• Remoulade Sauce
• French Fries
• Dry White Wine or Cold Beer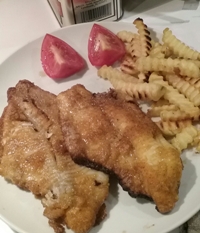 Pan-Fried Catfish
⅓ cup all-purpose flour, might need a little more
½ tsp. freshly ground pepper
2 tbsp. water
2 eggs, beaten
½ cup seasoned breadcrumbs
¼ cup cornmeal
¼ tsp. red pepper flakes
⅛ tsp. garlic powder
½ tsp. dried sage
½ tsp. dried thyme
4 catfish fillets, cut into serving pieces
2 tbsp. lard, solid shortening, or vegetable oil
1 tbsp. butter
Combine flour and pepper in a zip-top plastic bag or paper bag. Mix well water and eggs in a shallow dish large enough to hold a fillet. Blend breadcrumbs, cornmeal, and remaining dry ingredients in a different shallow dish.
Place one fish in the bag and shake gently to coat. Remove and dip it in egg mixture. Dredge in breadcrumbs mixture. Lay on a plate. Do the same with the other pieces. Do not stack or overlap the fish. Set in the refrigerator for 20 – 30 minutes. This dries the breading a little and helps it adhere better while frying.
Heat a large nonstick skillet over medium heat. Add oil and butter to pan. Swirl pan to melt butter. Be careful not to burn it. Add fillets to pan. Cook 5 minutes on each side or until fish flakes easily when tested with a fork.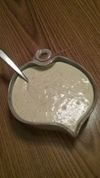 Remoulade Sauce
⅓ cup green onion, sliced
¼ cup celery, chopped fine
1large glove garlic, chopped fine
1 ½ tbsp. fresh parsley, chopped
1 tsp. capers, drained, chopped
½ tbsp. horseradish
1 ½ tbsp. whole grain mustard
½ tbsp prepared mustard
1 tbsp. ketchup
½ tbsp. Worchester sauce
1 tsp. Frank's hot sauce or ¼ tsp. Tabasco sauce
½ tbsp. lemon juice
½ tsp. paprika
Freshly ground pepper to taste
1 cup mayonnaise
Place all ingredients except mayonnaise in a food processor. Process until semi-smooth. Scrape down the sides. Continue to process until smooth, about 30 seconds to 45 seconds in all.
Add mayonnaise. Blend well.
Pour sauce into a serving dish, cover, and refrigerate until dinner.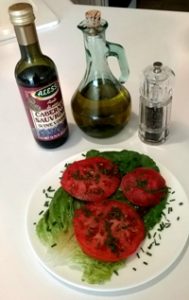 Snazzy Sliced Tomatoes
2 Romaine lettuce leaves per person
1 tomato per two people
Red wine vinegar
Olive oil
Garlic powder not garlic salt
Chives, fresh snipped fine or dried
Freshly ground pepper to taste
Prepare this dish at least an hour before serving.
Place lettuce on each salad plate. Slice tomatoes ½" thick and arrange atop lettuce.
Drizzle vinegar over the tomatoes, then lightly lace with olive oil. Dust with garlic. Add pepper. Sprinkle plenty of chives across the top.
Set on the counter away from sun or heat to flavor through.
French Fries
I'm a fan of Ore-Ida brand fries. Not only are they easy, they taste great!
May you enjoy all the days of your life around a well laden table!
Sloane
June's Choice
Make Sunday morning special with this delicious and easy make-ahead meal. Serve with mini croissants or French bread, butter and jelly. Hash browns and fruit salad are nice accompaniments. Mimosas are a lovely drink to top off your breakfast/brunch.
Breakfast Soufflé
1 pound ham, bacon, or breakfast sausage
9 eggs, lightly beaten
3 cups milk
1 tsp. dry mustard
Diced green, red, and/or yellow pepper to taste
4 – 1 inch slices Vienna or French bread, cubed
½ pound sharp cheddar cheese, grated
½ pound Swiss or Gruyere cheese, or a combination of the two grated
Diced onion to taste
Freshly ground black pepper to taste
Preheat oven to 350°F.
Dice the ham or bacon. If you use ham, set aside in the bowl you choose for the eggs. Fry bacon to the crispness you prefer. If you use breakfast sausage, fry the meat until no longer pink. Be sure to break up any clumps. Drain the meat in a colander while you continue to prepare the soufflé.
Add all ingredients, but the bread, to the eggs. Stir well.
Stir in bread.
Pour mixture into an ungreased 9×13 inch glass dish. Bake for 1 hour or until a knife inserted in the center has no egg cling to it.
This dish can be assembled one or two days ahead of time. Allow the soufflé to sit on your counter 1 – 2 hours before you bake it.
Leftovers are excellent from the microwave.
May you enjoy all the days of your life around a well laden table!
Sloane
May's Choice
Now that spring is officially here and the holidays are over, I'm in serious cooking for two mode and loving every second. These three recipes are easily increased for a larger group, but you might want to go easy on the garlic.
• Pork Marsala
• Fettuccine Ala Sloane
• Stuffed Plum Tomatoes
• Crusty Italian or French Bread
• Hearty Red Wine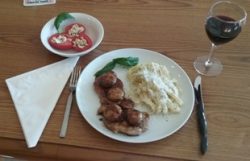 Pork Marsala
2 pork loin chops
Freshly ground black pepper, to taste
¼ tsp. sage
2 tbsp. olive oil
4 tbsp. butter
4 ozs. baby Porto Bella mushrooms, halved if large
2 garlic cloves, pressed
½ cup chicken stock
½ cup Marsala wine
½ cup heavy cream at room temperature
Parsley
Preheat oven to 200°F.
Pat the meat dry with paper towels. Place each chop between 2 sheets of plastic wrap or wax paper. Use a mallet or the side of a meat tenderizer to gently pound them until they are an even ¼ inch thick.
Combine flour, pepper, and sage in a shallow dish or paper bag. Dredge the chops in flour.
Melt half the oil and butter in a 10- to 12-inch skillet set on medium heat. When the foam subsides add mushrooms and garlic. Sauté for 3-4 minutes. Spoon vegetables into a bowl and set aside.
Use the same skillet and melt remaining oil and butter over medium-high heat. Add pork. Sauté 10-15 minutes, until no pink remains. The time depends on meat thickness. Remove meat to a plate, tent with foil, and set in the oven.
Add Marsala and stock to the same skillet. Bring to a boil while scraping in any bits that cling to the bottom and sides of the pan. Boil for 3-4 minutes or until the sauce is reduced by almost half.
Reduce heat to medium. Slowly stir in cream. Heat through but do not bring to a boil.
Return pork and mushrooms to the pan. Heat through for 2-3 minutes.
Lay pork in the center of a serving dish. Spoon mushrooms and broth over the platter. Sprinkle parsley across the top to decorate and serve immediately.
Fettuccine Ala Sloane
2 sticks butter, softened
½ cup heavy whipping cream, room temperature
1 cup freshly grated Parmesan cheese
3 cloves garlic, pressed
½ pound fettuccine
Freshly grated Parmesan cheese
Use a wooden spoon to cream the butter by beating it vigorously against the side of a medium-sized bowl until it is light and fluffy. I sometimes use the whip on my mix master if I'm short on time. Beat in the cream a little at a time. Don't add more until the other is well blended. Beat in the cheese and finally the garlic. Cover and set aside. If you won't need it for several hours, refrigerate but then bring to room temperature before you mix with the pasta.
Cook the pasta according to the package directions. Be sure you cook to al dente and not longer. Drain the noodles well and then toss with the butter mixture well.
Serve at once. Top with the extra Parmesan and enjoy!
Stuffed Plum Tomatoes
Plum tomatoes, 1½ per person
6 fresh mozzarella balls, chopped
1 tbsp. red wine vinegar
1 tbsp. olive oil
¼ tsp. dried oregano
¼ tsp. dried basil
1 glove garlic, pressed
This is a good dish to prepare several hours before serving so the flavors blend. All the ingredients are to taste, so have fun and experiment.
Prepare the tomatoes by cutting them in half lengthwise and scooping clean. Turn upside down on a paper towel to drain.
Mix the remaining ingredients in a small bowl. Scoop the filling into the tomato halves. Arrange them on a serving dish. Chill until ready to serve.
These recipes serve 2.
May you enjoy all the days of your life around a well laden table!
Sloane
April's Choice
Baked salmon steaks are a delightful treat and not outrageously expensive. Tease your taste buds with this combination of sweet and spicy. Add your favorite green vegetable, rice, and a cool white wine like Pinot Grigio for a delicious and quick dinner.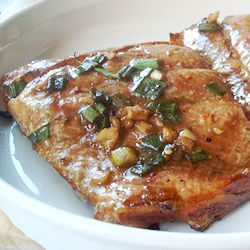 Salmon Steaks
3 salmon filets no more than 1 inch thick
¼ cup brown sugar
¼ cup Dijon mustard
Splash white wine
2 tbsp. butter
3 green onions, sliced
1 tbsp. pine nuts, optional
Preheat oven to 425°F
Pam aluminum foil and lay it on a cookie sheet oiled side up. Place the fish on the foil.
Combine sugar, mustard, and wine in a small bowl. Whisk until smooth.
Spread the blend evenly over the salmon to cover it. Bake for 15 minutes or until fish flakes.
Turn the oven to broil. Move the fish to 4 inches from the heat. Broil for 2 minutes or until golden.
While the salmon is baking prepare the green onion topping.
Melt the butter in a small frying pan. Stir in pine nuts for extra crunch. Add onion. Sauté until the onion is soft and lightly colored. Set aside.
Add a dollop of topping to each salmon steak and serve.
This recipe serves 2
March's Choice
Beef is a favorite with Studs and most men. Beef on bones is like manna from heaven to them. Must be something carried over from caveman days. Here's an easy recipe that will satisfy the beefaholic in your life. It goes great with boiled or mashed potatoes and a fresh salad.
Braised Beef Short Ribs
2-3 pounds beef short ribs cut into 2-inch pieces
Freshly ground pepper to taste¼ tsp. thyme
½ cup flour
2 tbsp. lard or solid shortening
2 medium onions, chopped
½ cup carrot, chopped
1 tbsp. garlic, pressed
¼ tsp. dried thyme
1 cup beef stock
2 small bay leaves
1 tbsp. Worcestershire sauce
Preheat oven to 325°F.
Pat ribs dry. Grind pepper over the meat. Pour flour into a paper bag. Add 2 – 4 ribs at a time. Shake bag gently to coat the meat. Remove the ribs and set on a large plate. Continue until all the ribs are coated.
Melt the lard or shortening in a Dutch oven over medium-high heat until it shimmers. Carefully add ribs and brown them on all sides. Don't crowd the pan. You're better off to brown the meat in batches. Return ribs to the plate. Lower heat to medium.
Add onions and carrots to the same pot. Sauté until onions are soft and transparent. Add garlic. Cook for 45 – 60 seconds.
Stir in the stock. Bring to a boil over high heat. Scrape in any brown bits clinging to the bottom and sides of the pan.
Reduce heat to medium. Stir in the remaining ingredients.
Nestle ribs in the pan and bring to a boil. Cover and then place in the oven. Braise the ribs for 1 ½ hours or until the meat shows no resistance when pierced with a fork.
Arrange ribs on a clean platter and tent with foil to keep them warm.
Strain the braising liquid through a fine sieve into a saucepan. Press down hard on the vegetables to extract the juices. Discard vegetable. Skim off the surface fat.
Bring the pan to a hard boil. Cook for 2-3 minutes to intensify the flavor.
Pour the sauce into a gravy boat and serve alongside the ribs.
Happy Cooking!
February's Choice
Winter and early spring Saturday nights are the perfect times to relax with a hot meal that's not only easy, but satisfying. This menu is also the ultimate Super Bowl Halftime meal. Extra freeze and reheat great. Enjoy!
• Sloane's Super Bowl Chili
• Corn Bread
• Ice Cold Beer
Sloane's Super Bowl Chili
6 tsp. olive oil
2 large onions, chopped fine
4 cloves garlic, pressed
2 lbs. ground chuck
1 green pepper, chopped fine
4 cups beef stock, not broth
3 cups canned diced tomatoes
1 can tomato paste
1 celery stalk, chopped fine
1 tsp. paprika
½ tsp. cayenne pepper
½ tbsp. ground cumin
3 bay leaves, remove before serving
5 tbsp. chili powder
1 tbsp. dried oregano
½ tsp. dried basil
2 cans Bush's chili beans in mild sauce
1 tsp. baking soda*
Heat olive oil in a large skillet over medium heat. Add onions and garlic. Sauté until lightly colored, about 5 minutes. Be careful not to burn the onions or garlic.
Turn the heat to medium-high. Stir in ground chuck and green pepper. Brown the meat, breaking up clumps as you cook, about 10 – 14 minutes.
Transfer the contents to a 3 quart saucepan set over medium-high heat. Add the remaining ingredients except beans and baking soda. Bring to a boil, reduce heat to medium or low. Simmer until the chili reaches your desired thickness. This step may take an hour or more.
10 minutes before serving stir in beans and baking soda. Heat through and serve.
Some people like to top their chili with a dab of sour cream or grated cheddar cheese. Both are super with this recipe.
*Adding a small amount of baking soda to any bean dish helps reduce or eliminate the intestinal problem some of us incur when eating beans.
Serves 8
Corn Bread
1 package Corn Muffin Mix
Follow the easy package directions.
You can also bake this recipe in a pie tin, and then serve in wedges.
Either way, be sure to have butter or margarine to slather on your warm corn bread.
January's Choice
January is National Soup Month. Because of that, it is my pleasure to present you with two delicious and easy soups you will enjoy making and eating. And they freeze well, too.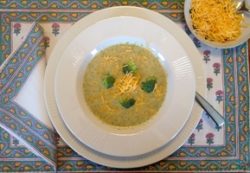 Cream of Broccoli Soup
1½ pounds broccoli
4 tbsp. butter
½ cup onions, chopped
¼ cup red pepper, chopped
4 tbsp. flour
6 cups chicken stock
¼ cup dry sherry
1 bay leaf
2 tbsp. dried parsley
1 tsp. ground thyme
8 black peppercorns or fresh ground to taste
2 pinches of nutmeg
3 eggs yolks
1 cup heavy cream
Sharp cheddar cheese, grated* optional
Cut off broccoli florets and set aside for another meal. Chop stems and branches.
Melt butter in a 3-4 quart saucepan. Add all the broccoli pieces, onions, and red peppers. Sauté until soft, about 5-7 minutes. Do not let the onions brown or the soup will be bitter.
Sprinkle the flour across the vegetables, and then stir to coat them as evenly as possible.
Add all the remaining ingredients, except the last three. Bring to a boil, then partially cover and lower the heat to a hearty simmer. Cook for 30 minutes. Be sure to stir occasionally.
Add the nutmeg off heat. Strain the soup from the pulp. To do this, pour the soup into a large bowl. Wipe out the pot with a paper towel. Set a colander over the pot, then carefully pour in the soup mixture. Stir with a wooden spoon to extract the liquid. Discard the pulp and return the pot to medium-low heat.
Whisk the egg yolks into the cream. Stir in 5 tablespoons of hot soup at a time until you've added about ¾ cup. Reverse the process and slowly whisk the now-warm mixture into the soup. **
Bring soup to a boil over medium-high heat. Boil 30 seconds, stirring constantly. Remove the pan from the heat. Taste and season with pepper if necessary.
Serve from a tureen or in individual bowls.
This recipe makes 8 bowls.
*My granddaughter likes to sprinkle a fair amount onto her soup. I prefer it heated in the soup as it melts better.
**This may seem like extra work, but if you don't do it the yolks and cream will curdle.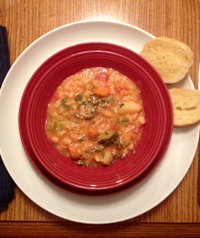 Minestrone (Vegetable) Soup
½ cup dry white beans, navy or Great Northern
4 tbsp. butter
1 cup frozen peas
1 cup zucchini, unpeeled, scrubbed and diced
1 cup carrots, diced
1 cup red potatoes, diced
⅓ cup celery, diced
5 strips bacon, diced
¼ cup onion, chopped
½ cup leeks (or substitute onions), chopped fine
2 cups drained diced tomatoes
2 quarts chicken stock, homemade or canned
1 bay leaf
1 tbsp. parsley
Freshly ground black pepper to taste
½ cup rice
Garnish
½ tbsp. dried basil
½ tbsp. dried parsley
1 tsp. garlic, chopped fine
½ cup Parmesan cheese
Soup
Bring 1 quart of water to a boil in a heavy 3-to 4-quart saucepan. Add the beans and boil for 2 minutes. Remove the pan from the heat and let the beans soak for 1 hour. Return the pan to the stove, and over low heat simmer the beans uncovered for 1-1½ hours, or until they are barely tender. Drain the beans and set aside.
Melt the butter over moderate heat in a heavy 10-to 12- inch skillet. When the foam subsides, add the peas, zucchini, carrots, potatoes, and celery. Toss constantly with a wooden spoon to coat the vegetables. Cook 2-3 minutes. Set aside.
Fry the bacon in a heavy 6-to8-quart saucepan over moderate heat until crisp. Drain the bacon on paper towels, but retain the grease in the pot. Stir in the onion and leeks. Continue to stir until the vegetables are soft and lightly brown, about 5 minutes.
Stir in the tomatoes, vegetables from the skillet, chicken stock, bay leaf, parsley, and pepper. Bring the soup to a boil over high heat. Reduce heat and simmer partially covered for 25 minutes.
Remove the bay leaf. Add the rice, beans, and bacon. Cook 15 – 20 minutes longer.
Garnish
Combine all ingredients into a small bowl. Stir well.
To Serve
Ladle into individual bowls. Sprinkle with herb/garlic mixture. Pass a bowl of grated cheese.
This recipe makes 8 bowls.