What's Cooking
February's Choice
My niece JJ is an excellent and creative cook. This past Christmas she gave me a roll of garlic herb butter that is to die for. Not only is great on cooked steak and veggies, it's delicious spread on crackers and fresh bread. Of course, I had to make another batch right after the holidays because we devoured her amazing gift in a flash. I am confident you and yours will like this recipe, too.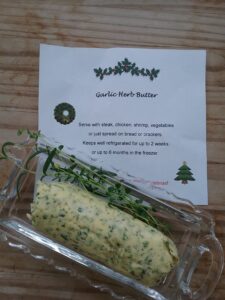 Garlic Herb Butter
½ cup butter at room temperature
2 garlic cloves, crushed
1 tsp fresh rosemary or ½ tsp. dried, chopped fine
1 tsp. fresh thyme or ½ tsp. dried, chopped fine
2 tbsp. fresh parsley or 1 tbsp. dried, chopped fine
Cream butter in a medium-sized bowl with a spoon. A handheld mixer works too.
Stir in garlic and herbs until just blended.
Tear off 6 – 7 inches of wax paper. Lay butter about 1½ inches from the edge. Use your fingers to shape into a log about 1 inch thick. Cover log with that bit of extra paper and roll, shaping the log as you go. After butter is wrapped, twist the ends tightly.
Refrigerate at least 2 hours before serving.
Herb butter lasts 2 weeks in the fridge and up to 6 months in the freezer.
Oregano and basil are excellent replacements for rosemary and thyme.
May you enjoy all the days of your life filled with good friends, laughter, and seated around a well-laden table!
Sloane