What's Cooking
April's Choice

A Self-Regulating Dessert
from Vonnie Hughes
This quick and easy treat is a huge success with my family and I'm confident it will be with yours, too.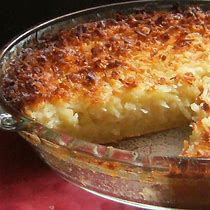 Impossible Pie
4 eggs
½ cup butter
2 cups milk
½ cup plain flour
1 cup sugar
1 cup coconut
2 tsp. vanilla essence (extract)
Preheat oven to 350° F.
Blend all ingredients together in a food mixer.
Pour the mixture into a 10″ (or similar) greased pie dish. Bake for one hour or until the centre is firm.
The flour forms the crust; the coconut forms the topping and the center is egg custard, creating a delicious dessert!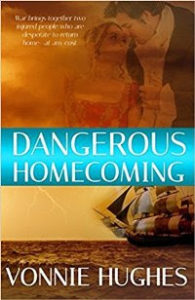 Sit back with a slice of your tasty pie and take a peek at my latest Regency Romance.
Both of them are scarred by war; she because of the shattered men she nurses; he because of the loss of friends and the horrors he must endure daily.
Colwyn Hetherington has a chance to put it all behind him and return to England. Juliana Colebrook desperately wants to go to England to seek out her relatives. They take an almighty chance and travel together, setting in train a series of events that neither could have anticipated.
With only their love to sustain them, they clash head-on with the reality of England, 1813.
Blurb
She clasped her penknife tightly in her free hand and hid it beneath her skirts. The dead eyes swivelled from Kit's hemp binding, now lying on the floor, to Juliana's face where she hovered protectively in front of Kit.
'What a clever young lady,' the revolting animal purred. At the menace in his voice, Juliana felt as though a snake had slithered up her spine. She stood up and held out her ungloved left hand to show him how she had untied the ropes. Dead-Eyes was too wary to come any closer, and she knew he couldn't see in the dimness that the knots had been sliced through.
The pale eyebrows rose. 'Perhaps those dexterous fingers can be put to better use. Come here.' He crooked a long, thin forefinger and the muscles at the bottom of Juliana's stomach jolted.
Hold yourself together, Juliana. Your plan relies on your being as close to him as possible.
Slowly she sidled towards the creature and for the first time she saw signs of life in the cold eyes.
'I always interview our new young ladies before they are thrust on our clients,' he purred thickly. 'I like to … warm them up, so to speak.'
Bile rose in her throat. She had never seen an iceberg but she had heard about them, and she had the distinct impression that a huge chunk of iceberg had just washed into the room. 'Warm them up?' She didn't think so. Please, please, please God, don't let him have touched Tilly.
Clutching the penknife in the palm of her right hand, she shuffled closer to him, measuring the distance carefully and also his height. Yes, he was tall. So was she. Flexing her body, she moved closer, as if in a trance. His arm shot out and grabbed her.
'No!' Kit yelled behind her.
'Stay back, Kit,' she warned.
'That's right, my dear. You understand. You want to be tutored by Benny Ames, don't you?' He tugged her flush against his body. Struggling not to recoil, she saw he was sweating. His tongue slid
greedily over his yellowed teeth and he clasped her left hand like a lover. She kept her right hand hidden in her skirts. Ames's breathing deepened as he tried to rub her left hand over his erection. Even as she struck, he was so lost in a haze of sexual pleasure he had no idea what had happened.
'Hurry, Kit. Run!' she yelled
This time she was prepared for the blood. It spurted out of his throat in a great arc, dousing the holland covers beside them. Juliana ducked backwards holding the slippery knife handle. The knife blade was buried in Ames's neck. He clutched his throat, his eyes wide with stupefaction.
Juliana's stomach lurched and she dropped the handle. As Ames made the most fearsome gurgling sounds, she edged around his flailing body and raced to the door. She hurtled down the stairs and cannoned into Kit. 'Hurry, Kit. Hurry. Get out of here.' She shoved the front door open and pushed him outside.
Kit slanted a glance back over his shoulder as his little legs sped along. 'Where are we going?'
'To the Rosemary Lane Inn. Hurry!'
'But I don't know where it is!' He kept on running all the same, tugging Juliana along by the hand.
Juliana cast a quick glance behind them. The blue door with number 32 painted on it still stood innocently ajar and she could hear no sounds of pursuit.
'Run towards the traffic noise,' she gasped.
A few people glanced at them as they rushed by, but nobody seemed interested in a scruffy boy and a bloodstained, disheveled young woman running helter skelter up the alleyways. No doubt it was a common sight in these parts.
As they stumbled from the dank alleyway into a wider street she saw a sign stuck on a building façade that said 'Chamber Street'. The steady throbbing of her sore, bruised feet echoed the drumming in her head. Swaying, she knew she was nearly done for.
Kit glanced back and tugged her hand. 'Come on, miss,' he encouraged her, then he raised their clasped hands and stared at the red stains on Juliana's fingers. 'Thank you,' was all he said.
Breathless, she gulped and said nothing, fighting her queasy stomach. Soon it would happen – the reaction. Last time she had shaken as if with the ague for several hours. And when she had finally found herself safe, she had huddled into a ball and cried and cried and cried. She had cried for her mother and for herself, and for all the other women who had been held in the power of men who did not deserve them.
But now was not the time for self-indulgence. She must protect Kit. She lifted her chin and plodded on.
Footsteps pounded behind them. Twisting around, she shoved Kit out of the way…
Buy Now
Amazon | Smashwords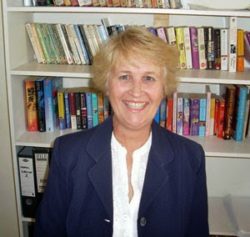 Vonnie Hughes is a multi-published author in both Regency books and contemporary suspense. She loves the intricacies of the social rules of the Regency period and the far-ranging consequences of the Napoleonic Code. And with suspense, she has free rein to explore forensic matters and the strong convolutions of the human mind. Like many writers, some days she hates the whole process, but somehow, she just cannot let it go.
Vonnie was born in New Zealand, but she and her husband now live happily in Australia. If you visit Hamilton Gardens in New Zealand be sure to stroll through the Japanese Garden. There is a bronze plaque engraved with a haiku describing the peacefulness of that environment. The poem was written by Vonnie.
All of Vonnie's books are available at The Wild Rose Press and Amazon
Learn more about Vonnie Hughes on her website and blog. Stay connected on Facebook and Goodreads.
May you enjoy all the days of your life filled with laughter and seated around a well-laden table!
Sloane