What's Cooking
August's Choice
Linda Lee Greene is an author friend who is also a noted artist. Another of her passions is creating and cooking new recipes. The one we feature today is especially close to Linda's heart. It was one of her grandmother's favorites to make for the family.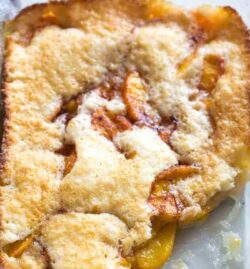 Lena's Peach Cobbler
The Peaches
5 peaches, peeled, cored, and sliced*
1 cup sugar
¼ tsp. salt
Add peaches, sugar, and salt to a saucepan. Stir well to combine. Cook on medium heat for just a few minutes—until the sugar is dissolved and juices are drawn from the peaches.
Remove from heat and set aside.
*(If using canned or glass jar peaches in an amount of about 1 quart, skip the above step)
The Batter
6 tbsp. butter
1 cup flour
1 cup sugar
2 tsp. baking powder
¼ tsp. salt
¾ cup milk
Ground cinnamon to taste
Preheat oven to 350° F.
Add butter to a 9 x 13-inch baking dish. Place the pan in the oven while it preheats, to melt butter then remove pan from oven.
Mix flour, sugar, baking powder, and salt together in a medium-sized bowl. Stir in milk until just combined. Pour mixture over melted butter and smooth to an even layer.
Spoon peaches and juice (or canned/glass jar peaches, if using) over batter. Sprinkle cinnamon generously over the top.
Bake for about 38-40 minutes. Serve warm topped with a scoop of ice cream, if desired.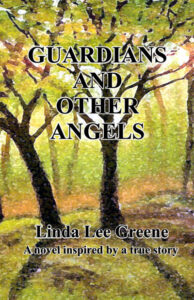 I didn't inherit my grandmother's prowess in the kitchen but once in a while, I catch a glimpse of myself in a mirror, and I see fleeting fragments of her in me. I did inherit her affinity for storytelling. I hear her colorful depictions of local gossip so clearly in my mind's ear. She was also a prolific writer of delightful and informative letters, the greater number of them penned during the Great Depression and World II. Many of them are transcribed in, and form the spine of, Guardians and Other Angels, my novel of historical fiction, based on the true story of three generations of my family. And of course, my formidable grandmother is a key figure of it.
One review of the novel states: "5 stars…Wonderfully Written! This was a thoroughly enjoyable book. I loved the Americana. [It] reached out and touched my heart, mind and soul. [It] provided tremendous insight into what many American families endured during the first half of the 20th century. It captures you and draws you in. This is most certainly a five-star novel."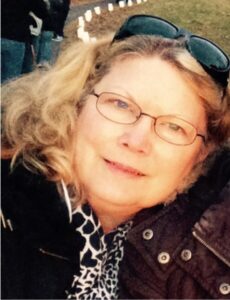 Multi-award-winning author and artist Linda Lee Greene describes her life as a telescope that when trained on her past reveals how each piece of it, whether good or bad or in-between, was necessary in the unfoldment of her fine art and literary paths.
Greene moved from farm-girl to city-girl; dance instructor to wife, mother, and homemaker; divorcee to single-working-mom and adult-college-student; and interior designer to multi-award-winning artist and author, essayist, and blogger. It was decades of challenging life experiences and debilitating, chronic illness that gave birth to her dormant flair for art and writing. Greene was three days shy of her fifty-seventh birthday when her creative spirit took a hold of her.
She found her way to her lonely easel soon thereafter. Since then, Greene has accepted commissions and displayed her artwork in shows and galleries in and around the USA. She is also a member of artist and writer associations.
Visit Linda on her blog and join her on Facebook.
May you enjoy all the days of your life filled with laughter and seated around a well laden table!
Sloane