What's Cooking
September's Choice
Time for Tea and Scones
by C.D. Hersh
Sharing our recurring character in our series The Turning Stone Chronicles and his favorite snack.
In our Turning Stone Chronicles paranormal romance series the Keeper of the Stone, an ancient Scotsman man named Eli McCraigen, serves an ever-present cup of tea and scones when serious matters need to be discussed. You'll see him in every book brewing his tea and serving scones or biscuits of some sort.
Our character most likely does this because tea is a breakfast ritual at the C.D. Hersh house. Catherine loves a good cup of Scottish tea and drinks either a robust cup of Scottish or Irish Breakfast tea every morning. Her Scottish and Irish teas of choice are Taylors brand, imported from across the pond. Donald prefers something with a bit more flavoring and brews a cup of Bigelow Carmel Vanilla tea. Most of the time we have high-fiber toast with our morning tea, but today we wanted to share an authentic Scottish recipe–scones (which when pronounced correctly rhymes with gone).
Catherine got the recipe a number of years ago from a lovely Scottish lady named Rhoda, who immigrated to America at the end of WWII after she fell in love with an American G.I. We hope you'll enjoy Rhoda's scones!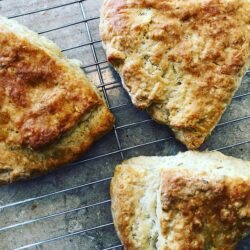 Scottish Scones
2½ cups buttermilk
½ tsp. salt
6 tbsp. shortening
2 tbsp. sugar
3 tsp. baking powder
2 cups flour
Preheat oven to 375° F.
Sift dry ingredients, cut in the shortening until mixture looks crumbled. Add buttermilk, enough to moisten the flour.
Turn mixture onto lightly floured board and pat in to a round 1 inch thick. Cut into 12 triangles. Place on greased cookie sheet. Bake about 20 minutes.
Serves 10-12
If you want to make this more festive, you can add chocolate chips to the mix or finely diced apples and some cinnamon, or other chopped fruits. The scones won't be purely Scottish anymore, but they'll be more dessert worthy, as scones are really just a Scottish version of what we Americans call biscuits.
To go along with your scones here's a scene from The Promised One, that has Eli serving his tea and scones.
Alexi thumbed her cell phone off and shoved it into her pocket. "Rhys should be here in a couple of minutes. Are you sure we need to do this?"
Eli took the screaming teakettle off the stove and poured boiling water into a ceramic teapot. "Aye. We have tae make sure he's included. We need him." He dropped three tea bags into the water and set on the lid. "He may not be a shifter, but he has a gun and, unless I miss my guess, isnae afraid to use it. Besides, going off and doing things on our own, without keeping him informed twill only push him away. Tae get him tae accept who he is we need tae draw him in."
She lined the three mugs on the counter next to the scones Eli had prepared. "I don't know. He's been very resistant."
"So's a salmon in a bear's mouth. All that flopping about after he's been caught is for naught. But if he'd heeded the shadow on the water he might have stayed in the stream."
"So your strategy is to keep Rhys in water?"
"'Tis tae make him see the shadow, lassie. That'll keep him alive and hopefully coming tae our side."
Alive was good. So was on their side. She rubbed the frown creases between her eyes. Worry deepened the two lines more every day.
"Dinna be afeart. I have a plan."
That was good, because she was fresh out of ideas. The doorbell rang. Alexi answered it and ushered Rhys into the kitchen.
Rhys eyed the scones and teapot. "Tea party, for me?" He took a scone and bit into it. "I'm not easily swayed by sweets, old man."
"Yer actions would say different, laddie. But 'tis for me. I'm an auld man, set in his ways, and 'tis tea time in Scotland."
Now if your scones are ready and tea brewed how about checking out our series The Turning Stone Chronicles.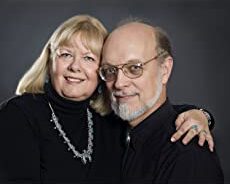 C.D. Hersh–Two hearts creating everlasting love stories.
Putting words and stories on paper is second nature to co-authors C.D. Hersh. They've written separately since they were teenagers and discovered their unique, collaborative abilities in the mid-90s. As high school sweethearts and husband and wife, Catherine and Donald believe in true love and happily ever after. They have a short Christmas story, Kissing Santa, in a Christmas anthology titled Sizzle in the Snow: Soul Mate Christmas Collection.
They are look forward to many years of co-authoring and book sales, and a lifetime of happily-ever-after endings on the page and in real life.
Learn more about C.D. Hersh on their Website and at Soul Mate Publishing Home. Stay connected on Facebook and Twitter.
May you enjoy all the days of your life filled with laughter and seated around a well laden table!
Sloane