What's Cooking
August's Choice

My sister-in-law Carol is a warmhearted woman who is happy to help out and ready to contribute her delicious recipes to parties. She is the appetizer queen in my book. This is a hearty treat that leaves you wanting these delicious ham and Swiss cheese sliders at every gathering. And for lunch, too. 😊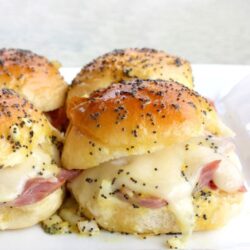 Auntie Carol's Special Sliders
¾ cup butter, melted
1 tbsp. Dijon mustard
1 tsp. Worcestershire sauce
1 tbsp. brown sugar
2 tsp. dried minced onion
1 tbsp. poppy seeds, optional
1 lb. ham, sliced thin
1 lb. Swiss cheese, sliced thin
24 mini Hawaiian rolls
Preheat oven to 350° F.
Mix butter, mustard, Worcestershire, sugar, onion, and poppy seeds together in a small bowl. Set aside.
Lay a sheet of parchment paper on a cookie sheet. This helps the roll bottoms not to burn. You can also use cooking spray on aluminum foil for baking the sliders. Line up bottom half of rolls on paper/foil.
Spread half the ham evenly amongst the rolls. Cover with Swiss cheese slices. Top off with the rest of the ham. Place roll tops onto each sandwich.
Stir mustard mixture well and then evenly pour or spoon the dressing over the rolls.
Bake until rolls are lightly browned and cheese is melted, about 20 minutes. Watch carefully as they can burn quickly.
May you enjoy all the days of your life filled with laughter and seated around a well-laden table!
Sloane