What's Cooking
November's Choice
Sweet Tooth Fix on the Way
from Sharon Ledwith
Just when you thought it was safe to go into your pantry…BAM! You're hit with a hankering for something sweet and chewy. I've got just the treat that will satisfy your taste buds, and perhaps take you on a nostalgic trip back to grandma's kitchen. These Rocky Road Buster Bars are great for morning or afternoon breaks, and pair well with a cup of tea or coffee. With a total prep and bake time of 45 minutes, you can easily whip up a few batches for bridal or baby showers, or spoil your bookworm friends at the next book club meeting.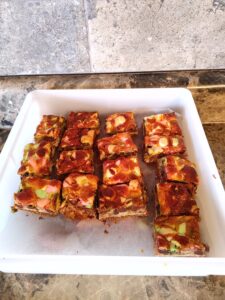 Rocky Road Buster Bars
1½ cups graham crumbs
½ cup butter, melted
1½ cups flaked coconut
1½ cups chopped pecans*
1 package (300 g/10.58 ounces) semi-sweet chocolate chips
1½ cups miniature marshmallows (we use the colored marshmallows)
1 can (300 mL/10 ounces) sweetened condensed milk
3 squares semi-sweet chocolate
Preheat oven to 350° F.
Line a 13 x 9-inch pan with foil or parchment paper, with ends of foil/paper extending over sides.
Mix crumbs and butter, press onto bottom of pan. Top with layers of coconut, nuts, chocolate chips and marshmallows. Drizzle with condensed milk.
Bake 25-30 minutes or until golden brown. Meanwhile, melt chocolate squares as directed on package.
Drizzle chocolate over dessert. Let stand until firm. Use foil/paper handles to lift dessert from pan before cutting into bars.
*Substitute dried fruit such as cranberries, raisins or chopped apricots for the nuts.
Here's a glimpse into my latest time travel novel.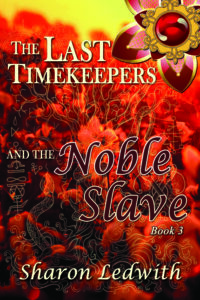 True freedom happens only when you choose to be free.
Eleven-year-old Drake Bailey is an analytical thinker and the genius of the Timekeeper crew. However, no logic or mathematical acumen can change the color of his skin, or prepare him for this third Timekeeper mission in antebellum Georgia. To survive, Drake must learn to play the role of a plantation slave and when confronted with the brutality, hatred, and racism of the deep south, he'll have to strategically keep one move ahead of his sadistic captors to ensure his lineage continues.
In a dark world of Voodoo, zombies, and ritualistic sacrifice, the Timekeepers must ensure a royal bloodline survives. Can Drake remove both literal and figurative chains to save both himself and a devout slave girl from a terrible fate? If he can't summon the necessary courage, humanity could stand to lose one of its greatest leaders.
Buy Now
Available at Amazon and all other major vendors.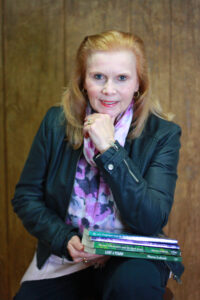 Sharon Ledwith is the author of the middle-grade/YA time travel series, THE LAST TIMEKEEPERS, and the teen psychic mystery series, MYSTERIOUS TALES FROM FAIRY FALLS. When not writing, researching, or revising, she enjoys reading, exercising, anything arcane, and an occasional dram of scotch. Sharon lives a serene, yet busy life in a southern tourist region of Ontario, Canada, with her hubby, one spoiled yellow Labrador and a moody calico cat.
Learn more about Sharon Ledwith on her website and blog. Stay connected on Facebook and Twitter, Goodreads, and Smashwords. Look up her Amazon Author page for a list of current books. Be sure to check out THE LAST TIMEKEEPERS TIME TRAVEL SERIES Facebook page.