A Clue, A Clue
October 29, 2008 | Contests
More clues for the trivia contest Tabitha Shay is holding. It ends tomorrow so be sure to check out her BLOG for more author contests.
Naughty Ladies of Nice
Book Four
FRENCH KISS
Eternal Press
www.EternalPress.ca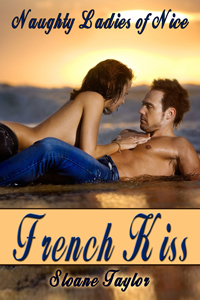 BLURB:
Straight-laced children's author, Rachel Conklin, awakens on a deserted island wrapped in the arms of a sexy pirate. Convinced she's in a dream conjured from the pages of her breakout novel, Rachel casts her inhibitions to the wind and seduces the handsome sailor. Rides the waves of passion
Pediatrician Henri Bernier wasn't quite sure what to do with the sexy mermaid he'd pulled from the sea. Then she started kissing him and sent his libido soaring. Now the good doctor is ready for anything.
EXCERPT:
Warm tingles started in her belly, pooling low in her abdomen, a sensation she'd long missed. His lips were strong, supple, working her own apart. She glided her tongue along the seam of his mouth, loving the salty taste and the rasp of his beard on her bruised face. Moisture filled her panties, making her alive and wanting more. She laced an arm around the broad shoulders leaning over her, curling her fingers in his long, silky hair.
Her nipples puckered more with each stroke as he glided his hand along her spine, continuing lower over the curve of her ass to her thigh. Wet sand greeted her when he smoothly rolled them over. Her legs parted, welcoming her secret pirate. Nope, make that swashbuckler. More romantic.
Shivers raced through her and he held her closer. His body heat, a beautiful thing, shrouded them. Her breasts grew heavier, straining against her shirt, with his solid erection pressing into her. She wiggled closer, needing to feel him inside her.
Indistinguishable sounds filled her ears, forgotten lyrics from an old, sweet love song. She wanted to remember, but not enough to give up her fantasy man and the erotic glow of mystery sex.
Rachel knew the minute Henri slammed into the kitchen something was different. Actually, wrong would be a better word.
Several days later;
"How are you feeling this evening?" His voice held a professional icy tone. The same snotty attitude she remembered from that one agent who thought children's books were a bane to society.
"Sore, but okay." She laid the bread knife into the yellowed, porcelain sink and watched him pace back and forth across the wooden floor, heels tapping hard, his face a cold mask.
He dragged a fist from his pocket then jabbed a finger at her ring. "I see you have changed it to your right hand."
Okay, something is seriously up.
"Didn't want to risk leaving it somewhere." She pressed back into the wooden cabinet, the cold metal drawer knob carving an indent in her butt. "Is there a problem?"
Instead of answering, he posed his own question, "Any memories yet?"
Sloane Taylor
Sweet as Honey…Hotter than Hell
PHOTO OP! www.aspenmountainpress.com
FRENCH KISS www.eternalpress.ca
www.sloanetaylor.com www.myspace.com/sloanetaylor