Archive for the 'Hot Damn' Category
June 2, 2014 | Hot Damn, New Releases
Look what's coming to an eReader near you in just a few short weeks!
June 13, 2014 is the target date for the release of Naughty Ladies of Nice. The boxed set will be available at Musa Publishing, Amazon, and all other major vendors.
I'll be back Wednesday with a new menu. Until then…
Happy Reading!
Sloane Taylor
Twitter
Amazon Author Page
September 3, 2010 | Hot Damn
and all contracts are returned! Amazing sci-fi author, Robert Appleton, invited me to co-author and I jumped at the chance to branch out. Gotta love those boys from Bolton. 🙂
Amber Heat will release CLAIRE DE LUNE November 7 in e-book, followed by the paperback around December 5.
To learn more about Rob's incredible books, check out his website and blog Mercurial Times.
Now for a little teaser about CLAIRE DE LUNE:
BLURB:
You're invited to the galaxy's most prestigious beauty pageant. Clothing optional. Romance and danger…fully provided.
Cocky young detectives Gerry Rappeneau and Sebastian Thorpe-Campbell arrive at the premier lunar resort expecting a week of eye candy and long massages. With a half-billion-credit purse up for grabs, this year's pageant is the focus of a hundred worlds. And beauty isn't the only thing in the eye of the beholder.
One contestant, Evelyn Lyons, is attacked and her assailant killed. Surely a simple case of a stalker gone mad, as nothing bad ever happens at the Selene contest. So the brochure says.
The closer Gerry gets to Evelyn, the more he is convinced she's hiding something. His meticulous character sparks with her wild, sassy nature, and they embark on a torrid affair. Their forbidden romance isn't the only thing set to ignite in Pont de Reves.
Sebastian's infatuation with demure Claire Villiers, another contestant, threatens to put all four of them in harm's way.
A deadly trail of corporate conspiracy, monstrous assassins and hot bikini wax is more than anyone bargained for in this incendiary erotic mystery. Get ready for some serious heat on the dark side of the moon.
Have a safe an wonderful Labor Day. I'm off to celebrate, but will be back next week with the scintillating Raine Delight. Until then…
Happy Writing!
Sloane Taylor
Sweet as Honey…Hotter than Hell
January 22, 2010 | Hot Damn
It's done! I'm doing handsprings, celebrating with a huge dish of French vanilla ice cream and toasting Aspen Mountain Press with every spoonful.
The enhanced and wonderfully hot FRENCH TART, book two in the Naughty Ladies of Nice series, is winging its way to my fab editor Mychael Black as I type.
Now, I'm anxiously awaiting FRENCH TART, book one, which should be returning to me any day for the edits.
Studs and I are definitely celebrating this weekend. 🙂
Be sure to check in Monday when I feature talented author Marie Tuhart and her new release, IN PLAIN SITE. Until then…
Happy Writing!
Sloane Taylor
Sweet as Honey…Hotter than Hell
November 24, 2009 | Hot Damn
Aspen Mountain Press is offering a terrific sale from now through Wednesday night. You can get 25% off your order at this wonderful publisher.
Just enter coupon code FLA-6695 in the coupon box when you view your shopping cart.
Remember, this offer expires on Wednesday night. Use the code as many times as you'd like for as big or as small an order as you'd like, but don't wait.
HAPPY THANKSGIVING!
Sloane Taylor
Sweet as Honey…Hotter than Hell
July 17, 2009 | Hot Damn
FINNISH FANTASIES, a brand new book and first in the Melt the Ice series has been contracted by Amber Quill Press, Amber Heat. The book is scheduled for release September 13! Here's the gorgeous cover Trace Edward Zabar designed.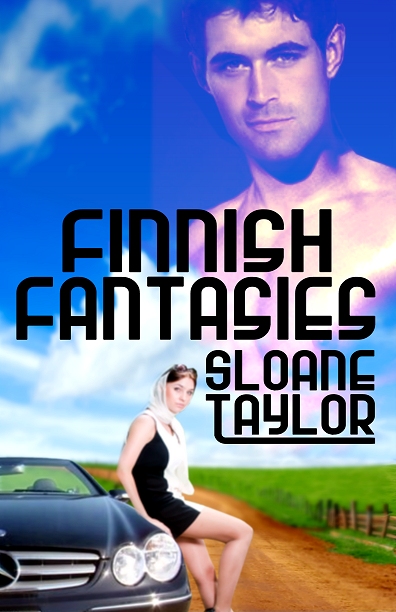 Hope you all have a wonderful weekend. I'll be back on Monday. Until then…
Happy Writing!
Sloane Taylor
Sweet as Honey…Hotter than Hell
May 1, 2009 | Hot Damn
Robert Appleton, British science fiction writer, is the owner of Mercurial Times, and has done an unrequested review of FRENCH KISS. Stepping out of his usual reading realm, below is a snippet of what Robert had to say.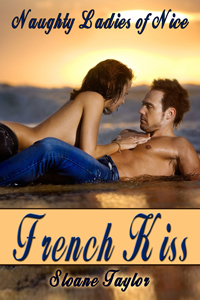 Contemporary Erotic Romance
eBook
15,000 words
Eternal Press
Witty and crackling with sass, French Kiss, the fourth novelette in Sloane Taylor's Naughty Ladies of Nice series, is a standalone sexy short that promises and delivers a good time.
American sass meets provincial French in this lively romance, by turns sweet and sea-salty. I had a great time with this book. I don't normally read erotic romances, but Ms. Taylor's vibrant style isn't exclusive to the sex scenes, as it tends to be for some authors in this genre. Here she imbues the characters, scene setting and dialogue with quirky life all their own. Plus, the lovemaking is seriously hot.
My advice? Kick back and let the fizzy swells of French Kiss wash over you. This is one addictive series. Next up for me, French Twist…
You can read the complete review here.
Mercurial Times is a site that presents Robert's news and views. 2009 is his second year in the rollercoaster world of e-publishing. Be sure to visit his author homepage. The man is a genius.
Sloane Taylor
Sweet as Honey…Hotter than Hell
April 23, 2009 | Hot Damn
Love Romances and More Reviews gave FRANCINE ON FIRE 4 HEARTS! Below is a snippet followed by the link for the complete review.
Publisher: Aspen Mountain Press
ISBN: 978-1-60168-060-0
Contemporary Romance Erotic
E Book
Reviewed by Dawn

I love the way this author teases the reader with flashes of wit, lust and comedy as I read FRANCINE ON FIRE. It is a story that had me chuckling one minute and the next wondering if I should call honey home for some serious tension release. This was definitely one of those stories that I am dying to read again, preferably in bed with my significant other.
The heat simmers between them but misunderstandings and tempers flair when things get mixed up between Francine and Heicke. Ms. Taylor delves into Germany again and reintroduces two delightful characters from Lonnie Heats Up and Teddi Turns On. With the right amount of wit, charm and comedy, she introduces you to the real Francine and Heicke, warts and all. This is an author that you know loves her spunky American women and those hot European men they fall for. I definitely couldn't put it down as I laughed, smiled and lusted over Francine and Heicke's adventures and I was rooting for these two to get over their troubles to find what they had was so very rare and lovely.
FRANCINE ON FIRE is a delightful story that will leave you gasping for more as the last page is read. I know I am anxiously awaiting word on another installment of those Magnificent Men of Munich and maybe I can find one of my own…even if he is in Ms. Taylor's wonderful books. If you enjoy a fast paced story with tight writing that weaves a spell around you and filled with characters that seem to steal your heart, then grab Ms. Taylor's Magnificent Men of Munich Series and FRANCINE ON FIRE. I know I am going to read this one again and hope you do too!
You can read the complete review here
Sloane Taylor
Sweet as Honey…Hotter than Hell
January 30, 2009 | Hot Damn
Have you ever heard such good news that you're positive the message can't be true? Reread it a zillion times and it still won't sink in? Or been offered a tangible item that is so precious, so important you're completely blown away?
All that happened to me Wednesday, and two days later I'm still in happy shock. This news has to be shared, then maybe I will believe it's real.
I am ecstatic to announce AMBER QUILL PRESS has offered me a writing contract for my latest work CZECH MATE, a sexy little number that takes place in Prague. An editor is assigned and a tentative release is scheduled for this spring.
I am grateful to my critique partners, Beth Anderson, Melissa Bradley, Erica Dananay, Virginia Deweese and Dorothy Emery for whipping me into shape so this fantastic opportunity could become a reality.
Now, if you'll excuse me, I will return to dancing around the room and screaming my head off at just how good 2009 will be!
Have a great weekend! I certainly will.
Sloane Taylor
Sweet as Honey…Hotter than Hell
January 20, 2009 | Hot Damn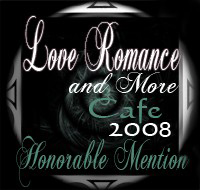 Isn't this the most beautiful icon you've ever seen? It sure is to me!
This coveted award signifies that two of my Aspen Mountain Press books have been honored by Love Romances Cafe in two separate categories.
Best Book All Around 2008
TEDDI TURNS ON
Best Contemporary Book 2008
LONNIE HEATS UP
Both came in as Honorable Mention and I couldn't be more proud or happy.
Congratulations to all the Winners, other Honorable Mentions, and Runner Ups! You all are amazing talents.
I'll be back later in the week after the glow dims a bit.:) Until then…
Happy Writing!
Sloane Taylor
Sweet as Honey…Hotter than Hell
January 5, 2009 | Hot Damn
This is one beautiful image I'm proud to display on my website.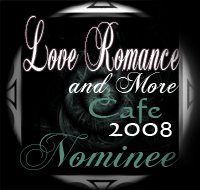 I am honored to announce that two of my books have been nominated in the LRC's Best Of Awards for 2008:
Best Book All Around 2008:
Teddi Turns On Aspen Mountain Press
Best Contemporary Book 2008:
Lonnie Heats Up Aspen Mountain Press
Voting begins NOON ET at Love Romances Cafe on Jan. 5th and runs till Jan. 17th. Winners are being announced at a special party on Jan. 19th from 7-9 p.m. ET.
All nominees were chosen from the multitude of reviews Love Romances and More has done throughout 2008 (Jan. 1-Dec. 31st, 2008) plus nominations from reviewers themselves for categories.
All the participants would be grateful to you for voting, no matter who you select!
I'll be back later in the week with an author you won't want to miss. Until then…
Happy Writing!
Sloane Taylor
Sweet as Honey…Hotter than Hell