Archive for the 'Uncategorized' Category
July 7, 2021 | Uncategorized
from Linda Lee Greene, Author & Artist
It was a foregone conclusion that eighteen year old Lee Greene of Peebles, Adams County, Ohio would be drafted, but like so many young couples living everywhere under the specter of World War II, his sweetheart Roma Gaffin and he got married anyway. The date was September 29, 1942. By Christmas of that same year they were pregnant for me. A few weeks before my birth, my father was drafted into the US Navy, with the expectation that following his training he would be shipped to somewhere in the Pacific Theater of the war. My mother stayed on at my grandparent's farm in Peebles, and it was in a bedroom there that I was born, assisted into the world by Old Doc Ellison. My father first laid eyes on me a few weeks later—on the occasion of his return home after receiving an honorable medical discharge from the Navy.
There was little separation in my mind between my parents and my grandparents when I was a kid. Despite the fact that by the time of my toddlerhood, my parents, little brother, and I had settled in Columbus, Ohio, the farm and its inhabitants play central roles in the script of my childhood. We spent every weekend and holiday there, and my brother and I stayed at the farm during every summer until I was an adolescent. One of my most vibrant memories is of Lena, my grandmother, thick around the middle by then, her chestnut hair peppered with white, utilitarian apron tied around her waist, standing before her cook stove. With fresh peaches plucked from trees in the farm's orchard or stash of canned goods in the cellar, and butter churned from the milk of resident cows, in her wood-filled cook stove, lacking the modern convenience of temperature control, my grandmother whipped up peach cobbler to rival any big city bakery. Breads, muffins, cakes, cookies, pies, cobblers—all the baked goods consumed by her large family were the products of her masterful hands. An abundance of her baked goods was the highlight of her high-holiday dinners.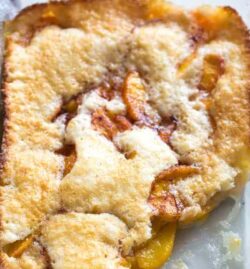 ~LENA'S PEACH COBBLER~
The Peaches
5 peaches, peeled, cored, and sliced*
1 cup sugar
¼ tsp. salt
Add peaches, sugar, and salt to a saucepan. Stir well to combine. Cook on medium heat for just a few minutes—until the sugar is dissolved and juices are drawn from the peaches.
Remove from heat and set aside.
*(If using canned or glass jar peaches in an amount of about 1 quart, skip the above step)
The Batter
6 tbsp. butter
1 cup flour
1 cup sugar
2 tsp. baking powder
¼ tsp. salt
¾ cup milk
Ground cinnamon to taste
Preheat oven to 350° F.
Add butter to a 9 x 13-inch baking dish. Place the pan in the oven while it preheats, to melt butter then remove pan from oven.
Mix flour, sugar, baking powder, and salt together in a medium size bowl. Stir in milk until just combined. Pour mixture over melted butter and smooth to an even layer.
Spoon peaches and juice (or canned/glass jar peaches, if using) over batter. Sprinkle cinnamon generously over the top.
Bake for about 38-40 minutes. Serve warm topped with a scoop of ice cream, if desired.
I didn't inherit my grandmother's prowess in the kitchen but once in a while, I catch a glimpse of myself in a mirror, and I see fleeting fragments of her in me. I did inherit her affinity for storytelling. I hear her colorful depictions of local gossip so clearly in my mind's ear. She was also a prolific writer of delightful and informative letters, the greater number of them penned during the Great Depression and World II. Many of them are transcribed in, and form the spine of, Guardians and Other Angels, my novel of historical fiction, based on the true story of three generations of my family. And of course, my formidable grandmother is a key figure of it.
One review of the novel states: "5 stars…Wonderfully Written! This was a thoroughly enjoyable book. I loved the Americana. [It] reached out and touched my heart, mind and soul. [It] provided tremendous insight into what many American families endured during the first half of the 20th century. It captures you and draws you in. This is most certainly a five-star novel."
Read more on Amazon.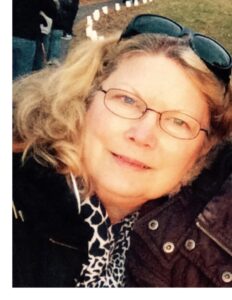 Multi-award-winning author and artist Linda Lee Greene describes her life as a telescope that when trained on her past reveals how each piece of it, whether good or bad or in-between, was necessary in the unfoldment of her fine art and literary paths.
Greene moved from farm-girl to city-girl; dance instructor to wife, mother, and homemaker; divorcee to single-working-mom and adult-college-student; and interior designer to multi-award-winning artist and author, essayist, and blogger. It was decades of challenging life experiences and debilitating, chronic illness that gave birth to her dormant flair for art and writing. Greene was three days shy of her fifty-seventh birthday when her creative spirit took a hold of her.
She found her way to her lonely easel soon thereafter. Since then Greene has accepted commissions and displayed her artwork in shows and galleries in and around the USA. She is also a member of artist and writer associations.
Visit Linda on her blog and join her on Facebook.
June 9, 2021 | Cooking, Holidays, Uncategorized
Father's Day is June 20 this year. Show dad some love with this flavorful dinner fit for a king and definitely enjoyed by the queen and all the princes and princesses. Easy to make and oh, so good.
MENU
Grilled Sirloin Steak
Twice Baked Potatoes
Sautéed Mushrooms
Caesar Salad
Dry Red Wine – Burgundy
Grilled Sirloin Steak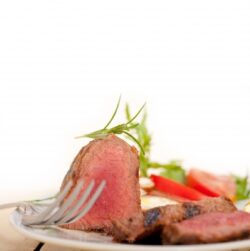 Sirloin steak, cut 1 – 1½ in. (2.50 – 3.80cm) plan ¾ lb. (375g) per person
1 cup (240ml) garlic infused oil (recipe below) or 1 cup (240ml) olive oil and 3 lg. garlic cloves, sliced
½ cup (120ml) dry red wine
2 tbsp. (30ml) basil
2 tbsp. (30ml) oregano
Cut slits in fat around the meat so it doesn't curl when cooked.
Combine all ingredients into a plastic bag or glass bowl. Marinade 5 – 12 hours in fridge. Sirloin can be tough. A long marinade is needed to make the meat tender and juicy.
Remove meat from fridge 1 hour before grilling.
Preheat grill on medium-high.
Pat meat dry. Discard marinade. Place steak on grill and close lid.
Grill first side 4 – 5 minutes. Turn meat (you only turn meat once) and final grill the second side as listed:
2 – 3 minutes rare
3 – 5 minutes medium-rare
5 – 7 minutes medium
6 – 9 minutes medium-well
Garlic Infused Oil
This is a wonderful oil to sauté vegetables or fry meat and poultry. It's especially good to swipe a thin coating on burgers before frying or grilling.
2 cups (450ml) good quality olive oil
5 garlic cloves, peeled and sliced
Drop garlic into a glass bottle or jar. Pour in oil. Cover tightly.
Set the bottle on your counter, away from the sun, for at least three days before you use it. Remove garlic after 5 days and discard. The flavored oil is good for two months.
This method works well with all herbs. Be sure to cover the herbs with oil so they don't mold.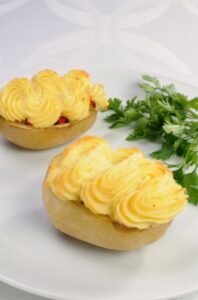 Twice Baked Potatoes
The amounts of the following ingredients are left up to your taste, but don't be sparing if you want great flavor.
1 baking potato per person
Olive oil
Butter
Extra sharp cheddar cheese, grated
Sour cream
Freshly ground pepper to taste
Paprika
Preheat oven to 400° F (200°C).
Wash potatoes under cool water. Pat dry. Rub skins with a little olive oil. Make a small slit across their tops. Lay on a cookie sheet. Bake 1 hour or until a toothpick is easily inserted.
Combine butter, cheddar cheese, sour cream, and pepper into a small bowl.
When potatoes are tender, lay them on a cutting board and slice them in half. They'll be very hot so use pot holders for this. Scoop the pulp into the above mixture. Be careful not to rip the skins. Whip the mixture well.
Refill the shells and set them back on a cookie sheet. Sprinkle with a little paprika for color.
Stop here if you plan to serve the potatoes the next day. Cover with cling wrap and refrigerate. Remove from the refrigerator at least one hour before baking.
No matter which option you use, preheat reheat oven to 325° F (160°C).
Bake uncovered 25 – 30 minutes. You only want to heat the potatoes so don't overdo the baking time.
Sautéed Mushrooms
8 oz. (250g) mini bella mushrooms
1 tbsp. (15ml) olive oil
2 tbsp. (25g) butter
½ small onion, sliced thin
2 tbsp. (30ml) dry vermouth or white wine
Freshly ground pepper to taste
Clean mushrooms with a paper towel to remove bedding soil. Slice them in half lengthwise if medium or into thirds if large.
Over medium heat dribble olive oil into a medium-sized frying pan and add butter. Stir in onions and mushrooms. Sauté until almost tender, 3 – 6 minutes.
Pour vermouth or white wine over the mushrooms and continue to heat.
To serve, grind pepper across the top and spoon into a warm serving dish.
This dish is best cooked and served on the same day. Leftovers are soggy.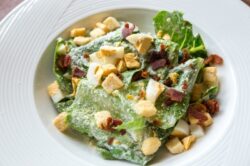 Caesar Salad
1 egg, coddled
1 lg. clove garlic
½ tsp. (2.5ml) anchovy paste
Freshly ground pepper to taste
1 tbsp. (15ml) lemon juice, preferably fresh
3 drops white vinegar or as close to as possible
¼ cup (60ml) olive oil
Romaine lettuce, 3 leaves per person, washed and dried
½ cup (37g) Parmesan cheese, grated
1 bag croutons, optional
Remove egg from refrigerator well before assembling all other ingredients on your counter. Eggs cook better for any recipe when at or close to room temperature.
Fill a small saucepan with water and bring to a boil. Place egg in water and boil 2 minutes. This process is called coddling.  Rinse under cold water, crack shell, and then scoop the runny egg into a small bowl. Break up the solid white pieces and lightly mix. Later, you will add some of this to the salad dressing.
In a large glass or wooden serving bowl, mash garlic with a spoon and fork into coarse pieces. Rub pieces against the sides of bowl to spread the oil they have released.
Add anchovy and pepper. Mix well. Pour in lemon juice and vinegar. Mix well. Add in ½ – ¾ of the coddled egg. Mix well. Blend in olive oil until the dressing thickens. Remove this mixture from your bowl and set aside to use right before serving.
Tear lettuce into bitesize pieces. Add to salad bowl. Pour in some of the dressing. Toss well. Add more dressing if the lettuce looks too dry. Sprinkle on ¼ cup (28g) or so of Parmesan. Toss again.
Arrange salad on individual chilled bowls or plates. Sprinkle with remaining Parmesan and croutons. Serve immediately.
For a larger salad, increase ingredients proportionally, but do not exceed two eggs.
These recipes plus many more fun holiday menus are available in my Recipes to Cook Holidays Extraordinaire cookbook.
October 5, 2020 | Uncategorized
This is definitely a treat. Two Halloween books from children's author Tina Ruiz. The amazing illustrations are done by Ishika Sharma. This creative duo knows how to put life and fun into children's books to encourage young people to read. As with all of Tina's children's stories, there's a moral at the end.
The story is about Peppa Roni and her twin brother, Reece A. Roni, who are having their 9th birthday party in the neighborhood restaurant. What makes this story different from any other children's book, are the names which the author has given to her characters. Example: Tess Ding, Chris P. Bacon, Mr. Noah Lott, Harry Pitts, Miss Turi, Walter Melon, Judge Mental and his wife, Judy, etc…
The storyline is quite charming, and because you will try to figure out the double meaning of the fun names while you read, this is bound to become your child's favorite book.
The pictures are bright and the story is fun. It was written not only to entertain kids, but also to challenge their minds.
Every character has a name with a double meaning. Such as: Mr. Noah Lott, Mrs. Faye Ding, Mrs. Frieda Livery, Upton O'Goode, Adam Zapel, and Ella Vader, to name but a few.
Here's a hint to help you solve the puzzle, Ed Zortails is his name really heads or is it tails? You'll have to buy the book to find out.
Solving the double meaning of the words will be delightful for children and adults alike. On the off chance someone can't unravel a name, Tina supplied a cheat sheet at the back of the book.
As with all of her children's stories, there's a moral at the end.
Tina Ruiz was born in Germany, but her family moved to Canada when she was in grammar school. She began writing children's stories when her own were little. Through the years Ruiz has now written wrote thirty books. Most of those stories went into readers for the Canada Board of Education. Two did not. Mayor Shadoe Markley is a story about a ten-year-old girl who becomes Mayor for a Day through a contest at school.
Little did Ruiz know that story would "change the world." The book came out at early January 1988. By the end of that same month, everyone was calling the mayor's office at City Hall, trying to get the forms to fill out so their children could participate in the contest. Thirty years later that same contest is still runs at full speed. And not only in Calgary, but all across Canada. The Mayor's Youth Council is now in charge of the celebrated contest and invites Ruiz to attend and meet the lucky winner. It's usually followed by a hand-written thank you card from the mayor himself. Recently Ruiz was invited to be part of the Grand Opening of Calgary's New Library where the mayor shook her hand and introduced her to the attendees.
Tina has worked in television and radio as well as being a professional clown at the Children's Hospital. She lives in Calgary with her husband who encourages her to write her passion be it high-quality children's books or intriguing romance.
Stay connected with Tina Ruiz on her Facebook group Tina Speaks Out.
September 16, 2019 | Uncategorized
Studs and I are off for two weeks to celebrate life, enjoy each other,
and eat a stream load of fresh fish.
Photo Courtesy of Lorri Lang Pixabay
I'll be back September 30 with the
lovely Suzanne G. Rogers and her latest release.
Until then – Keep your line wet!
July 4, 2018 | Uncategorized
by Emma Lane
I'm sitting on the stone wall in the middle of the village when the first group appear heralding the start of the parade. It's an ancient convertible filled with local politicians; the major, councilmen, the Board of Education president–our elected governing bodies all waving and wearing wide smiles. We beam and wave back. It's a federal holiday after all and most of the town is present.
Next comes a troop of boy scouts carrying flags. Their parents clap loudly and we all join in. Behind them little go carts spin around in circles, the drivers wearing funny hats. They are a local parade favorite.
We can hear the high school band in the distance. The kids are in shorts because it's a very warm day. For some reason tears come to my eyes as they pass, playing their horns and banging on their drums. Wave after wave of local groups march past the crowd, each with an appointed member carrying the American flag on this our nation's birthday.
Fire trucks honk their horns while the police come into view dressed in their best uniforms. That spiffy band, members wearing Scottish clothes, plays a heart wringing tune on bag pipes.
More scout troops, this time it's the girls. An entire group of children riding bicycles all the way down to determined toddlers on tricycles get enthusiastic applause from the spectators. The colorful balloons tied to their handle bars bob in the warm breeze.
Wow, we all say as a troop of mounted police prance by. We know that's the end of the parade. Who wants to march after the horses? We sigh. Another of our nation's birthdays celebrated in style. We are Americans and we love parades, especially those that remind us of what it means to belong to this wonderful, democratic nation.
We are off to a picnic where my baked beans make a hit. A hot game of horseshoes is in progress. Sleepy ladies nod in the shade. Some of our family peal off to play baseball. Others play Frisbee, including the dog. Red, white and blue flags wave everywhere. The children are excited. They anticipate indulgent parents who allow late bedtimes. Firework displays will be enjoyed and perhaps a bonfire.
How do you celebrate our nation's birthday? Do you have a favorite recipe for the picnic? Do you go boating and watch the fireworks over the water? Do you get tears of gratitude when our beloved veterans march by?
Have a beautiful and safe holiday,
Emma Lane
"I never saw a printed word I did not like."
Emma Lane is a gifted author who writes under several pen-names. She lives with her patient husband on several acres outside a typical American village in Western New York. Her day job is working with flowers at Herbtique and Plant Nursery, the nursery she and her son own. Look for information about writing and plants on her new website. Leave a comment or a gardening question and put a smile on Emma's face.
Stay connected to Emma on Facebook and Twitter.
May 11, 2016 | Uncategorized
Sorry for the inconvenience, but my blog is down for construction. New posts will resume May 9.

Have a great weekend!

Sloane
November 9, 2015 | Uncategorized
Indoor/Outdoor Plants
by Emma Lane
Important to remember: November is prepare for winter month. That lovely plant on sale at a box store won't be with you next year if you are in a Zone 5 (cold weather tolerance) and the plant thrives only to Zone 6. I garden in Z 5, but sometimes without shelter, it's a Z 4. It's a good idea to pay attention to the requirements on your own turf.
I love geraniums. No, they won't survive over the winter here in deep snow land. But geraniums will tolerate the dry air inside your house over the winter. They do need a strong dose of daily sunshine, but you will find the perfect window. Water sparingly and don't feed until spring. I try to keep in mind that geraniums thrive in the desert with only an occasional taste of moisture. I hunger always for fresh flowers and geraniums reward me well into the dark days of winter. I take several colors and repot them all in the same pot. Yep, I crowd them. They don't seem to mind. I keep the old blooms cut and harvest fresh blossoms often. When the forsythia shows gold outside, you can give your geraniums a shot of liquid fertilizer. Then fresh foliage will get your juices rising and mood lifting as you get ready for a new spring.
Monarda is a genus of wildflowers in the mint family. The red one is native to Central NY, but several colors can be found over a wide swath of the US. It's a great perennial with many names: Oswego Tea, Bergamot, Monarda, and Bee Balm which is a remedy for after a run-in with the little buzzy critters. These plants can grow tall and, as a member of the mint family, will be robust in the garden. Allow them plenty of room. They are also a favorite of hummers. Hardy to at least zone 4 and maybe colder.
Now that your plants are tended to, sit back and enjoy a good book. May I suggest a popular Regency of mine?
Can an arrogant duke overcome his prejudice against a beautiful but managing female in time to find true love and happiness?
Miss Amabel Hawkins acknowledges her unusual upbringing, but she thinks James Langley, the Duke of Westerton, might be a tad unbalanced when he protests her efforts to right his badly managed properties. The duke, who has been away on the king's business, demonstrates no respect for the beautiful but managing Miss Hawkins. Amabel has taken refuge at Westerton, fleeing from a forced marriage to a man who claims to be her relative in order to gain control of her young brother's estate.
The Duke arrives home to find his estate under the firm control of a beautiful but managing female. His suspicions are fueled by his recent task of spy-hunting and he wonders if Amabel Hawkins is just who she seems. While a dastardly spy lurks, a wicked man poses as her cousin threatening to take over the guardianship of her young brother. Amabel might be falling in love, but she knows for certain the duke would never approve of a meddlesome woman, and she decides to flee his estate. Will the duke finally realize the true value of the woman he loves or will his prejudice ruin his chances forever?
EXCERPT
Fatigue and the effects of the brandy on top of the ale now gave his gait a distinct wobble. He chuckled, amused at his condition.
As he reached for the portrait of great Uncle Barney, he lurched into the back of the red leather sofa in front of the cosy fire. "Deuce take it," he exclaimed when a rounded arm rolled into view. He spotted the gentle curve of a hip and walked around to the front, where he spied a tumbled haze of dark curls hiding a face. It is indeed a female—a sleeping female.
Who was she? The gown was too rich for his household staff. Curious, he knelt beside the sofa.
"Only one way to find out," he whispered and moved one dark curl. He sat back, satisfied when a handsome face swam into view. She sighed and rolled over, revealing a generous figure and a pair of rosy lips. She might be Sleeping Beauty—but not one of my relatives. He leaned over and kissed those tempting lips.
As he lingered there, she sighed and came partially awake. He could not resist. He deepened the kiss and sounds of satisfaction like yum and umm came from those delicious lips. Her hand stroked his face, then reached around his head to pull him closer. Delighted with this turn of events, the Duke of Westerton complied enthusiastically and extended an arm around a slender waist. How much of the ale and brandy had he imbibed? Dizziness overcame his senses as he slid down on the floor and knew no more.
Amazon buy link
Emma Lane is a gifted author who writes under several pen-names. She lives with her patient husband on several acres outside a typical American village in Western New York. Her day job is working with flowers at her son's plant nursery. Look for information about writing and plants on her new website. Leave a comment or a gardening question and put a smile on Emma's face.
Stay connected to Emma on Facebook and Twitter.
June 3, 2010 | Uncategorized
This Sunday is the The Northern Illinois NMF Chapter's 17th Annual Marfan Syndrome Walk-a-thon.
The event starts at 11:00am to register and the walk begins at 11:30am.
Come on out to TY WARNER PARK in Westmont IL and join the fun.
This is a Memorial Walk in memory of those who have passed. Their names will be posted.
All funds raised will be donated to Pediatric Awareness and Education and Support.
Paramount Tall Club of Chicago will host the outing and Marfan raffle. The picnic will be paid for by the Northern Illinois Chapter.
Please let us know if you are able to attend so we order enough food and drink for everyone. R.S.V.P us at our voice mail number 630-415-0044 or e-mail us at: bklein01@sbcglobal.net
T-shirts for all who participate with a minimum donation of $25.00 or more. There will be door prizes and a raffle after registration.
If you are unable to attend, but would still like to make a donation for this important cause, simply print the form below, fill it in, and mail with your check to:
Bruce Klein
President Northern Illinois Marfan Chapter
1328 Court O
Hanover Park, IL 60133-5511
Pledge Sheet
Name_________________________________
Address_______________________________City,State_____
$Amount_____________
Fed. Tax I.D. 501c #52-1265361
We thank you for your support.
Bruce
Please consider any size contribution. This is truly a good cause. There are no salaried CEOs or staff dipping their fingers into the funds. ALL the money is used for Pediatric Awareness and Education and Support.
I'll be back tomorrow. Until then…
Happy Writing!
Sloane Taylor
Sweet as Honey…Hotter than Hell
January 27, 2010 | Uncategorized
The votes are counted and the winners are posted. You may recall last August Romance Book Scene reviewed CZECH MATE and awarded my work 5 Stars. This morning I'm doing back-springs around my office. My inbox had a message that of all the books Romance Book Scene reviewed in 2009, CZECH MATE was awarded second place in the Romantic Comedy category! My heartfelt THANKS for this terrific honor.
Here's the gorgeous icon at the top of their post.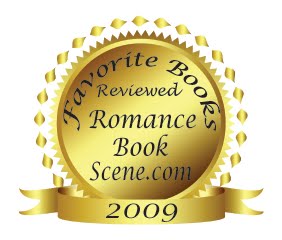 If you go HERE you can see a complete list of winners.
Just to refresh your memory. 🙂
CZECH MATE
Sloane Taylor
ISBN-13: 978-1-60272-522-5 (Electronic)
Amber Quill Press – Amber Heat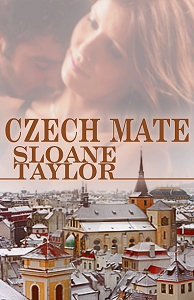 Here's a snippet from the terrific Romance Book Scene review;
Looking for a good book that will keep you laughing with a heroine who knows how to laugh at herself even when times are down, than Czech Mate is the choice for you. Lacey has a great bold, sense of humor and there were times when I out right laughed out loud through this book. The sex scenes are hot and the couple in the story are perfect for one another. This novella is a wonderful quick read.
You can read the complete review from Romance Book Scene here.
Again, Thank you, Romance Book Scene. I'm one ecstatic author!
I'll be back Monday when we feature a new release from fantastic author Sarah Grimm you won't want to miss. Until then…
Happy Writing!
Sloane Taylor
Sweet as Honey…Hotter than Hell
April 22, 2009 | Uncategorized
Love Romances and More has posted a fabulous new review for LONNIE HEATS UP and I couldn't be happier! Here's the short version;
LONNIE HEATS UP:
Magnificent Men of Munich Series
Publisher: Aspen Mountain Press
ISBN 978-1-60168-155-3
Contemporary Erotic Romance
E-book
Reviewed by Dawn

With wonderful tight writing, captivating characters and a story that sucks you in and doesn't let up until the last page, LONNIE HEATS UP has this reviewer running to grab the other two books TEDDI TURNS ON and FRANCINE ON FIRE. Ms. Taylor is an author that will be permanently on my "to buy list" from now on with her wonderful and witty writing that will leave you begging for more. I just hope I won't have to wait too long for the next installment of the Magnificent Men of Munich Series.
You can read the complete review at Love Romances and More.
Thank you!
Sloane Taylor
Sweet as Honey…Hotter than Hell