Archive for the 'General' Category
December 12, 2016 | General
While Studs and I were on our honeymoon, we met an interesting old gent who had a few things to say. Allow me to share some of his wisdom with you.
Why are there interstates in Hawaii?
How does the guy who drives the snowplow get to work?
Does make you wonder.
Have an awesome day,

Sloane
October 25, 2010 | General
The scheduled blog for today will appear Tuesday, October 26.
Thank you for understanding and I hope you return.
Sloane Taylor
September 18, 2009 | General
Sounds like an odd, but fun way to combat a little known disease that strikes thousands of people worldwide. Please join us,
September 19, 2009
8:00pm to Midnight
Molly Malone's Irish Pub
7652 Madison Street
Forest Park, IL
The donation for this event is $50.00 per person and includes all your drinks and food.
Drink for a Cure began in 1998 when Christian Banke was diagnosed with Marfan syndrome. Christian died in 2002 while undergoing surgery. He was the second person stricken in the Banke family. They soon learned most people, including doctors, had not heard of Marfan syndrome. Millions of people across all geographical and racial groups can have Marfan syndrome. To make the world more aware and raise money for this under-funded disease, the Banke and Yario families hold a yearly fundraiser that raises awareness for this silent killer by donate the funds to the National Marfan Foundation.
Here's a little background on the disease.
Marfan syndrome is a disorder of connective tissue. Connective tissue holds all parts of the body together and helps control how our bodies grow. Because connective tissue is found throughout out bodies, Marfan syndrome can occur in many different parts of us. The features are most often found in the heart, blood vessels, bones, joints, and eyes. The lungs and skin may also be affected. Marfan syndrome does not affect intelligence.
How does someone contract Marfan syndrome, you might ask?
Each child of a Marfan victim has a 50 percent chance to inherit the disorder. Sometimes a spontaneous mutation occurs during the formation of sperm or egg cells, resulting in a baby with Marfan syndrome. Two unaffected parents have only a 1 in 10,000 chance of having a child with Marfan syndrome. Approximately 25% of cases are due to a spontaneous mutation at the time of conception.
Your donations do help.
Pediatric Awareness and Educational Programs are in place to make the medical community, all health professional, the media and the public conscious of this disease for early detection. Your contribution, not matter what size, is greatly appreciated. The National Marfan Foundation is a 501 © (3) charitable organization therefore all donations are tax deductable. Their Tax ID Number is 52-1265361. To learn more, please go to www.marfan.org or call 1-800-862-7326.
I hope you can join us Sept. 19. You'll have a great time while helping with an excellent cause.
Sloane Taylor
Sweet as Honey…Hotter than Hell
September 16, 2009 | General
Join me today from 10:00 am – Noon CST at Love Romances Cafe for cool recipes and hot books.
Hope to see you there!
Sloane Taylor
Sweet as Honey…Hotter than Hell
May 27, 2009 | General
Hi Everyone,
Today I'll be at Novel Sisterhood, http://groups.yahoo.com/group/novelsisterhood/, from 11 – Noon EST, chatting my heart out about my new release CZECH MATE. Stop in to read new excerpts and a chance to win a free download.
Hope to see you there!
Sloane Taylor
Sweet as Honey…Hotter than Hell
TEDDI TURNS ON 2009 EPPIE Finalist – Erotica www.aspenmountainpress.com
PHOTO OP! www.aspenmountainpress.com
www.sloanetaylor.com www.myspace.com/sloanetaylor
January 26, 2009 | General
Through Margie Lawson's High Energy Interview Series.
Don't miss these opportunities!
— Win a how-to book from a writing expert.
— Win a Lecture Packet from Margie Lawson.
— Crawl around inside a how-to author's brain!
Drop by Five Scribes Blogspot on the LAST WEDNESDAY of each month to learn how-to author's factoids and funtoids – and ask questions. Each how-to author will respond to blog comments.
JANUARY 28th: James Scott Bell: Plot & Structure, Revision and Self-Editing
James Scott Bell is the award-winning author of several novels of suspense and historical intrigue. Booklist and the Los Angeles Times compared James Scott Bell to Raymond Chandler and Dasheill Hammett.
A former trial lawyer, James Scott Bell has been an Off-Broadway actor, an actor in commercials, the fiction columnist for Writer's Digest Magazine, an adjunct professor of writing at Pepperdine University, and author of nineteen novels and two books on writing.
WRITE GREAT FICTION: PLOT & STRUCTURE, 2004, is one of the most popular writing books today. His 2008 how-to book, WRITE GREAT FICTION: REVISION & SELF-EDITING, is equally strong and a must-have for writers of all genres.
Upcoming Releases by James Scott Bell:
DECEIVED – a suspense thriller, will be released in March, 2009.
THE ART OF WAR FOR FICTION WRITERS – a new how-to book, will be released November, 2009.
Publishers Weekly Review:
"Former trial lawyer and Christy Award-winner Bell (Presumed Guilty) hits his stride in this twist-filled suspense thriller…Dialogue carries the book with rich characters…a fast-paced thriller with its Los Angeles music scene, creepy canyons and a slew of cons. Bell, who also writes nonfiction books on writing, is a master of the cliffhanger, creating scene after scene of mounting suspense and revelation in this heart-whamming read."
Feb. 25th — Featured How-to Author for February: HALLIE EPHRON!
Hope to see you at the Five Scribes Blogspot on the LAST WEDNESDAY of every month!
Want to recommend a how-to author to be interviewed? E-mail Margie@MargieLawson.com
I'll be back later this week with Lex Valentine. Until then…
Happy Writing!
Sloane Taylor
Sweet as Honey… Hotter than Hell
October 16, 2008 | General
This is Esther's newest book. It's a power packed story that will addict you to this creative author.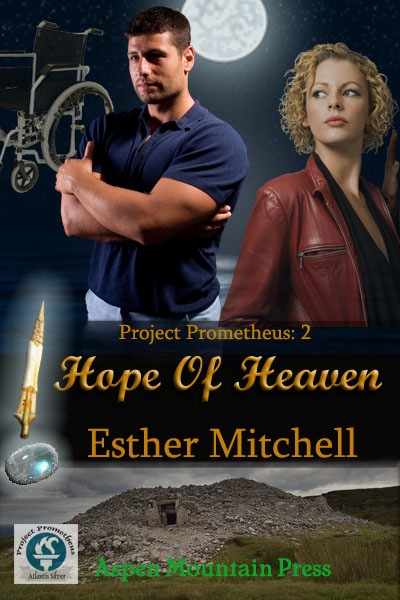 HE SACRIFICED EVERYTHING,
AND FOUND A REASON TO LIVE AGAIN…
Peter Talladay never expected to lead a normal life again, after his battle against a demon in the Iraqi desert left him partially crippled. Accepting his infirmity seemed the only sane, and logical, thing to do. But visions of an ancient cairn and a howling Irish Banshee have risen up to trouble his dreams, and his immobile state frustrates him. Then, when beautiful, fiery Hope MacKenzie ventures into his world, he finds a whole new reason to be afraid. Now, the chasm of his nightmare is growing steadily, and only a man strong enough to cross the bowels of Hell itself would ever have a chance at the Heaven Peter craves.
ISBN: 978-1-60168-089-1
Buy At: ASPEN MOUTAIN PRESS
EXCERPT:
A rumble, off in the distance, brought Peter's attention from his memories as his eyes moved to the quickly-darkening sky overhead. A storm rolled in, fast. Peter straightened, concern flitting through him.
The river. She's gone to the river.
His pulse jumped in panic. Cleary River became swift and dangerous whenever it rained. Images of Hope swept away in the roaring tumult flooded his mind. Peter fought them the way Hope taught him. He drew deep, cleansing breaths and told himself to calm down. He had to trust Hope. She was an intelligent, capable woman and an accomplished rider. She'd know better than to go near the storm-swollen river.
She was angry.
Fear clenched in his gut and propelled him toward the barn.
He saddled Topaz awkwardly, before Cain's loud barking drew his attention. An avalanche of water hit the barn's shingled roof, and Peter froze as icy realization dropped through his stomach. Dear God, this was no small thundershower. The boom of thunder that followed shook the entire building, and lightning spiked so close he heard it crack one of the trees in the orchard as the scent of ozone filled the air.
Someone will die. The gleeful voice of the demon prickled his brain with dread. Hope was caught out in this! Panic gripped him, and he turned, too fast. His right knee buckled as pain ripped through his head and seared his eyes. With a cry of surprise and agony, he grabbed for the edge of the stall, gripping it for dear life as he swayed under the force of the demon's assault. Images of a falling bird, its feathers aflame… of Hope, blood streaming from a bullet hole in her temple, underscored by sinister laughter, burned into his vision, and a terror unlike any he'd ever known seized Peter so hard he shook with its violence.
"God in Heaven! Hope!" His cry was ragged, frantic, and he cursed his useless legs. "Hope… no… please, no!"
"Peter?" Hope's soft, concerned query shattered the horrible images, and snapped him back to his surroundings so fast he nearly doubled over with the shock of it. She stood beside him, drenched but unharmed. Her hand hovered over his arm and her eyes were violet with worry. The breath rushed from Peter's lungs, and his heart expanded in relief. She was the most welcome, and beautiful, sight ever. "Peter, what's the matter?"
He couldn't answer her, in that moment, if his life depended on it. Relief, so sharp it burned straight through him, stabbed his chest and robbed him of breath. His hand trembled as he reached to cup her soft cheek, and brushed dripping curls from her damp skin. Suddenly, the question he avoided for so long became a driving need he could no longer deny.
"What would it take for you to trust me?"
She gave him a quizzical look, even as she turned away to reach for one of the rags on a peg by the empty stall. "I do trust you."
"Enough to let me make love to you?"
DISCOVER LOVE'S SAVING GRACE, AS THE MEN AND WOMEN OF PROJECT PROMETHEUS BATTLE THE DARKNESS OF OUR WORLD, AND FIND THE ULTIMATE SOURCE OF LIGHT. FIND OUT MORE ABOUT THIS BOOK AT www.esthermitchell.com
HOPE OF HEAVEN is a terrific book and one you won't want to miss. I'll be back next week. Until then…
Happy Writing!
Sloane Taylor
Sweet as Honey…Hotter than Hell
October 15, 2008 | General
Let me introduce you to the cookbook Eternal Press made for charity; just released today. The charity is called Action Against Hunger. http://www.actioncontrelafaim.ca.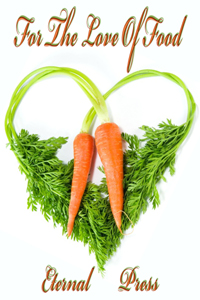 These recipes were donated by the various staff members and authors here at Eternal Press. When asked for ideas to help celebrate our 1st year anniversary, the decision was made to make a collaboration of great recipes that our staff and authors enjoyed the most. Because a cookbook is meant to feed people, we thought we would take that literally and donate the majority of proceeds to feed the hungry who cannot afford such luxurious meals.
The book is titled For the Love of Food. The set price is $2.95 and 75% of the proceeds will go to Action Against Hunger on a quarterly basis.
Inside this sixty-page cookbook you will find full color illustrations to make your mouth water as you cook, easy to follow recipes and a whole lot of love.
Recipes contributed by:
Moss Bliss
Candace Clayton
Erin Cramer
Lauren Gilbert
Laura Hebertson
Rita Karnopp
Toni Kelly
Jan McDaniel
Kim McDougall
Sally Odgers
Kim Richards
Jean Roberta
Ally Robertson
Tabitha Shay
Ginger Simpson
Fran Tann
Sloane Taylor
This yummy book is is only $2.95. Please pick up a copy today at http://www.eternalpress.ca/fortheloveoffood.html
http://www.eternalpress.ca/CookBookContributers.html
Thank you all for helping.
Sloane Taylor
Sweet as Honey…Hotter than Hell
July 3, 2008 | General
July 2008 We're 2 Years Old!
To celebrate our birthday, Aspen Mountain Press is sending one lucky winner* a picnic basket lunch (retail value of $100) to create the deli sandwich of your dreams from Zingerman's Deli in Ann Arbor, Michigan. Choose from Sherman's Sure Choice Reuben – Black Angus lean corned beef, rye; Binny's Brooklyn Reuben – Pastrami, pumpernickel; Georgia Reuben – Roasted turkey, rye. Also included Zingerman's homemade redskin potato salad, cole slaw and Russian dressing. Emmentaler Swiss cheese, garlicky pickles and magic brownies.
To be included in the drawing all you have to do is purchase a book at Aspen Mountain Press. The more books you buy between July 1st and July 31st, the more times you will automatically be entered!
According to Oprah, "Zingerman's sandwiches are an '11 on a scale of 1 to 5.'"
Don't miss out on a terrific opportunity to sample some of the best deli food the mid-west has to offer along with some awesome stories of adventure, mystery, and passion. Remember, each story purchased is an automatic entry into the drawing!
*See website for additional details.
www.AspenMountainPress.com
Adventure, Mystery, Passion
Have a Happy and Safe 4th of July. I'll be back next week. Until then…
Happy Writing!
Sloane Taylor
Sweet as Honey…Hotter than Hell
June 16, 2008 | General, Uncategorized
TOO HOT TO HANDLE
by Linda Sole
Eternal Press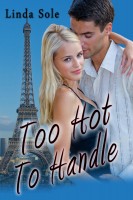 BLURB:
Sylvie knew that most of her friends settled for sex and a mutual liking, companionship and someone to share their lives. They went in for relationships that were never intended to be permanent, which might last for a few months or a few years, but would eventually end as one partner moved on to a new relationship.
"Marriage doesn't matter anymore," was the general theory, and Sylvie had gone along with it, but in her heart she couldn't help wanting more.
Well, you're not likely to find it with Rafe Wilde, she told herself firmly. He simply isn't the marrying kind.
She sighed, then smiled at her own thoughts. Mr. Wilde was just too attractive for her peace of mind.
And yet there had been a moment in his arms when she would have given herself and not though twice about it. Even now there was a tender, sensitized feeling between her thighs, a need that she had never felt before.
EXCERPT:
Rafe could hardly believe what he was hearing. For a moment, as he sat at the restaurant table, staring at the woman opposite him, he thought he must have been mistaken. He was a businessman himself, and he had cut some tough deals in his time, but he'd never heard of anything this outrageous.
"Run that by me one more time," he said, staring at Christine Penrith as if she had lost her mind. "You're offering to give me those shares if I marry your granddaughter?"
Rafe Wilde was a striking man; dark-haired and blue-eyed with a jaw that hinted at a stubborn nature. He had that certain something that made women turn their heads when he walked by, a kind of latent sensuality that heightened awareness and promised much.
"Is that so outrageous?" Christine's cool gray eyes narrowed. "I have something you want—and you can do me a favor. What is so very wrong with that? Besides, plenty of marriages are arranged that way, and they can work very well."
"It's ridiculous," Rafe ejaculated. "Even if I were willing to go along with it, your granddaughter might have something to say about being married off on a whim of yours."
"I was assuming you would be clever enough to get around that," Christine said, a little smile on her mouth. "It shouldn't be beyond your imagination, Mr. Wilde. Anyway, that's my price for the shares—take it or leave it."
Rafe stared at her in silence, his eyes smoldering with anger. In the cut and thrust of America's high roller economy, he had come up against some hard cases, but this woman seemed to have no feelings in her. He felt sorry for the granddaughter he had never met.
"Sylvie will come home for her uncle's wedding," Christine said. She stood up, picking up her black leather gloves and smoothing them over hands that were beginning to knot with age. "Come to the wedding, Mr. Wilde. Meet my granddaughter—and then decide."
"I have urgent business in the States." Rafe's blue eyes were diamond hard. He disliked being used, particularly like this, in matters he considered intensely personal, and his anger showed. "I doubt I could make it."
"Then there is nothing more to say."
Rafe watched as Mrs. Penrith walked from the dining room. She must be in her sixties, but she looked years younger, and she was a clever businesswoman, successful and wealthy. He had come to England to ask her to sell him the shares she owned in his company, but the price she was demanding was too high.
One marriage per lifetime was enough in Rafe's opinion. He had been badly burned the first time, and hell could freeze over before he tried it again. Besides, he had a very satisfactory relationship going back home at the moment. Miranda was beautiful, sexy and too independent to think of marriage. Their affair was satisfying enough to keep them both content, and it was easy. The last thing Rafe wanted was to marry some neurotic English girl, who obviously couldn't manage to find a husband for herself.
There had to be something seriously wrong with Miss Penrith if her grandmother was prepared to give away a small fortune to get her married off to a stranger!
As the waiter approached with his bill, Rafe extracted some notes from his wallet, his generous and distinctly sensuous mouth twisting in a wry grimace. He would give that option a miss, thank you. And there was always a slight chance that his uncle would agree to his idea. He would just have to catch the next plane to Paris and see what a little persuasion would do…
And darlin', I'd love to be on that flight with you. Oh baby, this is one book you can't put down. Linda Sole has created characters who are hot, hot, hot! I highly recommend you snap up a copy of TOO HOT TO HANDLE today.
You can read more about Linda Sole on her website. The lady is an amzazing writer.
I'll be back later this week. Until then…
Happy Writing!
Sloane Taylor
Sweet as Honey…Hotter than Hell