Archive for the 'General' Category
June 11, 2008 | General
Book thongs, that is! Shame on you for thinking sexy. LOL
If you do like book thongs take a close look below.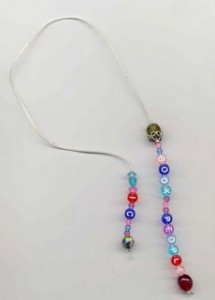 This style and many others are handcrafted by LindaH, a woman with true talent. You can see all Linda has to offer on her blog.
I ordered a slew to give away as prizes during my chats and couldn't be happier with my purchase. You'll love her prices, too. I sure did.
By the way, Linda has a phenomenal sale on through June 30 – 55 Three Colored Book Thongs for only $110.00, shipping included. Now that's a deal!
Until next time…
Happy Writing,
Sloane Taylor
June 2, 2008 | General
Sloane Taylor Chat, today, 11:00 am – 1: pm EST
Reminder from: LiteraryNymphsChat Yahoo! Group
Hope to see you there!
Sloane
May 15, 2008 | General
Love Romances and More has selected me as the Rising Star for May! Life is FANTASTIC!
If you'd like to read more, please follow the link.
Sloane Taylor
Sweet as Honey…Hotter than Hell
Francine On Fire www.aspenmountainpress.com
French Delights www.eternalpress.ca
www.sloanetaylor.com www.myspace.com/sloanetaylor
April 24, 2008 | General
Joyfully Reviewed's 2008 Bunny Hunt is still open!! Tons of prizes to be had!
The contest closes late Friday, April 25. There's still time to enter!
If you are interested the how-to is here or here.
With books (Print and E-Book) and many more prizes from…
Alexis Fleming
Aline de Chevigny
Annmarie Ortega
Ashlyn Chase
Barrie Abalard
Black Velvet Seductions
Brenda Williamson
Brenna Lyons
Brieanna Robertson
Cassandra Gold
Cassandra Kane
Cat Johnson
Cathy Maxwell
Celia Kyle
Cynnara Tregarth
Dawn Montgomery
E.G. Parsons
Elaine Cantrell
Elizabeth Amber
Emma Ray Garrett
Erastes
Erin Aislinn
Firedrakes Weyr Publishing
Heather Hiestand – Anh Leod
Isabelle Drake
Jana Richards
Jennifer Mueller
Jordan Dane
Julia Templeton
Julianne MacLean
Karen Kelly
Kate Hofman
Kathleen Coddington
Katriena Knights
Kelley St. John
Kimberly Dean
Lori Wilde
Lucinda Betts
M. A. Ellis
MJ Fredrick
Marie Rochelle
Midnight Seductions Authors: MC Halliday, Beth Wylde, Adriana Kraft, Mila Ramos, Paige Tyler & Tess Mackall
Monica McCarthy
P.L. Parker
Patricia Grasso
Raine Delight
Selena Illyria
Sharona Nelson
Shelley Munro
Shelly Laurenston
Skylar Sinclair
Sloane Taylor
Sophia Johnson
Stephanie Vaughan
Susan Lyons
Sydney Sommers
Terry Odell
Tilly Greene
Yolanda Sfetso
and more????
or if you'd like to see the participating authors & prizes.
Have fun!
Sloane Taylor
Sweet as Honey…Hotter than Hell
January 9, 2008 | General
Somehow life has moved on while I could only manage to crawl out of bed to choke down a bit of soup then drag my sorry self back to the land of irrational dreams. Sounds like some bad experience from one of my college days. If only that were true then I'd know this torture would end. Soon.
Christmas with all its magic was wonderful. We ate, drank, laughed and shared with so many people who made our lives richer. New Year's Eve and Day were awesome spent with family and friends. Somewhere in between the flu decided to visit us.
So my friends, I haven't updated my site for 2008, finished my projects which are due like yesterday, or manage to function beyond incoherent grunts. I'll be back, soon I hope, with exciting interviews and updates. Until then…
Happy Writing!
Sloane
December 13, 2007 | General
Hi Everyone and welcome to the Tabitha Shay Virtual Book Tour.
ST: Good to have you here, Tabitha. Why don't we get right to the questions since we all know how busy authors are when they're working on a deadline and you're on a stiff one.
TS: Fire away!
ST: Anyone who has read your debut novel, Witch's Brew, released in September by Eternal Press in E-Format, knows about those hot and steamy love scenes. What I want to know is were these burning scenes inspired by the relationship with your hubby?
TS: Well, of course. All the heroes I create are in some way based on my husband and our relationship. Need I say more? wink
ST: No Ma'am. I believe in open bedroom doors, but only in books. LOL. What are plans for future books?
TS: Right now, I'm working hard on my contemporary western romance, In The Arm's of Danger due out in 08. No release date yet, then it's back to my witches, with Witch's Moon the third release in the Winslow Witches of Salem series. I can promise readers a whole new batch of problems for these witchy ladies.
ST: Sounds great. Do you have any new novels that have a release date and can you tell us a little about it??
TS: Yes. The second novel in the witch series, Witch's Heart will be released in Feburary. It's the story of the waken, Sage and the human female, Hannah he's been sent to terminate. This book is chocked full of surprises. Giggles. Heck, even I was wowed by some of the surprises. It's action packed and the love scenes are smokin'. Be sure to get your copy at Eternal Press.
ST: Where can our readers find you?
TS: I welcome you all to visit my website www.tabithashay.com and learn more about my work. bg
ST: Thanks, Tabitha, for dropping by. I appreciate you taking time away from your edits.
TS: No problem, Sloane, but I have to scurry. Deadline you know. Thanks for the coffee and questions. Bye everyone!
ST: See you all in the morning with a new blog. Unitl then…
Happy Writing!
Sloane
December 11, 2007 | General
Tabitha Shay started her extensive book tour at Sally Odgers' Spinning Pearls blog
Wednesday you can catch her at Ginger Simpson's for another short interview.
See you all Thursday when Tabitha makes an exciting appearance here!
To buy Witch's Brew, visit Eternal Press.
October 22, 2007 | General
Sometimes good things happen to people just when they need it most. You can imagine the elation I experienced when I opened an email last week from Prof. Charles C. Soludo, the Executive Governor of Nigeria, that read I'm to be awarded 10 million U.S. dollars for a construction contract that was never paid. It just blew me away. Holy Cats, Christmas would be a bonanza for my kids and Studs.
The three page email was very explicit in how I could claim my $10 million. The Governor only needed a few pieces of pertinent data, the original records had been burned in a massive fire, before a courier would appear at my door with a certified bank draft;
Full Name
Address
Phone Number
Occupation
Social Security Number
Driver's License Number
Passport Number
Bank Name and Account Numbers
Actually, I'm surprised they didn't ask for my bra size and dental impressions.
Obviously, you know this is a scam. Unfortunately, there are many people on the net who would willingly give out all their information because they believed this liar and his scam.
Please inform your friends and loved ones to never give information of any type to anyone without being face to face. Identity theft is a very real problem in our society. Let's not make it easier for these scumbags to screw us over.
I'll be back later this week with really good news! Until then…
Happy Writing!
Sloane
July 13, 2007 | General
I've certainly missed all of you and everything to do with the elecronic world.
Several weeks back my computer acted weird, especially Outlook Express. As you all know, these things don't cure themselves no matter how hard we hope. It got to the point that I had to call in the Geek Squad.
The voice who answers their phone, 1-800-GeekSquad, sounds just like Sgt. Joe Friday from the old Dragnet series. Immediately, I was in a better mood. The best part is you talk to a HUMAN. How's that for customer service?
Agent David pulled up in his VW bug a few days later. With clipboard in hand, he introduced himself while straightening his narrow black tie over his pure white short sleeved shirt. After almost two hours of frantic typing and mouse clicking, the poor guy shook his head, but that tie never moved an inch from its original location, and told me he'd have to return in a few days. I wasn't happy but I could understand he had other commitmenmts. Probably at the local bar because he seemed pretty frustrated at all the viruses that had attacked my poor old Dell.
Dave returned five days later and worked for hours. I'd already backed up everything but a few files, so it didn't take long for him to dump my system, clean it, and reload, only another four plus hours. Now I'm in computer heaven. My internet runs like the wind and my old baby is like brand new.
Here's my computer problem advice for today – don't screw around with cousin Bill who thinks he knows what he's doing and is dirt cheap. You're only going to end up more frustrated. Call the Geek Squad. They're fun and sure know what the heck they're doing.
Be sure to join me along with Barbara Clark, Ann Cory, Kate Hill, Tuesday Morrigan, for Guest Author Day over at Sherrill Quinn's Follow Your Passion Yahoo Group;
Saturday July 14, 2007
9:00 am – 9:00 pm CST
We'll all have some neat prizes along with tantalizing excerpts. Until then…
Happy Writing!
Sloane
June 23, 2007 | General
Triskelion Publishing has decided to file Chapter 7 bankruptcy through the Arizona courts on July 2, 2007. The authors were notified by a general email from owner Kristi Studts the afternoon of June 20.
What does this mean to all of us authors? Quite simply that our books, contracts and royalties are frozen until the court makes its decisions. Unfortunately, this could take years. So for any of us to move to a new publisher means we have to produce fresh stories.
Triskelion Publishing is still selling books off their web site, but none of the authors will see an income from these sales. I ask that you please be aware, should you decide to purchase any of these fine books from Triskelion, that we authors will not receive an accounting and therefore no money.
I also want to thank all of you for your support and for helping me achieve my goals. Our newsletter and this ol' gal will still be around for a long time.
Now I'm off to write new stories then submit them to the wonderful publishers who have already requested my work.
Have a great weekend.
Happy Writing!
Sloane