Archive for the 'Excerpts' Category
July 27, 2009 | Excerpts, Friends
As an avid reader, I appreciate all genres and like to keep up with the latest release in each. One of my favorite authors is Robert Appleton because I absolutely love the diversity of his work. Rob writes in a variety of genres, mainly science fiction and historical. His latest book, SUNSET ON RAMREE is a rare insight to a little known event that took place in the Bay of Bengal during WWII.
Among Rob's recent sci-fi publications are Charlie Runs Rings Around the Earth, The Basingstoke Chronicles, and the thrilling Eleven-Hour Fall survival trilogy. He also writes the imaginative Esther May Morrow's paranormal series as Arthur Everest. A keen footballer and kayaker, he lives in the hills of Lancashire, England.
His publishers include Eternal Press, Uncial Press, Lyrical Press, Club Lighthouse Publishing, and Damnation Books.
Be sure to check out Rob's WEBSITE to learn more about this talented author and his other excellent books or at his Mercurial Times BLOG.
SUNSET ON RAMREE
Robert Appleton
Eternal Press
Historical, War, Suspense
E-book & Paperback
$3.95
Word Count 15,000
Released July 7, 2009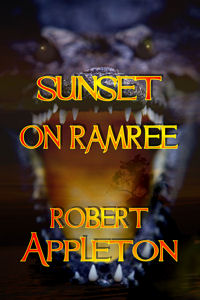 Blurb:
It is the deadliest crocodile attack ever recorded. On February 19th, 1945, one thousand Japanese soldiers retreated into the fetid mangrove swamps of Ramree Island hoping to escape their British enemy. However they soon discovered that the sixteen kilometre stretch of marshland that promised to offer safe cover, had delivered them straight into the jaws of hell.
Inspired by true events during WWII, Sunset on Ramree follows young musician-turned-soldier Shigeatsu Nakadai and his best friend, Kodi, as they head ever deeper into danger.
Excerpt:
I try to conjure a memory of before the war—something, anything to distract me—but draw a blank every time. I purse my lips to whistle a familiar tune, but nothing comes out. I shut my eyes tight and roll them inward until they ache and release a heavy pulse. The screams and shots and calls for surrender are still there. Kodi and Sobiku are still there. I imagine the reed of a clarinet between my lips and the long, sustained breath given to making sweetly aching music. But nothing comes out. No tune, no melody, no woodwind to soothe the mangroves. Just the damp, cold harmonics of the night. I'm lost without music, and there is no music on Ramree.
Sloane's Review
Sunset on Ramree is a book you not only read, but live. Each word draws you in deeper to experience the fear and terror along with the lead characters, Shigeatsu and Kodi. This is one book I will not forget for a very long time and highly recommend you read. The e-book is available at ETERNAL PRESS. You can order the paperback at AMAZON
For more info on the history behind SUNSET ON RAMREE, visit HERE.
There's also a youtube LINK to watch a gripping video.
I'll be back later this week. Until then…
Happy Writing!
Sloane Taylor
Sweet as Honey…Hotter than Hell
May 20, 2009 | Excerpts
Today's selection is from PHOTO OP! released by Aspen Mountain Press.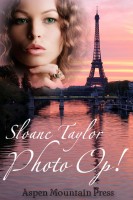 Our heroine, Emily, is on an exploring mission.
"These are the voyeur rooms." Emily jumped at the sound of a deep voice in the quiet hallway.
Dammit. She'd been caught snooping and had no plausible excuse to save her nosey ass.
Her hunky dessert server nodded to the long line of wooden doors on either side of the deep red plush carpet. "Perhaps you would like a glimpse inside one?"
Offense is the best defense.
She drew herself up to her full five foot eight. "Is the waitstaff allowed up on the second floor?" Sexy as he was, a girl still had to be careful.
"Only by special request of a member." His lips twitched at the corners. "Do you have any specialties you would like to request, Emily?"
"No, and if I did it wouldn't be any of your business." The broad corridor seemed to have shrunk to a tunnel as the temperature soared.
"Perhaps a cool beverage would soothe your flushed face." He reached for her elbow, his fingers warm and strong. She surprised herself by not backing away. "Shall we?"
"Since it appears we're going to become new best friends, what's your name?" Her voice squeaked out the words.
"Nicholas Caine." He ran his eyes slowly down her body, then back up. "And I hope we will be more than friends."
Juices filled her panties at the intriguing thought of more.
"You're British, aren't you?" Anything to create a diversion and calm her senses.
"Spot on, but I suspect after twenty years of photographing the world you have learned to place many accents." His lips curved in dominant a manner and her breasts tightened. "And to answer your other question, yes I am allowed up here. I happen to be one of the owners."
Voyeurism seems to be hotter than Em expected.
Nick cocked an eyebrow and refilled her glass.
Emily sank onto the gold lacquered medallion armchair, her bottom slipped against the mauve silk fabric.
"Everything all right?"
"Yes, fine. A little warm in here, isn't it?" She fanned her flushed face before swallowing another cold sip.
He stepped away and did something at the brocade covered wall. A moment later cool air swirled around her. He turned to her and smiled, then gestured toward the glass.
An overly made-up middle-aged blonde sat on the side of a canopy bed, wearing the hottest red come-fuck-me-heels Emily had ever seen. One skinny leg crossed over the other, masking her color coordinated panties.
Emily sat straighter in her chair, curious to see what would happen next. Purely for research, she tried to convince herself, ignoring the tingle low in her abdomen.
The woman leaned back on her outstretched palms and tossed her shoulder length hair, her long breasts bobbing with the movement.
A much younger man silently entered through a side panel. Tall, muscular, and absolutely lickable. His muscles rippled as he walked buck-naked toward the bed, his substantial purple cock pointed north.
"This seems to be more to your liking." Nick laid his hands on her bare shoulders. A shiver ran through her as he spread his firm fingers across her décolleté. She could only nod as his heat traveled lower to her tight breasts.
Nick pressed his thumbs into Emily's back, massaging the stress kinks out of her tense muscles, creating a greater need between her thighs. She sighed as his caressing fingers glided up her throat, her secret zone no man had as yet discovered.
A new world opens up for Emily.
"What's in this room?" Her heart skipped a beat. She couldn't tell if it was fear or pleasure at the possibilities that motivated her, but she had her fingers crossed they would complete what he'd started a short time back.
"An experience that definitely requires leading up to." He laid his warm hand over hers as she tried to turn the brass handle. "Emily, what happens in here is not for everyone's taste. Remember where you are." He studied her hard. A small frown turned down his lips. "Do you understand me?"
A moment of reservation crossed her mind before she nodded. "Let's go for it."
"As you wish." He pushed open the oak door with a large ornate dragon carved on the front panel.
She wrinkled her nose as incense assailed her the moment she crossed the threshold, not necessarily unpleasant, just pungent. An array of votive and pillar candles lit the red and white room enough for her to make her way to a throne style chair.
"You are in my seat." His voice took on a more authoritative tone.
"I beg your pardon?" He couldn't be serious.
From his stance to his face, Nick's entire demeanor changed to a man in control. Exciting, which surprised her. "You will move to the side."
She jumped off the uncomfortable chair and followed his bidding, convinced it was the booze that made her do it.
"Pour me a drink." It seemed please and thank you had obliterated themselves from his vocabulary.
She bristled at his directive, amazed to find that she had already walked to the bottles of Saki neatly arranged on a silver tray in the far corner.
When she carried the drink back to his highness, she noticed he had shrugged into a red silk robe embroidered with gold thread over his clothes and had perched himself on the gilded chair like a king awaiting his handmaiden. Yet, somehow his change in attitude excited her.
She glanced around, not wanting to meet his eyes for fear he guessed her little secret, then she spotted the elaborate beaded headdresses, decorating two walls.
"Do not even think of it." He never bothered to look at her, but somehow had sensed her appreciation and desire to wear one of the gem studded crowns.
She tossed her head with a haughty air. "I have no idea what you mean."
He ignored her lie and pointed toward another tray. "I'll have a small plate of sushi."
Emily realized she'd had plenty to drink, way over her normal limit, but she wasn't drunk enough yet to tolerate much more of Nick's little attitude, no matter how sexy he was.
The silver tongs slipped from her fingers, clattering to the china plate.
"Careful, Emily, I would hate to see you get hurt."
She glanced over her shoulder to see his concerned face watching her. From barn boss to tender in a heartbeat confused her.
"Okay, Nicky, what the hell is going on here?" She laid his fishplate onto a strange little end table at his right.
"You asked to see what was in this room." He slid an eel roll into his mouth and chewed. She watched his Adam's apple bob, her nipples hardening as he swallowed. "I decided to give you the full experience, first hand."
"I hope there's more to it than slavery."
"Much more, my little novice, a pleasure and teaching too few in this world enjoy." His lips curved into a sensual smile. "The greatest lesson in life that one can learn… is to forgive," Nick said as he pressed the remote that opened the red silken drapes.
A dainty Asian woman swayed from the ceiling, like a small bird falling to its death, bound in a complex design of involved rope twists. Emily winced as the woman raised her head, knowing the thin rope, running from her neck to her vagina, had to have pulled like hell against her tender flesh.
"It looks painful." She tilted her head to the side, curious to see the expression on the captive woman's face.
"Not really. There might be a bit of chafing when it's over, maybe some light stinging, but great care is taken to assure no injuries occur. It's all very sophisticated. We use candles along with oils and incense to enhance the experience." He gestured an arm around their room. "Very much like you see here which helps to set the voyeur's mood."
"So what's this non-painful, lesson learning, stylish form of torment called?" She avoided his eyes, a bit afraid of what might come next.
"Kinbaku, which translates to beautiful bondage."
Review from WitchGiggles at Alternative-Read;
This is a bit different than the norm and quite frankly I adored it. I wasn't too sure of how it ended until I realized it left the perfect opportunity for another wow part (hint, hint). The woman was just the way I like to read them; strong, intelligent, yet at the same time vulnerable, while the male was assertive, smart, and able to be tender at the same time. It was a mix made in heaven (and the mind of a talented writer) which is easily one to read over and over.
You can read the complete review HERE.
Sloane Taylor
Sweet as Honey…Hotter than Hell
TEDDI TURNS ON 2009 EPPIE Finalist – Erotica www.aspenmountainpress.com
FRENCH KISS www.eternalpress.ca
www.sloanetaylor.com www.myspace.com/sloanetaylor
April 21, 2009 | Excerpts
The Naughty Ladies of Nice
Book Five
FRENCH TICKLER
Eternal Press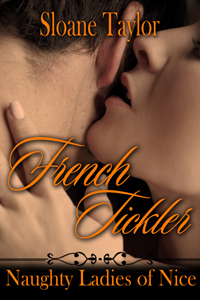 Blurb:
Lingerie designer Samantha Bradley is on the brink of major success. While having the time of her life in Nice she meets sexy Cisco Bernier, a man who turns her heart inside out and makes her body sizzle.
Despite being France's key criminal prosecutor, Cisco's success in relationships has been less than zero. When he meets Sam, his staid world goes up in flames.
Their happiness is short lived as their pasts collide. His underhanded mother and her mob-connected father resurface to threaten their future.
Excerpt:
"Do you not think her nipples are larger?" Cisco pointed to the charcoal nude on the young woman's sketch pad. He looked across the coastline toward the subject in question as the middle-aged woman stooped and spread a towel across the pebbles.
"Perhaps, but it's really hard to tell at this angle." The artist swiped a thumb along a black line, softening the bold stroke, and laughed. "Besides, she won't sit still long enough to get it right."
She tossed her long black hair across her bare shoulders, and a light scent of honey drifted up to him, clouding his mind.
Cisco yanked his tie from around his neck, grateful for the light breeze off the Mediterranean that cooled his hot skin.
"Maybe if you…" He slipped the thin stick from her long fingers, then squiggled a larger, more intricate circle on the wheat colored paper. "Something like that."
"Are you an artist?" She glanced up. Her large green eyes reminded him of polished emerald, sharp and clear, and just as exciting. At that moment he would be anything the beautiful American wanted him to be.
4 1/2 HEARTS from The Romance Studio.
Reviewer: Brenda Talley
Posted March 9, 2009
Ms. Sloane Taylor used her fabulous way with words to explain these two alpha characters. Sam was from the US; Cisco was from Nice. The unknown factors in each live could have gotten them killed. The happily every after was a long way from easy to obtain.
The two main characters were so focused on each other they failed to notice the problems which arose in the other's life. This story had all the important elements even though it was a fast-paced novella. The sensuality was sizzling! The suspense was intense. The outcome was surprising. This book had drama and was hard to put down. I was glued to the pages because I wanted to know the outcome. It was definitely not an obvious storyline.
I recommend this book to anyone who likes their sex scorching and their conflict resolved. This was a great book to read when the time is short but you need a quick romance fix.
You can read the entire review HERE
Sloane Taylor
Sweet as Honey…Hotter than Hell
April 14, 2009 | Excerpts
The Naughty Ladies of Nice
Book Four
FRENCH KISS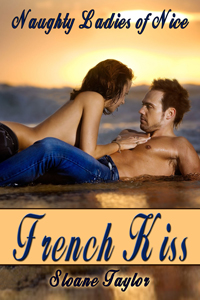 BLURB:
Straight-laced children's author, Rachel Conklin, awakens on a deserted island wrapped in the arms of a sexy pirate. Convinced she's in a dream conjured from the pages of her breakout novel, Rachel casts her inhibitions to the wind and seduces the handsome sailor. Rides the waves of passion
Pediatrician Henri Bernier wasn't quite sure what to do with the sexy mermaid he'd pulled from the sea. Then she started kissing him and sent his libido soaring. Now the good doctor is ready for anything.
EXCERPT:
Warm tingles started in her belly, pooling low in her abdomen, a sensation she'd long missed. His lips were strong, supple, working her own apart. She glided her tongue along the seam of his mouth, loving the salty taste and the rasp of his beard on her bruised face. Moisture filled her panties, making her alive and wanting more. She laced an arm around the broad shoulders leaning over her, curling her fingers in his long, silky hair.
Her nipples puckered more with each stroke as he glided his hand along her spine, continuing lower over the curve of her ass to her thigh. Wet sand greeted her when he smoothly rolled them over. Her legs parted, welcoming her secret pirate. Nope, make that swashbuckler. More romantic.
Shivers raced through her and he held her closer. His body heat, a beautiful thing, shrouded them. Her breasts grew heavier, straining against her shirt, with his solid erection pressing into her. She wiggled closer, needing to feel him inside her.
Indistinguishable sounds filled her ears, forgotten lyrics from an old, sweet love song. She wanted to remember, but not enough to give up her fantasy man and the erotic glow of mystery sex.
A LITTLE LATER:
Rachel wiped the steam from the cheval mirror and caught Henri's image. He stood in the bathroom doorway, frozen, staring at her reflection. She smiled at his shocked expression, enjoying the fact she had him at a disadvantage. The bath towel dropped from her fingers, exposing her breasts. With her good hand she pulled the wet hair off her back then draped it over a shoulder, exposing her neck.
He walked forward like a man in a trance, stopping close enough behind her to hear his raspy breaths. His finger glided down her spine, lingering on the elastic band of her red bikini panties.
"You are beautiful." His words came out hoarse as he seemed to struggle for oxygen.
"Merci, Henri." Her smile widened, her nipples pebbling at his gentle touch. She reached back for his free hand, hanging limp at his side, then laid it across her bare ribcage. His smooth skin felt warm against her damp flesh.
"Your wrist should be in the sling." He laid a soft kiss on her shoulder, wrapping a hand around her forearm.
Your cock should be inside me. A shiver ran up her spine at the delicious thought.
His fingers played across her abdomen, sending tingles of anticipation, as they climbed higher. He cupped her breast, massaging her aching skin until she thought she would come. The entire time he watched her reflection in the mirror as his thumb made slow, teasing circles around her areola.
A heavy pressure built in her abdomen, increasing with each stroke until her legs trembled. She gritted her teeth as a long shudder ran through her.
She pressed her ass into his solid erection for support and her panties filled with cream.
God, how she needed some part of him inside her.
Desire took control. With shaking fingers, she guided his other hand down from her waist, lower until she stopped at the elastic band on her wet panties.
A soft laugh sang in her ear as he slid along the fabric, across her mound and stopped. Breath caught in her throat, waiting for him to enter.
He moved his hand to her thigh, edging painfully slow to her aching nub. She wrapped her fingers around his forearm, encouraging him to travel below the saturated cloth. As if understood the unspoken request, his fingers glided between her wet hairs.
First, one thick finger entered her throbbing cavity, the sensation rocking her world. He laughed again and inserted another finger, massaging against her sweet spot.
She arched her back, her head resting on his shoulder, preparing for the joy of release.
"Come for me, mas petit." His heavily accented words pushed her closer while his fingers worked magic in her womb.
Her trembling body tensed. She clutched his arm, squeezing her thighs tight around his hand, moving her hips against him. Shivers coursed through her. The surmounting pressure almost unbearable, until her world exploded into shards of crystal.
He spun her limp frame in his arms, his fingertips skimming across her tender nipples. She melted against him, his crisp hairs pressed into her breasts.
Sloane Taylor
Sweet as Honey…Hotter than Hell
April 7, 2009 | Excerpts
The Naughty Ladies of Nice
Book Three
FRENCH TWIST
BLURB:
Interpol agent Claudette D'Laquois is on the run. Dull Uncle Paul and his rundown chateau in Nice, France are her only safe haven…but she never planned on the delectable estate manager who is even more dangerous than the Russian mob boss who wants her dead.
Three weeks of overseeing operations at his friend's orchard seems like the ideal vacation to CPA Don Hobbs. And so it was—until a French sex goddess pulls him into a world of drugs, intrigue, and erotic fantasy.
EXCERPT:
"Baby, you're up to your beautiful brown eyes in shit." Don leaned against the office door frame, his arms crossed over his chest as if that could control his temper.
Claudette gave him one of her typical French sniffs. Chicks from Marseille had one hell of a disposition, he decided for about the twentieth time since he'd been forced to work with her.
"Bonjour, Monsieur Hobbs. It is nice to see you, too, this beautiful morning." Again with the sniff. He'd enjoy nothing more than spanking the firm ass of his unwanted assistant, but figured she'd rat him out to her Uncle Paul.
"Glad you're able to relax with a ton of that reeking stuff parked in the front yard." Don blinked and shoved his glasses up his nose, forcing his eyes away from her long legs stretched across the scarred desktop. Just once, he wished, she'd have a little decorum and wear slacks to work. "Do you have plans to do something with it?"
"Mon ami, you make too much of small things." Claudette crossed one knee over the other and didn't bother to tug down her short red skirt. Don swallowed hard. She sniffed again and held her hand at arm's length, inspecting her nails. That irritating, hoity-toity attitude of hers had to go. "Plus, you exaggerate. I simply checked one of the little boxes on the form and mailed it to the supplier. He obviously made the mistake, if what you say is truth."
He slapped the side of the desk to get her undivided attention. Right then he'd do anything to erase the image of those well toned calves wrapped around his neck. Dammit, why were French women so sexy?
"No, doll, there's literally a ton of cow dung right out there on the circular drive." He hooked a thumb over his shoulder, his other hand nudging her legs aside to grab a sheaf of papers. "I don't know what the hell you ordered, but that's what you got. So what's your plan, baby? I happen to have a shovel in your size."
Her chair skated back, just short of hitting the bookcase. Gritting her teeth, she tossed the little glass nail file she'd been using onto a stack of papers and stood.
"Do not treat me like a stupid woman—." Cheeks flaming, she got right into his face. "Or your wife."
"One, you're not stupid. You only like to pretend you are." He ticked the points off the fingers on his free hand. "Two, thank God I don't have a wife. With my bad luck, she might have been just like you."
She glared at him for one intense second before she jerked the order form from his hand.
"You, monsieur, need to be taught manners."
"You, mademoiselle, need a good spanking."
A coy smile tweaked the corners of her pouty, full lips. "That may be so, you uptight Américain, but this is not the time to discuss my sexual preferences."
5 RED ROSES from RED ROSES FOR AUTHORS
No one does short, sexy books better than Sloane Taylor! She combines sensual romance with mystery and intrigue and comes up smelling of roses. Sweet and sassy. Five red roses, Morna
Sloane Taylor
Sweet as Honey…Hotter than Hell
March 24, 2009 | Excerpts
The Naughty Ladies of Nice
Book Two
FRENCH DELIGHTS
Eternal Press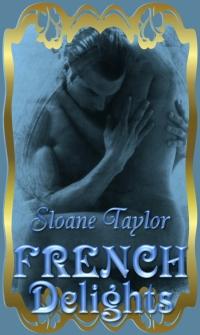 BLURB:
Lisette Hugo arrives in Nice, France to rescue her irresponsible friend then pamper herself with an overdue vacation. As an added delight, her run down rental cottage comes complete with a sexy French gardener well equipped to satisfy all of her fantasies.
Paul D'Laquois, an impoverished research scientist scraping by on the remnants of his family's estate, has poured his meager resources into his work. He couldn't be happier when a wealthy tourist rents his dilapidated cottage. That she's beautiful, seductive and more than interested in him convinces Paul he's not as dried up as his orchard.
EXCERPT:
The harsh light beat down on him, casting a long lean shadow as it hid his strong features beneath a wide straw hat. He dipped the brim lower, almost as if he took pleasure in teasing her. His body moved in time to the steady beat of the sensual music playing in her mind. She mouthed the lyrics to a song she'd often heard from her parents' bedroom, You can leave your hat on. A knowing smile tugged at her lips. She leaned back in the overstuffed chair, her hands resting on the threadbare arms, ready to appreciate yet another of his magnificent shows.
Each afternoon he performed, and each afternoon she'd cut short any appointments to have a front row seat and watch his striptease. A delicious habit she had become addicted to.
Lisette stared straight ahead, fascinated as the stud began his routine.
He flexed his arms and she pressed her thighs together, enjoying the pressure that built between her legs. His muscles rippled as he undid the first two buttons on his blue chambray shirt. He turned sideways, just enough to build the anticipation of baring his muscular chest.
The Chippendales had nothing on him, she thought scooting to the edge of her chair, grateful for the darkness in the room that shrouded her.
The stiff red lace on her bra pressed into her swollen breasts. She rolled her shoulders to make the fit more comfortable, but it did nothing to relive the tingle in her nipples.
She undid the first three buttons on her blouse, mimicking his actions. Her imagination raced at the thought of his long fingers on her. Pretending it was his, she dipped a finger down her cleavage. Her breath came in short pants and echoed in the now silent room.
He tugged his shirttails from his slacks in a smooth move that exposed his sharply defined abs. Droplets of sweat glistened on his bronze flesh as he lowered the shirt from his body. Lisette watched, her eyes glued to the beads as they crawled down his back, delving below his waistband. She swiped her tongue over her parched lips, wishing she could lap up every single drop.
Neatly, he folded the worn cloth then bent and laid it at his feet. His languid movements a beautiful torture to this single woman. He allowed his hat to roll off his head and down his arm then placed it on the shirt. His black ponytail brushed against the thick column of his neck. The loose ends of the thin leather strip holding his lion's mane in place grazed the small white scar on his shoulder.
He stretched his arms high in the air then arced them downward and rested his hands at the small of his back. Slowly, he swiveled his upper body from side to side. She licked her lips again as she stared at his dark brown nipples, tight and pointy.
5 RED ROSES from Red Roses for Authors
This is another in Sloane Taylor's excellent short and sexy books about the Naughty ladies of Nice. Once again she hits the sweet spot. Sloane combines sensuality with humour and comes out a winner! Linda
You can read the entire review here
Sloane Taylor
Sweet as Honey…Hotter than Hell
March 17, 2009 | Excerpts
The Naughty Ladies of Nice
Book One
FRENCH TART
Eternal Press
www.EternalPress.ca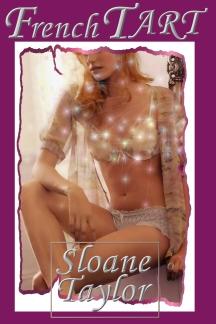 BLURB:
Determined to prove herself and shed her party girl image, Donatienne Dubois pins her hopes on the exclusive cooking school in Nice, France. One by one her expectations are shattered by a foul-mouthed parrot, a bogus Michelin chef, and a headmistress with a heart of tungsten steel. Her lifesaver is a bad boy hunk too hot not to handle.
Sebastien Reinard is incognito, hating every minute. To pose as a student while protecting a rich wild child is his version of hell, until he partners with the slice of Crème Brule good enough to eat.
Class takes on a whole new meaning as Doni and Sebastien heat up the kitchen when they discover honey has better uses than sweetening tea.
EXCERPT:
"Ooh la la, Mademoiselle, voulez-vous à la baise?"
Donatienne's running shoes squeaked to a halt on the cracked, gray linoleum. Fuck him? She didn't fuck just anyone, especially if she didn't know his name.
"Not unless you have more money than I could ever dream of, you pig." She refused to turn back toward the crackly voice.
"What? Is your pussy made from gold?"
She gritted her teeth. Insolent bastard.
"Yes, it is. And equipped with a set of rusty fangs to rip off anything that tries to get inside." Smartass answers weren't her best first impression at the haute cuisine cooking school she'd waited so long to attend. She had to shake the lowlife who thought he could get away with insults before Chef tossed her out.
Ignore him. Just keep moving. Doni straightened her shoulders and walked past the double door refrigerator.
"Perhaps you prefer to give Pierre a blow job. He would make it worth your time." A cackle filled the air. "Come on, baby. You know you want me, you slut."
The fine hairs at the nape of her neck jumped to attention. Doni whirled around, swinging out her arm. She launched her heavy tote at the dumpy man in the splattered apron planted in front of the stainless steel stove.
Ooof.
A satisfying sound to Doni's ears as her bag connected with his diaphragm and he buckled.
She sprinted a dozen steps toward him, punching air until her fists mashed into his doughy flesh. He shot out his hands. She dodged to the right, away from his reach. Her feet slipped on the waxed floor. Flailing her arms, she grabbed for anything handy. Crash. A white cloud billowed up, blinding her. They fell to the floor with Doni on top, tangled in a mass of apron and legs.
"Protect your balls. Protect your balls. The slut is crazy."
WHAT THE REVIEWERS SAY:
5 RED ROSES from Red Roses for Authors Review
This is wickedly funny, sexy and enchanting. A short story you have to own. Five red roses, Anne.
4 ANGELS from Fallen Angel Reviews
This is a delicious book. French Tart is a fun filled romp through the kitchen. An enticingly, sensual short story that packs a big punch. Doni's character is fun, witty and believable. Sebastien is just plain old hot. I enjoyed Pierre the Parrot, he kept me giggling. The characters are well written and the humor adds just the right touch to keep this book very entertaining. Ms. Taylor has done a very good job.
Reviewed by: Dawnie
FOUR CUPS from Coffee Time Romance
Talk about being hot in the kitchen! French TART has the heat to get your blood boiling and keep it that way. Ms. Taylor's story has conflict and desire. The story flows smoothly from beginning to end. Her characters face unique situations that leave you laughing. The ending brings the story to a satisfying conclusion.
Liadan
Reviewer for Coffee Time Romance
Reviewer for Karen Find Out About New Books
I'll be back later this week. Until then…
Happy Reading!
Sloane Taylor
Sweet as Honey…Hotter than Hell
March 10, 2009 | Excerpts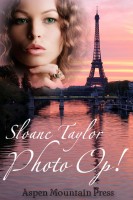 BLURB:
Photojournalist Emily Peters is in Paris when the opportunity to expose an infamous sex club sets her on fire. She never expects to be tied up in knots by the Devil.
Restaurateur Nicholas Caine prefers an inconspicuous lifestyle, but when a sex goddess enters his lair there's only one thing he can do…take her.
EXCERPT:
Her nose twitched as a subtle, yet pleasant, aroma surrounded her.
"It is pear, Madam."
Another tall handsome waiter, looking good enough to eat, stood at her side and without a word slid a menu in front of her. She glanced up into large chocolate eyes and her heart stuttered.
"Pardon?" Her voice came out on a whoosh of air.
"I noticed your attempt to distinguish the scent." He waved a large hand in the air. "Many of our ladies have had your same reaction."
She cleared her throat. "Delightful."
"At times, late in the evening, the air is infused with a hint of cinnamon and chocolate." His eyes twinkled as if he were sharing a dark secret. "Tempts one to indulge in a decadent dessert. Would you care for one, Ms Peters?"
A shiver weaved its way up her spine when he said her name. With shaking fingers, she took a gulp of ice water, ordering her oversexed body to behave.
"If nothing on the menu appeals to you, Chef Claude would be elated to whip up whatever you prefer."
British and gorgeous. And then it sunk in. Chef Claude.
"Is he Claude St. Cyr? The same chef who owns a cooking school?"
The waiter from every woman's fantasy grinned. "One in the same."
Now what the hell is he doing in a place like this?
"Ms Peters?" He tapped a well-groomed fingernail on the menu.
"What? Oh yes." She flipped open the leather jacket to scan the tasty treats, her one downfall. The card read like an international list of culinary sexual pleasures.
Spotted Dick presented by Jon
Bavarian Cream presented by Hans
Hot Soufflé presented by Francois
Mocha Butter presented by Motumba
Emily slipped the cap off her lipstick tube, then did an unhurried swipe along her bottom lip, wondering just how far the presenters would go.
"Do you see anything you like?" His deep voice played havoc with her senses as she squirmed in her damp panties.
"Too bad you don't offer Cumberland Rum Nicky. I enjoyed it at a restaurant in London a few years ago. Never found it again." His tanned face paled as if she'd requested to borrow The Crown Jewels.
"Perhaps a dish of Whim Wham?"
"No thanks, I'm fanciful enough." She laughed at her little joke about the true meaning of the Scottish pie. "I'd really like a Benedictine straight up and a cup of black coffee."
He nodded and walked toward the bar area.
Of all the waitstaff Emily had encountered or seen during her two hours over dinner, this last was the paix de la résistance. Sable brown hair caressed his white shirt collar. She'd give anything to run her fingers through the thick waves.
The Reverend and ladies met with her lickable waiter at the doorway. He stood to the side, gesturing for them to go first. The tallest of the women stopped and started up a conversation, but he backed away the moment she ran her fingers along his jaw line.
Seems like the help gets to play with the clientele.
Emily pulled the cap off her lipstick tube.
Smile, I think you're going to like this one.
REVIEW from ALTERNATIVE-READ:
This is a bit different than the norm and quite frankly I adored it. I wasn't too sure of how it ended until I realized it left the perfect opportunity for another wow part (hint, hint). The woman was just the way I like to read them; strong, intelligent, yet at the same time vulnerable, while the male was assertive, smart, and able to be tender at the same time. It was a mix made in heaven (and the mind of a talented writer) which is easily one to read over and over.
Posted by Alternative-Read.com reviewer: WitchGiggles
You can read the complete review at Alternative-Read.
Sloane Taylor
Sweet as Honey…Hotter than Hell
March 3, 2009 | Excerpts
Magnificent Men of Munich
TEDDI TURNS ON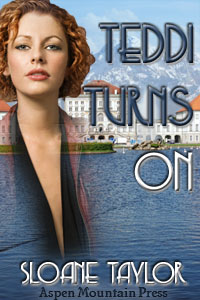 Aspen Mountain Press
BLURB:
No one's going to take advantage of Teddi Howard again, including the Munich tour operator who screwed her over when he reneged on their contract. Her only option is to face the little weasel.
Nothing stands in the way of the prominent, German businessman David Stiefle, especially a woman. No way is he ever getting involved, even if she is the sensual Mrs. Howard.
EXCERPT:
David Stiefel's eyes kept track of the copper-haired female while he rolled up the sleeves of his striped shirt. The woman was oblivious to the stir she created as she strolled through the crowded O'Hare Airport Business Class Lounge. He stroked an index finger over his lips and studied her sleek figure in form fitting slacks. The appealing rear view was too good to miss. The pleasure of not seeing a panty line forced him to shift in his chair to adjust for the sudden pull in his jeans.
She bent over, hung her jacket across the chair back, and glanced over her shoulder at him. Their gaze held as a smile tweaked the corner of his mouth. He crumpled the wrappings from his beef sandwich and knew he'd just been offered dessert. Now all he had to do was make his move.
As his good luck would have it, right there on the floor, just a few meters away was an airline ticket dropped by some unsuspecting person. Ha, unsuspecting, his Aunt Hilda. He knew that delicious looking woman had done it as a ploy to meet him.
He stood and paced off the few steps, never taking his eyes from her. He stooped, scooped up the packet, and walked the few extra feet before he glanced at the name printed in bold marker across the front. When he held it toward her she fumbled with her purse and carry-on as if she didn't know she'd lost such an important set of documents. Very cool.
Standing in front of her, he leaned down just enough to catch her scent. Shalimar. His favorite.
"Bitte, Frau, are you missing something?" He liked the way her eyes widened as if she were surprised. She was good.
"Thank you." She reached out a slender hand. Thank God there wasn't any of that garish nail art so many women seemed to prefer.
REVIEWS for the 2009 EPPIE Finalist – Erotica Category –
TEDDI TURNS ON
4 1/2 LIPS from Talking Two Lips
Sloane Taylor pens an erotic story that stole my breath away. Teddi Turns On is white hot, fast paced, and a joy to read.
Reviewer: Alisha
4.5 BLUE RIBBONS from Romance Junkies
Sloane Taylor's TEDDI TURNS ON will have readers wanting to travel to Germany and experience the charm of the country and the intensity of the men for themselves. I was charmed by Teddi's obvious love for her deceased husband and her mixed feelings about moving on without him. David's bold pursuit doesn't give her much of a chance to second guess herself. It was very easy to become absorbed in the plot and the characters' lives. Now I'm dying of curiosity about Teddi's little sister, Lonni. We get snippets about her throughout the story and it looks like she's going to be visiting Germany too. Fingers crossed that we will soon be seeing another of these wonderful heartfelt tales from Ms. Taylor.
Reviewer: Chrissy Dionne
4 STARS from Just Erotic Romance Reviews
The love scenes were sizzling and sensual with the ability to send your pulse sky-rocketing as the romance melts your heart. Most of this superb fairy tale is spun around Teddi being ready for dipping her toes into romance once again. The plot is well-written with delicious complications and a super secondary cast including Teddi's younger sister, Lonnie who adds a young energy to Teddi's tale. The villain evokes a feeling of disgust and you can't help hating him. A terrific beginning to the Magnificent Men of Munich miniseries, Teddi Turns On comes very highly recommended. It'll take you on a tour of Munich without making you leave your home. Ms. Taylor is truly an author to watch out for.
Reviewer: Mahaira Fatima
4 HEARTS from The Romance Studio
Overall rating:
Sensuality rating: Explicit
Sloane Taylor has written a fascinating book about the growing love of two people who have previously had neither the time nor the inclination to search. There are sub characters that are wonderfully interactive to the couple; however, the basic story centers around the two who find something in each other which was never before present. Ms. Taylor certainly knows how to hold the reader's attention while presenting her obvious alpha male and a not-to-be intimidated female counterpart. I found the entire story captivating and, of course, recommend it highly!
Reviewer: Brenda Talley
High Praise from Alternative-Read
This was a really great read as it explored the tension between two people who are not only strong-minded, but with totally opposite ideas of what constitutes a relationship. A humorous, witty look at a relationship with remarkably serious undertones, sensually explicit sex and simply falling in love. I thoroughly enjoyed this one.
Posted by Alternative-Read.com reviewer: WitchGiggles
I'll be back later in the week. Until then…
Happy Writing!
Sloane Taylor
Sweet as Honey…Hotter than Hell
February 24, 2009 | Excerpts
Magnificent Men of Munich
LONNIE HEATS UP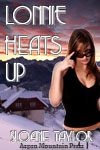 Aspen Mountain Press
BLURB:
Lost in the Austrian Alps, psychologist Lonnie Copley is forced to accept help from a Hell's Angel wannabe. She never expected to be trapped with the Aryan god in deserted Castle Flophouse.
Disgusted with cleaning up his client's dirty lives, attorney Wolfe Deider is in major career throes. He doesn't need some insolent woman mucking up his mind, even if she does have a mouth made for kissing.
EXCERPT:
"What the…" Wolfe ducked as slush spewed against the back of his helmet and ice slithered beneath his collar, along his neck. He had pulled onto the wide shoulder, to rest after the long day's drive, staring across the Alps in deep thought, when an approaching vehicle broke the silence he craved. The crunch of ice and screeching tires ricocheted in his ears.
"ScheiBe." Shit. The car seemed to be spinning out of control as it slid closer to the edge of the mountain. No one drove at that kind of speed in heavy, wet snow. The guy drove like a Dummkopf and whatever happened was just what he deserved.
Then the world moved in slow motion, all the action exaggerated. The car swung left then right, in what seemed to take an hour. The brakes screeched, metal grinding against metal, before the dilapidated sedan glided across the shoulder. It coughed, like an old man who smoked too much, and died, its nose too close to the rim.
"Hey, Kamerad." He pushed off the old tree trunk, waving his arms to catch the driver's attention, and fell with all his weight onto one knee. The sharp pain clouded his mind for only a second before he regained his footing.
He waved and hollered again, hoping the man would look up. Then he did; only it was a she, with fear pasted on her face.
He stumbled again then slid closer to the door handle and yanked.
Locked.
"Open it." The cold air poured into his lungs. "Open the door," he yelled again.
If the previous time passed in slow motion, her action was like a movie in rewind. She mouthed a few words. With a shake of his head, he tapped on the glass and pointed to the lock. This was getting them no where.
He jerked on the handle, careful not to rock the car any more than necessary. She seemed to finally get her senses back and edged her hand to the armrest controls.
The lock clicked and in a quick movement he flung the door open, flipped the key off, then grabbed her. He yanked with all his strength, but she would not budge. Damn, she still had on the harness.
He leaned across to release the seatbelt. She fought him, flailing, and the car shifted.
"Hey, Fraulein, do not move." She inhaled deep and briefly nodded her head. "We have to get you out of the car and keep it on the shoulder. The cows below won't produce good milk tonight if you squash them." Obviously humor was not working, because when she glanced up, her eyes were filled with tears.
He grabbed her arm and pulled. Ripping cloth and cracking ice echoed in his head. He hooked his hands under both of her armpits and tugged until he thought he would get a hernia. The damned steering wheel trapped her knees. With a grunt and a vigorous yank, she flew out of the car, knocking the wind out of him as he landed ass to frozen ground.
I'll be back later this week. Until then…
Happy Writing!
Sloane Taylor
Sweet as Honey…Hotter than Hell