A Little Known Horror of War
July 27, 2009 | Excerpts, Friends
As an avid reader, I appreciate all genres and like to keep up with the latest release in each. One of my favorite authors is Robert Appleton because I absolutely love the diversity of his work. Rob writes in a variety of genres, mainly science fiction and historical. His latest book, SUNSET ON RAMREE is a rare insight to a little known event that took place in the Bay of Bengal during WWII.
Among Rob's recent sci-fi publications are Charlie Runs Rings Around the Earth, The Basingstoke Chronicles, and the thrilling Eleven-Hour Fall survival trilogy. He also writes the imaginative Esther May Morrow's paranormal series as Arthur Everest. A keen footballer and kayaker, he lives in the hills of Lancashire, England.
His publishers include Eternal Press, Uncial Press, Lyrical Press, Club Lighthouse Publishing, and Damnation Books.
Be sure to check out Rob's WEBSITE to learn more about this talented author and his other excellent books or at his Mercurial Times BLOG.
SUNSET ON RAMREE
Robert Appleton
Eternal Press
Historical, War, Suspense
E-book & Paperback
$3.95
Word Count 15,000
Released July 7, 2009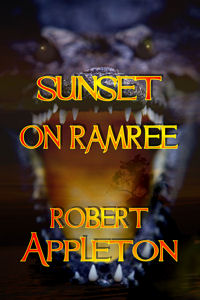 Blurb:
It is the deadliest crocodile attack ever recorded. On February 19th, 1945, one thousand Japanese soldiers retreated into the fetid mangrove swamps of Ramree Island hoping to escape their British enemy. However they soon discovered that the sixteen kilometre stretch of marshland that promised to offer safe cover, had delivered them straight into the jaws of hell.
Inspired by true events during WWII, Sunset on Ramree follows young musician-turned-soldier Shigeatsu Nakadai and his best friend, Kodi, as they head ever deeper into danger.
Excerpt:
I try to conjure a memory of before the war—something, anything to distract me—but draw a blank every time. I purse my lips to whistle a familiar tune, but nothing comes out. I shut my eyes tight and roll them inward until they ache and release a heavy pulse. The screams and shots and calls for surrender are still there. Kodi and Sobiku are still there. I imagine the reed of a clarinet between my lips and the long, sustained breath given to making sweetly aching music. But nothing comes out. No tune, no melody, no woodwind to soothe the mangroves. Just the damp, cold harmonics of the night. I'm lost without music, and there is no music on Ramree.
Sloane's Review
Sunset on Ramree is a book you not only read, but live. Each word draws you in deeper to experience the fear and terror along with the lead characters, Shigeatsu and Kodi. This is one book I will not forget for a very long time and highly recommend you read. The e-book is available at ETERNAL PRESS. You can order the paperback at AMAZON
For more info on the history behind SUNSET ON RAMREE, visit HERE.
There's also a youtube LINK to watch a gripping video.
I'll be back later this week. Until then…
Happy Writing!
Sloane Taylor
Sweet as Honey…Hotter than Hell