Archive for the 'Tuesday Teasers' Category
July 19, 2018 | Tuesday Teasers
No time for a lengthy European tour this summer? Then treat yourself to a mini vacation on the French Riviera with five fun-packed books in this box set where intrigue, romance, and Haute cuisine collide to create erotic adventure.
FRENCH TART Book 1
Bon Appétit…Satisfy all your cravings at cooking school.
Determined to prove herself and shed her party girl image, Donatienne Dubois pins her hope on the exclusive cooking school in Nice, France. One by one her expectations are shattered by a foul-mouthed parrot, a bogus Michelin chef, and a headmistress with a heart of tungsten steel. Donni's lifesaver is a bad boy too hot not to handle.
Mark Anderson is incognito and hating every moment. To pose as a student while keeping tabs on a rich wild child is his version of hell, until he partners with the dish of Crème Brulée good enough to eat.
Class takes on a whole new meaning as Doni and Mark heat up the kitchen when they discover honey has better uses than sweetening tea.
FRENCH DELIGHTS Book 2
Fantasy blooms in a garden of wicked delight.
Science is Paul's life. Close to a major breakthrough, all he wants is to be left alone with his trees and not be forced to entertain a corporate suit. That is until the suit arrives in a sexy sundress. Now all Paul can think about is experimenting on her, not his orchard.
Lisette is less than thrilled about spending a month at a moldering chateau on the French Riviera with only some dried up old scientist for company. However the hot man in dirty jeans tending his scraggly trees proves more of a garden fantasy than the nerd in a lab coat.
Sex and science create a volatile formula resulting in total delight.
FRENCH TWIST Book 3
Spies and lies bring a deadly twist to the City of Lights.
Interpol agent Claudette D'Laquois is trapped in the hellhole of life and unable to trust anyone. Desperate to regain control, she flees to the safety of her uncle's rundown chateau on the French Riviera. But Claudette soon learns the countryside has its own dangers when she finds herself alone with a sexy foreigner.
Uptight accountant Donald Hobbs ditches numbers for dirt to oversee his friend's orchard for three weeks. His well deserved vacation is perfect until a seductive mademoiselle drags him into a dangerous world of intrigue and erotic fantasy.
Illegal drugs and Russian mobsters take a back seat to a lethal night of sinful pleasure for Claudette and Don.
FRENCH KISS Book 4
Who needs safe and boring when you can play with a pirate on the French Riviera?
Burned-out author Rachel Conklin sparks her creativity on the French Riviera as a fishing boat cook. Things are smooth sailing until she's thrown overboard into a storm-tossed sea. Rachel awakens to find herself staring into the eyes of a sexy pirate-looking hunk who changes the course of her life forever.
Dr. Henri Bernier is an analytical man with a quiet life and a job he loves. The last thing he expects to find when he anchors his treasured fishing boat in the sheltered harbor of a small island is an accidental mermaid washed ashore. He soon learns his perfect life leaves much to be desired.
Will desire save them or drown them in a perfect storm from their pasts?

FRENCH TICKLER Book 5
Lace and handcuffs…tools of the trade.
New Yorker Samantha Bradley has a fun, sexy career designing ladies lingerie. Now that her business is on the rise, she treats herself to a well deserved break on the French Riviera where the women are glamorous and the men are gorgeous. After a few days Sam is eager to sample more than just the local cuisine.
Cisco Bernier is France's key criminal prosecutor, but his courtroom charm falls flat outside the hallowed halls of justice. From family relationships to romantic trysts, his success rate is abysmal until a chance encounter with a sensuous young American businesswoman spins his staid world out of control.
Sam and Cisco sizzle together, but any future is threatened when their pasts collide. Her mob-connected father and his deceitful mother resurface and drag them into a corrupt world of lies and danger.
April 12, 2011 | Tuesday Teasers
FRENCH KISS
The Naughty Ladies of Nice
Book Four
ISBN 978-1-60168-317-5
Aspen Mountain Press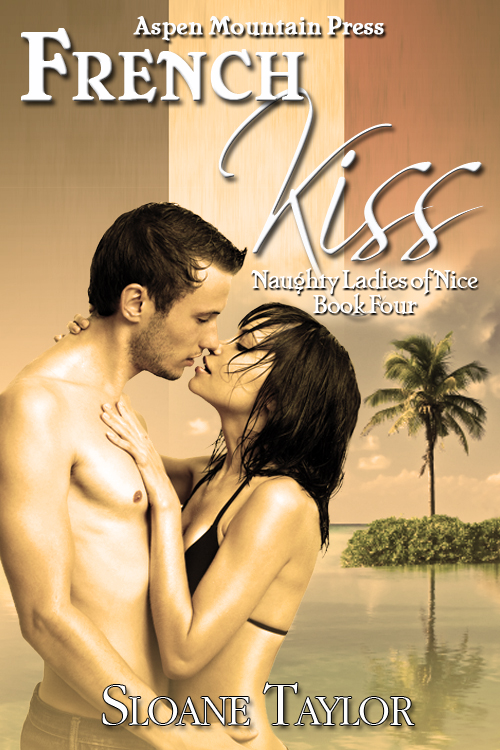 BLURB:
Straight-laced children's author, Rachel Conklin, awakens on a deserted island wrapped in the arms of a sexy pirate. Convinced she's in a dream conjured from the pages of her breakout novel, Rachel casts her inhibitions to the wind. Guilt-free, she seduces the handsome sailor and rides the waves of passion.
Pediatrician Henri Bernier wasn't quite sure what to do with the sexy mermaid he'd pulled from the sea. Then she started kissing him and sent his libido soaring. Now the good doctor is ready to practice anything.

EXCERPT:
His mystery woman wiped mist from the cheval mirror. In the cleared glass, Henri caught her image. He stood in the bathroom doorway, frozen, staring at her through their shared reflection. She smiled at his shocked expression, probably enjoying the fact she had him at a disadvantage.
The bath towel dropped from her fingers, exposing her firm breasts. Her large, dark nipples drew him like a siren to the sea and his dick sprang to life. The desires to lave and suckle her flooded over him while his stiff cock demanded he bend her over and fuck her until he came.
Droplets glistened on the ringlets of her long hair, reflected by the late afternoon sun. Several beads gathered, then made a slow descent down her spine. He stood mesmerized by the rivulet, staring as it glided to the sleek curve of her hip, following it lower until it disappeared between her firm cheeks.
With her good hand, she pulled thick strands of wet hair off her back and draped it over a shoulder, exposing her delicate neck. She held his gaze and bent over at the waist, offering him a seductive view of her pink labia. In slow motion, she drew a pair of red panties up her legs, then did a little hip wiggle and tugged them into place.
The shiny panties caressed her rounded ass cheeks midway on her derrière, accenting the creamy bare skin and framing the lower portion. His hands itched to cup her, squeeze the firm muscles, but his arms were frozen at his sides.
The kissable white flesh rounded above legs that went on forever down to trim ankles and slender feet. He imagined those long limbs circling his waist, better yet, wrapped around his neck as he watched his cock slide in and out of her.
"Magnifique." The word slipped out hoarse as struggled for oxygen.
He walked closer, his movements dreamlike. The honey shampoo aroma filled his lungs when he finally reached her.
"You are beautiful."
"Merci, Henri." A smile twitched her lips.
"Your wrist should be in the sling." He held up the black cloth with his other hand.
"I agree, but there's time for that later."
She leaned into him and reached back for his free hand, hanging limp at his side, then laid it across her bare ribcage. Her smooth skin felt warm against his damp palm.
"I intended to hang it on the handle, but the door popped—"
"Henri, isn't there something else you'd rather do right now than talk?"
His sex-engrossed brain finally registered her words. "Mai oui."
He laid a soft kiss on her shoulder, nipping his way along the side of her neck until he reached the tender area behind her ear lobe. Her nipples pebbled with his gentle touch, encouraging him to explore more of her.
His fingers played across her abdomen, sending prickles of anticipation up his arm as they climbed higher. He cupped her breast, massaging the firm mound until soft moans slipped past her parted lips. The entire time he watched her reflection in the mirror while his thumb made slow, teasing circles around her areola.
She wrapped her warm fingers over his other hand and guided it across her body. The combination of soft skin and firm muscle was the most erotic sensation of his life.
Dieu, how he wanted to dip into her hot pussy, His cock, with drops of pre-cum seeping through the slit, demaded relief.
With shaking fingers, she guided his other hand lower until she stopped at the elastic band on her wet panties. He grazed the fabric across her mound and stopped, then moved his hand to her thigh and edged toward her nub. She wrapped her fingers around his forearm, encouraging him to travel beneath the thin cloth. Anxious to please, he glided his fingers under the damp fabric and into her wet hairs, searching for her clit. After a moment of teasing, he slid first one finger, then a second into her hot, wet channel and watched her expression turn to ecstasy.
"Come for me, ma petit."
Her trembling body tensed. She clutched the basin rim, squeezing her thighs tightly around his hand, grinding her hips against him. Shivers coursed through her. Her whimpers turned to a scream of pleasure as she sprayed hot cum onto him. A unique feeling of joy settled in his heart.
He turned her limp frame in his arms, his fingertips skimming across her tender nipples. She melted against him, pressing her breasts into his chest hairs…
I'll be back tomorrow with Ella Vines. Until then…
Happy Reading!
Sloane Taylor
Sweet as Honey…Hotter than Hell
April 5, 2011 | Tuesday Teasers
FRENCH TWIST
The Naughty Ladies of Nice
Book Three
ISBN 978-1-60168-293-2
Aspen Mountain Press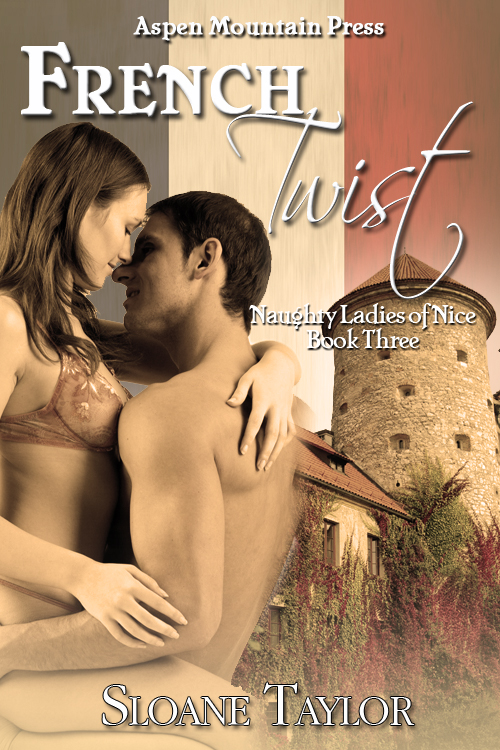 BLURB:
Interpol agent Claudette D'Laquois is on the run. Dull Uncle Paul and his rundown chateau in Nice, France are her only safe haven…but she never planned on the delectable estate manager who is even more dangerous than the Russian mob boss who wants her dead.
Three weeks of overseeing operations at his friend's orchard seems like the ideal vacation to CPA Don Hobbs. And so it was—until a French sex goddess pulls him into a world of drugs, intrigue, and erotic fantasy.
EXCERPT:
The throbbing burst into her head again. She rubbed her temples. "S'il vous plait, do not make this more difficult."
"Hey, I get it. You're this tough woman who can handle herself in any kind of danger. But, you need to look at it from my point of view." He stepped behind her and massaged her shoulders, edging up to her neck.
Instant relief.
She sighed with each knead that worked free the stress knots.
"Let's just say this Cesar doesn't come alone. You ever figure he's not a good guy?" Sarcasm streamed with each word.
"I know him." She shrugged off his hands and turned, her fists balled tight. "You do not."
"I'm not stupid and I do know a bunch of bullshit when I hear it." His words bounced off the walls. "You think this fucker is your long-lost savior. Not hardly likely, chickee, if he bailed on a high profile government job and left you to the wolves." He squinted at her, a vein pulsed along his forehead. "Was your commander right? Did you and James Fuckingbond have a couple of rolls in the sack and now you think he's gonna be the righteous man of the hour? Is that all it takes with you? A fast fuck and a couple of swats on the ass to make you bend over and suck mud?"
"You dare to speak to me this way?" Red flashed before her eyes. "One afternoon of sex and you think you own me? Know what my life is like? How it should be orchestrated? You assume the right to be my master?" Meeting him decibel for decibel, she yelled, "You are an idiot!"
She swung out her hand, ready to slap his face. Hard.
With an expression cold and fierce, he leaned into her.
"Don't do it. Don't do one fucking thing you don't want done back to you." He stood his ground, fists planted on his hips. "I'm a nice guy. A fucking gentleman until someone, and I don't care if she is a broad, muscles me. You got that? Loud and clear? Has it sunk you're your brain? I will not—"
Wap.
A low growl came from deep in his chest. In slow motion, he rubbed his cheek along her red imprint, eyes narrowed to slits. "That's it, baby, party's over."
He grabbed her wrist and spun her around, flopped onto the bed, and yanked her over his knee.
Rip.
Her cotton skirt shredded like tissue as he yanked it up over her ass, exposing her boy shorts.
"I told you before you needed a good spanking and the time's come." The satin panties were ripped away.

Whack.
His hand cracked down on her firm rear. The sting raced across her flesh, charging heat to her clit.
"Ow!" She struggled to get free, flailing her legs and arms, but his free hand pressed across her back, holding her in place. "You will pay for this, you le fils d'une chienne."
"Oh, I'm sure I will, but not as much as you. And I'm not a son of a bitch. My mother is a nice woman."
Whack.
"Nice girls don't talk like that either."
Whack. Whack.
"Donald, stop before it is—"
Whack.
"Too late? Too bad. Already is and I don't give a shit."

Whack. Whack.
His rigid penis pressed into her abdomen and dampness pooled in her panties. Pressure built between her thighs, increasing with each smack. She arched into him, loving it. Wanting this from the day they met.
Dieu, at this moment, he was her master. She wanted to be his equal, but not right now. Now, she wanted him to take control, had to know his brute force, needed him.
His hand slowed, then rested on her tingling flesh. He traced her butt cheek, edging closer to her perineum. She opened her thighs, praying he would slip between them.
He glided a finger along the crease, then dipped lower and stroked her swollen nether lips. Up and down, down and up, and she loved every stroke.
Cream seeped from her and her body begged for release. She no longer held back the moans.
"Had enough?" His words came out thick.
"Not of you." She twisted around until she sat on his lap.
I'll be back tomorrow with the award winning Rick R. Reed. Until then…
Happy Reading!
Sloane Taylor
Sweet as Honey…Hotter than Hell
March 22, 2011 | Tuesday Teasers
Those fun loving chicks are back and hotter than ever!
FRENCH TART
The Naughty Ladies of Nice
Book One
ISBN 978-1-60168-281-9
Aspen Mountain Press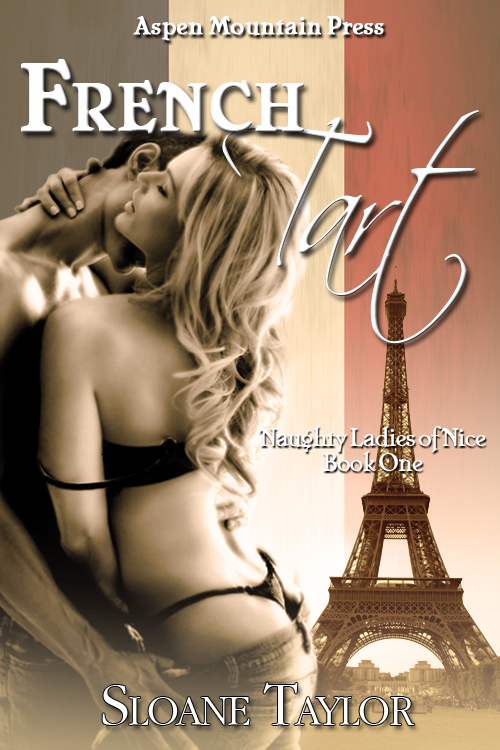 BLURB:
Determined to prove herself and shed her party girl image, Donatienne Dubois pins her hopes on the exclusive cooking school in Nice, France. One by one her expectations are shattered by a foul-mouthed parrot, a bogus Michelin chef, and a headmistress with a heart of tungsten steel. Her lifesaver is a bad boy hunk too hot not to handle.
Sebastien Reinard is incognito, hating every minute. To pose as a student while protecting a rich wild child is his version of hell, until he partners with the slice of Crème Brule good enough to eat.
Class takes on a whole new meaning as Doni and Sebastien heat up the kitchen when they discover honey has better uses than sweetening tea.
EXCERPT:

"Ooh la la, Mademoiselle, voulez-vous à la baise?"
Donatienne's running shoes squeaked to a halt on the cracked, gray linoleum. Fuck him? She didn't fuck just anyone, especially if she didn't know his name.
"Not unless you have more money than I could ever dream of, you pig." She refused to turn back toward the crackly voice.
"What? Is your pussy made from gold?"
She gritted her teeth. Insolent bastard.
"Yes, it is. And equipped with a set of rusty fangs to rip off anything that tries to get inside." Smartass answers weren't her best first impression at the haute cuisine cooking school she'd waited so long to attend. She had to shake the lowlife who thought he could get away with insults before Chef tossed her out.
Ignore him. Just keep moving. Doni straightened her shoulders and walked past the double door refrigerator.
"Perhaps you prefer to give Pierre a blow job. He would make it worth your time." A cackle filled the air. "Come on, baby. You know you want me, you slut."
The fine hairs at the nape of her neck jumped to attention. Doni whirled around, swinging out her arm. She launched her heavy tote at the dumpy man in the splattered apron planted in front of the stainless steel stove.
Ooof.
A satisfying sound to Doni's ears as her bag connected with his diaphragm and he buckled.
She sprinted a dozen steps toward him, punching air until her fists mashed into his doughy flesh. He shot out his hands. She dodged to the right, away from his reach. Her feet slipped on the waxed floor. Flailing her arms, she grabbed for anything handy. Crash. A white cloud billowed up, blinding her. They fell to the floor with Doni on top, tangled in a mass of apron and legs.
"Protect your balls. Protect your balls. The slut is crazy."
I'll be back tomorrow with author Dorien Grey and another of his fantastic novels. Until then…
Happy Reading!
Sloane Taylor
Sweet as Honey…Hotter than Hell
March 8, 2011 | Tuesday Teasers
SULTRY IN SWEDEN
ISBN-13: 978-1-60272-723-6
Amber Quill Press – Amber Heat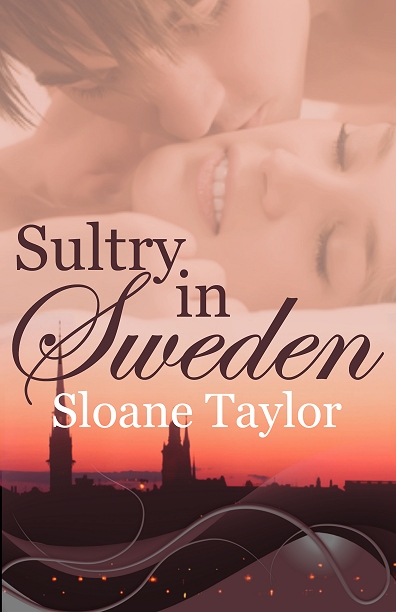 BLURB:
Battered hockey player Colt Coltrane arrives in Sweden with one thing on his mind–victory. A bad spill later, however, and he's at the tender mercies of the sexiest masseuse he's ever seen. From that point, all his good intentions go straight to hell when he strips for the Swedish iceberg.
Disa Ellstrom has had it with sports figures who always expect more from her than a massage. She can't believe her friend Carl sent the American goalie to her. Unable to ignore the man's pain, however, Disa takes on Colt and soon finds her heart melting faster than a spring thaw.
Combine a hot-blooded American and a Swedish spitfire and they're sure to set Stockholm ablaze…
EXCERPT:
Disa ran her fingers along Colt's deltoids, watching the strong muscles flex under her touch. His shyness had been endearing along with confusing. She wondered if his physical problem went farther than the normal aches and pains of a professional athlete. If so, she intended to help him overcome the situation. If not, then he was in for a satisfying surprise. She hoped.
A quick scramble across the sheet gave him more room, then she tugged on his shoulders so he would lay back against the pillow. He winced, but continued to draw his legs up onto the bed.
She combed her fingers through the crisp auburn hairs sprinkled across his broad chest, descending to his beautiful hard dick nestled in a curly, reddish tuft. She swallowed hard, fighting her desire to suck him until he came.
"You are a fine-looking man, Colt." She rose onto her knees, then traced a fingernail around his tight balls, her inner muscles clenching with desire.
He laid a hand on her calf and slowly eased it up toward her thigh, caressing her. His fingers climbed higher. A shudder ran through her from his gentle massage over her rear end up to the small of her back, then down, slipping a finger between her cheeks. Pressure built when he circled her sphincter, dipping his fingertip into the tight circle, out again, then back in.
She nipped at his balls, laving the tight sacs, savoring their salty taste. Her hand pumped his cock, starting slow and increasing the speed. His hips jerked, rocking with her rhythm, thrusting along her palm.
Deftly, Colt maneuvered out from under Disa and knelt facing her. He wrapped her in his arms and kissed her with a passion she had never known. She clung to him, loving his strength, savoring his taste. He pulled away, the skin pulled taut over his cheekbones.
"It's time to make you happy, baby. How about rolling over?" He tugged on her hip until she faced the brass headboard. "A little more to the center, so we can watch in the dresser mirror."
She scooted across the rumpled linen and glanced into the antique glass. Their eyes met in the reflection and breath caught in her throat.
"Spread your legs, Disa." He gently nudged her shoulders to the mattress. "I promise to go easy."
Kisses rained down her back as he mounted her. His thick cock played against her wet labia, the swollen head teasing into her. After a smooth thrust, he was inside, filling her. One firm palm kneaded her lower abdomen, while his long fingers curled through her pubic hair, covering her mons. He stretched a finger along her nether lips, separating the folds, and massaged her fiery clit.
Tingles shot through her, watching their wavy images across the room. His arm muscles bulged as he moved his hands to her hips, gripping them tight, guiding her to him.
He rocked into her, the strokes faster and faster, his balls slapping against her perineum. He clutched her hips, slamming into her, riding her hard. She reared back, keeping pace, clenching her muscles to hold him tight, straining to swallow him in deeper. She gritted her teeth, biting back the scream that tore through her. Her body pulsed with his touch, screaming for release from the magnificent torture that only he could provide. She clutched the sheets, wadding the warm material in her fists, and burrowed into them, inhaling his musky scent.
"Come for me, baby." His voice rasped against her back. "God, I need you…"
I'll be back tomorrow with gifted author Marie Treanor. Until then…
Happy Reading!
Sloane Taylor
Sweet as Honey…Hotter than Hell
March 1, 2011 | Tuesday Teasers
FINNISH FANTASIES
ISBN 13: 978-1-60272-572-0
Amber Quill Press – Amber Heat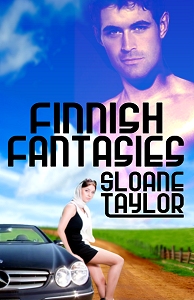 BLURB:
Being Maid of Honor in Finland over Midsummer's Eve is supposed to be fun, but for jingle writer Kate Adams it's a nightmare. Things go from bad to worse when her high-priced rental car dies on an endless ribbon of bone-dry country road. Help arrives in the form of a delicious-looking, blue-collar local who just might make it all worthwhile.
Rurik Jaacko knows better than to stop for the princess perched on the hood of a Mercedes. Hot women and expensive cars are trouble, but he's a sucker for any damsel in distress. The last thing he expects is to play bellhop to the sensual American, and love every sizzling moment.
A rustic pig farm and a friend who isn't combine with deception to create the backdrop for earthy passion and international fraud…
EXCERPT:
…With his hard-on raging, Rurik watched her nipples harden and peak through the thin knit shirt and wondered if was their heated exchange that excited her, or the fact he had taken control.
Women want to be dominated.
"There are times a man must take a stand with an unruly woman." He caught her wrist and tugged her closer.
"You wouldn't dare!"
Color drained from her cheeks, but was that a sparkle in her eyes?
He stopped for a moment and thought about the consequences of his action. Either it would be a beautiful success or Kate would pack her bags right after she rang the police.
"Yes, today I would." He dropped onto a birch stump and, with a quick yank, upended her over his knees. Her perfect ass across his lap was too tempting to stop.
"You'd better stop before it's too late, buddy." She turned her head and shot him a glare that could melt steel.
"It already is." His palm came down with a resounding smack.
"Ouch." She kicked her legs and wrestled beneath him.
He laid an arm over her shoulders to keep her in place, praying he had made the right decision.
"Rurik, you are so going to pay for this," she wailed, startling the birds from the trees.
And he knew he would, right after he laid another open-palm swat on her firm ass.
Whack.
She yelped at the contact, and he loved it. He may have been wrong about her being a spoiled, over-privileged woman, but a good spanking seemed in order to assert his authority. But then again, he had better run like hell when he finally let her up because she was going to murder him.
His hand came down again, not quite as hard, and lingered on her sexy rear, petting away the sting. He ran his fingers along the curve of her cheeks hidden under the tight denim shorts, wondering what his handprint would look like on her milky flesh. A stirring below his belt pressed against his fly, forcing him to shift unsuccessfully under her weight.
She wiggled against his cock, enhancing his torture, and he could not stifle the groan.
"Are you through beating me into submission?" Her words came out breathlessly, reminding him of how her lips had purred against his balls the night before.
"No. I do not think so." His hand smacked solid on her ass, pleased with her shriek.
He grazed a finger under the ragged edge of her shorts, inching up the inside of her thigh, seeking the heat beneath her damp thong. He hooked the lacey strap and tugged, drawing it tight against her swollen labia, released it and yanked up again. Her soft gasp carried to him on a gentle breeze.
The scent of her arousal drifted up, encouraging him to please her. He glided closer to her folds, teasing along the way with light pinches to her flesh. His finger slipped inside and he smiled, pleased by her wetness. Her pussy flexed against him, clenching—relaxing, milking him, like her mouth had done to his cock.
"I think you like this, Kate." He knew he did.
A whimper rose up like a caress, her hair tumbling free as she nodded.
He pulled out, then slid back in with two fingers, pressing firmer against her wall.
"Should I continue your torture or"— he continued massaging up and down, until she bucked against him. —"take you into the house and fuck you fast and hard?"
A soft gurgle washed her words away and his balls tightened…
Sloane Taylor
Sweet as Honey…Hotter than Hell
February 22, 2011 | Tuesday Teasers
PHOTO OP!
ISBN: 978-1-60168-139-3
Aspen Mountain Press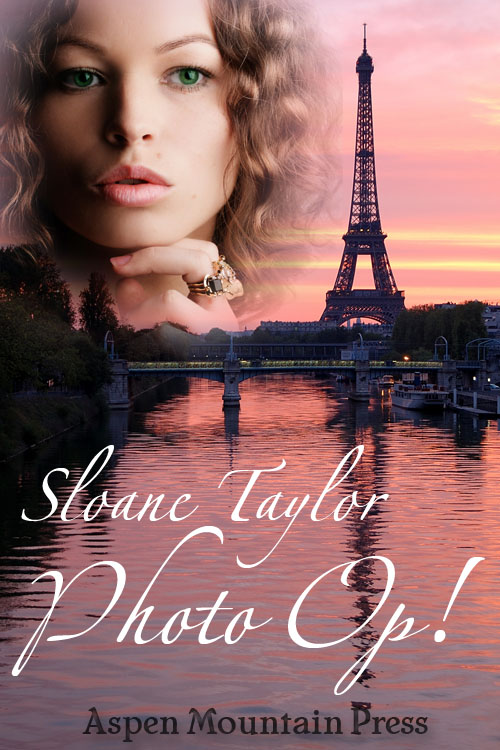 BLURB:
Photojournalist Emily Peters is in Paris when the opportunity to expose an infamous sex club sets her on fire. She never expects to be tied up in knots by the Devil.
Restaurateur Nicholas Caine prefers an inconspicuous lifestyle, but when a sex goddess enters his lair there's only one thing he can do…take her.
EXCERPT:
Her nose twitched as a subtle, yet pleasant, aroma surrounded her.
"It is pear, Madam."
Another tall handsome waiter, looking good enough to eat, stood at her side and without a word slid a menu in front of her. She glanced up into large chocolate eyes and her heart stuttered.
"Pardon?" Her voice came out on a whoosh of air.
"I noticed your attempt to distinguish the scent." He waved a large hand in the air. "Many of our ladies have had your same reaction."
She cleared her throat. "Delightful."
"At times, late in the evening, the air is infused with a hint of cinnamon and chocolate." His eyes twinkled as if he were sharing a dark secret. "Tempts one to indulge in a decadent dessert. Would you care for one, Ms Peters?"
A shiver weaved its way up her spine when he said her name. With shaking fingers, she took a gulp of ice water, ordering her oversexed body to behave.
"If nothing on the menu appeals to you, Chef Claude would be elated to whip up whatever you prefer."

British and gorgeous. And then it sunk in. Chef Claude.
"Is he Claude St. Cyr? The same chef who owns a cooking school?"
The waiter from every woman's fantasy grinned. "One in the same."
Now what the hell is he doing in a place like this?
"Ms Peters?" He tapped a well-groomed fingernail on the menu.
"What? Oh yes." She flipped open the leather jacket to scan the tasty treats, her one downfall. The card read like an international list of culinary sexual pleasures.
Spotted Dick presented by Jon
Bavarian Cream presented by Hans
Hot Soufflé presented by Francois
Mocha Butter presented by Motumba
Emily slipped the cap off her lipstick tube, then did an unhurried swipe along her bottom lip, wondering just how far the presenters would go.
"Do you see anything you like?" His deep voice played havoc with her senses as she squirmed in her damp panties.
"Too bad you don't offer Cumberland Rum Nicky. I enjoyed it at a restaurant in London a few years ago. Never found it again." His tanned face paled as if she'd requested to borrow The Crown Jewels.
"Perhaps a dish of Whim Wham?"
"No thanks, I'm fanciful enough." She laughed at her little joke about the true meaning of the Scottish pie. "I'd really like a Benedictine straight up and a cup of black coffee."
He nodded and walked toward the bar area.
Of all the waitstaff Emily had encountered or seen during her two hours over dinner, this last was the paix de la résistance. Sable brown hair caressed his white shirt collar. She'd give anything to run her fingers through the thick waves.
The Reverend and ladies met with her lickable waiter at the doorway. He stood to the side, gesturing for them to go first. The tallest of the women stopped and started up a conversation, but he backed away the moment she ran her fingers along his jaw line.
Seems like the help gets to play with the clientele.
Emily pulled the cap off her lipstick tube.

Smile, I think you're going to like this one.
I'll be back tomorrow with KC Kendricks. Until then…
Happy Reading!
Sloane Taylor
Sweet as Honey…Hotter than Hell
February 15, 2011 | Tuesday Teasers
ISABELLA IGNITES
Magnificent Men of Munich Book Four
ISBN: 978-1-60168-256-7
Aspen Mountain Press
BLURB:
Jet setter Isabella Carrington has it all, fame, heart-stopping looks, and carte blanche over every man she meets, except one. Staid accountant Rhineholdt Hoffman proves to be immune to her charms. Until one hot Venetian night.
Rhineholdt came to Venice to escape a life that holds no meaning. He's sworn off sex until a chance encounter with the luscious Isabella. Their heated affair sets the City of Bridges on fire and forces him to face the fears holding him back.
So what does a woman who has everything, except the right man, do for fun? Come… Take a peek behind Isabella's bedroom door.
EXCERPT:
Holt wanted to fuck her all night long. Ride her until sunup and again all the next day. He could not seem to get his fill of Isabella. In bed or out.
Isabella stretched up, her nipples sliding against his chest, and kissed him. He clutched her tighter, then scooped her up into his arms. In a few strides he stood at the side of her bed and lowered her onto the center of the duvet.
He looked down on her, allowing his fingertips to skim along the curve of her hip as she pulled her knees up, covering the part of her he wanted most to see.
"No, Issy. Lower your legs and open them." He traced his hand down the inside of her thigh. "I want to see all of you."
"Holt, but do not tease me any longer." She reached out her hand to his.
He mounted the mattress, then braced his arms on either side of her, isolating them from the world, and swung his body between her wide spread thighs.
He kissed her mouth, along her cheek, moving lower to her throat. She wiggled and tried to thrust her hips against him, but he caught her, holding her still.
"It is my turn to have a little fun, Issy." He sucked her nipple into his mouth, swirling the peak with his tongue until she moaned. A series of shudders ran the length of her as she reached for his cock, but he reared up just enough to stop contact.
Holt kissed his way down Isabella's body, laving at her navel until her hands pushed his shoulders lower, as if she craved his mouth on her hot clit.
Her swollen pussy was wet and shiny, the blonde hairs laced with her cream. He ran an index finger between her folds and she moaned. Her hips bucked as he slid his finger up and down, along her channel, barely grazing her clit.
He lowered his shoulders, nestling between her thighs, and traced his mouth along her skin until her wet hairs tickled his cheek. Slowly he spread her folds, the pink flesh quivering with his touch, then laved and sucked her labia, loving the sweet honey taste of her sex.
She grabbed the rails of the headboard, rising up to meet his lips, but he clamped her hips into place. Her trembling body tensed and he knew she was but a lick away. He slid his index finger into her wet channel, massaging against the inside wall. She moaned and her muscles clenched around him, holding him tight. He edged out, then glided two fingers back in, rotating them against the slick walls as he watched her unfocused eyes widen.
"Dieu, Holt, no more torture." Her pitch had dropped to a throaty whisper, the words coming out strangled.
He looked up at her. With shaky fingers, he wiped her wetness from his face and repositioned himself between her thighs…
I'll be back tomorrow with Destiny Blaine. Until then…
Happy Reading.
Sloane Taylor
Sweet as Honey…Hotter than Hell
February 8, 2011 | Tuesday Teasers
Time to take the edge off this winter freeze with an excerpt from book three in my series the Magnificent Men of Munich.
FRANCINE ON FIRE
Sloane Taylor
ISBN 978-1-60168-060-0
Aspen Mountain Press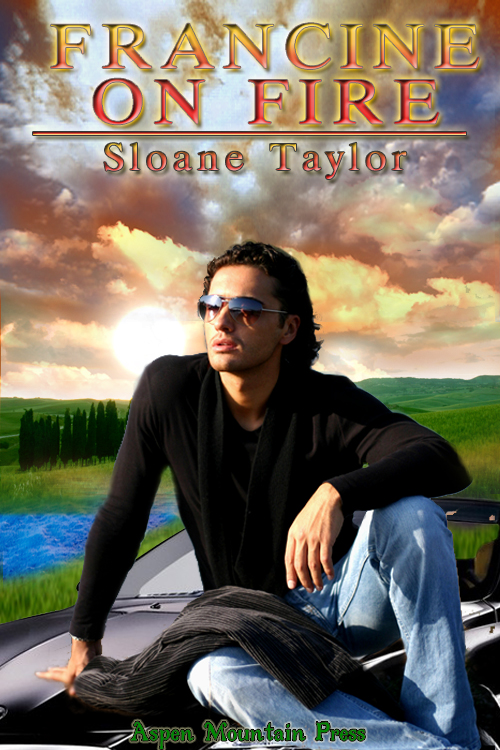 BLURB:
Francine Daniels doesn't trust men. Not since two husbands and a con artist ruined her life. After years of struggle – during which she took back control and soared to new heights – there is no place in her plans for a German hottie…Even if she does burst into flames at his touch.
Heicke Brewer already made one disastrous trip down the aisle, and never plans to go that route again. He prefers the parade of international beauties lined up outside his bedroom door to enjoy his 'satisfaction guaranteed' reputation…Until he meets an American pixie too hot not to handle.
Francine is working a golf outing when nature decides to step in.
EXCERPT:
Francie swiped a hand across her shoulder, hoping her over exuberant co-worker had splashed water and not that a bird had decided her new shirt looked good as a sweet dump site. Dammit, another drop landed on her forearm.
"Gretchen, be more…" She spun around to see the blonde bombshell in deep conversation with a gorgeous golfer that included more body contact than a good lap dance. If they weren't careful, the entire course would see them humping like dogs in heat.
A quick glance at the sky showed thick black clouds heading toward the golf course, but it was the streaks of dark green reaching the treetops that startled her.
"Hey, Gretchen. Stud Muffin. We need to get all this stuff on the cart." She dropped the plastic liquor bottles into their cases and brushed the rain from her eyelashes. The few drops had exploded into a full blown downpour. Pissed at the lack of help, Francie turned just as a crack of thunder split the air and she saw a blonde ponytail bouncing as the golf cart sped down the asphalt path.
"You rotten little bitch," she shouted, but screaming and waving her fist did little to ease her anger.
The sky blazed with jagged arcs of lightning as they streaked upward from the ground. She clamped her hands over her ears as the double explosion of thunder rattled her teeth. Making a snap decision that she could make better time darting to the clubhouse barefooted, Francie yanked off her squishy walking shoes then scooped up the flimsy cashbox and groaned as the sodden mess dissolved in her hands. Coins spilled onto the mushy grass as the notes spun into a whirlpool. Her hands flew as she racked up the currency, stuffing it into the shallow pockets of her capris. She yanked at the soaked shirt clinging to her skin, and decided she had no other choice. A shiver ran down her spine as she slid the heavy euro coins into her bra. The damned things weighed a ton and froze her nipples into tight buds. She turned to sprint down the lane and careened into an oncoming golf cart.
"Shit." Her knee hurt like hell, but she didn't have time to worry about it as another bolt of lightning ripped a heavy branch off the tree a few feet away.
"Get in." A booming voice wiped away her panic. She jumped into the cart, clutching her breasts as the money tumbled to the ground. "Do not worry about them. We will return after the storm, but right now we must get to shelter."
She nodded in relief, swiping raindrops from her face and glanced into the sexy eyes of the hotel handyman. Of all the asinine times to worry about looks, she thought as she maneuvered her fingertips in a sorry attempt at spiking her hair into its familiar style.
"There is a shelter around this next curve." He shot a quick glance her way, careful to keep the cart on the narrow lane.
"I can't believe how the temperature dropped so fast."
"It is always that way in Germany. Cold in one minute." His eyes smoldered as he stared at her mouth and she shivered, heat coiling in her belly. "But I have hopes it will warm up soon."
I'll be back Wednesday with Rick R. Reed. Until then…
Happy Reading!
Sloane Taylor
Sweet as Honey…Hotter than Hell
February 1, 2011 | Tuesday Teasers
With all the cold and snow, it seems a hot game of strip checkers is in order. 🙂
LONNIE HEATS UP
ISBN 978-1-60168-155-3
Aspen Mountain Press
BLURB:
Lost in the Austrian Alps, psychologist Lonnie Copley is forced to accept help from a Hell's Angel wannabe. She never expected to be trapped with the Aryan god in deserted Castle Flophouse.
Disgusted with cleaning up his client's dirty lives, attorney Wolfe Deider is in major career throes. He doesn't need some insolent woman mucking up his mind, even if she does have a mouth made for kissing.
EXCERPT:
He shoved a red circle onto the appropriate square. She concentrated for a moment then moved her black disk onto the square that forced him to conquer her. He considered the consequences and decided she was just as eager as him to get into bed.
"I believe you lose your first disk, Eleanor." His dick was tingling as she frowned.
"Guess so." She kicked off a boot. Grinning, she lifted a black checker and slowly jumped his disk then glanced up. "Not just yet, Herr Deider. You see? I have another move." She swooped up the next disk.
Both of his shoes clomped to the floor. Apparently she was not as easy as he thought.
He leaned across the board, his elbows propped on the table. A strategy was mandatory if he wanted the outcome in his favor. Looking her in the eyes, he slid a disk on the diagonal keeping his finger on top of it.
She glanced down, a slow smile tweaking her lips, and raised her hand as if to play.
"Not just yet, Eleanor." He slid the red circle back onto its original square. "I think this is a better move," he said as he crossed jumped two of her disks.
She never flinched. Her other shoe hit the floor, followed by a sock.
"You are a good sport." He raised his glass in a salute. "If not my best opponent."
"And you may live to regret those words, mister."
Another play on her part and he pulled off both of his socks.
He moved, she snorted, and flung her other sock into the air.
She made an outstanding move he never suspected. His shirt flew onto a side chair.
With a grin he glanced up. The doctor did not look as if she were enjoying herself. Her wine left untouched. Perhaps she will enjoy herself later, he thought as he conquered another checker.
She grabbed her sweater at the hem. Slowly peeled it up her body and over her head then tossed it onto the floor. Her low cut purple bra barely covered her puckered nipples. And his dick stood at attention.
His hands shook as he lifted another red disk over her black one.
She slid back the chair then stood. Her graceful fingers worked the button free. The rasp of her zipper was the only sound in the room. Wolfe held his breath as she wiggled the pants past her curvy hips. She glanced at him over her shoulder with the look of a woman who knew what she wanted. Her hands glided over her sleek ass, guiding the material down her long, toned legs. She bent over to pull them off and he almost came at the sight of her ass cheeks gripping a purple thong.
With the next move his stack of black disks grew taller and his balls ached.
In a quick motion, she swiped a strand of hair from her face. Gracefully she reached behind with both of her hands to unhook her bra. Her shoulders stretched back and her breasts thrust forward. And his cock throbbed.
With one arm under her bra, she brought the other across, hiding his view of those beautiful more-than-a-mouthful tits, and slid down the strap. She changed the position of her arms and peeled down the other satin strip. The bra fell into her lap and he clenched the table. Her rosy nipples were right there, budded, and inviting the touch of his hands and lips until she screamed his name in her orgasm.
He did not care how he lost the game. He would throw it if he could just get off his damned jeans and give his cock some room. No matter what move he made she did not fall into his trap of jumping him.
His cock swelled larger, the pain intense but sweet, as he added her last disk to his pile.
She stood, her breasts bobbing from the movement and his mouth watered. If he did not slip inside her hot pussy soon, he would come in his pants.
I'll be back tomorrow with author Marie Treanor. Be sure to stop in. Until then…
Happy Reading!
Sloane Taylor
Sweet as Honey…Hotter than Hell