MELT THE ICE
March 1, 2011 | Tuesday Teasers
FINNISH FANTASIES
ISBN 13: 978-1-60272-572-0
Amber Quill Press – Amber Heat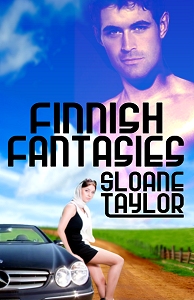 BLURB:
Being Maid of Honor in Finland over Midsummer's Eve is supposed to be fun, but for jingle writer Kate Adams it's a nightmare. Things go from bad to worse when her high-priced rental car dies on an endless ribbon of bone-dry country road. Help arrives in the form of a delicious-looking, blue-collar local who just might make it all worthwhile.
Rurik Jaacko knows better than to stop for the princess perched on the hood of a Mercedes. Hot women and expensive cars are trouble, but he's a sucker for any damsel in distress. The last thing he expects is to play bellhop to the sensual American, and love every sizzling moment.
A rustic pig farm and a friend who isn't combine with deception to create the backdrop for earthy passion and international fraud…
EXCERPT:
…With his hard-on raging, Rurik watched her nipples harden and peak through the thin knit shirt and wondered if was their heated exchange that excited her, or the fact he had taken control.
Women want to be dominated.
"There are times a man must take a stand with an unruly woman." He caught her wrist and tugged her closer.
"You wouldn't dare!"
Color drained from her cheeks, but was that a sparkle in her eyes?
He stopped for a moment and thought about the consequences of his action. Either it would be a beautiful success or Kate would pack her bags right after she rang the police.
"Yes, today I would." He dropped onto a birch stump and, with a quick yank, upended her over his knees. Her perfect ass across his lap was too tempting to stop.
"You'd better stop before it's too late, buddy." She turned her head and shot him a glare that could melt steel.
"It already is." His palm came down with a resounding smack.
"Ouch." She kicked her legs and wrestled beneath him.
He laid an arm over her shoulders to keep her in place, praying he had made the right decision.
"Rurik, you are so going to pay for this," she wailed, startling the birds from the trees.
And he knew he would, right after he laid another open-palm swat on her firm ass.
Whack.
She yelped at the contact, and he loved it. He may have been wrong about her being a spoiled, over-privileged woman, but a good spanking seemed in order to assert his authority. But then again, he had better run like hell when he finally let her up because she was going to murder him.
His hand came down again, not quite as hard, and lingered on her sexy rear, petting away the sting. He ran his fingers along the curve of her cheeks hidden under the tight denim shorts, wondering what his handprint would look like on her milky flesh. A stirring below his belt pressed against his fly, forcing him to shift unsuccessfully under her weight.
She wiggled against his cock, enhancing his torture, and he could not stifle the groan.
"Are you through beating me into submission?" Her words came out breathlessly, reminding him of how her lips had purred against his balls the night before.
"No. I do not think so." His hand smacked solid on her ass, pleased with her shriek.
He grazed a finger under the ragged edge of her shorts, inching up the inside of her thigh, seeking the heat beneath her damp thong. He hooked the lacey strap and tugged, drawing it tight against her swollen labia, released it and yanked up again. Her soft gasp carried to him on a gentle breeze.
The scent of her arousal drifted up, encouraging him to please her. He glided closer to her folds, teasing along the way with light pinches to her flesh. His finger slipped inside and he smiled, pleased by her wetness. Her pussy flexed against him, clenching—relaxing, milking him, like her mouth had done to his cock.
"I think you like this, Kate." He knew he did.
A whimper rose up like a caress, her hair tumbling free as she nodded.
He pulled out, then slid back in with two fingers, pressing firmer against her wall.
"Should I continue your torture or"— he continued massaging up and down, until she bucked against him. —"take you into the house and fuck you fast and hard?"
A soft gurgle washed her words away and his balls tightened…
Sloane Taylor
Sweet as Honey…Hotter than Hell