Archive for the 'Applause' Category
January 20, 2014 | Applause, Contests
Some of the finest books, authors, covers, and publishers in the industry are up for the annual awards from Love Romance Café. A wise and seasoned author told me, "Chosen as a nominee is the honor" and I do believe she was correct.
I'm grateful and excited to be a part of this moment. My erotic novella PHOTO Op! is in the running for Best Contemporary Book 2013. This would not have happened without my amazing editor Helen Hardt and those two critique rascals who never let me get by with a thing, Melissa Bradley and Erica Dananay. A special thanks goes to the person who started this all and shoved me onto the right path, my mentor mystery writer Beth Anderson.
There are many close friends who are nominated this year. Three phenomenal authors who are also my Wenches of Words cohorts: Sharon Ledwith, Legend of the Timekeepers Best YA Book, and Sam Cheever Best Author and Declan Sands Blood-Hound Best Series. Another bud who has always been there when I needed her Clare London Best Cover. The other nominee friends are at the top of their genres Jane Dougherty The Dark Citadel Best YA Book, Desiree Holt Lock and Load Best Thriller/Suspense/Mystery, Selena Illyria Mate Not Wanted Best Erotic Romance Book. I am elated to add Musa Publishing BEST PUBLISHER, and they really are.
The excitement builds as the voting begins today. All 4000 plus members of Love Romances Café are eager to choose their favorites.
Congratulations to all the talented nominees and the best of luck to everyone!
February 21, 2011 | Applause
The house is rocking! The MILLION DOLLAR QUARTET celebrates 1000 nights onstage at the Apollo Theater in Chicago.
Not familiar with this new smash-hit musical? Here's a little background:
On December 4, 1956, four musicians held the greatest jam session ever.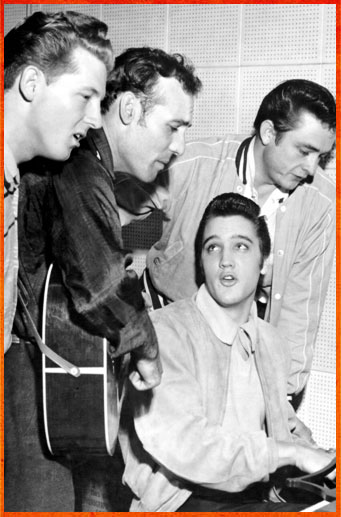 No, I don't own this priceless photo. I "borrowed" it from the official website.
Johnny Cash, Jerry Lee Lewis, Carl Perkins and Elvis Presley met with Sam Phillips, the "Father of Rock-n-Roll," at Sun Records' storefront studio in Memphis, Tennessee. Sam Phillips discovered them all and propelled them to success. That night was the only time these great talents ever came together. Their ad-lib recording session embodied the birth of rock 'n' roll and has come to be known as one of the greatest rock jam sessions ever.
Studs and I had the great fortune to see MILLION DOLLAR QUARTET. We both agree, it is the best play we've seen in years.
The talented actors Gabe Bowling, Carl Perkins, David Lago, Elvis Presley, Lance Lipinsky, Jerry Lee Lewis, and Sean Sullivan, Johnny Cash bring the musical to life and the audience to their feet. Darcy Wood, Dyanne, gives a stellar performance with her rendition of "Fever." Make it a point to follow the careers of these outstanding performers, they'll be mega-stars in a short time.

MILLION DOLLAR QUARTET features a score of rock hits that have you dancing in your seat. "Blue Suede Shoes," "That's All Right," "Sixteen Tons," "Great Balls of Fire," "Walk the Line," "Whole Lotta Shakin' Goin' On," "Who Do You Love?," "Matchbox," "Folsom Prison Blues," "Hound Dog" are just a few of the great songs.
Be sure to make a date and rock the night away at the
Apollo Theater
2540 North Lincoln Avenue
Chicago, IL.
Purchase tickets direct from Apollo Theater 773-935-6100 or order on line from Ticketmaster.com. I suggest calling the theater. Prices are better, tickets can be picked up performance night, and they walk you through the seating chart.
Check out this thrilling musical's website for a great look behind the scenes.
Be sure to buy the $20.00 cd. It's TERRIFIC!
I'll be back tomorrow with a new Tuesday Teaser. Until then…
Happy Listening!
Sloane Taylor
Sweet as Honey…Hotter than Hell
June 15, 2010 | Applause
This is the second year Studs' has worked the Special Olympics with the Lansing Knights of Columbus. The games are held in Normal, IL with 4,000 Illinois athletes competing in a variety of areas. Our athletes are swimmers and some of the best in the Nation. They work hard throughout the year to compete and we are proud of these fine men and women who won a wagon load of gold medals.
The Special Olympics committee announced that Illinois Law Enforcement raised an unprecedented 2.7 million dollars during the torch run. These fine officers give more than just time to provide an important aspect to the lives of people with special needs. Every parent, grandparent and friend appreciates all the extra hours and hard work Illinois Law Enforcement donates to bring our kids a better world.
Head Coach Dennis Sullivan asked Studs to parade in with four of our athletes for the opening ceremonies. This is done just like the Olympics only the athletes are representing areas instead of countries. It was an emotional time for us. Studs' autistic brother Ed was one of the original competitors in Special Olympics. He passed away in April at 52. Studs was proud to walk in Ed's memory.
Curtis, our top swimmer who is an Ambassador to the National Special Olympics in Nebraska this July, was given the high honor of lighting the torch by Illinois Attorney General Lisa Madigan. Trust me – there wasn't a dry eye in the stadium Friday night.
I want to congratulate all the fine athletes for their sportsmanship and achievements. You kids ROCK!!!
I'll be back tomorrow with a dining experience you'll enjoy and to rave about Adam, the best server we've ever had the joy to meet. Until then…
Happy Writing!
Sloane Taylor
Sweet as Honey…Hotter than Hell
February 26, 2010 | Applause
and here's the Winners List from Love Romances Cafe's Best of 2009.
Be sure to check out who won Honorable Mention for the Best Erotic Book 2009! I am ecstatic!!
Best Fantasy Book 2009:
WINNER: The Oath: Bound (Adrianne Brennan-Freya's Bower)
Runner Up: Lycan Tides (Renee Wildes-Samhain)
Honorable Mention (TIE):
Strange Fortune (Josh Lanyon-Blind Eye Books)
The Scroll Thief (RF Long-Samhain)
****
Best Paranormal Book 2009:
WINNER: Wild Blue Under (Judi Fennell-Sourcebooks)
Runner Up: Dark Elves 6: Awakening (Jet Mykles-Loose Id)
Honorable Mention (TIE):
Lover Avenged (JR Ward)
Silent Night, Haunted Night (Terri Garrey)
****
Best Sci Fi/Futuristic Book 2009:
WINNER: Day 94 (DM Slate-Eternal Press)
Runner Up (TIE):
More Than Robotics (Lynn Crain-Extasy)
Surrender Love (Kayelle Allen-Loose Id)
Honorable Mention:
The Edge of Desperation (James Buchanan & Jason Edding-MLR)
****
Best Book Cover 2009:
WINNER: Surrender Love (Loose Id; Artist-Anne Cain)
Runner Up: High Country (Loose ID; Artist-April Martinez)
Honorable Mention: Haunting Magic (Aspen Mountain; Artist-Syneca)
****
Best Erotic Book 2009:
WINNER: Spank Me Twice Anthology (Noble Romance)
Runner Up: Dark Elves 6: Awakening (Jet Mykles-Loose Id)
Honorable Mention: Isabella Ignites (Sloane Taylor-AMP)
****
Best Paranormal Author 2009:
WINNER: Kari Thomas
Runner Up: JR Ward
Honorable Mention (TIE):
Selena Illyria
Adrianne Brennan
****
Best E-Publisher 2009:
WINNER: Samhain Publishing
Runner up: Extasy Books
Honorable Mention (TIE):
Dreamspinner Press
Eternal Press
Loose Id
****
Best Shapeshifter Book 2009:
WINNER: Under A Shifter's Moon (Kari Thomas-Black Lyon)
Runner Up: Fire Season (Lex Valentine-Pink Petal Books)
Honorable Mention: Bad Moon Rising (Sherrilyn Kenyon)
****
Best GBLT Author 2009:
WINNER: Clare London
Runner Up: AJ Llewellyn
Honorable Mention: Jet Mykles
****
Best Book All Around 2009:
WINNER: Her Heart, His Soul (Kari Thomas-Siren)
Runner Up: EPistols at Dawn (ZA Maxfield-Samhain)
Honorable Mention: Island Bois (AJ Llewellyn-Extasy)
****
Best Vampire Book 2009:
WINNER: Diamond in the Shade (DJ Manly-Liquid Silver)
Runner Up (TIE):
Blood Curse (Mychael Black-Changeling)
Forbidden: The Ascension (Samantha Sommersby-Samhain)
Honorable Mention: Dominion (Michael Barnette-Loose Id)
****
Best GBLT Book 2009:
WINNER (TIE):
Island Bois (AJ Llewellyn-Extasy)
EPistols at Dawn (ZA Maxfield-Samhain)
Runner Up: The Dickens with Love (Josh Lanyon-Samhain)
Honorable Mention: The Best Revenge (Andrew Grey-Dreamspinner)
****
Best Contemporary Book 2009:
WINNER: True Colors (Clare London-Dreamspinner)
Runner Up: Rip Cord (Jeanne St. James-Phaze)
Honorable Mention: Kentucky Bride (Jan Scarbrough-Resplendance)
****
Best Historical Book 2009:
WINNER: Sparta Rose (Ginger Simpson-Eternal Press)
Runner up (TIE):
Captain's Surrender (Alex Beecroft-Samhain)
Harley Street (Lynne Connolly-Samhain)
Honorable Mention (TIE):
Love Comes Blindly (Phyllis Campbell-Champagne)
Lessons in Temptation (Charlie Cochrane-Samhain)
****
Best Mystery/Suspense Book 2009:
*Includes Romantic Suspense, thriller*
WINNER: Blind Consent (Michael Davis-Champagne)
Runner Up: Dreamfever (Karen Marie Moning)
Honorable Mention: Kindred in death (JD Robb)
****
Best Series 2009:
WINNER: Si `Ludo Prophecy Series (CR Moss-Extasy)
Runner Up: Dark Hunters (Sherrilyn Kenyon)
Honorable Mention: Dark Elves (Jet Mykles-Loose Id)
Have a wonderful weekend. I'll be back next week. Until then…
Happy Writing!
Sloane Taylor
Sweet as Honey…Hotter than Hell
September 2, 2008 | Applause
Eternal Press is now one year old. Today starts their week long birthday party. Head over to the blog all week for fun and free stuff. The kick off starts off with a short trivia contest.
I'll be back later in the week. Until then…
Happy Writing!
Sloane Taylor
Sweet as Honey…Hotter than Hell
August 8, 2008 | Applause
Hi Everyone, sorry I've been so quiet. The time was well spent working on two new books and reading a hot new novel that has just released. RISE OF THE WOLF is definitely a book you won't want to set down. Kat Duarte has created intriguing characters and a tingling story that will keep you glued to the end. I can only hope there's a follow up book by this brilliant new author.
Be sure to pick up your copy today.
Here's the terrific cover;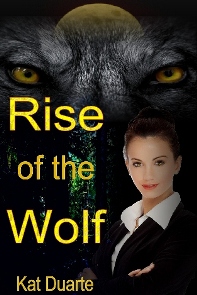 Rise of the Wolf by Kat Duarte
ETERNAL PRESS
Isbn: 978-1-897559-29-1
Heat rating: 3 flames
Erotic/Supernatural
Summary:
City girl Hilary Samuels has no idea Murphy's Law will kick into high gear the first night of the Hunters' Moon. One country road, a flat tire and a skid into a cornfield later, and Hilary finds herself face-to-fang with a seductive vampire. Add to that one super-sized wolf who challenges her attacker and you've got one weird night out.
Anyone else would retreat to the more conventional hazards of urban life, but Hilary moved to McKenna with an agenda. If she can successfully run the small town's Café Lotti, her promotion to
managing one of the hippest cafes in Chicago is in the bag.
But how to build a customer base when stalked by the undead? Not to mention the hunky head of the company turning out to have some steamy supernatural secrets of his own! Will Hilary join forces with her new and powerful ally, or will their entanglement rip her world apart?
Excerpt:
But why should you wait? Your skin in the moonlight looks as soft and radiant as a pearl. Do you not yearn to be caressed?
She would have sworn his lips didn't move. His voice was so gentle, warm, sensuous and intimate, as though he were inside her thoughts, her soul.
Then somehow, without moving, he had covered the space between them and stood next to her, pressed against her, leaning over her. His soft hair tickled her cheek. His breath whispered across her lips as he parted them with a flick of his hot tongue. The kiss was light, soft, then firmer and deeper, the deft movement filling her with the promise of such delights to come that her knees actually began to give way. He caught her, one of his arms bracing her at the deepest curve of her back, the other wrapped so that he cradled her neck in the palm of his hand.
See you all next week. Until then…
Happy Writing!
Sloane Taylor
April 6, 2007 | Applause
The fabulous new cover for HOT PHOENIX NIGHTS by Gabrina Garza. Look for its May release from Amber Quill. You will absolutely love this book.
November 22, 2006 | Applause
Congratulations to Yasmine Phoenix a talented multi-cultural writer who just sold her first work, a short story, to Parker Publishing, LLC. The Red Dress will be part of an anthology celebrating African-American Romance Fiction.
The collection is the baby of Niobia Bryant and Kim Louise, two brilliant authors, and is named Soul Love: The Ultimate Collection. Look for it at your favorite book store January 2008.
You can read more on Yasmine's blog www.yasminephoenix.com/blog. While you're there, check out her website. It's beautiful and informative. I guarantee you'll enjoy yourself.
Congratulations again, Yasmine. We look forward to many more of your unique stories and novels.
Sloane
November 12, 2006 | Applause
to good people the world should know about it. I am ecstatic to be able to do that here.
Linda Wisdom, a strong figure in the romance genre, has just signed a healthy contract with respected publisher Sourcebooks, Inc. Linda, the author of seventy-nine books and counting, has stretched her creativity to discover that paranormal is yet another genre where she will excel. Her new series about witches kicks off with Curses… Spoiled Again! and will be released in 2008.
Not only does Linda write, she also edits, mentors, and collaborates. She is truly a woman of many talents and deserves only the best.
Check out her blog at www.lipservicegang.com to learn more about Curses… Spoiled Again!.
Congratulations, Linda! Your dedication and hard work have paid off.
Sloane
September 2, 2006 | Applause
Author Gabrina Garza, aka Erika Kire, held her book release party for The Viking Stones at the Gary Rail Cats baseball game last night. A huge group of people, along with our friends Dennis, Janine, Mick, and Carmen, came out to celebrate the success of this extremely talented and prolific author. The U.S. Steel Field management ran a Congratulations to Erika Kire banner on the scoreboard as the announcer introduced Erika. Of course our group and the people around us went up for grabs cheering. Erika had plenty of pens and bookmarks to share with everyone.
If you're into Vikings and hot sex go on over to www.triskelionpublishing.net and check out The Viking Stones. You can also go to Gabrina's website Welcome to Suburbia for more insight on this up and coming author. Enter www.gabrina.com into your browser and have a good time.
Congratulations, Erika!!
Sloane