FANTASTIC!
August 8, 2008 | Applause
Hi Everyone, sorry I've been so quiet. The time was well spent working on two new books and reading a hot new novel that has just released. RISE OF THE WOLF is definitely a book you won't want to set down. Kat Duarte has created intriguing characters and a tingling story that will keep you glued to the end. I can only hope there's a follow up book by this brilliant new author.
Be sure to pick up your copy today.
Here's the terrific cover;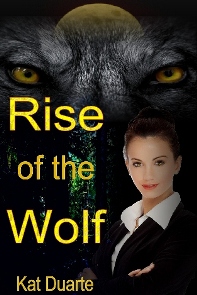 Rise of the Wolf by Kat Duarte
ETERNAL PRESS
Isbn: 978-1-897559-29-1
Heat rating: 3 flames
Erotic/Supernatural
Summary:
City girl Hilary Samuels has no idea Murphy's Law will kick into high gear the first night of the Hunters' Moon. One country road, a flat tire and a skid into a cornfield later, and Hilary finds herself face-to-fang with a seductive vampire. Add to that one super-sized wolf who challenges her attacker and you've got one weird night out.
Anyone else would retreat to the more conventional hazards of urban life, but Hilary moved to McKenna with an agenda. If she can successfully run the small town's Café Lotti, her promotion to
managing one of the hippest cafes in Chicago is in the bag.
But how to build a customer base when stalked by the undead? Not to mention the hunky head of the company turning out to have some steamy supernatural secrets of his own! Will Hilary join forces with her new and powerful ally, or will their entanglement rip her world apart?
Excerpt:
But why should you wait? Your skin in the moonlight looks as soft and radiant as a pearl. Do you not yearn to be caressed?
She would have sworn his lips didn't move. His voice was so gentle, warm, sensuous and intimate, as though he were inside her thoughts, her soul.
Then somehow, without moving, he had covered the space between them and stood next to her, pressed against her, leaning over her. His soft hair tickled her cheek. His breath whispered across her lips as he parted them with a flick of his hot tongue. The kiss was light, soft, then firmer and deeper, the deft movement filling her with the promise of such delights to come that her knees actually began to give way. He caught her, one of his arms bracing her at the deepest curve of her back, the other wrapped so that he cradled her neck in the palm of his hand.
See you all next week. Until then…
Happy Writing!
Sloane Taylor
One Response to "FANTASTIC!"
Kat Duarte Says:


Thanks so much for mentioning my book, Sloane. You are one classy lady, not to mention a great writer. Your good opinion means such a lot to me.

Thanks, again!

On August 16th, 2008 at 7:39 pm