Archive for the 'Friends' Category
August 10, 2016 | Cooking, Friends
My longtime friend and drinking buddy, Jane Nolan, is here with her to-die-for chicken wing appetizer. This is so good I can make a meal of it and not have one ounce of guilt. The kitchen is all yours, Jane!

Chipotle Honey-Lime Chicken Wings
Chicken
5 pounds of wings. Use the first two sections and skip the tip.
Marinade
2 tsp. cumin
2 tbsp. smoked paprika
2 tsp. Kosher salt
2 tsp. sugar
4 limes, squeezed for the juice
¾ – 1 cup olive oil
Mix marinade ingredients together in a large glass or ceramic bowl. Add wings. Stir well. Cover and place in the refrigerator overnight.
Sauce
1 – 7 oz. can chipotle peppers in adobo sauce, pureed
4 tbsp. apple cider vinegar
5 tbsp. honey
4 tbsp. butter, melted
Zest of 2 limes
½ – 1 tsp. salt
Mix sauce in a small pot. Simmer for a few minutes. You can make this ahead of time and refrigerate until ready to use.
Cook wings over a medium-hot grill for 20-30 minutes. Brush with sauce the last 5-7 minutes.
Serve with one, or both, of these delicious dips.
Avocado Crema
1 avocado, pureed
1 cup plain Greek yogurt
Combine both ingredients in a small bowl. Stir well. Chill until ready to serve.
Blue Cheese Crema
¾ cup blue cheese crumbles
1 tsp. red onion, finely chopped
1 tsp. shallot, finely chopped
1 cup plain Greek yogurt
Salt & pepper to taste
Combine all ingredients in a small bowl. Stir well. Chill until ready to serve.
Now sit back and enjoy with a tall glass of fresh sangria!
February 18, 2015 | Cooking, Friends
Jane Nolan is an incredible woman with a strength of character I've always admired. We've been friends for many years. The kind of friends who don't have to see each other often, but still click like not a second has passed when they do meet up. Another attribute of Jane's is her kitchen talent. Here is one of her latest creations that tastes marvelous and is healthy, too.
Cranberry Cake
3 eggs
2 cup sugar
¾ cup unsalted butter, softened (not margarine)
1 tsp. vanilla
2 cups flour
2½ cup cranberries (fresh, or if frozen, thaw slightly if you have time)
2/3 cup chopped pecans
whipped cream or topping for serving
Preheat oven to 350 °F.
Grease a 9×13 pan.
Beat eggs and sugar together for 5min.
Add butter and vanilla. Beat 2 more minutes.
Stir in the flour just until combined. (Very heavy batter)
Add cranberries and nuts. (I use the mixer for about a minute just to incorporate well. This also breaks a few of the berries apart & lends a nice touch to the finished product)
Spread into the pan. Bake for 50 – 60 minutes. (Usually done after 50 min.)
Serve with whipped cream or whipped topping.
I'll be back Monday. Until then…
Enjoy life to the fullest,
Sloane
November 3, 2014 | Cooking, Friends
Andy Druetzler, a man who won my heart thirty-some years ago (Andy is the son of our close friends, sent me this easy recipe to share with you. He recently started bringing this simple appetizer to parties and it has been a hit every time. Studs, Kid, and I agreed, Andy has created a winner.
Andy's Simple Appetizer
½ – ¾ cup marinara sauce
4 oz. goat cheese, unseasoned*
Pita or bagel chips
Preheat oven to 325°F.
Pour a thin layer of marinara sauce into a 1½ – quart oven proof dish.
Slice goat cheese to ¼ – ½ inch thicknesses. Lay the pieces over the majority of the marinara sauce.
Bake for 10 minutes or until the cheese has melted.
At this point you may either stir the mixture into a creamy blend or leave as is.
Let cool and serve with toasted bagel chips or pita chips.
*Sloane here, I made this recipe twice, once with plain goat cheese, the other time with garlic herb goat cheese. The plain is far better. The flavored was harsh had our taste buds screaming for relief.
I'll be back Monday with Annie Anthony. Until then…
Mangiare Bene!
Sloane Taylor
Twitter
Amazon Author Page
April 30, 2014 | Cooking, Friends
Kerry Mand, Musa Publishing Financial Director, has swapped her desk for the stove to share her delicious recipe for enchiladas.
Cheesy Chicken Enchiladas
4 medium chicken breasts
1 box chicken broth
Freshly ground black pepper to taste
1 can green chile enchilada sauce
1 small can diced green chiles
¾ cup sour cream
½ tsp. ground cumin
Handful fresh cilantro, chopped
Cooking spray
1 pound pepper jack cheese shredded
10 flour tortillas
Preheat oven to 350°F.
Pour the chicken stock into a medium saucepan. Add chicken. Top off with tap water to cover. Bring to a boil. Partially cover and simmer for 20 minutes. Allow chicken to cool uncovered in stock.
Shred chicken into a large bowl. Add ½ cup enchilada sauce, small handful of cheese, half the diced chiles, sour cream, cumin, and cilantro. Combine well.
Coat a 13×9 glass casserole dish with cooking spray.
Lay ¼ cup or so of mixture onto one end of a tortilla, then roll-up. Place in casserole rolled end down. Continue until you have filled all the tortillas.
Evenly pour remaining enchilada sauce over tortillas. Bake 30 minutes. Sprinkle remaining cheese across the top and bake 5 minutes or until cheese is melted.
Serve with a side of sour cream.
Salud!
Kerry
February 17, 2011 | Friends
Captivating Sarah Grimm and I met at a conference more years back than either of us wish to admit. We've remained friends, boosting each other when needed and slogging down cyber beers to celebrate our successes. Today, Sarah is here to share her heartfelt writer's journey and its brilliant outcome.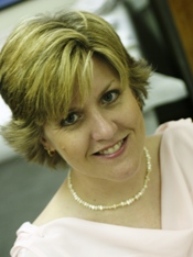 I've been writing for as long as I can remember. I have notebooks filled with poems, story ideas, and partial chapters from as far back as age five. Yes, thanks to my older sister, I could read and write by age five. And I did. I read everything I could get my hands on, usually re-writing the story in my head as I went. If you asked me what I wanted to be when I grew up, I always answered something different depending on the day. I couldn't make up my mind. Then I picked up my first romance novel. Suddenly I had my answer: "I want to get married, have children and write romances."
As a young girl, I always had a story to tell. At times they were funny, other times scary, but they were always, and I mean always, happily-ever-after. You see, I'm a romantic—a die hard romantic. I believe in love, not just as a fundamental part of human relationships, but as a force that really can heal emotional scars. I truly believe there is someone for everyone—the person they are meant to find. Their other half. Their soul mate.
I always say that NOT WITHOUT RISK was the first story I wrote from start to finish, but after being asked to put something together about my road to publication, I realized that it wasn't. My first story wasn't even a romance, it was a story about my best friend. A story I titled MY CAT SNEAKER, which won a Young Authors Award. I still have the award, and the story, packed away with a few mementos from my youth.
When I got married, I set my writing aside. I focused on my husband and building a family. Then my youngest son was born and the struggle to keep him alive began. He was healthy at birth, colicky, irritable even, but healthy—until he turned six weeks old and began showing symptoms of croup. Fast forward a few months to me, frantically rushing in and out of the hospital with my son. We made so many late night emergency visits that my oldest began sleeping by the door to keep track of mommy. I can't tell you how many times we rushed to the hospital with a child who was turning blue, only to be told by the doctors that they didn't know what was wrong with him. Most of them thought I was just a young, overreacting mother (I even got the condescending pat on the head from a few), but one believed there was something more going on than croup.
That man saved my child's life. He found a birthmark in my son's throat that obstructed eighty percent of his airway. By the time we were done, my baby had endured stomach surgery, throat surgery, and a tracheotomy with all the special care that entails. As you can imagine, all the hospital time left me desperate for a distraction, so I took pen to paper, yup, longhand, and wrote my first romance. Not just bits and pieces of a book, but the entire hero and heroine's journey from 'Chapter One' to 'The End'.
Once the book was finished, I joined Romance Writer's of America nationally as well as my local chapter. I went to conferences and learned about the craft of writing. I wrote and re-wrote that book, about four times actually, until I felt it was good enough to submit. I submitted to Triskelion just after they received RWA recognition, and they accepted it. I wasn't with a big NY publisher, but I didn't care. I was going to be published.
Then Triskelion began having problems. There were some of us who could see it coming, but like a train wreck, there wasn't anything we could do. By this time, my first book had debuted to rave reviews and brisk sales, and they'd accepted my second book proposal. When they went bankrupt, I stopped writing. I felt betrayed and discouraged. In retrospect I should have kept plugging along, doing what I loved most, but I guess we don't always do what's best for us.
In 2008 I decided enough was enough and jumped back into the publishing world with both feet. I submitted to The Wild Rose Press. I was thrilled when they accepted my romantic suspense, NOT WITHOUT RISK. Even more so when it was released in January 2010 to reviews calling it "…fast paced, nail biting, page turning, edge of your seat suspense…" and "…a romantic, adventurous, thrilling read."
I'm happily writing again. I have just completed edits on my second book, a contemporary romance titled AFTER MIDNIGHT, to be released soon by The Wild Rose Press. And I'm currently writing its follow-up, MIDNIGHT HEAT.
Oh, and how could I forget? NOT WITHOUT RISK was just nominated for the Long and Short of It's BEST BOOK of 2010. The polls are active beginning February 14 at and will continue until February 27. If you'd like to vote, and I appreciate it if you do, please click here.
*****
NOT WITHOUT RISK
Sarah Grimm
The Wild Rose Press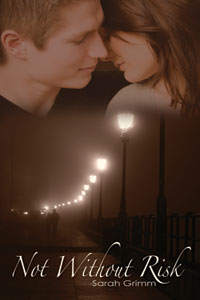 Available now in eBook and Print. BUY LINK
BLURB:
Six agonizing months after a slug collapsed his lung, Sergeant Justin Harrison manages to return to the one place where he shines—the San Diego homicide division. Nothing will stand in the way of proving he is fit for active duty. Especially not the long-legged brunette who just stumbled into his crime scene.
Photographer Paige Conroy spent years hiding from her past. Then a late night telephone call brings it crashing back. An old friend is in town and needs her help. When she arrives at his hotel room four hours later, he's dead. Suddenly, she's the target of a madman, and Paige must turn to Sergeant Harrison for protection.
But who is the bigger threat to her… the faceless assailant she fears will steal her life or the dark-eyed detective she knows could steal her heart?
EXCERPT:
Paige had lost count of the times she'd told herself to stay away from him. She couldn't stay away from him. Even as his words confirmed without a doubt they had no future together, the vulnerability in his eyes called out to her. She removed her fingers from his and slid her left hand up his chest to cup his jaw. His gaze warmed, the color of his eyes deepened as she dragged her fingers back and forth across the scruff of his beard stubble.
He would never love her.
She shifted her hand again, this time boldly smoothing her fingers across his lips. What should have been the catalyst that pushed her across the room drew her closer.
Justin reached up and curled his fingers around her wrist. "Be sure you want this," he warned in a low growl. "I can't make you any promises."
She didn't want any promises. She wasn't looking to the future or worrying about the intelligence of her decision. For once, Paige wanted to live in the moment. She let reason slip and need take its place. "I want this," she whispered, her thumb exploring his bottom lip. "I want you."
The hand he held curled around her wrist flexed once, otherwise he did not move. Paige pulled her bottom lip between her teeth and stood. Unabashedly, she straddled his legs and settled atop his lap, her knees hugging his hips. The hard press of his erection shot sensations through her body like lightning bolts and drove a little growl of pleasure from the back of her throat.
She shuddered as he pulled her even closer, plowed his fingers into her hair and arched her head back. They were inches apart, staring into each other's eyes, breathing the same air. His eyes weren't cool now, they simmered with life, with greed and desire. His mouth hovered over hers for what seemed like an eternity then settled.
He was gentle at first and then, as she surrendered, his mouth explored hers with greater intent. He kissed her almost roughly, completely on fire, sweeping his tongue possessively into her mouth. His hands settled on her hips, gliding upward beneath her shirt until his palms closed over her naked breasts. His moan of approval, so raw and husky, vibrated into her mouth and made her heart pound even harder. The sensation of bare flesh against bare flesh sent waves of heat spiraling from her head to her toes. Her nipples hardened. Her belly quivered.
Arching her back, she pressed herself firmly into his palms and invited his hands to explore her more fully. He did, rolling her straining nipples between his fingers then worrying them with the friction of his palms. Her body shuddered. Wet heat flooded her core.
"Paige," he breathed, as his mouth plundered her throat, fastened on that incredibly sensitive spot beneath her ear, then continued down to fasten on one of her breasts. He drew in the rigid tip of her nipple, and sucked.
Her lips parted on a quiet moan. She wrapped her arms around his neck and threaded her fingers into his hair, as pleasure arrowed through her system. The hot wet feel of his mouth on her was almost more than she could handle. And yet, it wasn't enough. His hands smoothed down her sides to settle on her hips. His fingers curled into her flesh as he used his teeth, his tongue, his lips.
A gasp escaped her when he lifted her, sealing his torso to hers as he settled her along the length of the couch in one smooth motion. Bracing himself with his arms to keep his weight from crushing her, he came down on top of her, shifting his hips and pressing his erection more fully against her. His mouth returned to hers in a dizzying kiss.
Available now in eBook and Print. BUY LINK
Learn more about Sarah Grimm on her website and blog. Be sure to join her Facebook Fan Page
and Twitter for more updates.
I'll be back tomorrow with a new release from Marie Tuhart. Until then…
Happy Reading!
Sloane Taylor
Sweet as Honey…Hotter than Hell
February 14, 2011 | Friends
During the day, Celia Kyle is an Assistant Controller of a multi-million dollar company that manages a billion dollar portfolio of apartment communities and commercial buildings. By night, she's a multi-published author of over thirty works. Celia has created several multi-author series' including Strange Hollow at Liquid Silver Books and the Big, Blooming & Wild and Dragon Kin series' with Changeling Press. She also worked as the Art Director for Aspen Mountain Press. So what does a high energy person do to round out her career? Found out in our Q & A session.
What prompted you to open Summerhouse Publishing house?
I had a few "edgier" stories that I wanted to publish but was worried that they'd be too much for some of my current publishers and the idea of self-publishing came to mind. Unfortunately, there are a few stigmas surrounding self-published works, costs for artwork that can cost a pretty penny as well as the need for quality editing before publication. I figured that if I had those concerns, others probably did as well. SHP provides authors a "house" to stand behind, quality editing, gorgeous artwork and two owners dedicated to marketing their authors to their fullest.
I felt there was a gap within the industry. With the growing popularity of self-publishing, Summerhouse Publishing acts as a middle ground between authors self-publishing their works and a full scale publishing house. We take well-written manuscripts and give them a final polish with copy-editing, provide professional cover art, wide spread distribution and extensive marketing. We help eliminate the stigma surrounding self-publishing by giving those authors a "house" to stand behind.
How will your house be different than anything we've seen before?
We showcase works different from the norm, sweet romances with space pirates and legends of King Arthur to books where a sexy djinn is trapped in a treadmill and not a lamp. Also, our "taboo" list is a smidge shorter than other publishers. We want envelopes pushed and stories that aren't the "norm".
What kind of product will you deliver to your readers?
Engaging, exciting and captivating books. Short or long, sweet or erotic, SHP wants to be a go-to place for readers. We've got three lines of short works geared toward readers searching for something on their lunch hour to novels for those that like to settle in for a night spent in another world.
When is the grand opening?
We open March 14th. Our release program is one book every other week, but on opening day we feature two books.
The first is HER DARK FAIRY by Ella Vines, an engaging historical paranormal erotic romance that touches your heart and *ahem* other places.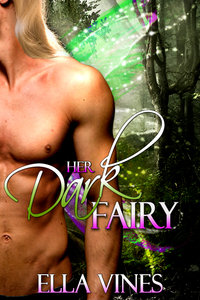 The second is INDIGO RAIN by Taige Crenshaw, an action-packed paranormal erotic romance with plenty of fighting both in and out of the bedroom.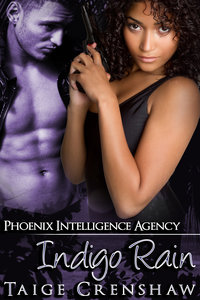 Tell us a little about your future releases and their authors.
Davida McLea brings us some roadside lovin' and Darragha Foster is the source of the aforementioned treadmill djinn. Wayne Greenough tugs us into space while KG McAbee hurls us into the past with her gothic romance. Scottie Blaine shows us her love of horses and manlove. Then there's Mina Carter who always manages to get your heart pumping with both fighting and sex…occasionally at the same time. And Lizzie Lynn Lee brings us a lot of passion in many unusual locations.
What sort of stories will SHP offer and in what lengths and formats?
Everything from straight contemporary to paranormal to BDSM and everything in between. There are no limits to the sub-genres and sexual encounters we are interested in. We publish works as short as 3,000 words and actually have three short story lines specifically targeted for readers who like a quick shot of love on their lunch hours. Can't Think Straight features same-sex couples, both male/male and female/female while Digital Decadence features heterosexual couples. And Electronic Excess welcomes multiple partner relationships/sexual encounters.
Do you have any specific lines that readers watch for?
We've got three special short story lines featuring same-sex relationships (Can't Think Straight), heterosexual relationships (Digital Decadence) as well as multi-partner relationships (Electronic Excess).
Why will readers want to keep SHP books on their readers?
We'll constantly be offering new books that touch their hearts and *ahem* other places. Not necessarily in the same book. We'll have all flavors of romance and erotica with something sure to tempt the most discerning reader.
Are you open for submissions? Do you accept unagented, unpublished authors, and unsolicited submissions?
Of course! Authors are authors, plain and simple. We welcome everyone.
What type of stories is Summerhouse Publishing seeking? What are your submission requirements?
We accept works as short as 3,000 words to full-length novels. Those manuscripts are well-written, with no plot holes, head hopping and have been thoroughly self-edited. Currently I'm interested in interesting stories. I know that's pretty vague, but there are so many sub-genres that I enjoy in romance and erotica that I have a hard time settling on just a handful right now.
Why will authors want to write for SHP?
Authors that want a house that encourages their imaginations to fly free, that crave fewer limitations, should consider us. We are transparent in our dealings with authors and staff. Short of providing my social security number, I'm more than happy to answer any questions authors may have. I actually encourage any authors even thinking of submitting to SHP to contact me with any and all concerns. I want authors and staff happy to be associated with SHP, to be proud to have their manuscripts accepted and thrilled to list SHP on their resumes. Also, our pay rate start at 60% net. Those rates rise up to 70% net as sales rise.
Do you have a strategy to make your company get known?
We'll be actively marketing books in a variety of ways including social networking, advertising on blogs and press releases.
Will you be making any appearances at conferences this year?
2011 is a year of growth and setting roots for SHP. We're reinvesting any profits made into the house, its authors and staff. While I believe that appearances will be an important part of networking in the future, we want to make sure that establishing SHP is our first priority.
How can readers easily find the latest updates on SHP, its books, its authors?
On our website. We also have a blog. It's updated regularly during our pre-opening days, then it will be Shanghaied by our authors. We can also be found on twitter and facebook.
Besides your website, where else will your books be available for purchase?
We'll be at the major distributors including Amazon, Barnes & Noble and the iBookstore.
Thanks, Celia, for coming out. With your acumen and talent, I know you'll have a huge success with Summerhouse Publishing.
I'll be back tomorrow with a new Tuesday Teaser. Until then…
Happy Reading.
Sloane Taylor
Sweet as Honey…Hotter than Hell
January 6, 2011 | Friends
The Queen of Hot, Jan Springer, is back with a new release guaranteed to singe your Kindle.
DARK HEAT, an amazing read, comes with two Reader Advisories:
Dark Heat contains sensitive matter such as forced seductions that is integral to the story. Please use your discretion if such content offends you.
And:
The heroes have a human female give their heroine some sexy loving in a short f/f scene.
They were all I needed to ensure I'd enjoy this well-written novel.
DARK HEAT
Vampira Book Two
Jan Springer
ISBN: 9781419929960
Ellora's Cave Publishing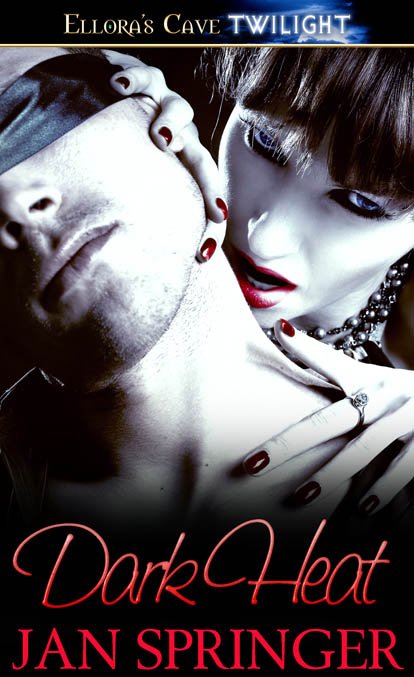 BLURB:
Warrior Queen Megan Bloodrayne was betrayed by her two forced mates. Fleeing them, she hides within Vampira, a secret coven of vampires who live undetected among the humans.
Recaptured, Megan is horrified to learn she's been framed for crimes she did not commit. Her mates, kings Christian and Zane, believe she may be a traitor and they'll try anything to get the truth out of her. Megan's got a secret and she'll do anything to keep it, including enduring scorching sessions of red-hot sexual torture.
EXCERPT:
Run! Her mind screamed. But to where?
They had her cornered. She realized her mistake now. Upon climbing to the mountaintop she'd ventured out onto a peninsula. Three sides were severe drops of thousands of feet onto solid rock that would kill even a vampire. She was also upwind, that's why she hadn't smelled them.
Damn stupid vamp! She couldn't have been more foolish if she'd tried. They must have been watching her. Waiting for the right moment. Laughing at her stupidity.
Despite the fear curling through her like a suffocating blanket, she recognized the two males who had come to the alpine house that one morn. Yet if only they'd met in another less threatening way…
"Do not do anything foolish, female." The younger of the two spoke with softness as if trying to gentle a frightened mare. But she was no mare submitting to a ride.
"I warn you. I will not hesitate to kill both of you before you touch me." She held her spear up in a threatening manner. The males didn't flinch at her threat. If anything the young one looked worried as he cast quick glances to the cliffs on each side of her, obviously fearing she might jump to her death. If they would be so lucky. Ha!
The older one, the more handsome of the two, to her utmost irritation, quirked the tips of his lips in utter amusement, allowing the erotic length of his fangs to shine fully in the moonlight.
He found her amusing? Did he not realize she could sail her spear through the cold mountain air and pierce his spine, shattering it? Vampires were a strong breed, but a shattered spine would most certainly kill the brute. Even he could not regenerate that quickly to avoid death.
No, she didn't want him dead, he was much too fine a male specimen. She would find another way to escape.
"Perhaps a good fucking by both of us will calm you, my Lady," the older suggested. She trembled under his magnificent lusty glare and realized he must have the gift of mesmerizing.
Oh shit, she thought, using the human term she found quite effective when she was in trouble. If she didn't break eye contact with him, she would be easily taken. And yet, under his stare, she wanted to be taken. By both of them. Just as he'd suggested. Taken at the same time. Over and over again.
Naked male flesh slapping against her. Huge, powerful hands holding her ass steady. One of them plunging into her pussy. The other one coming into her from behind.
Megan caught herself and closed her eyes in the hopes of breaking those naughty thoughts. He must have put the suggestion into her mind. He must have! Wanton heat spiraled through her and hot moisture pooled between her thighs. Her nipples felt so terribly hard and her breasts pleasantly heavy and swollen.
If they captured her she would lose her new-found freedom but maybe gain sexual freedom. The thought came upon her so quickly and so silently she didn't even realize the two males were several steps closer to her until she opened her eyes again.
For deeper insight on what makes the Queen of Hot so hot, check out Jan Springer's website. Once there, click on blog in the header for more entertaining reads.
I'll be back Monday. Until then…
Happy Reading!
Sloane Taylor
Sweet as Honey…Hotter than Hell
December 20, 2010 | Friends
Today's guest author is delightful Jenna Howard with her amazing new release SPURRED ON.
In sixth grade, Jenna had to keep a journal for a class project. One assignment was "What do I want to be when I grow up." Young Jenna carefully printed out she "wanted to be a writer." Those words would guide her toward writing teen angst stories in high school and on to erotic romance, a genre her mother is soooo comfortable with. 🙂 Jenna currently resides in Calgary, Alberta, Canada and continues to fascinate readers with her unique style.
SPURRED ON
Jenna Howard
The Wild Rose Press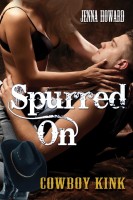 BLURB:
He wears the spurs, but she's not afraid to use them.
Country singer and secret Domme Jessa Brody is home to perform at the Calgary Stampede and to brainstorm some new songs for her next album. Sexy bronc rider Luke O'Connor is once again the perfect inspiration for her songs and naughty dreams. Strong, brave and handsome, he's man enough to submit to her wildest desires. But can she handle the responsibilities that go hand in hand with being a good Domme, or will she lose herself –and Luke–when Spurred On?
EXCERPT:
"Oh, he's a love." Standing up, she walked over to the horse and leaned against him. "Aren't you?" She stroked the horse's back, loving the curve and muscles.
Luke's gaze followed her hand.
That's right, I could be stroking you like this.
Jessa gave the muscular rump a sharp slap and Luke's nostrils flared. Her body hummed. She handed him the guitar then hopped onto the gate. Swinging her legs over, she jumped down.
"See, the secret to Crow is simple." Finally, she faced Luke.
He tried to look casual and unaffected but she didn't believe the act. Luke held himself still—wary yet curious, curious but wary.
"He's all tough and shit until you set the rules. A little knee in the belly as you tighten the cinch. Sure, he'll buck." When she leaned against Luke, his breath sucked in audibly.
"But you ride him hard until he knows who holds the reins." She licked along his jaw and cupped the thick bulge beneath the faded denim and squeezed. "Giddy up," she whispered in his ear.
Every inch of his six feet shuddered. There was something potent in making the strong tremble. She took her guitar from him. "You look good, Luke," she called as she walked out of the stable.
Holy hell, her nipples throbbed and her pussy ached. She'd also die before admitting that inside she was bouncing around like a teenage girl yelling, "He's here! He's here!"
Would Luke still buck her control?
Learn more about talented Jenna Howard on her website and her entertaining blog. You can also follow Jenna on facebook and twitter.
I'll be back Wednesday. Until then…
Happy Writing!
Sloane Taylor
Sweet as Honey…Hotter than Hell
December 15, 2010 | Friends
Or a great stocking stuffer? Then check out The latest best seller from Dorien Grey.
CAESAR'S FALL
Dorien Grey
ISBN 978-1-936144-08-2 Print
ISBN 978-1-936144-09-9 Ebook
Zumaya Boundless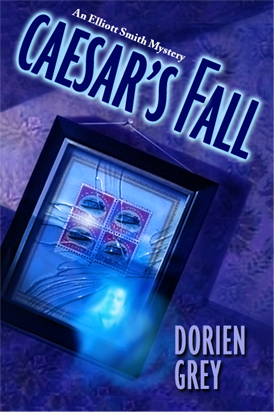 BUY LINK AMAZON Print Book
BUY LINK Ebook
BLURB:
With a new building to restore and his relationship with Steve growing more serious, the last thing Elliott needs is someone else's problem, but when lottery millionaire Bruno Caesar moves into his building he can't just ignore the man's pleas for help.
Then Bruno's life comes to an abrupt end when he falls from his balcony. There's only one problem—he was terrified of heights…and never went onto the balcony. Bruno can't rest until the puzzle of his sudden death is solved, and Elliott and John are once again searching for answers.
EXCERPT:
As they entered the lobby, two men, one impeccably dressed in a very expensive suit and tie, had just been cleared by the doorman and directed to 40J. Somewhat to his surprise, Elliott recognized the men as Button and Paul, regulars at the Anvil, a nearby gay bar. He'd met them there some time before, but couldn't recall when he'd last seen them.
Spotting him, Button said "Elliott!" in a tone usually reserved for greeting long-lost friends."What a surprise! Going to the party?"
"No," Elliott said. "I live here." They converged on the way to the elevators, and Elliott introduced Steve.
"Well," Button said, "We'd wondered why we hadn't seen you in a while." Giving Steve an exaggerated head-to-toe scan, he added, "Now I see why. Why go out for hamburger when you can have steak at home?"
Steve grinned as the elevator door opened and they all got on.
"So how do you know Bruno?" Elliott asked.
"Everyone knows Bruno," Paul volunteered. "He's like a shooting star, suddenly appearing out of nowhere to streaking across the firmament of the Chicago gay scene."
Elliott and Steve exchanged quick bemused glances, and Button said, "Once a publicist, always a publicist. And he's hardly a shooting star. I've known Bruno for centuries."
"Maybe so," Paul said firmly, "but that's before he won the lottery."
"He won the lottery?" Steve asked, obviously impressed.
"And not just any lottery," Paul said: "The MegaBucks, no less! Fifty-nine million!"
"Wow!" Steve said.
The elevator stopped at 35 and the door opened.
"Why don't you come up with us?" Button asked. "I'm sure you'd be welcome."
Elliott, standing in the doorway to prevent its closing, said: "Bruno did invite us, but we had a birthday party and had to decline."
"It's not too late," Paul suggested.
Since Steve had already stepped out of the elevator, Elliott looked quickly to him for confirmation, then said, "Not tonight, I don't think. Maybe next time."
They all exchanged smiles and waves as the door closed, and Button said, "Don't be a stranger!"
BUY LINK AMAZON Print Book
BUY LINK Ebook
For greater insight into the "real person" behind Dorien Grey, the curious are invited to check out his website and his various blogs: Dorien Grey and Me and A Life in Photos among them.
There is nothing Dorien loves more than hearing from a reader. If you'd like to contact him, just drop him a note at doriengrey@gmail.com.
Have a wonderful weekend, I'll be back Monday. Until then…
Happy Writing!
Sloane Taylor
Sweet as Honey…Hotter than Hell
December 13, 2010 | Friends
is a hot, new release by KC Kendriks. This well-written novella is part of Stepping Out an AmberPax™ Collection of Erotic Romance by Various Authors. I do believe you'll love KC's book. 🙂
WHAT YOU DON'T CONFESS
KC Kendriks
ISBN-13: 978-1-61124-020-7
Amber Quill Press – Amber Allure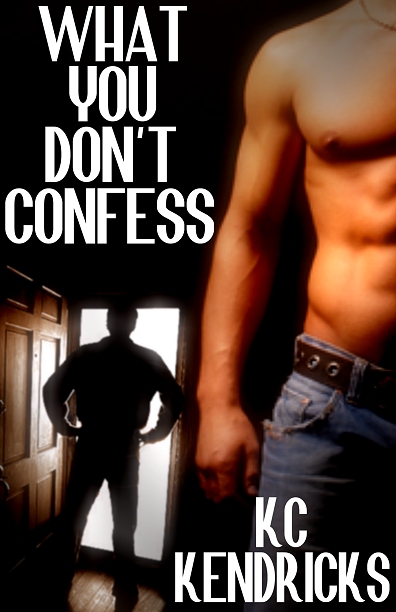 BLURB:
Bright and beautiful, Cassidy Barlow is one of Marionville's new breed of movers and shakers. Outspoken on political and social issues, Cass draws a lot of media attention, and knows how to us it. Out and proud, Cass makes no apologies for who he is, or who he wants – and he wants Dylan Donoghy. The only thing is, from where Cass stands, Dylan seems to be involved with two different men.
Coming out. The most difficult phrase in Dylan Donoghy's vocabulary. Handsome, successful, wealthy, he's made it this far in life with only his closest friends knowing he's gay. Dylan has a good reason for that to change – his deepening attraction to Cassidy Barlow. It doesn't come easy, but Dylan takes a few first steps out of the closet. It's his only choice if he wants to be with Cass, even though he knows Cass has some secrets of his own.
Every man has a private past, and an unwritten future. What he won't confess stands between the two.
EXCERPT:
"You do know those four watchdogs of yours were there the entire evening, don't you?"
I nodded. "They like to keep an eye on me. Obviously, it didn't discourage you at all."
His hand gripped my shoulders again. His amber gaze drilled into mine. "Just so I don't step in it, Dylan, how many of them have you slept with? And don't lie to me."
I fought back against of wave of anger. How dare he imply I'd not tell him the truth? Being astute, he knew he'd pissed me off. I saw the apology in his eyes as he touched his fingertips to my lips.
"That didn't come out right, Dylan."
" Apology accepted. Before today, I might have told you it was none of your business, but now I think you should know. We're no longer intimate, but I have a very close, special relationship with both Travis and Tyler. I'm very happy for them that they both found a partner."
"That's what I figured out Friday night when they spent all that time running in and out of an area marked 'private'. Especially Templeton."
"Don't test me too often, Cass. I don't like it." I spoke sharper than intended, but he needed to know my boundaries. "There's a lot of space between your age and mine. Be careful not to judge until you get to where I am."
Those restless hands of his skimmed along my sides. "I'm not being judgmental, I swear. I just needed to know what the dynamics are between you and them so I don't put both feet in my mouth."
"Okay. I get it. And for what it's worth, all four of them, especially Travis, is rooting for you."
"Really? He's in my corner, is he?" Cass tucked his fingers under my belt and tugged. I levered my weight off the door and stepped past him, capturing his hand to pull him into the casual space I used for informal gatherings.
"He's using tough love on me when it comes to you, so don't be shocked, or surprised, at his little quips. Have a seat."
Cass eased down on the love seat and patted the spot beside him. I ignored him, and went to the bar. "What would you like to drink?"
"Ginger ale?"
I nodded and poured two, handing his to him with an apology it didn't come in a brandy snifter as I settled in beside him. I stopped him when he moved to put his arm around me.
"You're killing me here, Dylan."
"No, I'm not." I sipped my drink. "Cass, I don't want to make a misstep with you. I know what you want tonight, but what do you want next week? Or next month? Christ, what do I want next week?"
He leaned back and watched me with those amber eyes. His cool, even regard gave little indication of his thoughts. Cass downed his drink in three fast swallows, then swirled the ice around in the bottom of the empty glass.
"Do you always think everything to death, Dylan?"
"It's a hazard one encounters in middle age."
"I'm not some mistake you'll regret when you're ninety."
I laid my hand on his thigh. The heat of his skin penetrated his jeans, and snaked up my arm. "You're right, you know. I won't regret meeting you, whether dinner is all we share, or we become friends, or if we become lovers."
"Or? If? I don't appreciate being jerked around."
"Well, poor little you that I haven't figured this out yet."
Cass's mouth dropped open, then snapped closed. He stared at me, blinked, and stared again. I reveled in private glee that I'd seen him speechless twice in one day, but that amusement was strongly tempered by the knowledge I had him too far off balance. I squeezed his knee.
"Look, Cass. I'm not jerking you around. Getting involved with someone isn't easy for me. I've never been someone who gets a hard-on for a guy and loses my mind until I fuck him. I have to think things through, and consider the impact it may have on my life."
He shook his head. "Babe, you've got to start living in the moment, and stop living in fear." Cass set his empty glass down on the end table and stood. With angry, disappointed eyes, he met my gaze. A muscle moved in his clenched jaw.
My heart beat painfully. I knew what he was going to say…
I'll be back Wednesday. Until then…
Happy Writing!
Sloane Taylor
Sweet as Honey…Hotter than Hell