Archive for the 'Friends' Category
December 10, 2010 | Friends
Dynamic author Destiny Blaine is here to share her soon to be released novel Waking Up the Arguably Dead.
Here's the tagline: Waiting to Die Can be Such a Drag.
Now that has to peak your interest. 🙂
Hi, Sloane. Thank you for allowing me to be your guest today. I wanted to stop by and tell you about my upcoming book.
Waking Up the Arguably Dead is a Dark Paranormal MFM Romance with comic relief elements. Readers get a glimpse inside my hometown of Blountville, Tennessee as they flip the pages of this Passion in Print novel. They'll see what I see while driving down Main Street and they'll discover a country store, while somewhat fabricated, where many of us pop in for an ice cold soda and good conversation.
Waking Up the Arguably Dead introduces readers to Granny Myrtle, a spunky little old woman who is several characters all wrapped up in one. I created Granny from a few country grandmothers I've had the pleasure of meeting at least once. As for Addison: Well, I don't know anyone quite like Addison but she sure is one lucky gal. Read the book and find out why a lot of girls in these parts might be a little envious.
In this novel, you'll meet Melissa, the LPN over at the local physician's office. I'm happy to say she is true to form. No, there isn't a Dr. Michaels in Blountville, but Melissa lives here. She's a saucy little vixen who knows what she wants and doesn't care to tell everyone how much she's enjoyed getting it. The first name has been changed to protect the promiscuous and as far as I know the real 'Melissa' never worked a day in her life. You'll like her though. She's full of surprises.
Step inside Waking Up the Arguably Dead. Meet my characters. Then, drop me an email, destinyblaine@yahoo.com, and let me know what you think or what would you do if you were in Addison's shoes?
WAKING UP THE ARGUABLY DEAD
Destiny Blaine
Passion in Print
Genre: MFM Paranormal-Vampire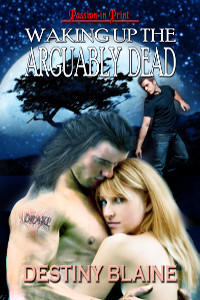 BLURB:
Martin Cartwright's neighbor receives disheartening news. She's dying. As far as Martin can tell, Addison has never looked better, but when daily sightings of his beautiful neighbor become few and far between, Martin realizes Addison isn't too keen on living. And he decides to help her get on with dying.
Martin plans to scare Addison into living. Unbeknown to him, someone is watching with similar goals. Only Drake Valentine's interests in the lovely Miss Deveraux vary from Martin's ambitions. Soon, Addison must choose between living in the shadows of sickness and stepping into the darkness where she's always been drawn.
EXCERPT:
Addison Deveraux stared at her family physician for several minutes, unable to speak and incapable of processing the information he relayed. She focused on the white walls around her. She skimmed over the medical licenses and board certifications, eventually narrowing her gaze on the overstuffed plastic brochure rack housing material about common medical problems. The entire time, she remained faintly aware of her doctor's monotone voice. An avid movie enthusiast, Addison disconnected from the moment and recalled a recent flick she'd watched.
She remembered one scene in particular where a woman learned of her life-destroying health circumstance. Thanks to modern day technology, the character slipped into a mindboggling funnel surrounded by noise typically found in a seashell. The echo intensified and the room scrambled into spinning pieces of a jigsaw puzzle.
On the big screen, the actress sobbed. The doctor calmly provided information about the disease for which she'd been diagnosed and the woman finally zoomed in on those fated words: "You're dying."
Addison blinked. "I am?"
"Addison," Dr. Michaels began gently, "Haven't you heard a word I just said?"
She swallowed. "No, I was…" Thinking about dying.
"Addison , this isn't something you should take lightly," Dr.Michaels stressed, leaning over his desk. An older man with salt and pepper hair, Dr. Michaels wore tinted large-rimmed glasses and resembled someone who might have been chosen to portray a physician delivering detrimental news.
Addison watched his mouth move. His words hummed all around her, beating into her ears like a hollow drum. "Treatment is something we should discuss together. This isn't the end and that's it."
Boom. Boom. Boom. The maddening tempo gained momentum.
Advice slipped from his lips but the words ran together in a never-ending slur. "Think of diagnosis as a transition. By the time you've processed the information I've given you, you'll be ready to face the days ahead. In the end, you'll be much better off."
She gulped. There it was. The dreaded statement, You'll be much better off.
How many times had she attended a funeral for one of her grandmother's friends and heard the same thing? Mary Lou Cornell went to a better place. Dan Bradley was much better off after both arms and one leg were amputated.
Carla Sue Davis found Jesus after living on the streets and working for some pimp who decided to repay her years of servitude with continual beatings. And Barbara Jo Jones faced death the same way she'd faced living; always waiting for the other shoe to drop.
No indeed, Addison refused to walk down the same road chosen by Granny Myrtle's best friends, or her cousin Gertrude, who for some reason received her bad news and decided to kick the bucket, before the bucket smacked her upside her head. No way. Addison planned to do a little better for herself. She'd die on her own terms.
The way Addison met death was her decision. Since she had a choice in the matter, she planned to go on out there and greet death—take her fate by the horns and ride the daylights out of it.
Yep, it was time to get on with dying.
Learn more about Destiny and the books she loves to write on her website and be sure to check out Destiny's informative blog.
I'll be back Monday. Until then…
Happy Writing!
Sloane Taylor
Sweet as Honey…Hotter than Hell
December 8, 2010 | Friends
with Ginger Simpson through her gifted writing in all of her thirteen books.
FIRST DEGREE INNOCENCE is Ginger's latest release and a writing stretch for this talented author. It's a novel that proves Ginger Simpson has a formidable talent.
On the personal side, Ginger tells us she retired from her big girl job and hoped to devote more time to writing, but got caught up in the every day world of promotions, emails and chatting. Ginger decided that one book a year might just be her norm.
Ginger spends time with husband, Kelly, and always finds time for Spencer, the love of her life. Her grandson, diagnosed with Autism, has shown her that with determination, all things are possible. Look how long it took Grandma Moses to find fame.
FIRST DEGREE INNOCENCE
Ginger Simpson
ISBN: 1456320092 Print
ISBN: 9781456320096 E-book
Books We Love Publishing Partners
Genre: Fiction / Romance / Suspense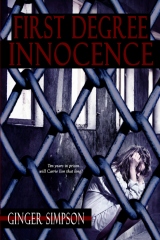 BLURB:
Imagine being sent to prison for a crime you didn't commit and having everyone laugh when you proclaim you're the victim of a terrible injustice.
The transition to an inmate's life is hard enough, but when the prison bully arranges to have Carrie transferred to her cell, leaving behind her current bunk-mate and the first person to believe in her innocence, Carrie finds herself embroiled in a plot in which she wants no part.
The only bright spot in her life is a secret attraction she shares with a male guard during her work as a trustee in the prison garden. But can he save her?
EXCERPT:
"This is all a big mistake. I shouldn't be here." Carrie's voice trembled. "Honestly, I'm innocent."
With deeply-furrowed skin and graying hair, the guard looked well past fifty. She walked closer, stopping when her face was only inches from Carrie's. "Do you have any idea how often I hear that in here?" Her breath reeked of cigarette smoke, and Carrie wrinkled her nose and turned her head. How could someone she'd never met hate her so much already? Was there even an ounce of compassion buried beneath that deep sneer?
The older woman pressed the edge of her baton against Carrie's jawbone and forced her face forward. Her stomach clenched. Evil gleaming in her eyes, the guard delved the wooden stick under Carrie's bra strap, slowly guiding the silky string off her shoulder and down her arm. Gooseflesh peppered her skin and she shivered.
"Stripping means everything, inmate Lang. Panties, too, sweetheart. Move it! I'm a busy person, so quit wasting my time." The matron strode to the other side of the room, leaned against the wall, and ogled Carrie while she finished undressing.
Lowering her head, she dropped her bra atop the pile on the floor then kicked her panties off next to it. Feeling the cold invade every pore, she wrapped her arms around her upper body. Threatening tears blurred her eyes, but she squeezed her lids together and tilted her head toward the ugly pipes snaking across the ceiling. Oh Lord, what did I do to deserve this? Please, help me. You're my last hope.
"Praying are you?" the gravelly voice taunted. "It's a little late for that. Put those hands down to your sides and look to the front, missy."
Carrie opened her eyes and swallowed hard. Did the woman expect her to know what to do? "N-Now what?" she asked in a quivering voice.
Just a short time ago, she'd been frisked, photographed, and finger-printed for the second time in her life. Her initial arrest had been horrifying enough, but she at least made bail for a time. Now this? She gazed down at the black ink smudges still visible on her hands. Why was this happening? Never had she felt so humiliated…and disbelieving. How could the judge have sentenced her to ten years in prison?
Learn more about Ginger Simpson on her website and blog Dishin' It Out. Ginger's other site let's it all hang out, My Place to Rant but don't go, if you don't respect differing opinions!
I'll be back Friday with KC KENDRICKS. Until then…
Happy Writing!
Sloane Taylor
Sweet as Honey…Hotter than Hell
November 29, 2010 | Friends
Every once in a while I love to delve into the past with a good historical/medieval read. Linda Sole, prolific author with over 70 books to her credit, is just the author to hold me captive.
Love Hate & Betrayal (The Apothecary) is a medieval story which suits the title and a book you'll enjoy. Melloria is driven out into the snow when her husband's castle is stormed. Big with child and close to her time, she collapses outside the gates of Nicholas Malvern's manor house. Nicholas is the Apothecary, but he is suspected of using the dark arts.
LOVE HATE & BETRAYAL – THE APOTHCARY
Linda Sole
Amazon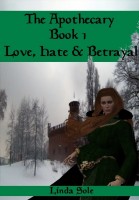 Yorkshire, in the year of Our Lord 1254
"I curse you, Montroy," she cried in a loud voice that carried to every corner of the hall. "For what you have done this day, I curse all those who serve you. You have murdered my brother and you will live to regret every drop of the precious blood you spilled. When my husband returns to England, you will die, as you deserve."
"Daubeney deserved his fate." The Earl of Montroy leaped to his feet. "Your husband murdered my brother and I vowed revenge. Now it is taken."
"You are a liar," the woman cried. "My husband killed your brother in fair fight by the laws of combat. You were not in England. You did not know that your brother was convicted of treason. He was given the choice to die at the block or prove his innocence in a fight to the death. My husband was the King's champion. Now my brother is dead at your hands. I curse you and all your descendants. You murdered him and many of my people lie dead this day. The blood of innocents stains your hands. May your sins find you out and may you die in agony of body and mind…"
"Damn you! Be quiet woman," the earl thundered down at her. "I gave orders to let you live for you are but a woman and with child but if you continue to plague me with your curses I shall have you hung – as the sorceress some claim you are."
He turned to his men-at-arms, who stood poised and waiting. "Cast her out of the castle and if she returns you have my permission to put her to the sword." There was a murmur of dissent from some of the company, and men looked at one another, shame and fear in their eyes. "Do as I say, damn you."
"She has powers of witchcraft, my lord," one man spoke up at last. "None here dare kill her."
"Fools! Every last one of you. Give me my sword and I will do it myself." He grasped the heavy broadsword that he had earlier used to kill the young knight. The blade still stained with blood of the youth's followers as he raised it high above his head. Yet when the woman looked up, something held his arm. Suddenly, his sword was so heavy he could not move it.
"I shall leave this accursed place. There is nothing here for me now," she said, her voice softer now, dangerous, filled with hatred. "Think of me when you lie sleepless, Montroy, and remember. My husband will avenge my brother and me…"
The countess turned and left Montroy standing there with his arms raised above his head unable to move until she had left the hall. The sword fell from his hands, a crippling pain curled up his left arm. He bent double as the pain seemed to crush his chest; his eyes rolled, he fell to the ground and lay kicking and foaming at the mouth.
"It be not witchcraft, but a seizure," she cried. "He is overcome by weariness from battle. Carry your lord to his chamber and put him to bed. Let the physicians tend him and if the Lord wills it he may recover."
Melloria had known she risked death by returning to curse Montroy, but her heart was filled with bitterness toward the man. If only her husband had not gone to Spain. The earl would have resisted any siege, but with the lord gone they had been vulnerable. The men had fought hard but Peter had responded to Montroy's offer to talk and been betrayed by a callous devil who disregarded the white flag to overrun their defenses. Montroy was ruthless but for one moment as she looked into his eyes she had known that despite his bold talk he feared her.
The snow penetrated the soles of her shoes, dampness soaking through the fine leather, but she no longer felt the cold. Covered from head to ankle in the thick, fur lined cloak, her body was insulated from the bitter weather, but the rest of her had long since become numb. Any tears she might have shed had dried, her mind empty of all but the hatred that drove her on through the icy wind and the softly falling snow. The Abbey of Saint Innocent was but thirty leagues from her home. There she could find shelter, someone to help her through the birth of her child, which was imminent – someone to care for the babe if she died.
Pain swept through Melloria, engulfing her body. She had been blocking out the ache in her back for hours but this was such agony that she could not ignore it. Giving a cry of fear, she clutched at her belly. The pain was almost unbearable but she must bear it. There was a way to go yet to reach the Abbey and sanctuary.
The snow lay thickly, covering the moors. The hem of her gown trailed on the ground, soaked as ice clung to it. Ahead of her, lay a dark shape; one large building surrounded by a huddle of outbuildings. Was it the Abbey? Was she closer than she had thought? She moved forward eagerly. Here was warmth and comfort, a bed where she could give birth to her son.
As she saw the building more clearly, her heart sank. This was not the Abbey but a large manor house. She did not know who lived within its forbidding walls. She moved towards the high gates made of wood banded with iron and, as she tried them, locked against her.
"Help me…please help me…" Her pride gave before the overwhelming pain as she sank to her knees, tears trickling down her cheeks.
She was falling into a pit of burning coals, the pain more terrible than before. She gave one despairing scream then crumpled into a heap on the icy ground.
"Here Brutus! Come I say!" the man commanded in a tone the great brute of a dog could not ignore. "Cedric, what have you found?"
"It is a woman, my lord." The keeper of the hounds bent to investigate. "I think she lives yet…" He gave a cry as he turned her. "She is with child, Sire, and close to her time. I think her waters have broken."
Nicholas Malvern bent to pluck the woman from the snow, a frown making his scarred face fearsome as he saw she was close to death.
"God's Body! She is gentle born. What madness drove such a woman to my gates on a night like this?"
It was not a question his vassals dare answer for in truth no woman in her right mind would seek this house whether it be in sunlight or darkness. Nicholas knew he was dreaded, hated by many; even those who served him lived in fear of shadows for they did not understand him; though each and every one had come here more dead than alive and been saved. It was whispered that he was a sorcerer; some accused him of necromancy and the black arts, and some thought him the Devil incarnate. Only the dregs of mankind with nowhere else to go would stay near him save for a few devoted servants.
As he strode up the stairs leading to his chambers none followed. Nicholas took the woman to a bedchamber close by his own. He had allowed no one to use it since she died – the one woman he had loved and the woman he had killed. He had not ventured here since they had torn her body from his arms…
To learn more about Linda and her work, check out her website.
I'll be back tomorrow. Until then…
Happy Reading!
Sloane Taylor
Sweet as Honey…Hotter than Hell
November 24, 2010 | Friends
is the latest release from Sam Cheever. Definitely a book you will not want to miss.
In case you're not familiar with Sam, this excellent story teller is an award winning author of more than 20 works of fiction. Sam mixes in a little fun, a little adventure, and a little real-life spice to create her sexy fantasy and romantic suspense stories. Her fictional peeps fight their way through a dizzying array of challenges without letting little things like treacherous villains, vicious monsters, or manipulative gods dampen their zest for life and hot love!
In real life, Sam lives on a hobby farm in Indiana with 8 dogs, 4 horses, 2 barn cats, 2 daughters, and one husband. She writes books she likes to read and reads books she wishes she'd written. Her books are fast paced and fun loving. Not one of them will solve a single world problem, but you definitely won't be bored while reading them!
Here's a taste from Sam's uber hot new novel.
THE DEVIL YOU KNOW
Sam Cheever
ISBN: 9781419931215
Ellora's Cave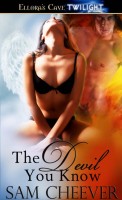 BLURB:
Astra Q Phelps is turning twenty-five in a few months and she's starting to feel the effects of her Settling, the time when a half angel, half devil Tweener decides whether to embrace her dark nature or her light.
The delectable Dialle, king of the Royal devils, really needs Astra's help in Hell to deal with an insurrection. But Astra's Settling pretty much has her thinking of only one thing−S.E.X!
Sex with Dialle—sex with her yummy partner, Emo—sex with a molten hot dragon slayer she meets along the way—and sex with assorted other randy Royals cavorting among the fires of Hell. It's a constant struggle just to keep her mind and body pure so she can concentrate on the business at hand, but Astra Q Phelps is definitely up for the challenge. And Good versus Evil has never been this much fun!
EXCERPT:
The water was hot enough to sting the center of my low back when I stepped into it, but I quickly got used to it and it felt wonderful. The pool was hip deep, and there was a wide, flat rock on one side I could sit on.
I groaned with pleasure and lay on my back for a long moment, just floating on the surface. My hair floated lazily around my head in the hot, mineralized water.
My muscles started to loosen and my mind wandered, at first considering the problems facing Glynus. But those thoughts quickly morphed to the Slayer. I realized with a jolt that I didn't even know his name. I needed a name if I was gonna fantasize about throwing him to the floor and ravishing him.
Or did I?
My mind formed a picture of him and then set about stripping him naked, imagining the finely sculpted muscles and nicely packaged sexuality of a perfect male creature.
There was little chance he'd fit my mental description, but it didn't matter, since it was purely an academic exercise. I had no intention of finding out what he looked like naked for real.
I floated happily, a grin on my face, and pictured him bending over me, his full, soft lips touching mine, pulling my breath away and sending spirals of delight to tighten at my sexual core.
My pussy clenched hopefully at the thought, and my nipples peaked. I reached up and covered my breasts with my palms, pulling on my nipples. Pleasure spiked in my belly and moved lower, to pulse in my throbbing clitoris.
I visualized his hot mouth moving from my lips to capture a rigid nipple, sucking it deep into the heated cave of his mouth and favoring it with long, slow pulls that tugged directly on my pleasure core, as if a thread of sensual desire attached the two parts of my passion-charged body.
My tongue came out and swept across my lips, tasting his imagined kisses there. One hand slid across the wet surface of my belly and disappeared in the curls covering my moist core. I touched my pulsing clit and moaned, nearly sinking as my body stiffened in delight.
Placing my free hand on the flat rock under the water's surface, I regained my balance and renewed attentions to my clit. With every squeeze on the throbbing nub, bright tendrils of sensual expectation flared, until my toes curled and my muscles clenched in anticipation of the building release.
I played his face through my mind, savoring the hard angles of his jaw and the soft outline of his full lips. My traitorous psyche filled in the outlines with hot, knee-melting detail and went farther, drawing the silhouette of his broad shoulders, narrow hips, and long, muscular legs.
When my mind got to the shoulder length, silky black hair and long-lashed blue eyes I realized, with a start, that I was picturing Dialle. He'd nudged into my subconscious and shoved the other guy right out when I wasn't looking.
I embraced the change, feeling the guilt I'd been ignoring at the back of my subconscious sliding away to leave only delight as my fingers worked their magic and built the pleasure to a tipping point. I thought about Dialle's scent, his heated touch, how his cock felt sliding deep within my dripping pussy. How he made that little sound in his throat when I pulled his cock deep into my throat…
The sound of the waterfall was thunderous. It gave me the sensation of being in a cocoon, alone, free to do only as I wished.
So when I heard the clearing of a throat it was a shock. Beyond a shock. My eyes flew open and I shrieked, losing my balance on the top of the water. I sank to the bottom like a rock, sucking a mouthful of water down my throat in the process.
I came up spitting and spraying water, embarrassed, humiliated, and angrier than I'd ever been. Forgetting for a moment that I was naked I surged to my feet and faced him, fists clenched at my sides.
The Slayer's face was completely without expression, and he held a bundle of clothing in his hands. "Sorry, I did call out several times but you didn't respond. I thought maybe you'd drowned." Something flashed quickly through his eyes as his gaze slid down my dripping form. Something hot and…hungry.
To find out more about Sam and her work, please pay her a visit at any one of the following online hot spots: her website; Facebook; MySpace; or her blog. She always loves to chat with readers.
Happy Thnksgiving to all my USA friends!
I'll be back Monday. Until then…
Happy Writing!
Sloane Taylor
Sweet as Honey…Hotter than Hell
November 22, 2010 | Friends
check out Raine Delight , a superb author with an imagination you will definitely enjoy. Here is her latest;
FAIRY KISSES & MAGICAL DREAMS
Raine Delight
ISBN 978-1-60168-153-9
Aspen Mountain Press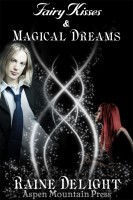 BLURB:
Prince Aryan has searched his world for the one woman that is his destined mate but has just about given up when he is led to the human world. Even though it is forbidden to fall in love with a human, he finds Skye Andrews completely delectable and wonders if she is his chosen love.
Skye Andrews has had it with men. After another disastrous date, her aunt gives her a love potion to try. With a magic spell and a mysterious face haunting her waking days, will Skye find the love she is looking for?
EXCERPT:
I must be insane to think a magic potion will help me find my own Mr. Right. Why is it I can't find the one man who loves me? Skye got her things ready and stepped into the bathroom. All my friends have someone and here I'm still looking for that one man to steal my soul with his kisses.
Why is it I only seem to attract the ones who were either married, a playboy or a rat in sheep's clothing? Skye thought. I know I'm not bad looking. I'm not a typical blond, bubbly type of person, who has guys buzzing around them like bees at a flower. Why is it I only seem to attract the wrong type of guys? Do I have Losers please apply stamped on my forehead?
Looking in the mirror as she undressed, Skye saw a woman with shoulder length, flame red hair, violet eyes, and a heart shaped face with full lips. As her shirt came off and bared her to the mirror, she saw her full breasts. The bane of her teenage years, she was sure they'd fit in the right man's hands. Her flat stomach tapered down into her long lean legs. Turning to check the water temperature, she caught sight of her dimpled ass in the reflection. Groaning softly, Skye wished she had one that made men want to grab it, but hundreds of butt crunches didn't make a difference.
Sliding into the water, she moaned softly as the heat soothed her stiff muscles. She made another wish to find her true love before the end of the month and finished the last of her wine. Where is the one man who will turn my life inside out and capture my heart?
There are many places to catch up with Raine and her excellent work. Here are a few; website, Raine's Book Nook Blog , Author Reader Loop, and Twitter.
Raine loves to hear from readers. Feel free to email her any time.
I'll be back Wednesday. Until then…
Happy Writing!
Sloane Taylor
Sweet as Honey…Hotter than Hell
November 18, 2010 | Friends
Rick R. Reed has done it again, created a book apropos for today's world and rich with meaning. OUT ON THE NET follows the journey of one man in the modern world to find love.
This poignant book is a must read and one you will enjoy.
OUT ON THE NET
Rick R. Reed
ISBN-13: 978-1-61124-017-7
Amber Quill Press – Amber Allure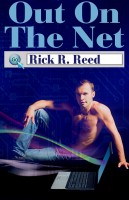 BLURB:
Ray Tolliver has bad timing. Cold feet? It doesn't get much worse than accepting you're gay twenty minutes before your wedding to a woman, yet that's just what happens.
Join Ray as he recounts in his blog the hilarious and touching events that lead him on a journey toward true love. Although he goes looking for love in all the wrong places, will he eventually find another man who wants more than just quick sex? A man who appreciates romance, hearts, and flowers? Or will he find that self-acceptance and bliss do not always go hand-in-hand?
And what of Alice, Ray's lovely, jilted fiancée? Will she find it in her heart to forgive the man who left her at the altar?
These questions and more are answered in this unique love story, told in the form of blog entries. You'll laugh, you'll cry, but you'll come away from Out On the Net with a renewed appreciation for the power and difficulties of loving not only others, but yourself.
EXCERPT:
Blog Entry #2: An Explanation
Before I get any further into my little tale of woe, it's only fair that I tell you a bit about myself, aside from the "about me" crap you can read to the right of this blog. First off, I am a gay man. I am thirty years old, now single, and as far as sex with men goes, I am still a virgin (if you discount the groping my next-door neighbor Keith and I did that one summer in the abandoned shack in the woods when we were twelve). I am considered good-looking by some, average by my own estimation. I am five feet ten inches tall and weigh 165 pounds. I have dark brown hair, green eyes, and an olive complexion I inherited from my mom, who is of Sicilian lineage. I work in an industrial pottery in the small Ohio River town where I live, seven a.m. to three p.m. every day. I use a hose to guide liquid clay into molds that eventually become things like vases, urns, and decorative decanters. I have a high school education and two years of community college. I have lived in my small town of 12,000 all of my life.
Why am I writing a blog? Why am I baring my soul on the Internet? To get attention? Because I'm a fool? Because I'm a frustrated writer? Well, all of those things have some validity and they play into my rationale. But the real reason I wanted to put this thing up for public consumption is really pretty selfless—I want to help other people like myself not make the same mistakes I have. So if you're out there and reading this on your Mac or your PC, I want to help you. If you're hiding from who you really are, I hope to shed some light on that person buried in the back of the closet. I want you to know that it might be hard to come out, but it's not impossible.
And the air out here is actually a lot easier to breathe.
I want you to know that being gay is not a choice. I had once thought that. I thought if I dated girls, got married, and did all the things society told me I was supposed to do, I would be okay. Those dreams and fantasies I had about guys would fade away as I became more entrenched in the world everyone seems to consider "normal." Ever heard the advice: 'fake it 'til you make it'? I did. I thought it would work for me.
It didn't and doesn't.
So if my little chronicle here of my painful odyssey out of the closet gives you some pause and maybe prevents you from making one wrong turn away from being who you really are, then maybe this blog isn't such a bad idea.
It's simple, really. We are all who we are. Nothing more, nothing less. If you're religious? Hey, I can relate. I was brought up in the Church (and in my family "Church" means only one: Catholic) and know a little bit about guilt and "sinning in one's heart." But in spite of all the dogma I absorbed growing up, I still stick with the credo I saw on a bumper sticker a few days ago—"God loves everyone. No exceptions."
And if God can love you, you can love yourself.
I'll be back Friday. Until then…
Happy Writing!
Sloane Taylor
Sweet as Honey…Hotter than Hell
November 15, 2010 | Friends
with our featured author and good friend Tabitha Shay.
Tabitha is the author of paranormal romances, Witch's Brew, Witch's Heart, Witch's Moon, Witch's Magic, and Witch's Fire.
Her books have been nominated for several awards, including the prestigious P.E.A.R.L. Award for Witch's Magic and Witch's Moon. Both were nominated for Best All Around Paranormal in 2008.
Tabitha is also the author of the Montana Men, a contemporary western romance series.
Jaydyn Chelcee is Tabitha's other pen name and has three terrific books to her credit, In the Arms of Danger, No Holds Barred and Too Close to the Fire .
Now, please allow me to give you a glimpse into the wonderful world of Tabitha Shay.
WITCH'S FIRE
Tabitha Shay
ISBN: 1451509723
Moongypsy Press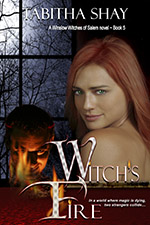 BLURB:
In a world where magic is dying―two people meet under unusual circumstances…
REALM OF LIGHT―New to this witchy stuff, Kirrah Walker crashes her broom into a stranger and knocks him unconscious. Feeling guilty, she takes him home with her and nurses him back to health. However, she soon discovers a terrible secret―the stranger is on a mission to assassinate a witch. Now Kirrah must decide if she'll set him free or keep him tied to the headboard of her bed…
WORLD OF DARKNESS―Prince Stry, future King of Ru-Noc awakens to find he's not only a captive, but captivated by the charming witch who flutters around him like a nervous butterfly. Her magick is wild and so out of control, he knows in his heart he should steal her soul, but kissing Kirrah is habit-forming.
Kirrah and Stry―magical beings who must face the fear of their past, acknowledge their future and trust in destiny in a world gone mad…
EXCERPT:
She sighed, shoved up her sleeves and went to work dragging off his low-heeled boots and socks. Carefully, she swung his legs onto the bed. Only―somehow her legs tangled with his. She stumbled and fell clumsily across the poor man's chest.
His eyes flew open. A half-smile flirted at the corners of his mouth. Kirrah glared at him. How the heck did he manage to look so darned sexy with a big ole' purple bruise fanning over his right eye?
Slowly, he slid his arms around her hips and squeezed her buttocks. "Well, hel-lo."
Kirrah widened her eyes. Oh, crap, that's all she needed, a concussed Romeo with a sexy voice hot enough to curl her toes and set her thighs on fire, a voice that both compelled and could easily lead a woman astray.
The man looked at her as if he'd never seen her before and had just discovered his favorite eye-candy. "Aren't you just a sweet little beauty?" he purred, sounding for all the world like a hungry cat whose appetite had just been satisfied. A big, dopey, contented cat.
Sweet little beauty? She blinked. Oh, yeah, the man was definitely off his meds. Obviously he was no stranger to seduction 101, either, if the way he massaged her butt was anything to go by.
And damn, did he have to have such dreamy bedroom eyes? Tiny gold specks sparkled like angel dust in the warm amber depths. Thick gold tipped lashes completed the allure of his heavy lidded gaze. He had the kind of gold-flecked irises that attracted a woman and sucked her right in.
He might as well wear a sign around his neck that read: Come and get it, sinful indulgence right here! And boy was she ready to go get it.
Her brows knitted together in a deep scowl. What was wrong with her? All of a sudden her hormones were out of control? She wondered if her face was as red as it felt. Since she had red hair, her complexion was the fair one typical of redhead's. She blushed as easily as she sunburned.
His gaze wondered from her hair to her lips. Oh, my. Those tiger-colored eyes fixed on her mouth. He licked his lips as though he'd just discovered a delicious snack he contemplated nibbling on.
Startled, Kirrah gasped as he suddenly tugged her closer.
Her hands splayed across his wide chest. "Uh-Mr. Wa-Wa, I think you might be getting a tad bit carried away here. Unhand me."
"No." One hand slid up her back and his fingers curled around her nape holding her in place. "I don't think I should do that at all. You belong to me," he whispered, and took her mouth.
That was the only word for it. Took. He ravaged her mouth with a slow steamy gut-wrenching kiss. Warm and wet. Hot and melting. Yum. He might be half-dead, but he had a mouth to die for and he knew how to use it.
Tabitha's books are also available in print and at Amazon or Barnes and Noble.
Catch up with Tabitha and her exciting world on her website and blog
I'll be back Wednesday. Until then…
Happy Writing!
Sloane Taylor
Sweet as Honey…Hotter than Hell
November 10, 2010 | Friends
KC KENDRIKS has a spectacular new release. Seducing Light, written with passion and a strong plot line, spotlights KC's extraordinary talent. Below is an excerpt and blurb for your reading pleasure.
SEDUCING LIGHT
KC Kendriks
ISBN: 978-1-60272-530-0
Amber Quill Press – Amber Allure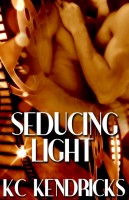 BLURB:
Asher Myles struggled to put his life back together after an identity thief stripped him of everything but his talent for capturing light and shadow with a camera lens. With a new job and a new start, Asher's on his way to Montana – and a meeting with the man he's fantasized about since he first saw him on the silver screen.
Nick Light, actor, director, and Hollywood royalty, doesn't like paparazzi. When he agrees to have his Montana ranch photographed for a style magazine, the unexpected happens. Asher's not the man Nick expected to find behind the camera.
Asher knows he'll have to convince Nick they belong together, but he has an edge.
Because if there's one thing Nick can't resist, it's a man with a talent for seducing light.
EXCERPT:
Nick stopped on the porch and turned around, putting one large hand in the middle of my chest. No bolt of lightning from the approaching storm could have singed me more. Suddenly he was flesh-and-blood man to me, not a movie star.
"Hold on a minute, Myles. Let's get one thing straight before you invade my space."
I nodded. Hell, I'd agree to anything he wanted.
"Your equipment stays in the case until I tell you that you can get it out. Got it?"
"Yes, sir."
Nick opened the door to the house, and I followed him inside. He set the case down in the spacious, two-story foyer and motioned for me to tag along behind him. The hallway opened into the grandest kitchen I'd ever seen. Taking up the entire southwest corner of the house, the room was modern, warm, and inviting. Bay windows with red and white gingham covered cushions on the window seats flanked the massive stone fireplace.
My photographer's eye filled the room with afternoon sunlight. I had a vision of Nick Light sitting at the table in the large bay of windows, in that sunshine, smiling at me. That would be a money shot I'd never share with anyone. His voice, sharp with annoyance, brought me out of my reverie.
"Do you want something to drink, or not?"
I squared my shoulders and replied I'd take a soft drink, cola, if he had it. He nodded and pointed at the oak table in the sunny corner breakfast nook.
"Set your notebook up. I want to see your work."
Nick placed a full lead crystal tumbler down in front of me as my laptop booted. I thanked him and drank, grateful for the cold, dark liquid fizzing its way down my parched throat. He spun the computer to face him, typed in his access code for his wireless connection, and turned it back to me.
I cleared my throat and typed the URL for my website.
"Okay, Mr. Light, here's a little—"
"Nick. Call me Nick."
I nodded, and hoped I didn't stutter when I tried to say his name for the first time. "Nick. I'll just point out that all my professional information is on the website and move on to the photos."
"I see you have references. Are they valid?"
Fuck. He had heard the stories.
I rolled the cursor over the link and the page opened for him to see. He read the names, then nodded. "I don't know any of them, so you won't mind if I call them, right?"
"Sure. Call 'em. Just don't be surprised if they don't believe you're Nick Light."
He snorted again, the corner of his mouth quirking up in what might actually be a little smile. "I get that a lot, boy."
I didn't answer, just clicked on the slideshow and leaned back to watch it with him. His focus shifted to the screen. I watched him as the pictures scrolled. Every so often, he'd nod or cock his head, but he didn't speak. We sat there in silence as the clouds slid past the sun and the rain dribbled down the outside of the windows. Finally, he spoke.
"Okay. You're good. But with your reputation, how'd you get this job?"
I met his gaze. "Don't believe everything you hear about me."
His chin lifted. His eyes narrowed. "Why not?"
"Because it's not true."
Nick crossed his arms over his chest. "Tell me your version of it then."
My temper flared. "I was hired to do a job—take a photo shoot of your ranch. I have a copy of the contract in my case, and nowhere in that contract does it say I owe you any explanations."
His response was unexpected. "You want that sandwich now, boy?"
Tired of him referring to me as "boy," I shot him a look, and froze at the glittering curiosity in his eyes. He studied me, his green gaze a mix of wary caution, grudging respect, and more. I fell into those mystical depths, forgetting to breathe as the blood pooled in my groin.
My heart stuttered, then hammered in my chest. I couldn't look away, even as my face grew hot under his scrutiny. My cock swelled, rising as the phantom of my nights stared at me with witchy interest…
Catch up with KC Kendrick on her website or personal blog to learn more about her exciting books and life.
I'll be back Friday. Until then…
Happy Writing!
Sloane Taylor
Sweet as Honey…Hotter than Hell
November 9, 2010 | Friends
Caesar's Fall, book 3 in the Elliott Smith Series, by acclaimed mystery author Dorien Grey!
This powerful novel tells the story of Elliott's new neighbor, Bruno, an average guy who suddenly finds himself the winner of a $57 million lottery. Elliott tries to protect him from the predators and con men who circle and scheme to get the money. Following a tragic death, Elliott again joins forces with his friend, John, to determine if the death was an accident or a murder, while juggling his restoration work on a classic old building and his developing relationship with painter Steve Gutierrez.
CAESAR'S FALL
Dorien Grey
ISBN 978-1-936144-08-2 Print
ISBN 978-1-936144-09-9 Ebook
Zumaya Boundless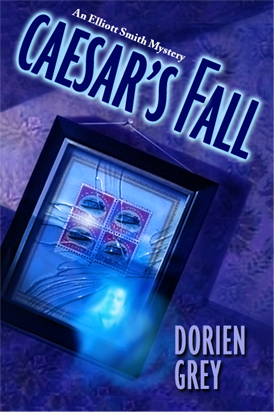 BUY LINK AMAZON Print Book
BUY LINK Ebook
BLURB:
With a new building to restore and his relationship with Steve growing more serious, the last thing Elliott needs is someone else's problem, but when lottery millionaire Bruno Caesar moves into his building he can't just ignore the man's pleas for help.
Bruno's life comes to an abrupt end when he falls from his balcony. There's only one problem—he was terrified of heights…and never went onto the balcony. Bruno can't rest until the puzzle of his sudden death is solved, and Elliott and John are once again searching for answers.
EXCERPT:
They arrived at Bruno's at eight-forty-five. As usual, the kitchen door was slightly ajar and the front door partially open. They walked in to find fifteen or twenty people already scattered around the living room, dining alcove, kitchen, and even in the hallway leading to the den and bedrooms. Elliott immediately spotted Cage, Ralph, Chaz, Bruno's "sensei" Clifford Blanton, and several other people he recognized as regulars at Bruno's parties.
But there were, as always, several people he had never seen before, and he again wondered where they came from.
Bruno and Ricky were standing by the dining room table, which had several wrapped gifts on it, talking with Paul and the as-always impeccably dressed Button.
Walking over to greet them and to wish Ricky a happy birthday, Elliott casually laid the envelope next to the other gifts. He'd not seen Rudy but assumed he was coming, and knowing Bruno was probably already worried about a possible confrontation, he didn't want to ask.
"Please," Bruno said, "go get a drink and something to eat."
Rolling the ice cubes around in the bottom of his glass, Button drained the last of his and said, "Allow me to show you the way. Excuse us, all."
As he turned toward the bar, two people Elliott didn't recognize but who had apparently just come in approached the table with an ornately wrapped gift.
He and Steve followed Button to the bar, pausing to exchange a few words with various other guests. Steve pointed out the large buffet spread out on a pair of tablecloth-covered card tables near the bar.
"My God, there's enough food there to feed the Sixth Fleet."
"We should be so lucky!" Button observed. While they waited for the bartender to finish making drinks for the man in front of them, he turned to Elliott and said, "It's none of my business, of course, but do I detect a hint of trouble in Paradise?"
"What do you mean?"
"Well, Bruno seems a little…on edge…tonight. Very unlike him. I really hope he and Ricky aren't having problems already. Bruno seems truly devoted to him, but you know how these young kids are."
"I'm sure it's nothing," Elliott said. "Everybody has an off day every now and then."
Button pursed his lips and looked from Elliott to Steve.
"I'm sure you're right," he said, but he did not sound totally convinced.
Paul came over to join them just as they were giving their drink orders to the bartender, and a moment later, Ricky also joined the group. Glancing toward the dining alcove and the gift table, Elliott saw no sign of Bruno.
"A very nice party, Ricky," Steve said.
Ricky grinned. "It is, isn't it? This is my first real birthday party ever! Of course, I don't know very many of the people here, but it's still nice."
"Interesting centerpiece," Steve said, indicating the buffet table where a circular flower arrangement surrounded an empty champagne bottle with a lit white candle dripping small rivulets of different colors over the bottle as it melted.
Blushing, Ricky said "Bruno did that for me. It's the first bottle of champagne we shared, and I kept it. I love it with the candle!"
Elliott smiled to himself when he detected the distinct aroma of Old Spice. Bruno's influence, he assumed.
"Where did Bruno disappear to?" Button asked, looking around the room.
"Rudy came in, and Bruno said he wanted to talk to him privately. I guess they went into the den."
That was quick.
"Well, I wouldn't let you out of my sight for a second," Button said, laying his hand lightly on Ricky's arm. "A roving band of gypsies could come rushing in and just carry you off! Paul, where did we leave our gypsy costumes?"
* * *
Half an hour or so later, as a small circle of guests, including Ralph, Steve and Button, were talking about the Art Institute's new Modern Wing, Elliott noticed an angry-looking Rudy emerge from the hallway to Bruno's den. Motioning to an of-course-handsome young man with whom he had apparently come, he headed to the front door and left, his companion hurrying after him. A moment later, Bruno appeared, looking less than happy and, oblivious to Clifford Blanton's attempt to catch his attention as he passed, went directly to the bar.
Though Elliott hoped for a chance to talk privately with Bruno to see what had happened during his meeting with Rudy, the opportunity did not present itself. Immediately after getting his drink and speaking briefly to Ricky, Bruno withdrew to one corner of the room with Clifford Blanton for a long and apparently earnest discussion.
Bruno returned to the main group for the opening of the presents and the cutting and serving of the birthday cake, after which the crowd began to thin out. At around eleven-thirty Elliott and Steve sought out Bruno and Ricky to express their thanks and say their goodbyes. Ricky thanked them profusely for the on-order book, and Bruno told Elliott he would call him soon. From the tone in his voice, Elliott gathered he meant very soon.
BUY LINK AMAZON Print Book
BUY LINK Ebook
You can learn more about Dorien Grey and his awesome books on his website.
I'll be back tomorrow. Until then…
Happy Writing!
Sloane Taylor
Sweet as Honey…Hotter than Hell
November 8, 2010 | Friends
and hotter than ever! Jan Springer is our guest today, celebrating her brand new release BURN FOR ME.
My personal recommendation – Be sure to have ice water nearby for this scorcher.
Below is the blurb and short excerpt to tease you. 🙂
BURN FOR ME
Jan Springer
ISBN 978-1-41993-004-1
Ellora's Cave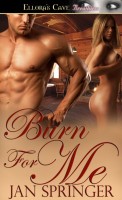 BLURB:
Wrapped in red-hot lust for revenge, Avery plans to murder the man responsible for the death of her son. Her plan is tragically destroyed when her ex-husband kidnaps her, taking her to the rustic Canadian cabin where they once honeymooned.
Mason is fighting for Avery with everything he's got. Armed with whipped cream, handcuffs and his undying love, Mason vows he'll make her love again.
With one searing touch Mason stabs through the icy walls of Avery's heart, melting her defenses and making her burn with sinful sensations. But if their son's killer gets his way, Mason and Avery's newfound happiness will be doomed forever.
EXCERPT:
Biting back a shiver of revulsion at what she was about to do, Avery forced her attention to the reverend and slowly withdrew the gun from the bouquet of roses.
Before the reverend could continue, a disturbing roar from a motorcycle outside ripped through the sanctity of the church. Mumbles of irritation and confusion from the people in the pews were drowned, as the rumbling grew louder. At the back of the church the main doors burst open wide.
Horror snapped through her as a huge sparkling silver motorcycle shot through the opening, a second bike quickly followed and then a third zipped inside. On each bike sat a rider dressed entirely in black leather, faces hidden behind mirrored visors, powerful bodies hunched behind windshields, as they raced their motorcycles in single procession up the aisle toward the wedding party.
And toward her!
Fear and shock paralyzed her as they drew closer. She barely heard Rick yell at everyone to take cover and before she could react, she spied the riders brandishing guns and aiming them at Ron and Rick, both who dove between the pews.
Her maid of honor, Ron and Rick's younger sister, saw the guns and screamed hysterically as she dashed away from Avery's side. Avery tried to follow her, but her feet got caught in the hem of her long dress and she stumbled, the gun dropping from her bouquet with a clatter. She thought for sure she'd fall flat on her face but a strong arm curled around her waist like a steel clamp and she was quite literally swept her off her feet. In one rugged swoop, the second biker plopped her onto the seat in front of him. Panic lanced her as he straddled her thighs with his powerful hips. Pushing strong arms against the sides of her body, he held onto his handlebars, effectively holding her captive.
Panic jolted Avery and she tried to push herself sideways against his arms, but he didn't so much as budge. She was trapped.
Oh God! This isn't happening! she cried to herself when the wedding party became a blur as with frightening speed, her captor angled the bike around the small front church confines and headed back along the aisle. An aisle she should have been walking down after killing Rick. Instead, she was being kidnapped!
Late afternoon wind blasted her veil against her face as they exploded through the front door. She noticed Rick's bodyguards being flanked by men with guns. But she didn't get a good look as the motorcycle she was being held on flew like a bullet down the concrete wheelchair ramp. Cars tooted their horns as the biker penetrated the surprisingly light late afternoon weekend traffic and for a brief insane moment she had the urge to smash the back of her head against the man's neck and chest, in the hopes of freeing herself from his tight embrace, then throwing herself off the bike. But at the tremendous rate of speed he was now traveling, she'd probably break her neck or die the instant she hit the pavement. She could smash her hands upon this guy's arms but she had the feeling that wouldn't work either.
As her kidnapper wrenched the handlebars, he turned a corner on the busy street where pedestrians frantically scrambled out of the way. At this angle Avery was able to cast a quick glance toward the church.
In an open church window at the side of the building, she saw Rick. His gun was drawn. And he was aiming toward her and her kidnapper as well as the other two motorcycles, which flanked the bike she was on. She winced as a torrent of shots rang out and to her surprise her captor pressed his strong body deeper around her, shielding her, protecting her as if she were in a cocoon.
She swallowed in disbelief at his reaction and when another volley of shots screamed past them, her captor cursed, giving away his identity. Avery froze at the familiar voice and confusion raced through her. She closed her eyes, praying she was wrong. Then she was praying she was right because if anyone were to kidnap her, she'd want it to be her ex and not some deranged man hell-bent on killing her to get even with the drug dealing son of a bitch she'd been about to kill.
She felt painful tugs on her hair as he ripped her veil loose and it blew away like a black tumbleweed. "You won't need this anymore!" he shouted into the wind. Anger and satisfaction etched his voice.
Son of a bitch!
Just then, Mason's familiar scent swept around her, calming her. He smelled of leather and gasoline and Irish Spring. Had she not been so afraid for her life moments ago, she knew she would have recognized him right away and now that she realized it was Mason who'd kidnapped her, awareness raced through her.
She hadn't seen him in years. How had he known what she'd been up to? She'd taken another identity and disappeared from her old life, making sure no one would find her, keeping tabs on her old life only through a trusted friend.
And who was Mason riding with? His cop buddies? Men who hadn't been able to do anything to help throw Rick into prison where he belonged. She clamped down the anger that threatened to consume her every time she thought of Rick and concentrated on the wonderful way her body was reacting to Mason. His warmth seeped through the material of her wedding dress, caressing her skin, making her breasts swell in anticipation and her nipples harden into tight aching beads. Slowly, she comprehended the hard angles of his body as she became aware of the muscles that pressed against her. A wide solid chest and powerful thighs, not to mention his thick arousal pressing intimately against her backside, making her tremble, as memories and erotic heat splashed through her in luscious waves and along with it came the familiar guilt. She would not be happy while her son's killer was once again free. All because of her ex-husband.
Dammit! Mason had screwed her plans.
A new fear invaded her. By kidnapping her, Mason might have blown her cover and if Rick and Ron found out who'd whisked her away, they'd hunt them both down. They wouldn't stop until her ex and Avery were both anchored with cement weights on the bottom of Lake Ontario.
But before she could contemplate that any further, she sighed in relief as he slowed the bike and swerved down an alley, then another narrower alley and came to an abrupt halt.
You can read more about Jan Springer's outstanding work on her website.
I'll be back tomorrow. Until then…
Happy Writing!
Sloane Taylor
Sweet as Honey…Hotter than Hell