It's here!
November 9, 2010 | Friends
Caesar's Fall, book 3 in the Elliott Smith Series, by acclaimed mystery author Dorien Grey!
This powerful novel tells the story of Elliott's new neighbor, Bruno, an average guy who suddenly finds himself the winner of a $57 million lottery. Elliott tries to protect him from the predators and con men who circle and scheme to get the money. Following a tragic death, Elliott again joins forces with his friend, John, to determine if the death was an accident or a murder, while juggling his restoration work on a classic old building and his developing relationship with painter Steve Gutierrez.
CAESAR'S FALL
Dorien Grey
ISBN 978-1-936144-08-2 Print
ISBN 978-1-936144-09-9 Ebook
Zumaya Boundless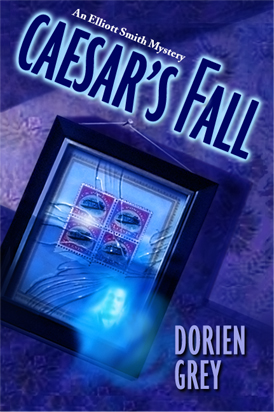 BUY LINK AMAZON Print Book
BUY LINK Ebook
BLURB:
With a new building to restore and his relationship with Steve growing more serious, the last thing Elliott needs is someone else's problem, but when lottery millionaire Bruno Caesar moves into his building he can't just ignore the man's pleas for help.
Bruno's life comes to an abrupt end when he falls from his balcony. There's only one problem—he was terrified of heights…and never went onto the balcony. Bruno can't rest until the puzzle of his sudden death is solved, and Elliott and John are once again searching for answers.
EXCERPT:
They arrived at Bruno's at eight-forty-five. As usual, the kitchen door was slightly ajar and the front door partially open. They walked in to find fifteen or twenty people already scattered around the living room, dining alcove, kitchen, and even in the hallway leading to the den and bedrooms. Elliott immediately spotted Cage, Ralph, Chaz, Bruno's "sensei" Clifford Blanton, and several other people he recognized as regulars at Bruno's parties.
But there were, as always, several people he had never seen before, and he again wondered where they came from.
Bruno and Ricky were standing by the dining room table, which had several wrapped gifts on it, talking with Paul and the as-always impeccably dressed Button.
Walking over to greet them and to wish Ricky a happy birthday, Elliott casually laid the envelope next to the other gifts. He'd not seen Rudy but assumed he was coming, and knowing Bruno was probably already worried about a possible confrontation, he didn't want to ask.
"Please," Bruno said, "go get a drink and something to eat."
Rolling the ice cubes around in the bottom of his glass, Button drained the last of his and said, "Allow me to show you the way. Excuse us, all."
As he turned toward the bar, two people Elliott didn't recognize but who had apparently just come in approached the table with an ornately wrapped gift.
He and Steve followed Button to the bar, pausing to exchange a few words with various other guests. Steve pointed out the large buffet spread out on a pair of tablecloth-covered card tables near the bar.
"My God, there's enough food there to feed the Sixth Fleet."
"We should be so lucky!" Button observed. While they waited for the bartender to finish making drinks for the man in front of them, he turned to Elliott and said, "It's none of my business, of course, but do I detect a hint of trouble in Paradise?"
"What do you mean?"
"Well, Bruno seems a little…on edge…tonight. Very unlike him. I really hope he and Ricky aren't having problems already. Bruno seems truly devoted to him, but you know how these young kids are."
"I'm sure it's nothing," Elliott said. "Everybody has an off day every now and then."
Button pursed his lips and looked from Elliott to Steve.
"I'm sure you're right," he said, but he did not sound totally convinced.
Paul came over to join them just as they were giving their drink orders to the bartender, and a moment later, Ricky also joined the group. Glancing toward the dining alcove and the gift table, Elliott saw no sign of Bruno.
"A very nice party, Ricky," Steve said.
Ricky grinned. "It is, isn't it? This is my first real birthday party ever! Of course, I don't know very many of the people here, but it's still nice."
"Interesting centerpiece," Steve said, indicating the buffet table where a circular flower arrangement surrounded an empty champagne bottle with a lit white candle dripping small rivulets of different colors over the bottle as it melted.
Blushing, Ricky said "Bruno did that for me. It's the first bottle of champagne we shared, and I kept it. I love it with the candle!"
Elliott smiled to himself when he detected the distinct aroma of Old Spice. Bruno's influence, he assumed.
"Where did Bruno disappear to?" Button asked, looking around the room.
"Rudy came in, and Bruno said he wanted to talk to him privately. I guess they went into the den."
That was quick.
"Well, I wouldn't let you out of my sight for a second," Button said, laying his hand lightly on Ricky's arm. "A roving band of gypsies could come rushing in and just carry you off! Paul, where did we leave our gypsy costumes?"
* * *
Half an hour or so later, as a small circle of guests, including Ralph, Steve and Button, were talking about the Art Institute's new Modern Wing, Elliott noticed an angry-looking Rudy emerge from the hallway to Bruno's den. Motioning to an of-course-handsome young man with whom he had apparently come, he headed to the front door and left, his companion hurrying after him. A moment later, Bruno appeared, looking less than happy and, oblivious to Clifford Blanton's attempt to catch his attention as he passed, went directly to the bar.
Though Elliott hoped for a chance to talk privately with Bruno to see what had happened during his meeting with Rudy, the opportunity did not present itself. Immediately after getting his drink and speaking briefly to Ricky, Bruno withdrew to one corner of the room with Clifford Blanton for a long and apparently earnest discussion.
Bruno returned to the main group for the opening of the presents and the cutting and serving of the birthday cake, after which the crowd began to thin out. At around eleven-thirty Elliott and Steve sought out Bruno and Ricky to express their thanks and say their goodbyes. Ricky thanked them profusely for the on-order book, and Bruno told Elliott he would call him soon. From the tone in his voice, Elliott gathered he meant very soon.
BUY LINK AMAZON Print Book
BUY LINK Ebook
You can learn more about Dorien Grey and his awesome books on his website.
I'll be back tomorrow. Until then…
Happy Writing!
Sloane Taylor
Sweet as Honey…Hotter than Hell
4 Responses to "It's here!"