For Delightful Reads
November 22, 2010 | Friends
check out Raine Delight , a superb author with an imagination you will definitely enjoy. Here is her latest;
FAIRY KISSES & MAGICAL DREAMS
Raine Delight
ISBN 978-1-60168-153-9
Aspen Mountain Press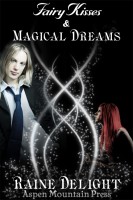 BLURB:
Prince Aryan has searched his world for the one woman that is his destined mate but has just about given up when he is led to the human world. Even though it is forbidden to fall in love with a human, he finds Skye Andrews completely delectable and wonders if she is his chosen love.
Skye Andrews has had it with men. After another disastrous date, her aunt gives her a love potion to try. With a magic spell and a mysterious face haunting her waking days, will Skye find the love she is looking for?
EXCERPT:
I must be insane to think a magic potion will help me find my own Mr. Right. Why is it I can't find the one man who loves me? Skye got her things ready and stepped into the bathroom. All my friends have someone and here I'm still looking for that one man to steal my soul with his kisses.
Why is it I only seem to attract the ones who were either married, a playboy or a rat in sheep's clothing? Skye thought. I know I'm not bad looking. I'm not a typical blond, bubbly type of person, who has guys buzzing around them like bees at a flower. Why is it I only seem to attract the wrong type of guys? Do I have Losers please apply stamped on my forehead?
Looking in the mirror as she undressed, Skye saw a woman with shoulder length, flame red hair, violet eyes, and a heart shaped face with full lips. As her shirt came off and bared her to the mirror, she saw her full breasts. The bane of her teenage years, she was sure they'd fit in the right man's hands. Her flat stomach tapered down into her long lean legs. Turning to check the water temperature, she caught sight of her dimpled ass in the reflection. Groaning softly, Skye wished she had one that made men want to grab it, but hundreds of butt crunches didn't make a difference.
Sliding into the water, she moaned softly as the heat soothed her stiff muscles. She made another wish to find her true love before the end of the month and finished the last of her wine. Where is the one man who will turn my life inside out and capture my heart?
There are many places to catch up with Raine and her excellent work. Here are a few; website, Raine's Book Nook Blog , Author Reader Loop, and Twitter.
Raine loves to hear from readers. Feel free to email her any time.
I'll be back Wednesday. Until then…
Happy Writing!
Sloane Taylor
Sweet as Honey…Hotter than Hell