Fall Under A Spell
November 15, 2010 | Friends
with our featured author and good friend Tabitha Shay.
Tabitha is the author of paranormal romances, Witch's Brew, Witch's Heart, Witch's Moon, Witch's Magic, and Witch's Fire.
Her books have been nominated for several awards, including the prestigious P.E.A.R.L. Award for Witch's Magic and Witch's Moon. Both were nominated for Best All Around Paranormal in 2008.
Tabitha is also the author of the Montana Men, a contemporary western romance series.
Jaydyn Chelcee is Tabitha's other pen name and has three terrific books to her credit, In the Arms of Danger, No Holds Barred and Too Close to the Fire .
Now, please allow me to give you a glimpse into the wonderful world of Tabitha Shay.
WITCH'S FIRE
Tabitha Shay
ISBN: 1451509723
Moongypsy Press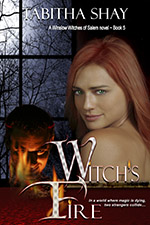 BLURB:
In a world where magic is dying―two people meet under unusual circumstances…
REALM OF LIGHT―New to this witchy stuff, Kirrah Walker crashes her broom into a stranger and knocks him unconscious. Feeling guilty, she takes him home with her and nurses him back to health. However, she soon discovers a terrible secret―the stranger is on a mission to assassinate a witch. Now Kirrah must decide if she'll set him free or keep him tied to the headboard of her bed…
WORLD OF DARKNESS―Prince Stry, future King of Ru-Noc awakens to find he's not only a captive, but captivated by the charming witch who flutters around him like a nervous butterfly. Her magick is wild and so out of control, he knows in his heart he should steal her soul, but kissing Kirrah is habit-forming.
Kirrah and Stry―magical beings who must face the fear of their past, acknowledge their future and trust in destiny in a world gone mad…
EXCERPT:
She sighed, shoved up her sleeves and went to work dragging off his low-heeled boots and socks. Carefully, she swung his legs onto the bed. Only―somehow her legs tangled with his. She stumbled and fell clumsily across the poor man's chest.
His eyes flew open. A half-smile flirted at the corners of his mouth. Kirrah glared at him. How the heck did he manage to look so darned sexy with a big ole' purple bruise fanning over his right eye?
Slowly, he slid his arms around her hips and squeezed her buttocks. "Well, hel-lo."
Kirrah widened her eyes. Oh, crap, that's all she needed, a concussed Romeo with a sexy voice hot enough to curl her toes and set her thighs on fire, a voice that both compelled and could easily lead a woman astray.
The man looked at her as if he'd never seen her before and had just discovered his favorite eye-candy. "Aren't you just a sweet little beauty?" he purred, sounding for all the world like a hungry cat whose appetite had just been satisfied. A big, dopey, contented cat.
Sweet little beauty? She blinked. Oh, yeah, the man was definitely off his meds. Obviously he was no stranger to seduction 101, either, if the way he massaged her butt was anything to go by.
And damn, did he have to have such dreamy bedroom eyes? Tiny gold specks sparkled like angel dust in the warm amber depths. Thick gold tipped lashes completed the allure of his heavy lidded gaze. He had the kind of gold-flecked irises that attracted a woman and sucked her right in.
He might as well wear a sign around his neck that read: Come and get it, sinful indulgence right here! And boy was she ready to go get it.
Her brows knitted together in a deep scowl. What was wrong with her? All of a sudden her hormones were out of control? She wondered if her face was as red as it felt. Since she had red hair, her complexion was the fair one typical of redhead's. She blushed as easily as she sunburned.
His gaze wondered from her hair to her lips. Oh, my. Those tiger-colored eyes fixed on her mouth. He licked his lips as though he'd just discovered a delicious snack he contemplated nibbling on.
Startled, Kirrah gasped as he suddenly tugged her closer.
Her hands splayed across his wide chest. "Uh-Mr. Wa-Wa, I think you might be getting a tad bit carried away here. Unhand me."
"No." One hand slid up her back and his fingers curled around her nape holding her in place. "I don't think I should do that at all. You belong to me," he whispered, and took her mouth.
That was the only word for it. Took. He ravaged her mouth with a slow steamy gut-wrenching kiss. Warm and wet. Hot and melting. Yum. He might be half-dead, but he had a mouth to die for and he knew how to use it.
Tabitha's books are also available in print and at Amazon or Barnes and Noble.
Catch up with Tabitha and her exciting world on her website and blog
I'll be back Wednesday. Until then…
Happy Writing!
Sloane Taylor
Sweet as Honey…Hotter than Hell
10 Responses to "Fall Under A Spell"