Still Need the Perfect Christmas Gift?
December 15, 2010 | Friends
Or a great stocking stuffer? Then check out The latest best seller from Dorien Grey.
CAESAR'S FALL
Dorien Grey
ISBN 978-1-936144-08-2 Print
ISBN 978-1-936144-09-9 Ebook
Zumaya Boundless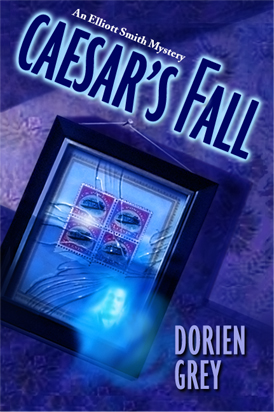 BUY LINK AMAZON Print Book
BUY LINK Ebook
BLURB:
With a new building to restore and his relationship with Steve growing more serious, the last thing Elliott needs is someone else's problem, but when lottery millionaire Bruno Caesar moves into his building he can't just ignore the man's pleas for help.
Then Bruno's life comes to an abrupt end when he falls from his balcony. There's only one problem—he was terrified of heights…and never went onto the balcony. Bruno can't rest until the puzzle of his sudden death is solved, and Elliott and John are once again searching for answers.
EXCERPT:
As they entered the lobby, two men, one impeccably dressed in a very expensive suit and tie, had just been cleared by the doorman and directed to 40J. Somewhat to his surprise, Elliott recognized the men as Button and Paul, regulars at the Anvil, a nearby gay bar. He'd met them there some time before, but couldn't recall when he'd last seen them.
Spotting him, Button said "Elliott!" in a tone usually reserved for greeting long-lost friends."What a surprise! Going to the party?"
"No," Elliott said. "I live here." They converged on the way to the elevators, and Elliott introduced Steve.
"Well," Button said, "We'd wondered why we hadn't seen you in a while." Giving Steve an exaggerated head-to-toe scan, he added, "Now I see why. Why go out for hamburger when you can have steak at home?"
Steve grinned as the elevator door opened and they all got on.
"So how do you know Bruno?" Elliott asked.
"Everyone knows Bruno," Paul volunteered. "He's like a shooting star, suddenly appearing out of nowhere to streaking across the firmament of the Chicago gay scene."
Elliott and Steve exchanged quick bemused glances, and Button said, "Once a publicist, always a publicist. And he's hardly a shooting star. I've known Bruno for centuries."
"Maybe so," Paul said firmly, "but that's before he won the lottery."
"He won the lottery?" Steve asked, obviously impressed.
"And not just any lottery," Paul said: "The MegaBucks, no less! Fifty-nine million!"
"Wow!" Steve said.
The elevator stopped at 35 and the door opened.
"Why don't you come up with us?" Button asked. "I'm sure you'd be welcome."
Elliott, standing in the doorway to prevent its closing, said: "Bruno did invite us, but we had a birthday party and had to decline."
"It's not too late," Paul suggested.
Since Steve had already stepped out of the elevator, Elliott looked quickly to him for confirmation, then said, "Not tonight, I don't think. Maybe next time."
They all exchanged smiles and waves as the door closed, and Button said, "Don't be a stranger!"
BUY LINK AMAZON Print Book
BUY LINK Ebook
For greater insight into the "real person" behind Dorien Grey, the curious are invited to check out his website and his various blogs: Dorien Grey and Me and A Life in Photos among them.
There is nothing Dorien loves more than hearing from a reader. If you'd like to contact him, just drop him a note at doriengrey@gmail.com.
Have a wonderful weekend, I'll be back Monday. Until then…
Happy Writing!
Sloane Taylor
Sweet as Honey…Hotter than Hell