WHAT YOU DON'T CONFESS
December 13, 2010 | Friends
is a hot, new release by KC Kendriks. This well-written novella is part of Stepping Out an AmberPax™ Collection of Erotic Romance by Various Authors. I do believe you'll love KC's book. 🙂
WHAT YOU DON'T CONFESS
KC Kendriks
ISBN-13: 978-1-61124-020-7
Amber Quill Press – Amber Allure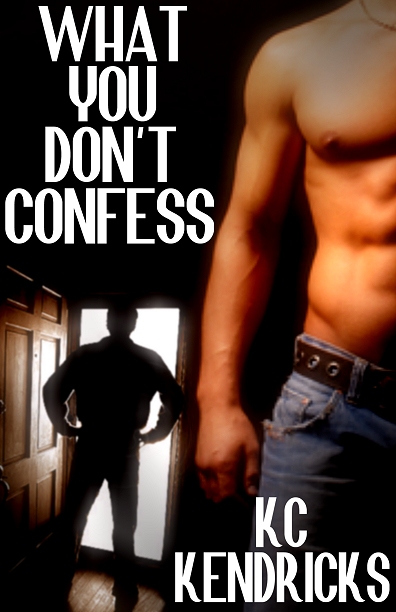 BLURB:
Bright and beautiful, Cassidy Barlow is one of Marionville's new breed of movers and shakers. Outspoken on political and social issues, Cass draws a lot of media attention, and knows how to us it. Out and proud, Cass makes no apologies for who he is, or who he wants – and he wants Dylan Donoghy. The only thing is, from where Cass stands, Dylan seems to be involved with two different men.
Coming out. The most difficult phrase in Dylan Donoghy's vocabulary. Handsome, successful, wealthy, he's made it this far in life with only his closest friends knowing he's gay. Dylan has a good reason for that to change – his deepening attraction to Cassidy Barlow. It doesn't come easy, but Dylan takes a few first steps out of the closet. It's his only choice if he wants to be with Cass, even though he knows Cass has some secrets of his own.
Every man has a private past, and an unwritten future. What he won't confess stands between the two.
EXCERPT:
"You do know those four watchdogs of yours were there the entire evening, don't you?"
I nodded. "They like to keep an eye on me. Obviously, it didn't discourage you at all."
His hand gripped my shoulders again. His amber gaze drilled into mine. "Just so I don't step in it, Dylan, how many of them have you slept with? And don't lie to me."
I fought back against of wave of anger. How dare he imply I'd not tell him the truth? Being astute, he knew he'd pissed me off. I saw the apology in his eyes as he touched his fingertips to my lips.
"That didn't come out right, Dylan."
" Apology accepted. Before today, I might have told you it was none of your business, but now I think you should know. We're no longer intimate, but I have a very close, special relationship with both Travis and Tyler. I'm very happy for them that they both found a partner."
"That's what I figured out Friday night when they spent all that time running in and out of an area marked 'private'. Especially Templeton."
"Don't test me too often, Cass. I don't like it." I spoke sharper than intended, but he needed to know my boundaries. "There's a lot of space between your age and mine. Be careful not to judge until you get to where I am."
Those restless hands of his skimmed along my sides. "I'm not being judgmental, I swear. I just needed to know what the dynamics are between you and them so I don't put both feet in my mouth."
"Okay. I get it. And for what it's worth, all four of them, especially Travis, is rooting for you."
"Really? He's in my corner, is he?" Cass tucked his fingers under my belt and tugged. I levered my weight off the door and stepped past him, capturing his hand to pull him into the casual space I used for informal gatherings.
"He's using tough love on me when it comes to you, so don't be shocked, or surprised, at his little quips. Have a seat."
Cass eased down on the love seat and patted the spot beside him. I ignored him, and went to the bar. "What would you like to drink?"
"Ginger ale?"
I nodded and poured two, handing his to him with an apology it didn't come in a brandy snifter as I settled in beside him. I stopped him when he moved to put his arm around me.
"You're killing me here, Dylan."
"No, I'm not." I sipped my drink. "Cass, I don't want to make a misstep with you. I know what you want tonight, but what do you want next week? Or next month? Christ, what do I want next week?"
He leaned back and watched me with those amber eyes. His cool, even regard gave little indication of his thoughts. Cass downed his drink in three fast swallows, then swirled the ice around in the bottom of the empty glass.
"Do you always think everything to death, Dylan?"
"It's a hazard one encounters in middle age."
"I'm not some mistake you'll regret when you're ninety."
I laid my hand on his thigh. The heat of his skin penetrated his jeans, and snaked up my arm. "You're right, you know. I won't regret meeting you, whether dinner is all we share, or we become friends, or if we become lovers."
"Or? If? I don't appreciate being jerked around."
"Well, poor little you that I haven't figured this out yet."
Cass's mouth dropped open, then snapped closed. He stared at me, blinked, and stared again. I reveled in private glee that I'd seen him speechless twice in one day, but that amusement was strongly tempered by the knowledge I had him too far off balance. I squeezed his knee.
"Look, Cass. I'm not jerking you around. Getting involved with someone isn't easy for me. I've never been someone who gets a hard-on for a guy and loses my mind until I fuck him. I have to think things through, and consider the impact it may have on my life."
He shook his head. "Babe, you've got to start living in the moment, and stop living in fear." Cass set his empty glass down on the end table and stood. With angry, disappointed eyes, he met my gaze. A muscle moved in his clenched jaw.
My heart beat painfully. I knew what he was going to say…
I'll be back Wednesday. Until then…
Happy Writing!
Sloane Taylor
Sweet as Honey…Hotter than Hell
2 Responses to "WHAT YOU DON'T CONFESS"
KC Kendricks Says:


Thanks, Sloane! I can't wait to read my copy of Claire De Lune. I've got one more chapter to write in the current WIP, and then I get to read 🙂 Oh, to be able to read and write at the same time.

KC Kendricks

On December 13th, 2010 at 9:40 am
Sloane Says:


You're very welcome, KC. Hope you enjoy Claire De Lune.

On December 13th, 2010 at 3:47 pm