HOW ABOUT A LITTLE COWBOY KINK?
December 20, 2010 | Friends
Today's guest author is delightful Jenna Howard with her amazing new release SPURRED ON.
In sixth grade, Jenna had to keep a journal for a class project. One assignment was "What do I want to be when I grow up." Young Jenna carefully printed out she "wanted to be a writer." Those words would guide her toward writing teen angst stories in high school and on to erotic romance, a genre her mother is soooo comfortable with. 🙂 Jenna currently resides in Calgary, Alberta, Canada and continues to fascinate readers with her unique style.
SPURRED ON
Jenna Howard
The Wild Rose Press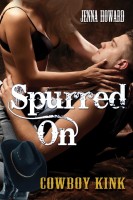 BLURB:
He wears the spurs, but she's not afraid to use them.
Country singer and secret Domme Jessa Brody is home to perform at the Calgary Stampede and to brainstorm some new songs for her next album. Sexy bronc rider Luke O'Connor is once again the perfect inspiration for her songs and naughty dreams. Strong, brave and handsome, he's man enough to submit to her wildest desires. But can she handle the responsibilities that go hand in hand with being a good Domme, or will she lose herself –and Luke–when Spurred On?
EXCERPT:
"Oh, he's a love." Standing up, she walked over to the horse and leaned against him. "Aren't you?" She stroked the horse's back, loving the curve and muscles.
Luke's gaze followed her hand.
That's right, I could be stroking you like this.
Jessa gave the muscular rump a sharp slap and Luke's nostrils flared. Her body hummed. She handed him the guitar then hopped onto the gate. Swinging her legs over, she jumped down.
"See, the secret to Crow is simple." Finally, she faced Luke.
He tried to look casual and unaffected but she didn't believe the act. Luke held himself still—wary yet curious, curious but wary.
"He's all tough and shit until you set the rules. A little knee in the belly as you tighten the cinch. Sure, he'll buck." When she leaned against Luke, his breath sucked in audibly.
"But you ride him hard until he knows who holds the reins." She licked along his jaw and cupped the thick bulge beneath the faded denim and squeezed. "Giddy up," she whispered in his ear.
Every inch of his six feet shuddered. There was something potent in making the strong tremble. She took her guitar from him. "You look good, Luke," she called as she walked out of the stable.
Holy hell, her nipples throbbed and her pussy ached. She'd also die before admitting that inside she was bouncing around like a teenage girl yelling, "He's here! He's here!"
Would Luke still buck her control?
Learn more about talented Jenna Howard on her website and her entertaining blog. You can also follow Jenna on facebook and twitter.
I'll be back Wednesday. Until then…
Happy Writing!
Sloane Taylor
Sweet as Honey…Hotter than Hell
6 Responses to "HOW ABOUT A LITTLE COWBOY KINK?"