GREAT BALLS OF FIRE
February 21, 2011 | Applause
The house is rocking! The MILLION DOLLAR QUARTET celebrates 1000 nights onstage at the Apollo Theater in Chicago.
Not familiar with this new smash-hit musical? Here's a little background:
On December 4, 1956, four musicians held the greatest jam session ever.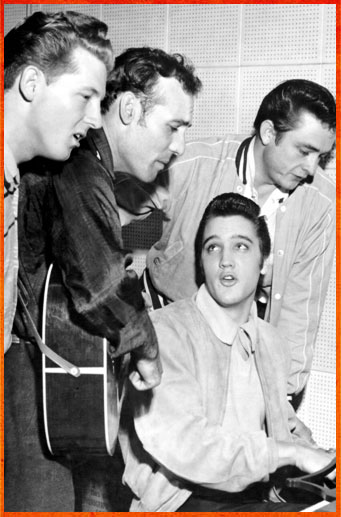 No, I don't own this priceless photo. I "borrowed" it from the official website.
Johnny Cash, Jerry Lee Lewis, Carl Perkins and Elvis Presley met with Sam Phillips, the "Father of Rock-n-Roll," at Sun Records' storefront studio in Memphis, Tennessee. Sam Phillips discovered them all and propelled them to success. That night was the only time these great talents ever came together. Their ad-lib recording session embodied the birth of rock 'n' roll and has come to be known as one of the greatest rock jam sessions ever.
Studs and I had the great fortune to see MILLION DOLLAR QUARTET. We both agree, it is the best play we've seen in years.
The talented actors Gabe Bowling, Carl Perkins, David Lago, Elvis Presley, Lance Lipinsky, Jerry Lee Lewis, and Sean Sullivan, Johnny Cash bring the musical to life and the audience to their feet. Darcy Wood, Dyanne, gives a stellar performance with her rendition of "Fever." Make it a point to follow the careers of these outstanding performers, they'll be mega-stars in a short time.

MILLION DOLLAR QUARTET features a score of rock hits that have you dancing in your seat. "Blue Suede Shoes," "That's All Right," "Sixteen Tons," "Great Balls of Fire," "Walk the Line," "Whole Lotta Shakin' Goin' On," "Who Do You Love?," "Matchbox," "Folsom Prison Blues," "Hound Dog" are just a few of the great songs.
Be sure to make a date and rock the night away at the
Apollo Theater
2540 North Lincoln Avenue
Chicago, IL.
Purchase tickets direct from Apollo Theater 773-935-6100 or order on line from Ticketmaster.com. I suggest calling the theater. Prices are better, tickets can be picked up performance night, and they walk you through the seating chart.
Check out this thrilling musical's website for a great look behind the scenes.
Be sure to buy the $20.00 cd. It's TERRIFIC!
I'll be back tomorrow with a new Tuesday Teaser. Until then…
Happy Listening!
Sloane Taylor
Sweet as Honey…Hotter than Hell