Tuesday Teaser
March 3, 2009 | Excerpts
Magnificent Men of Munich
TEDDI TURNS ON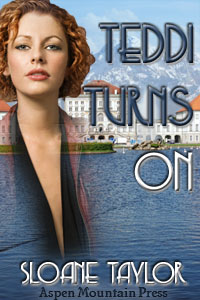 Aspen Mountain Press
BLURB:
No one's going to take advantage of Teddi Howard again, including the Munich tour operator who screwed her over when he reneged on their contract. Her only option is to face the little weasel.
Nothing stands in the way of the prominent, German businessman David Stiefle, especially a woman. No way is he ever getting involved, even if she is the sensual Mrs. Howard.
EXCERPT:
David Stiefel's eyes kept track of the copper-haired female while he rolled up the sleeves of his striped shirt. The woman was oblivious to the stir she created as she strolled through the crowded O'Hare Airport Business Class Lounge. He stroked an index finger over his lips and studied her sleek figure in form fitting slacks. The appealing rear view was too good to miss. The pleasure of not seeing a panty line forced him to shift in his chair to adjust for the sudden pull in his jeans.
She bent over, hung her jacket across the chair back, and glanced over her shoulder at him. Their gaze held as a smile tweaked the corner of his mouth. He crumpled the wrappings from his beef sandwich and knew he'd just been offered dessert. Now all he had to do was make his move.
As his good luck would have it, right there on the floor, just a few meters away was an airline ticket dropped by some unsuspecting person. Ha, unsuspecting, his Aunt Hilda. He knew that delicious looking woman had done it as a ploy to meet him.
He stood and paced off the few steps, never taking his eyes from her. He stooped, scooped up the packet, and walked the few extra feet before he glanced at the name printed in bold marker across the front. When he held it toward her she fumbled with her purse and carry-on as if she didn't know she'd lost such an important set of documents. Very cool.
Standing in front of her, he leaned down just enough to catch her scent. Shalimar. His favorite.
"Bitte, Frau, are you missing something?" He liked the way her eyes widened as if she were surprised. She was good.
"Thank you." She reached out a slender hand. Thank God there wasn't any of that garish nail art so many women seemed to prefer.
REVIEWS for the 2009 EPPIE Finalist – Erotica Category –
TEDDI TURNS ON
4 1/2 LIPS from Talking Two Lips
Sloane Taylor pens an erotic story that stole my breath away. Teddi Turns On is white hot, fast paced, and a joy to read.
Reviewer: Alisha
4.5 BLUE RIBBONS from Romance Junkies
Sloane Taylor's TEDDI TURNS ON will have readers wanting to travel to Germany and experience the charm of the country and the intensity of the men for themselves. I was charmed by Teddi's obvious love for her deceased husband and her mixed feelings about moving on without him. David's bold pursuit doesn't give her much of a chance to second guess herself. It was very easy to become absorbed in the plot and the characters' lives. Now I'm dying of curiosity about Teddi's little sister, Lonni. We get snippets about her throughout the story and it looks like she's going to be visiting Germany too. Fingers crossed that we will soon be seeing another of these wonderful heartfelt tales from Ms. Taylor.
Reviewer: Chrissy Dionne
4 STARS from Just Erotic Romance Reviews
The love scenes were sizzling and sensual with the ability to send your pulse sky-rocketing as the romance melts your heart. Most of this superb fairy tale is spun around Teddi being ready for dipping her toes into romance once again. The plot is well-written with delicious complications and a super secondary cast including Teddi's younger sister, Lonnie who adds a young energy to Teddi's tale. The villain evokes a feeling of disgust and you can't help hating him. A terrific beginning to the Magnificent Men of Munich miniseries, Teddi Turns On comes very highly recommended. It'll take you on a tour of Munich without making you leave your home. Ms. Taylor is truly an author to watch out for.
Reviewer: Mahaira Fatima
4 HEARTS from The Romance Studio
Overall rating:
Sensuality rating: Explicit
Sloane Taylor has written a fascinating book about the growing love of two people who have previously had neither the time nor the inclination to search. There are sub characters that are wonderfully interactive to the couple; however, the basic story centers around the two who find something in each other which was never before present. Ms. Taylor certainly knows how to hold the reader's attention while presenting her obvious alpha male and a not-to-be intimidated female counterpart. I found the entire story captivating and, of course, recommend it highly!
Reviewer: Brenda Talley
High Praise from Alternative-Read
This was a really great read as it explored the tension between two people who are not only strong-minded, but with totally opposite ideas of what constitutes a relationship. A humorous, witty look at a relationship with remarkably serious undertones, sensually explicit sex and simply falling in love. I thoroughly enjoyed this one.
Posted by Alternative-Read.com reviewer: WitchGiggles
I'll be back later in the week. Until then…
Happy Writing!
Sloane Taylor
Sweet as Honey…Hotter than Hell