Tuesday Teaser
March 17, 2009 | Excerpts
The Naughty Ladies of Nice
Book One
FRENCH TART
Eternal Press
www.EternalPress.ca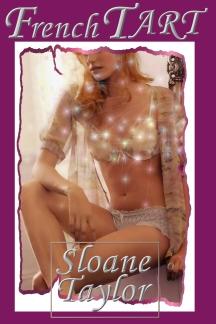 BLURB:
Determined to prove herself and shed her party girl image, Donatienne Dubois pins her hopes on the exclusive cooking school in Nice, France. One by one her expectations are shattered by a foul-mouthed parrot, a bogus Michelin chef, and a headmistress with a heart of tungsten steel. Her lifesaver is a bad boy hunk too hot not to handle.
Sebastien Reinard is incognito, hating every minute. To pose as a student while protecting a rich wild child is his version of hell, until he partners with the slice of Crème Brule good enough to eat.
Class takes on a whole new meaning as Doni and Sebastien heat up the kitchen when they discover honey has better uses than sweetening tea.
EXCERPT:
"Ooh la la, Mademoiselle, voulez-vous à la baise?"
Donatienne's running shoes squeaked to a halt on the cracked, gray linoleum. Fuck him? She didn't fuck just anyone, especially if she didn't know his name.
"Not unless you have more money than I could ever dream of, you pig." She refused to turn back toward the crackly voice.
"What? Is your pussy made from gold?"
She gritted her teeth. Insolent bastard.
"Yes, it is. And equipped with a set of rusty fangs to rip off anything that tries to get inside." Smartass answers weren't her best first impression at the haute cuisine cooking school she'd waited so long to attend. She had to shake the lowlife who thought he could get away with insults before Chef tossed her out.
Ignore him. Just keep moving. Doni straightened her shoulders and walked past the double door refrigerator.
"Perhaps you prefer to give Pierre a blow job. He would make it worth your time." A cackle filled the air. "Come on, baby. You know you want me, you slut."
The fine hairs at the nape of her neck jumped to attention. Doni whirled around, swinging out her arm. She launched her heavy tote at the dumpy man in the splattered apron planted in front of the stainless steel stove.
Ooof.
A satisfying sound to Doni's ears as her bag connected with his diaphragm and he buckled.
She sprinted a dozen steps toward him, punching air until her fists mashed into his doughy flesh. He shot out his hands. She dodged to the right, away from his reach. Her feet slipped on the waxed floor. Flailing her arms, she grabbed for anything handy. Crash. A white cloud billowed up, blinding her. They fell to the floor with Doni on top, tangled in a mass of apron and legs.
"Protect your balls. Protect your balls. The slut is crazy."
WHAT THE REVIEWERS SAY:
5 RED ROSES from Red Roses for Authors Review
This is wickedly funny, sexy and enchanting. A short story you have to own. Five red roses, Anne.
4 ANGELS from Fallen Angel Reviews
This is a delicious book. French Tart is a fun filled romp through the kitchen. An enticingly, sensual short story that packs a big punch. Doni's character is fun, witty and believable. Sebastien is just plain old hot. I enjoyed Pierre the Parrot, he kept me giggling. The characters are well written and the humor adds just the right touch to keep this book very entertaining. Ms. Taylor has done a very good job.
Reviewed by: Dawnie
FOUR CUPS from Coffee Time Romance
Talk about being hot in the kitchen! French TART has the heat to get your blood boiling and keep it that way. Ms. Taylor's story has conflict and desire. The story flows smoothly from beginning to end. Her characters face unique situations that leave you laughing. The ending brings the story to a satisfying conclusion.
Liadan
Reviewer for Coffee Time Romance
Reviewer for Karen Find Out About New Books
I'll be back later this week. Until then…
Happy Reading!
Sloane Taylor
Sweet as Honey…Hotter than Hell