More from Esther Mitchell
October 16, 2008 | General
This is Esther's newest book. It's a power packed story that will addict you to this creative author.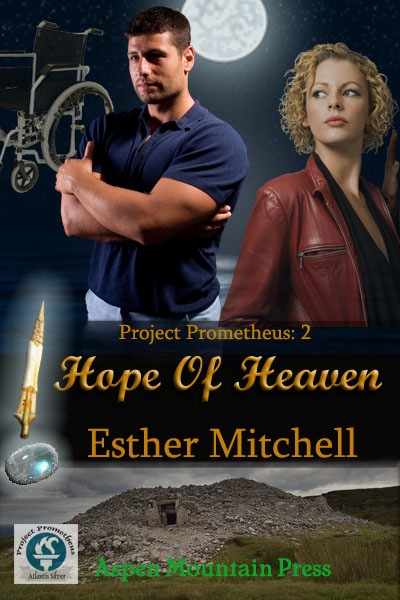 HE SACRIFICED EVERYTHING,
AND FOUND A REASON TO LIVE AGAIN…
Peter Talladay never expected to lead a normal life again, after his battle against a demon in the Iraqi desert left him partially crippled. Accepting his infirmity seemed the only sane, and logical, thing to do. But visions of an ancient cairn and a howling Irish Banshee have risen up to trouble his dreams, and his immobile state frustrates him. Then, when beautiful, fiery Hope MacKenzie ventures into his world, he finds a whole new reason to be afraid. Now, the chasm of his nightmare is growing steadily, and only a man strong enough to cross the bowels of Hell itself would ever have a chance at the Heaven Peter craves.
ISBN: 978-1-60168-089-1
Buy At: ASPEN MOUTAIN PRESS
EXCERPT:
A rumble, off in the distance, brought Peter's attention from his memories as his eyes moved to the quickly-darkening sky overhead. A storm rolled in, fast. Peter straightened, concern flitting through him.
The river. She's gone to the river.
His pulse jumped in panic. Cleary River became swift and dangerous whenever it rained. Images of Hope swept away in the roaring tumult flooded his mind. Peter fought them the way Hope taught him. He drew deep, cleansing breaths and told himself to calm down. He had to trust Hope. She was an intelligent, capable woman and an accomplished rider. She'd know better than to go near the storm-swollen river.
She was angry.
Fear clenched in his gut and propelled him toward the barn.
He saddled Topaz awkwardly, before Cain's loud barking drew his attention. An avalanche of water hit the barn's shingled roof, and Peter froze as icy realization dropped through his stomach. Dear God, this was no small thundershower. The boom of thunder that followed shook the entire building, and lightning spiked so close he heard it crack one of the trees in the orchard as the scent of ozone filled the air.
Someone will die. The gleeful voice of the demon prickled his brain with dread. Hope was caught out in this! Panic gripped him, and he turned, too fast. His right knee buckled as pain ripped through his head and seared his eyes. With a cry of surprise and agony, he grabbed for the edge of the stall, gripping it for dear life as he swayed under the force of the demon's assault. Images of a falling bird, its feathers aflame… of Hope, blood streaming from a bullet hole in her temple, underscored by sinister laughter, burned into his vision, and a terror unlike any he'd ever known seized Peter so hard he shook with its violence.
"God in Heaven! Hope!" His cry was ragged, frantic, and he cursed his useless legs. "Hope… no… please, no!"
"Peter?" Hope's soft, concerned query shattered the horrible images, and snapped him back to his surroundings so fast he nearly doubled over with the shock of it. She stood beside him, drenched but unharmed. Her hand hovered over his arm and her eyes were violet with worry. The breath rushed from Peter's lungs, and his heart expanded in relief. She was the most welcome, and beautiful, sight ever. "Peter, what's the matter?"
He couldn't answer her, in that moment, if his life depended on it. Relief, so sharp it burned straight through him, stabbed his chest and robbed him of breath. His hand trembled as he reached to cup her soft cheek, and brushed dripping curls from her damp skin. Suddenly, the question he avoided for so long became a driving need he could no longer deny.
"What would it take for you to trust me?"
She gave him a quizzical look, even as she turned away to reach for one of the rags on a peg by the empty stall. "I do trust you."
"Enough to let me make love to you?"
DISCOVER LOVE'S SAVING GRACE, AS THE MEN AND WOMEN OF PROJECT PROMETHEUS BATTLE THE DARKNESS OF OUR WORLD, AND FIND THE ULTIMATE SOURCE OF LIGHT. FIND OUT MORE ABOUT THIS BOOK AT www.esthermitchell.com
HOPE OF HEAVEN is a terrific book and one you won't want to miss. I'll be back next week. Until then…
Happy Writing!
Sloane Taylor
Sweet as Honey…Hotter than Hell