And the Decision Is…
January 20, 2009 | Hot Damn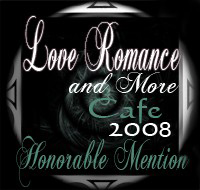 Isn't this the most beautiful icon you've ever seen? It sure is to me!
This coveted award signifies that two of my Aspen Mountain Press books have been honored by Love Romances Cafe in two separate categories.
Best Book All Around 2008
TEDDI TURNS ON
Best Contemporary Book 2008
LONNIE HEATS UP
Both came in as Honorable Mention and I couldn't be more proud or happy.
Congratulations to all the Winners, other Honorable Mentions, and Runner Ups! You all are amazing talents.
I'll be back later in the week after the glow dims a bit.:) Until then…
Happy Writing!
Sloane Taylor
Sweet as Honey…Hotter than Hell
4 Responses to "And the Decision Is…"